Bonjour & Welcome to my Little Home!
Here are some pictures of my apartment. I call it my little home because as you will see the rooms aren't very roomy... Unfortunately I'm only renting my apartment and when I moved in three years ago I tried to do my best to have a home that looks like me with a very limited budget! The place was really in a terrible state and a part of my budget was for the  necessary work (as floors, coatings and paint on the walls ...). I did all this because I could not bring myself to live in the apartment as it was. In return I am lucky to pay a very affordable rent in relation to rentals around Paris.
Bonjour & Bienvenue dans mon petit chez moi !
Voici quelques photos de mon appartement. Je l'appelle mon petit chez moi car comme vous pourrez le voir les pièces ne sont pas très grandes. Malheureusement je ne suis qu'en location dans mon appartement et lorsque j'ai emménagé il y a de cela trois ans maintenant, j'ai essayé de faire de mon mieux pour avoir un chez moi qui me ressemble avec un budget très limité ! Les lieux étaient vraiment dans un piteux état et une partie de mon budget a donc été engloutie par les travaux indispensables (sols, enduits et peinture sur les murs, ... ). J'ai fait tout cela car je ne pouvais me résoudre à vivre dans l'appartement tel qu'il était. En contrepartie j'ai la chance de payer un loyer très raisonnable en comparaison aux locations en région parisienne.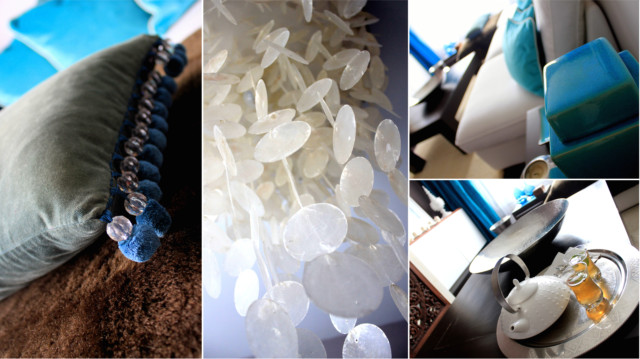 So first, here is my living room in shades of turquoise and taupe.
The picture below is my entrance and it overlooks the living room.
Alors tout d'abord, voici mon salon dans les tons turquoise et taupe.
La photo juste en dessous est celle de mon entrée qui donne directement sur mon séjour.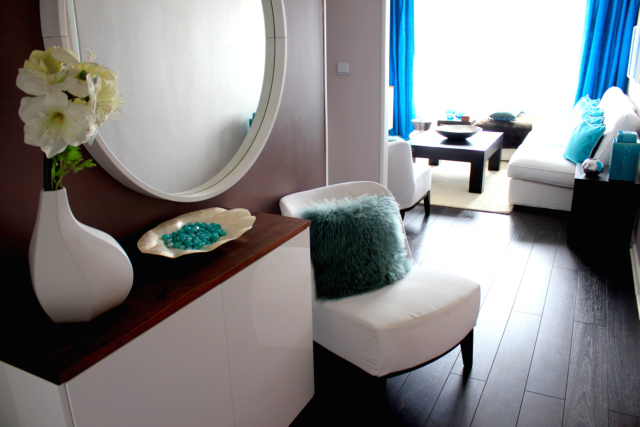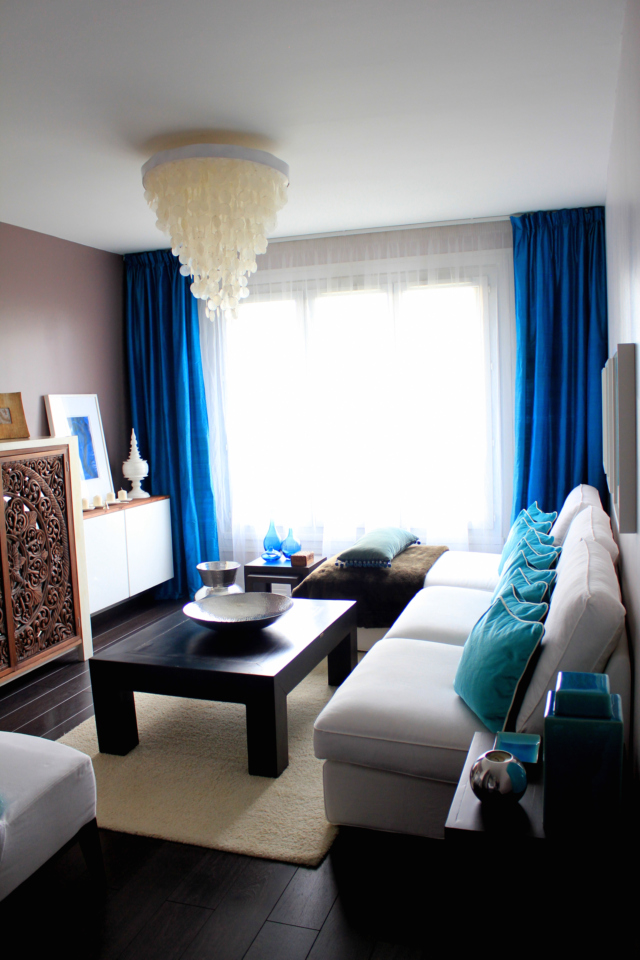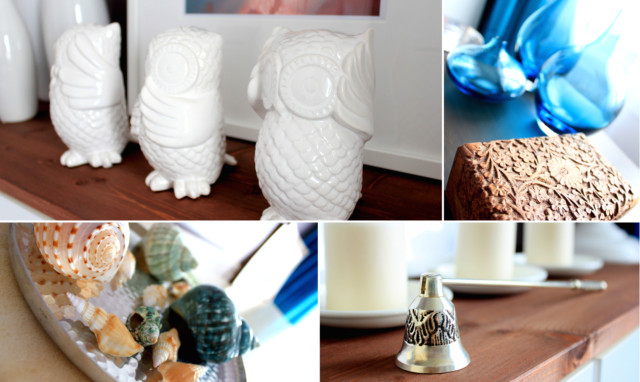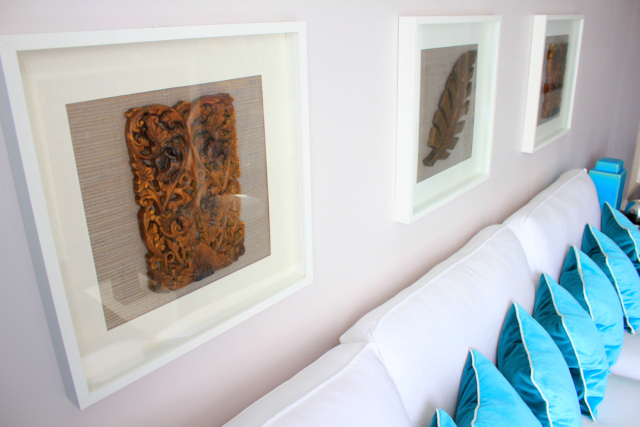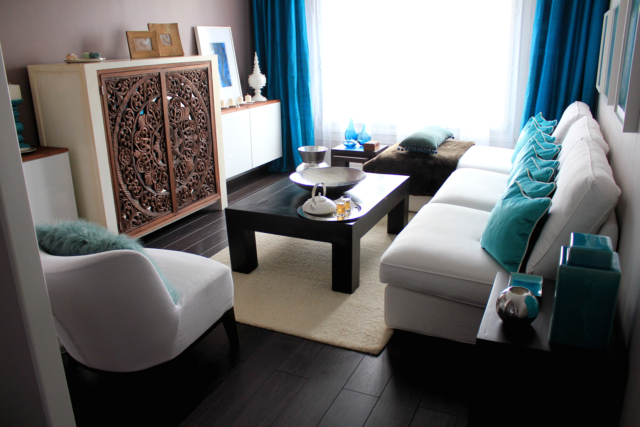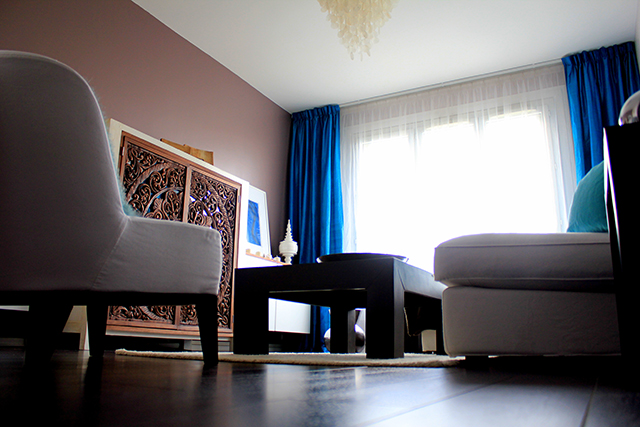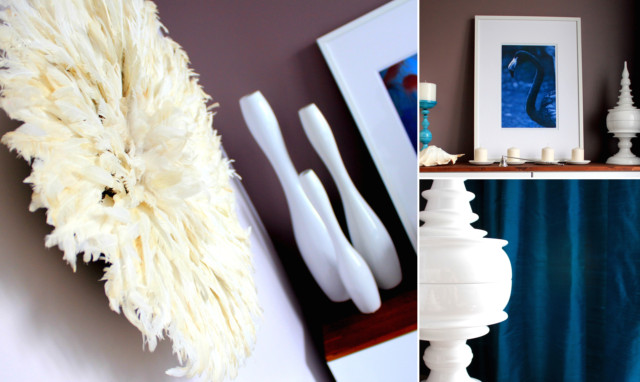 My three white little owls: see no evil, hear no evil, speak no evil.
Mes trois petites chouettes blanches : ne rien dire, ne rien voir et ne rien entendre.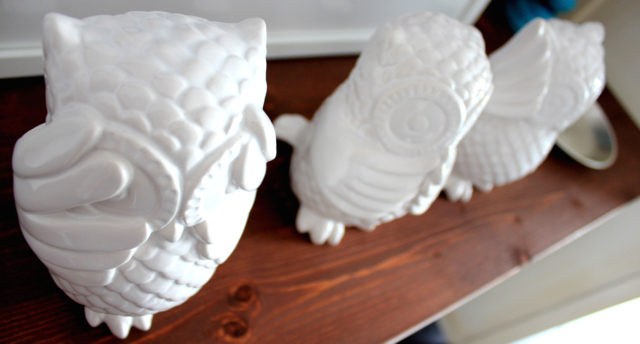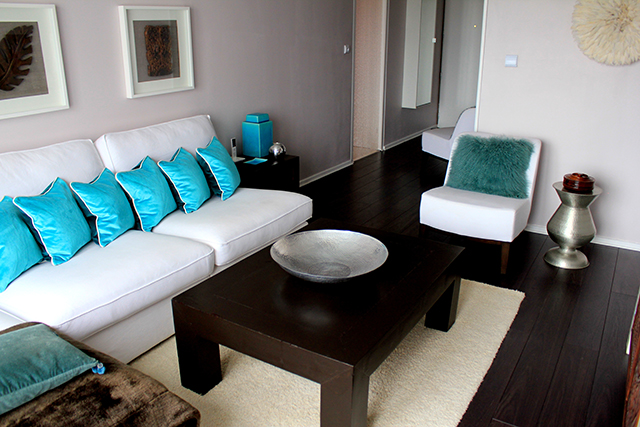 My Juju and my Ikea Stockholm chair... I have two of these and I love them, so confortable!
Mon Juju et mon fauteuil Stockholm d'Ikea... J'en ai deux et ils sont tellement confortables, je les adore !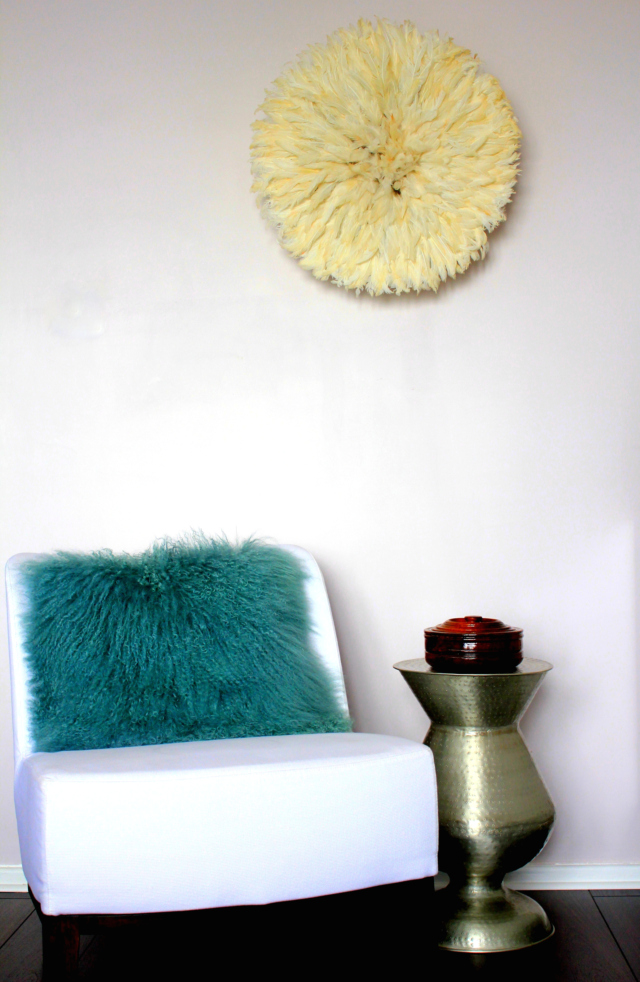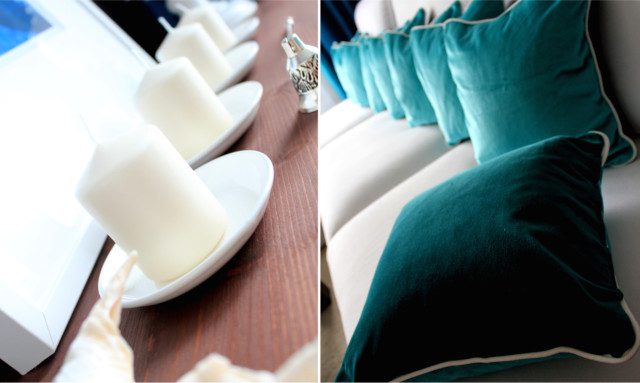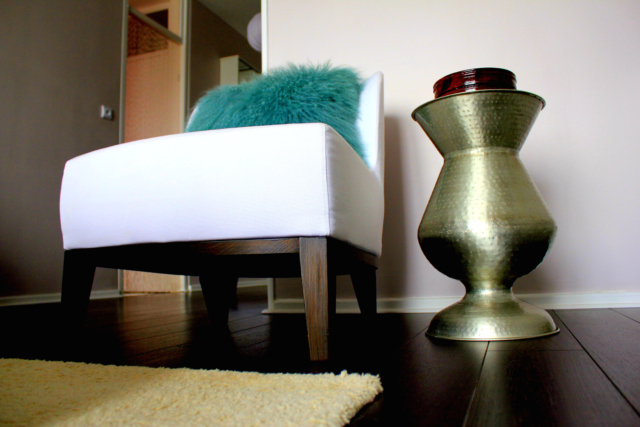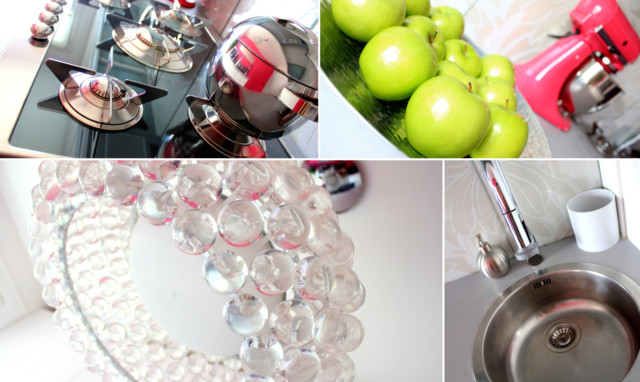 And now my kitchen in hot pink and with high gloss Ikea cabinet. Everything has been completely renovated from floor to ceiling. There was originally an old plaster on the walls, damaged floor slabs and a sink cabinet whose doors were barely ... So I succeeded thanks to my darling a bit of color and imagination (and Ikea of course) to give life to this kitchen.
Et maintenant ma cuisine en rose fuschia et avec des meubles de cuisine Ikea blanc laqué. Ici tout a entièrement été refait du sol au plafond. Il y avait au départ un vieux crépis sur les murs, des dalles de sol usées et un meuble d'évier dont les portes tenaient à peine... J'ai donc réussi grâce à mon chéri, un peu de couleur et d'imagination (et Ikea bien sûr) à redonner vie à cette cuisine.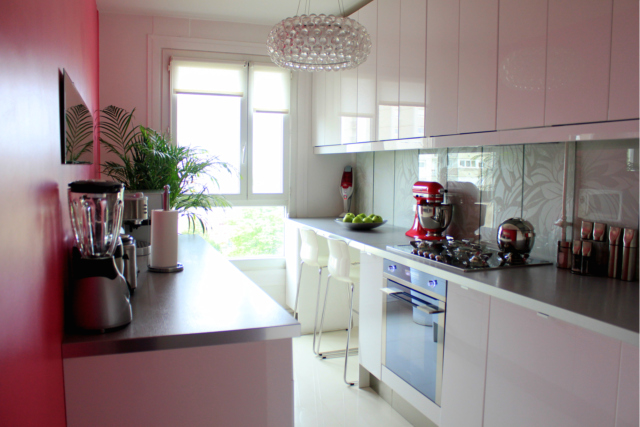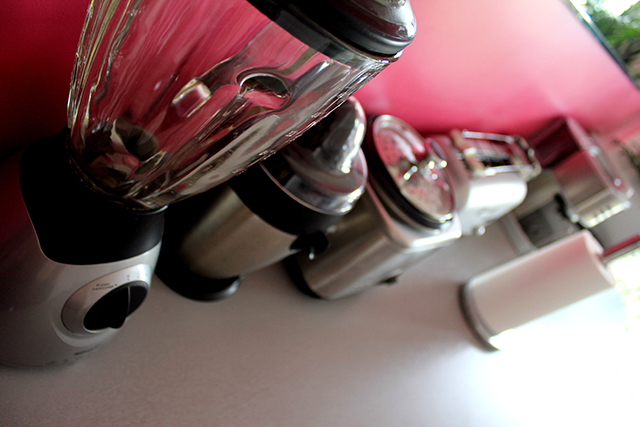 My lighting.
Ma suspension.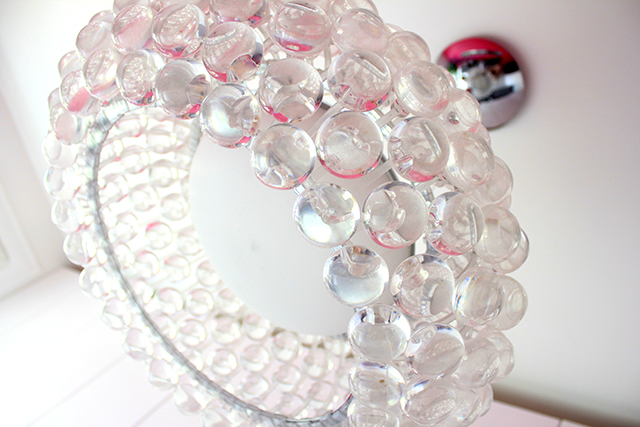 The backsplash that I created with glass and wallpaper ... And my Kitchenaid Artisan (of course in fuchsia color) that "mon chéri" gave me as a gift!
Les crédences que j'ai créées avec du verre et du papier peint... Et mon robot Kitchenaid Artisan (rose fuschia bien sûr) offert par mon chéri !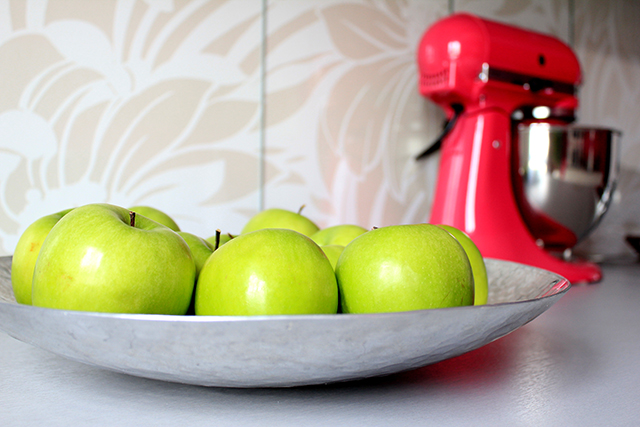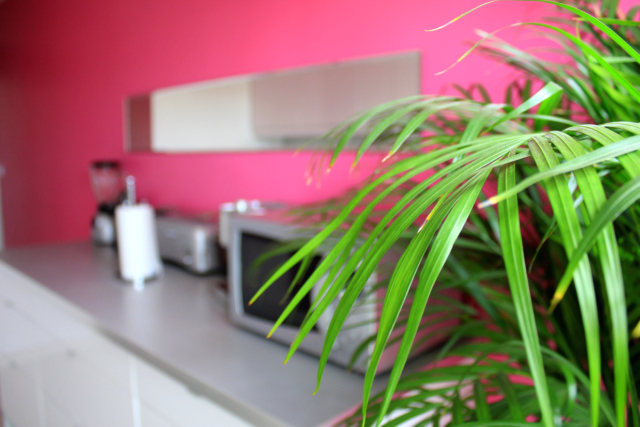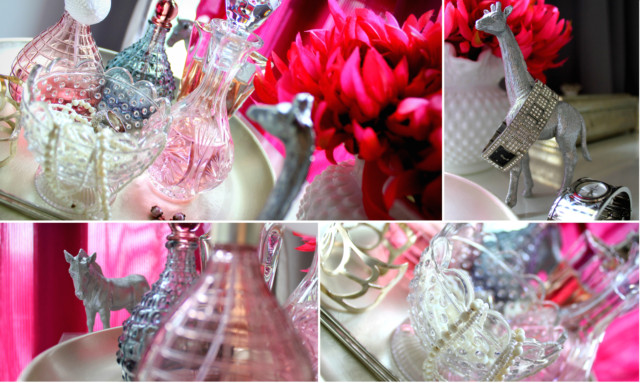 Here is my bedroom and you can see on my vanity just above my small silver giraffe and zebra.
Voici ma chambre et vous pouvez voir sur ma coiffeuse juste au-dessus ma petites girafe et mon petit zèbre couleur argent.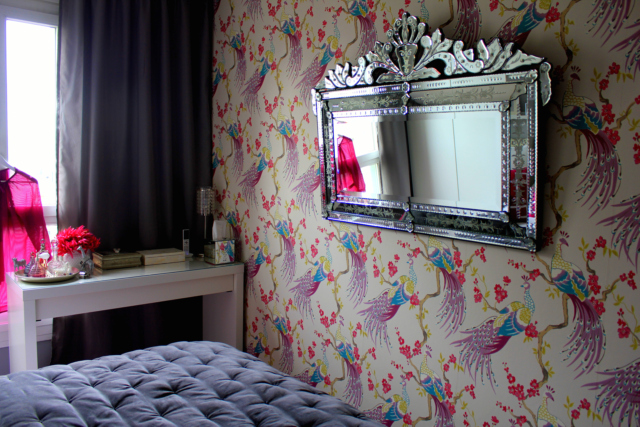 As you can see my bedroom isn't very roomy so I put a lot of additional storage around the bed for all my clothes...
Comme vous pouvez le voir ma chambre n'est pas très grande, j'ai donc dû mettre beaucoup de rangement supplémentaires autour du lit pour pouvoir ranger tous mes vêtements...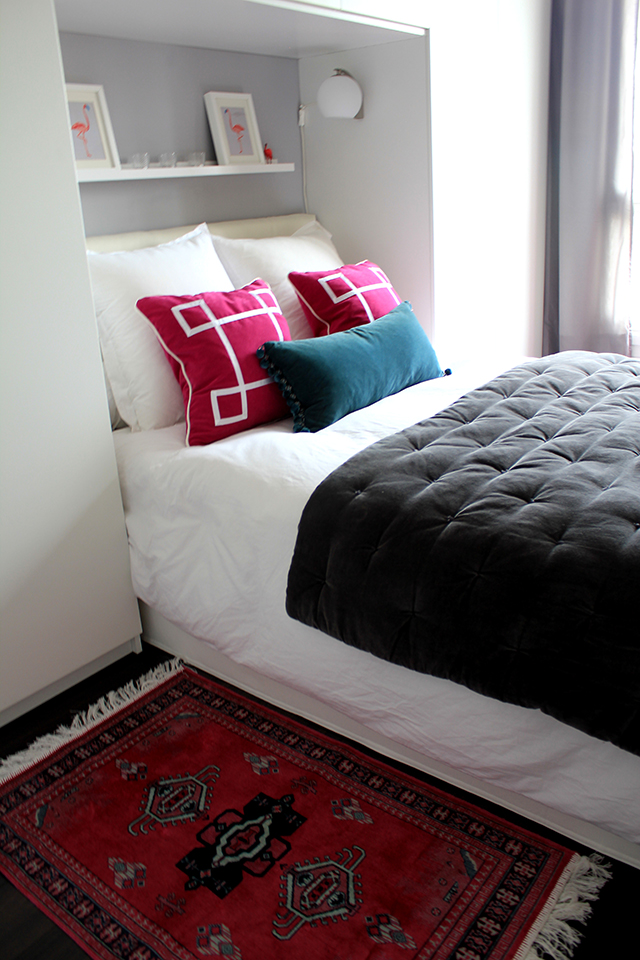 My flamingo frames.
Mes cadres avec flamants roses.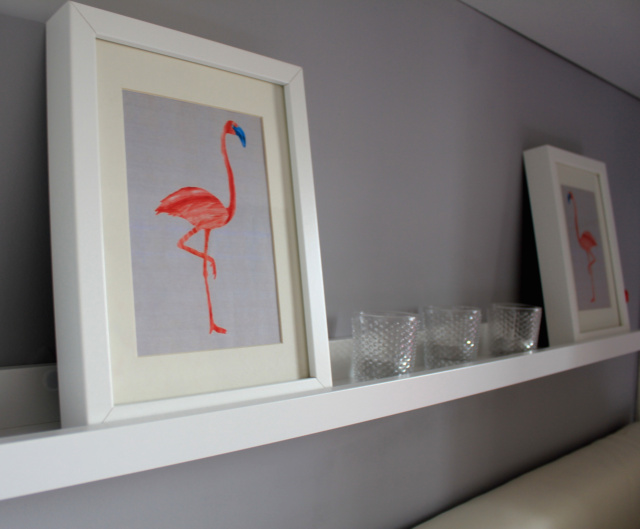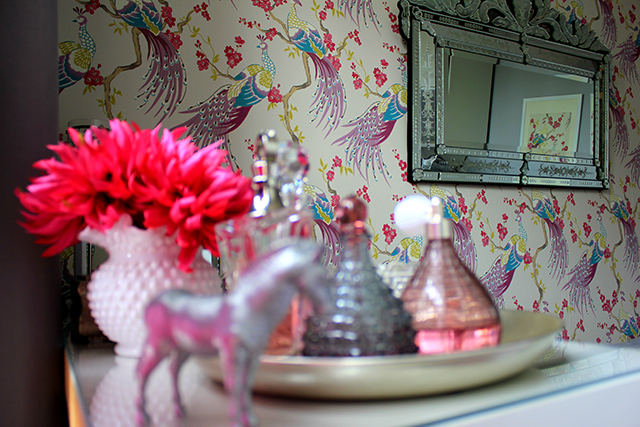 The wallpaper name is Indira Damson by Clarke & Clarke.
Le papier peint est le modèle Indira Damson de chez Clarke & Clarke.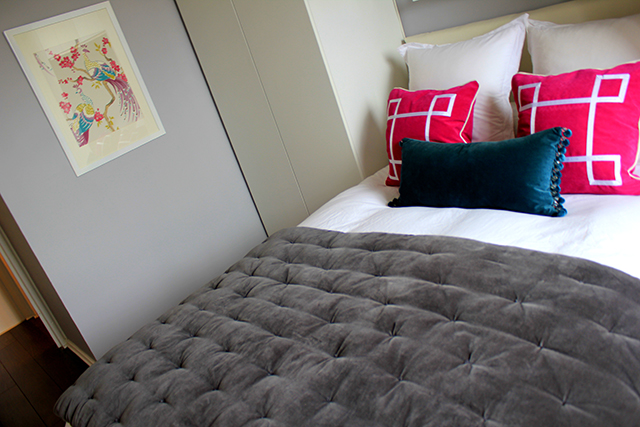 And my handmade cushions! I felt in love with similar cushion on the website Live Like You but I absolutely wanted them in magenta color. So I bought magente velvet fabric, grosgrain ribon and thakns to my dear sewing machine here are unique cushion handmade by me.
Et mes coussins faits main ! Je suis tombée amoureuse de ce modèle de cousin sur le site Live Like You mais je les voulais absoluement de couleur magenta. Alors j'ai tout simplement achté du velours de cette color, du ruban grosgrain et grâce à ma chère petite machine à coudre voilà des coussins uniques faits main par moi.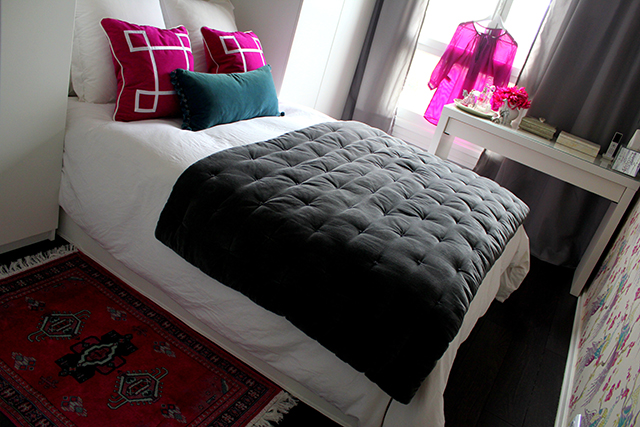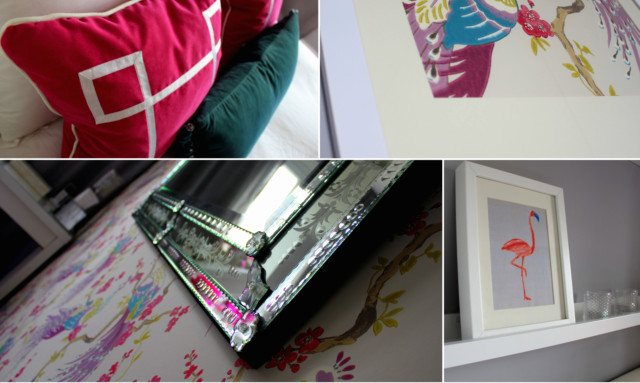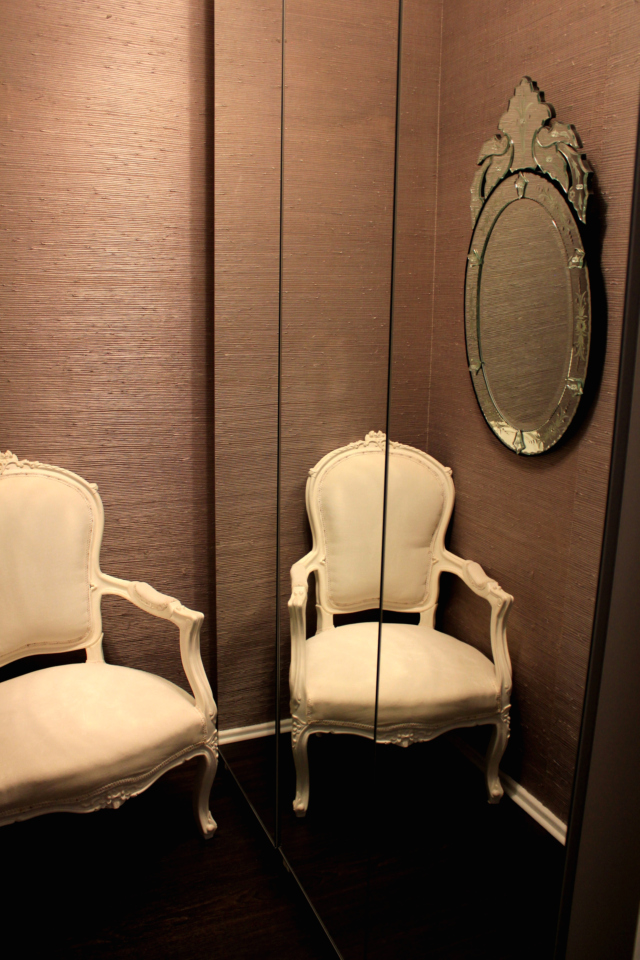 My very small closet with a Ikea wardrobe and an old chair that I totally repainted and recovered. And there's another venitian mirror too, these mirrors are my favorites.
Mon tout petit dressing avec une armoire Ikea et un vieux fauteuil que j'ai entièrement repeint et restaurer. Il y a aussi un autre miroir vénitien, mes miroirs préférés.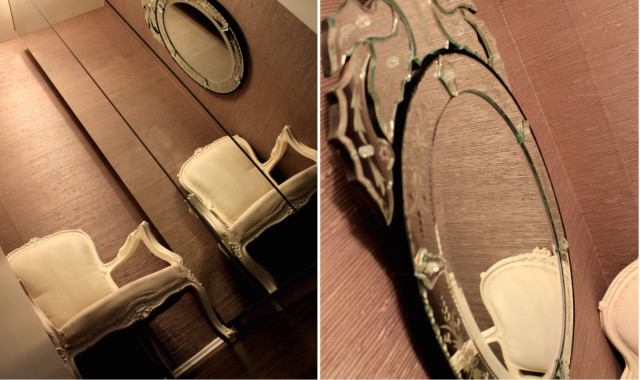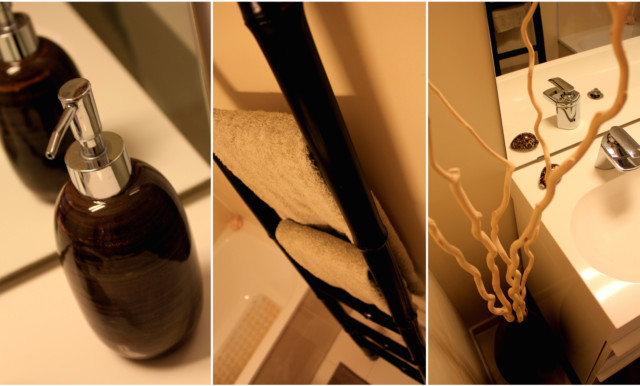 And finally my bathroom, small but fonctional with natural shades and another Ikea cabinet... Yes I'm an Ikea addict, great design and affordable price.
Et enfin ma salle de bain, petite mais fonctionnelle aux tons naturels avec un autre meuble Ikea... Oui je suis une Ikea addict, très bon design et prix abordables.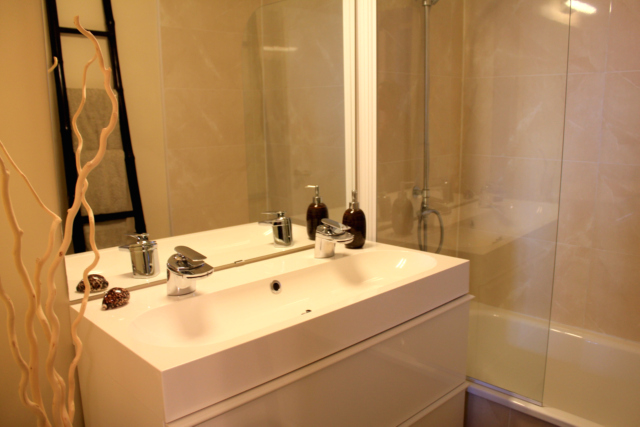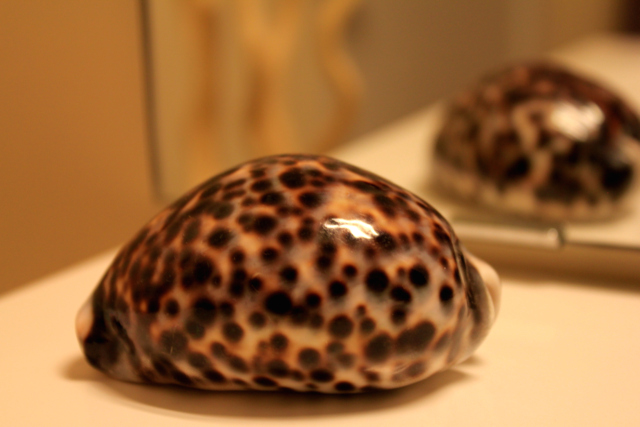 I hope you enjoyed the visit in my little home. Feel free to come back, you are always welcome.
J'espère que vous avez apprécié la visite dans mon petit chez moi. N'hésitez pas à revenir, vous serez toujours les bienvenus.