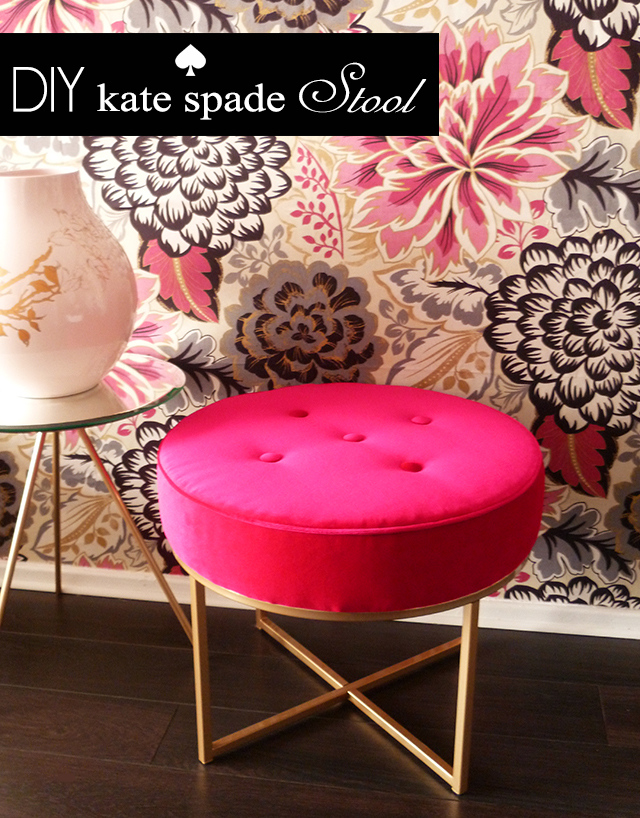 Well, well ... Yes today I am back with another DIY stool but how could I resist ... ?
Et bien, et bien... aujourd'hui je suis en effet de retour avec un autre tabouret à faire soi-même mais comment aurais-je pu résister... ?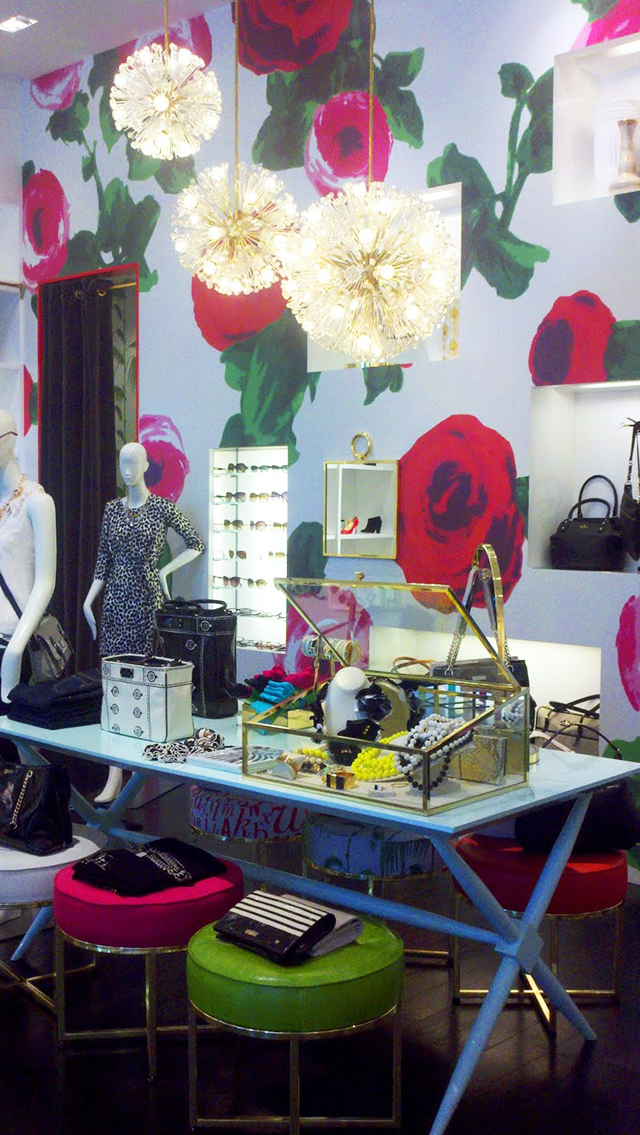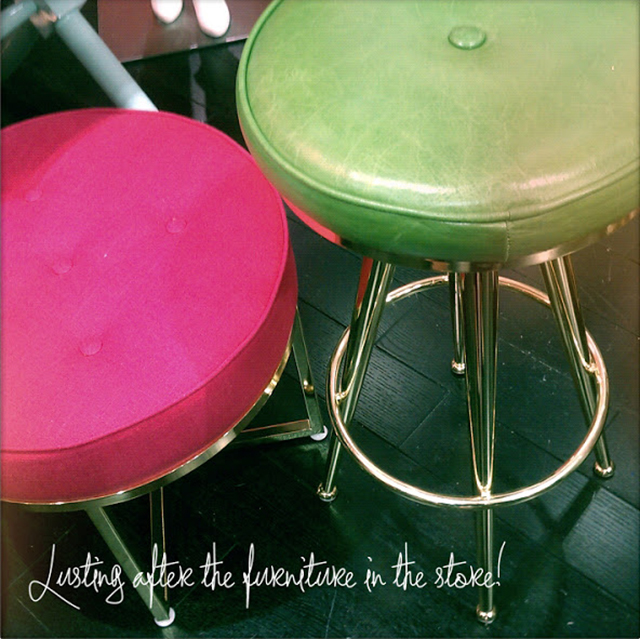 Yes, those who have already been in a Kate Spade store and haven't fallen for the decor and the beautiful stools raise their hands ... I do not see any hands which means that I am not the only one who has been lusting this objects of desire! In my case, I went for the first time in one of these boutiques in September during a stay in London (as we do not have the chance to have a Kate Spade store in Paris!). During my visit I admittedly succumbed to the temptation and purchased a lovely bracelet, but I must admit what I most admired were not the items for sale but the stunning colorful decoration of the store with the splendid chandeliers, golden shelves and of course the stools!!! Unfortunately, all these gorgeous decorative items are not for sale to my great regret ...
Oui, que celui ou celle qui est déjà entré dans une boutique Kate Spade et qui n'a pas craqué sur la décoration et les magnifiques tabourets lève la main... Je ne vois pas de main levée ce qui signifie que je ne suis pas la seule à avoir tant désiré ces objets de convoitise ! En ce qui me concerne, je suis rentrée pour la première fois dans une de ces boutiques en septembre lors d'un séjour à Londres (et oui, nous n'avons pas la chance d'avoir de magasin Kate Spade à Paris !). Lors de ma visite j'ai certes cédé à la tentation et acheté un très joli bracelet, mais je dois avouer que ce que j'ai le plus admiré ce n'était pas les articles à vendre mais la superbe décoration colorée du magasin avec ses lustres splendides, ses étagères dorées et bien entendu ses tabourets !!! Malheureusement, tous ces superbes articles de décoration ne sont pas à vendre à mon grand regret...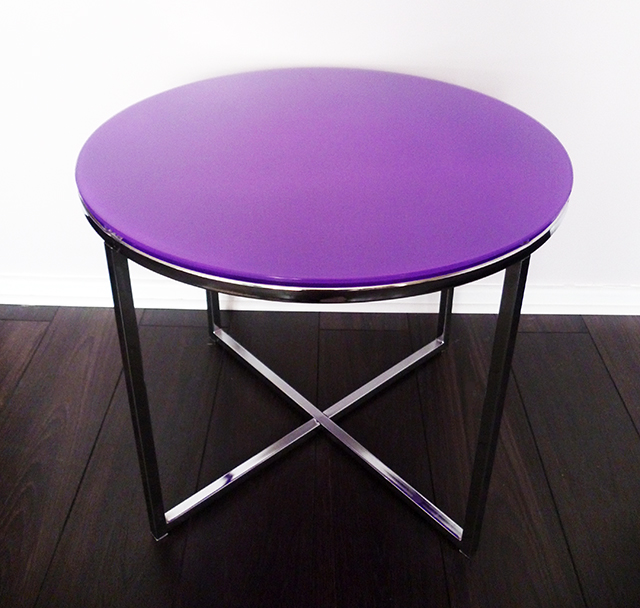 So when I came across this small table, I immediately thought of the stools that I had seen and that had upset my heart ... As this side table has exactly the same shape as the base of the Kate Spade stools! So I did not hesitate and bought it to have one of those pretty stools in my little home. The small table I purchased was used so I only paid € 25 for it but looking on internet I saw that many websites sell similar tables here, here and here for example.
For this DIY stool you will need:
A table
A wooden board
Extra thick foam
Layer of flannel
Fabric
Cord
Covered buttons
Twine
Screws
Equipment:
Metal Cutting Saw (or grinder)
Jigsaw
Drill
Needle mattress
Sewing machine
(Optional: If you want to paint the base of the stool you will also provide material for sanding metal and spray paint)
Alors quand je suis tombée sur cette petite table, j'ai immédiatement pensé aux tabourets que j'avais vu et qui avaient fait chavirer mon coeur... Car ce bout de canapé a exactement la même forme que la base des tabourets Kate Spade ! Je n'ai donc pas hésité à l'acheter pour avoir moi aussi un de ces jolis tabourets dans mon petit chez moi. J'ai acheté cette petite table d'occasion pour seulement 25€ mais en regardant sur internet j'ai vu que de nombreux sites vendent ce genre de modèle ici, ici et ici par exemple.
Pour ce tabouret DIY il vous faut :
Une table
Une planche en bois
De la mousse très épaisse
Du molleton
Du tissu
De la corde
Des boutons à recouvrir
De la ficelle
Des vis
Matériel :
Scie à métaux (ou une meuleuse)
Scie sauteuse
Perceuse
Aiguille à matelas
Machine à coudre
(Facultatif : Si vous voulez peindre la base du tabouret il vous faudra également prévoir le matériel pour poncer le métal et de la peinture en spray)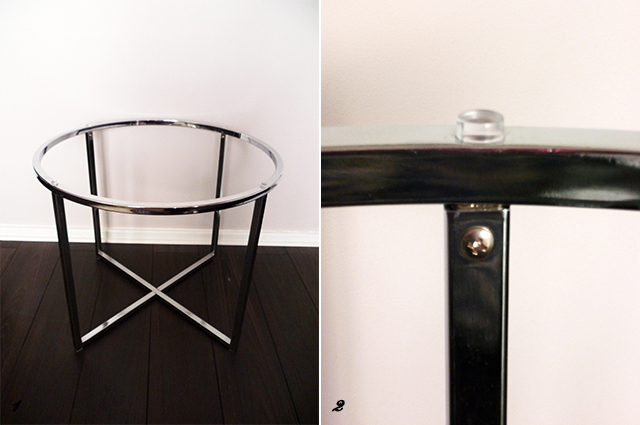 The first change I made was to modify the size because since this is basically a table, it was too high to use it as a stool. So I had to lower the structure. First, I removed the glass and the small clear rubber protection that you can see on the picture 2. Then I simply unscrewed the top.
La première modification que j'ai faite a été de modifier la taille car étant donné que cela est à la base une table, elle était trop haute pour l'assise d'un tabouret. J'ai donc du rabaisser la structure. Tout d'abord, j'ai ôté le verre ainsi que les petites protections en caoutchouc transparent que vous pouvez voir sur la photo 2. J'ai ensuite simplement dévissé la partie supérieure.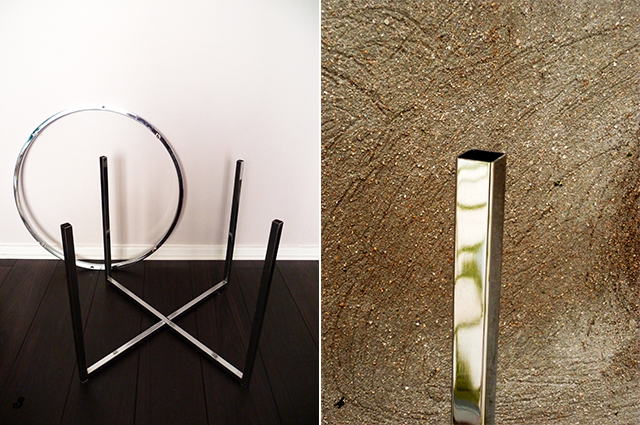 Once the base was dismantled, I sawed the top of the 4 legs. I cut about 11 cm but you will see the height of the seat that suits you.
Une fois la base démontée, j'ai scié la partie supérieure des 4 montants. J'ai ôté environ 11 cm mais à vous de voir la hauteur de l'assise qui vous convient.

I then had to make new holes on the 4 legs in order to later fix them back to the circle upper part.
J'ai ensuite dû faire de nouveaux trous sur les 4 montants pour pouvoir par la suite les fixer de nouveau à la partie supérieure en cercle.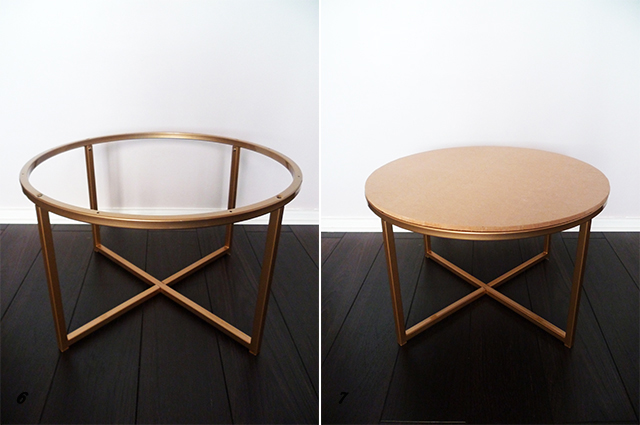 I wanted a brass stool, so I sanded the metal before repainting. Then as you can see I finally reassembled the structure. For the seat, I cut a wooden board using the glass that I removed initially as a template.
Je voulais que mon tabouret soit doré, j'ai donc poncé le métal avant de le repeindre. J'ai ensuite enfin pu remonter la structure comme vous pouvez le voir. Pour l'assise, j'ai découpé une planche en bois en me servant du verre que j'avais retiré au départ comme gabarit.

I also cut a extra thick foam (about 12 cm) in order to complete the seat.
J'ai également découpé une mousse très épaisse (environ 12 cm) pour compléter l'assise.


Then I simply glued the foam to the wooden board and I covered the whole with a layer of flannel. On the picture 10 you can see the pieces of fabric that I cut and I used to cover the seat. In my case I chose a beautiful and very bright hot pink velvet! For the fabric there are 3 pieces: the circle for the top, a wide band for the contour and finally the small strip of velvet that you see in the bottom right with the cord and that I used to make the covered piping cord.
J'ai ensuite simplement collé la mousse à la planche de bois et j'ai recouvert le tout de molleton. Sur la photo 10 vous pouvez voir les morceaux de tissu que j'ai découpé et qui m'ont servi à recouvrir l'assise. En ce qui me concerne j'ai choisi un très beau velours d'un rose fuchsia très vif ! Pour le tissu il y a 3 morceaux : le cercle pour le dessus, une large bande pour le contour et enfin la petite bande de velours que vous voyez en bas à droite avec la corde m'a servi à faire la finition passepoil.


To make the piping cord that will be on the edge of the seat, you simply have to fold the small strip of fabric, insert the cord and stitch as close as you can to the cord. Then you can see on the image 12 that I sewed the piping around the velvet circle.
Pour faire le passepoil qui sera sur le contour de votre assise, il suffit simplement de plier en deux votre fine bande de tissu, y insérer de la corde et coudre au plus près de la corde. Ensuite, vous pouvez voir sur l'image 12 que j'ai cousu le passepoil tout autour du cercle en velours.


After that, you just have to sew the wide band on the contour of the circle and you get your cover. Now you just have to put it on your seat.
Après, vous n'avez plus qu'à coudre la large bande sur le contour du cercle en tissu et vous avez votre housse. Vous n'avez plus qu'à la mettre sur votre assise.


Finally staple the fabric to the wood. To put the 5 covered buttons on the seat you must first make marks on the wooden side. I used the bottom of the stool that is shaped like a cross so that the marks were well positioned. I made the first mark using the center of the cross and then for the other 4, I made marks to half of the length of the legs so all the buttons were correctly placed.
Enfin agrafez le tissu sur la partie en bois. Pour mettre les boutons sur l'assise, il faut d'abord marquer leur emplacement sur le côté en bois. J'ai utilisé le bas du tabouret qui est en croix pour que mes marques soient bien positionnées. J'ai fait mes 5 repères tout d'abord en utilisant le centre de la croix, puis en prenant la moitié de la longueur des montants pour que les boutons soient bien placés.


Then I made ​​tiny holes using a drill in order to pass my mattress needle and the twine.
J'ai ensuite fait des tout petits trous à l'aide d'une perceuse pour pouvoir passer mon aiguille à matelasser et la ficelle.


So I passed my needle with the twine through the foam and I put my five buttons.
J'ai donc passé mon aiguille avec la ficelle à travers la mousse et j'ai mis mes cinq boutons.


To attach the seat, I made ​​new holes in the metal structure and I just screwed.
Pour fixer l'assise, j'ai fait de nouveaux trous sur la structure en métal et j'ai simplement vissé.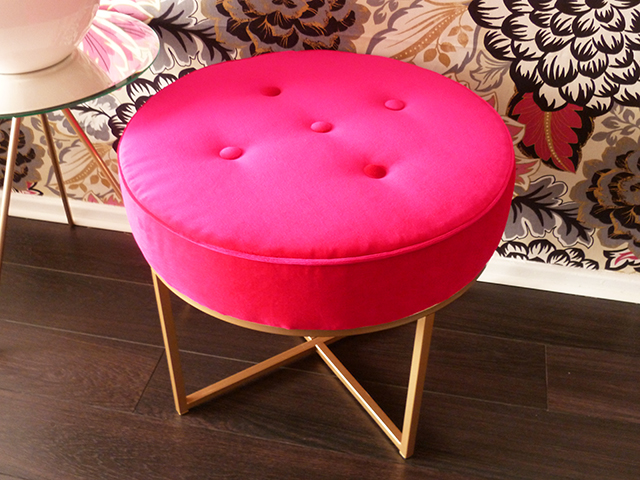 And here is the final outcome, my new Kate Spade stool! Not so bad, what do you think?
Et voilà le résultat final, mon nouveau tabouret Kate Spade ! Pas si mal non, qu'est-ce que vous en pensez ?