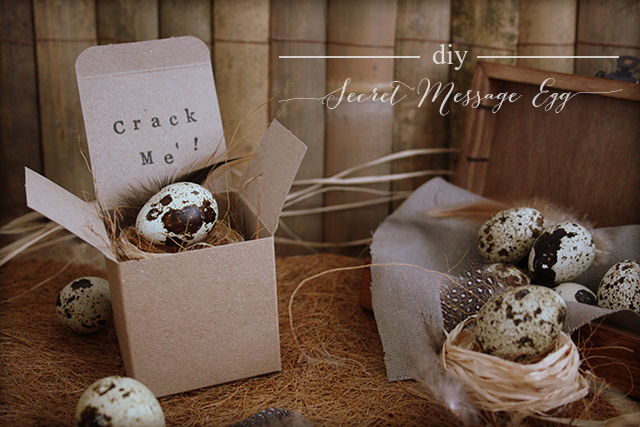 As soon as I knew the gender of my baby I wanted to do something special to reveal it to family and friends...
Dés que j'ai su le sexe de mon bébé, j'ai voulu faire quelque chose de spécial pour le révéler à la famille et aux amis...

Looking around for some inspiration, I came across these cute little secret message eggs and I thought it would be the perfect DIY for my gender reveal. You can use those eggs for many other special times like to hide a love message for example or even for Easter that is coming up. They are the perfect surprise and you can be sure that everyone, young and old, will enjoy cracking them to discover what they are hiding!
En regardant un peu partout à la recherche d'inspiration je suis tombée sur ces mignons petits oeufs avec un message secret à l'intérieur et j'ai tout de suite pensé que ce serait le DIY parfait pour révéler le sexe de mon bébé. Vous pouvez utiliser ces oeufs pour de nombreux autres occasions, comme pour y cacher un message d'amour par exemple, ou même pour Pâques qui arrive à grand pas. Ce sont la surprise parfaite et vous pouvez être sûr que tous, petits et grands, adoreront les casser pour découvrir ce qu'ils cachent !

I am going to show you step by step how I made those cute little secret message eggs with their little nest. Here I used quails eggs as they are so tiny (so even cuter!) and I love the pattern and colour of the shell! But obviously if you have a long message to write you can use normal eggs to fit more paper inside. So, first of all here is the material you need:
Secret message egg:
- Egg
- Pin (or Dremmel)
- Paper with your message
Nest:
- Raffia
- Coco fibre
- Feathers
- Hot glue gun
Cardboard box for packaging
Je vais vous montrer pas à pas comment j'ai réalisé ces mignons petits oeufs avec message secret à l'intérieur ainsi que leur petit nid. J'ai utilisé ici des oeufs de caille car ils sont si minuscules (donc encore plus mignons !) et j'aime le motif et la couleur de la coquille ! Mais si vous avez un long message à y glisser vous pouvez bien évidemment utiliser des oeufs normaux pour pouvoir y mettre plus de papier. Alors, tout d'abord voici ce qu'il vous faut comme matériel :
Oeuf avec message secret :
- Oeuf
- Aiguille (ou un Dremmel)
- Papier avec votre message
Nid :
- Raffia
- Fibre de coco
- Plumes
- Pistolet à colle
Boîte en carton pour l'emballage

Take an egg and a pin. Then slowly use the pin to make a hole at the bottom of the egg. Believe me it's simpler than it sounds as if you do it slowly you will see that the pin will easily go through the shell without breaking it. If you are a bit scared to break the egg, there is another safer and faster way to do it and this is what I ended doing as I had many eggs to do! You can simply use a Dremmel and slowly drill a small hole in the shell.
Prenez un oeuf et une aiguille. Ensuite faites un trou dans la partie basse de l'oeuf à l'aide de l'aiguille. Croyez-moi cela est plus simple qu'il n'y paraît car si vous le faites doucement vous verrez que l'aiguille passera à travers la coquille sans la briser. Si vous avez un peu peur de casser l'oeuf, il y a une autre façon encore plus sure et plus rapide de le faire et ce que j'ai fini par faire car j'avais beaucoup d'oeufs à préparer! Vous pouvez tout simplement utiliser un Dremmel et percer un petit trou dans la coquille.

Once the hole is done you just have to empty the egg.
Une fois que votre est fait vous n'avez plus qu'à vider l'oeuf.

Rinse the egg inside out and let it dry for 24hrs. Once it's perfectly dry, roll the paper with your message.
Bien rincer l'intérieur de l'oeuf et laissez-le sécher pendant 24h. Une fois qu'il est parfaitement sec, rouler le papier avec votre message.

Then just put your secret message inside the egg and voila! Now the only way to read the message is to crack the egg.
Ensuite vous n'avez plus qu'à glisser votre message secret à l'intérieur et voilà ! Maintenant la seule façon de lire le message est de casser l'oeuf.

For the nest, I am not a mama pigeon so I had to improvise using some raffia and coco fibre. To make the nest take a little bit of coco fibre and tie it using the raffia.
Pour le nid, n'étant pas une maman pigeon j'ai dû improviser en utilisant du raffia et de la fibre de coco. Pour faire le nid prenez un petit bout de fibre de coco et faire un noeud autour à l'aide du raffia.

Wrap the raffia around the knot and the coco fibre and glue it using the hot glue gun.
Collez le raffia avec le pistolet à colle en formant une spirale autour du noeud et de la fibre de coco.

As you wrap around and glue the raffia, shape it like a nest. Once you have your little nest arrange the coco fibre inside and on the bottom part. Finally to give it a more natural look, put some feather through the raffia.
Au fur et à mesure que vous coller votre raffia autour, faites-lui prendre la forme d'un nid. Une fois que vous avez un petit nid, arrangez la fibre de coco à l'intérieur et à la base du nid. Enfin, pour donner un aspect encore plus réaliste, glissez-y une plume et votre nid aura l'air plus vrai que nature.

For packaging, use a simple cardboard box and don't forget to write "Crack Me" inside. I used my alphabet stamp set but handwritten is also fine.
Pour emballer le tout, utilisez une simple boîte en carton sans oublier d'écrire "Cassez-moi" à l'intérieur. J'ai utilisé mon set de petits de tampons alphabet mais vous pouvez l'écrire à la main.

Put your egg with its little nest inside the box and close it. You can tie your box with a pretty raffia ribbon.
Mettez votre oeuf avec son petit nid dans la boîte et fermez la. Vous pouvez utiliser du raffia pour faire un joli noeud.

And here are your little eggs with a secret message hidden inside ready to surprise your friends and family.
Et voilà vos petits oeufs avec un message secret caché à l'intérieur prêts à surprendre votre famille et vos amis.

To send my little boxes by mail, I wrapped them carefully with bubble pack and I then put them inside a solid cardboard shipping boxes to protect them. All my little eggs reached their destination safely and everyone loved them!
Pour envoyer toutes mes petites boîtes par la poste, je les ai bien enveloppées de papier bulle puis je les ai mises dans une boîte en carton renforcé pour bien les protéger. Tous mes petits oeufs sont arrivés sains et saufs à destination et tout le monde a adoré !

And by the way, yes it's a girl!!! I couldn't be happier :)
Et au fait, oui c'est une fille !!! Je ne pouvais pas être plus heureuse :)