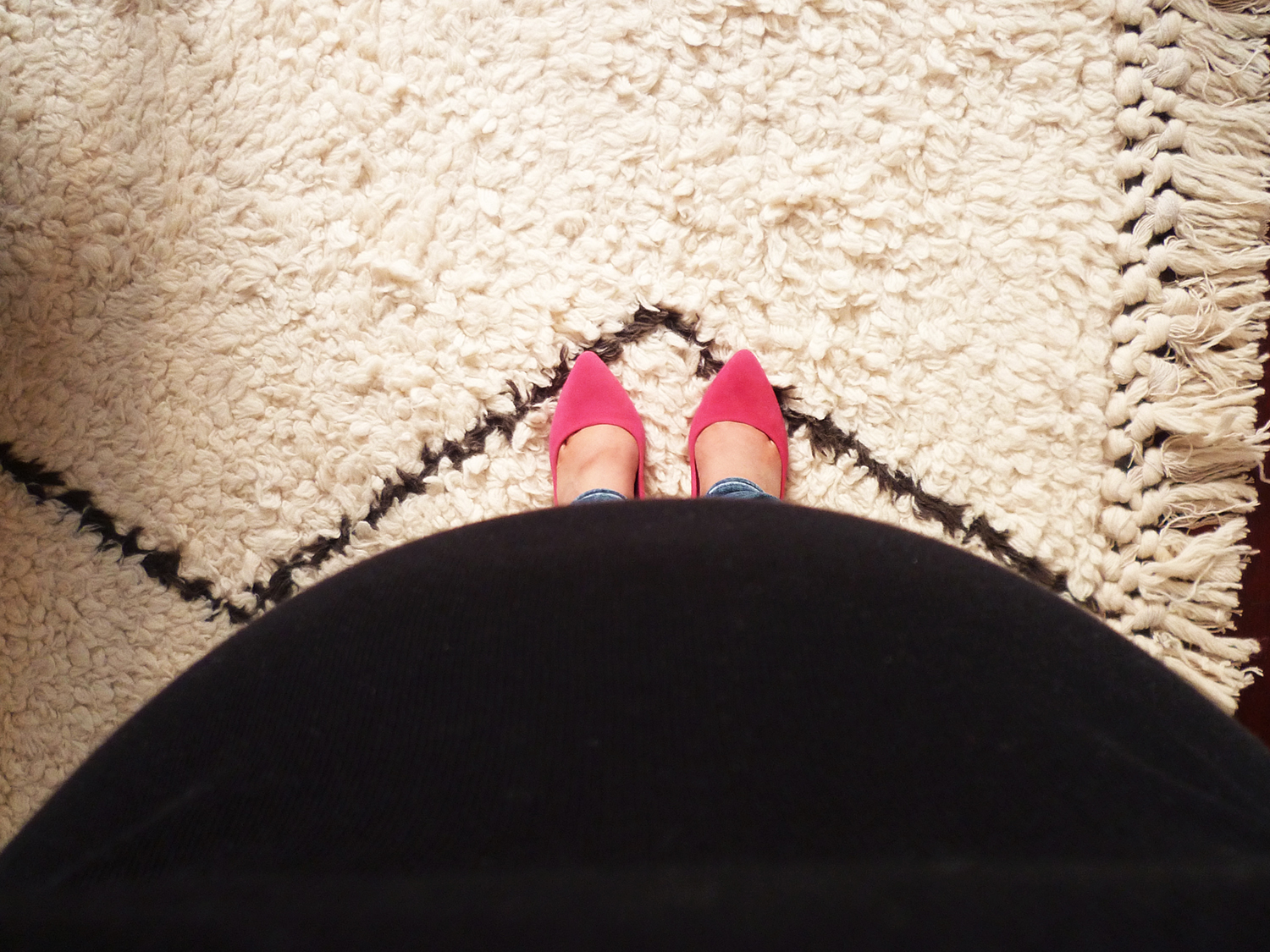 Ok let's be honest, I'm definitely the worst blogger ever! And you are probably thinking "Yes, and what's her excuse this time?"
Ok soyons honnête, je suis vraiment la pire des blogueuses qui soit ! Et vous vous dîtes très probablement "Oui, et quelle est son excuse cette fois-ci ?"
Well, it's true I COMPLETELY DISAPPEARED for something like more than a year now... It's so weird as writing it down I realise it's been a very long time away from the blog and who knows if there will still be someone reading this post... And I guess if you are here reading these lines the least I can do is to thank you for keeping on following me!
Still, here I am today and yes, as you can guess I have once again a "good" excuse for that extra long break. So if you're not sitting comfortably you'd better do it now because I think this is going to be a very long post... !
Lately, there has been a terrible virus circulating in the blog world and of course I got it. What am I talking about? The kind of virus that makes you so sick that the slightest smell of anything is a torture. It makes you so tired that all you wish you could do is sleep for days, you become irritable and above all so sensitive that you cry without even knowing why you are crying! And the worst, there is nothing you can do to feel better except being patient for 9 long months... I'm sure you know what I'm talking about ladies: pregnancy! But well, you probably had guessed just seeing this picture of me with that big belly! (Because no, it wasn't me a day I ate too much Ben & Jerry Chocolate Fudge Brownie ice cream!) It was my 4 months pregnancy bump and the nice thing is that at that stage I still could see my feet with those pretty pink heels... But believe me, it didn't last. Because another symptom I could have mentioned on the list above is that it also makes you put weight on and in my case A LOT OF WEIGHT!!! I was so swollen thanks to the joy of pregnancy called preeclampsia that literally inflates you like a balloon! I became like the Stay Puft Marshmallows Man in Ghostbusters for the ones who remember the movie.
So well, nothing really new in the blog world because who knows why during the last 2 years a lot of bloggers got pregnant and a new category suddenly appeared in some of my favourite blogs called "Baby" or "Motherhood". All those stylish bloggers talked about their pregnancy and took wonderful pictures where sometimes they were even more beautiful with that cute pregnancy belly (which by the way sometimes made me think "Are they really pregnant? Where do they put their baby? Do they have a kind of magic pocket like kangaroos where they can hide their baby for 9 months?"). Because to be honest my pregnancy wasn't that stylish and glamorous thing you can see on some blogs and magazines. As soon as my body knew I was pregnant it began to accumulate and stock kilos everywhere possible. And I can tell you now, almost 6 months after giving birth that I didn't lose all those kilos like a magic. Because this is obviously what a lot of people also tell you when you are pregnant "Don't worry as soon as you give birth you won't be swollen anymore and you will lose all this weight". Totally and absolutely untrue! So I don't know if it's another urban legend that people tell you not to scare you when you are actually pregnant but in my case today I still have more than 20kg to lose... So no, I'm not going to post a lovely post pregnancy picture of me like some others do because unlike them I'm a "real" new mum and I don't fit in my pre-pregnancy jeans!
Well, even if today I can joke about this whole pregnancy thing I have to say that it has been so overwhelming for me physically and emotionally that I really needed to take a "maternity break" from everything and also from my blog. I just never thought it would finally became a 1 year break! The thing is that this pregnancy has been a real surprise for me and surprise is an understatement word! Because obviously you don't plan to get pregnant just a few months after your mother death because you are still fragile. And you don't plan either and even less to get pregnant after being in a relationship for less than 3 months. But it happened and I have to say that this tiny little being growing inside me became now the sweetest and most beautiful thing in my life. That emotional roller coaster is over and I now share my life with a mini human that I love more than everything and makes me happy everyday!
So yes, many things happened during this long period. I have so many projects to share with you and I will do it in the next posts. Because yes, I'm a blogger after all so even if I was pregnant I obviously didn't forget to take pictures of the things I made! And yes let's be honest, I will probably add a "Motherhood" category too in my blog to write sometimes about my new life as a mom with my little one or about my "amazing" pregnancy experience. I will do it because this is now a part of my life and because look at this post, this is definitely the longest one I ever wrote and there are still so many things to say...! So there will be some changes coming soon but don't worry, this blog is and will stay above all the special space to share my projects, my beautiful finds, the place I created to inspire you. And this time my dear friends, I promise to do my best to be consistent with the blog. My first challenge is to try to write 3 posts a week, which in a new mum's world is a huge amount of work not to say Mission Impossible! Because feeding, changing nappies and bouncing takes a lot of time! And I'm not exaggerating. I mean can you believe it took me more than 5 hours to write this simple post, because when a baby cries and is hungry no matter if you are already doing something you have to stop everything!
Anyway, I missed this blog so much that I will enjoy this huge amount of work and I already can't wait to share so many new things with you... Now all I have to say after this extra long post is I hope to see you soon and in the meantime I send you a lot kisses!
P.S: For the ones who made it and read until the end congratulations! I think you really deserve a special prize for that... Thank you once again from my heart for still being here.
XO
Eh bien, il est vrai que j'ai COMPLETEMENT DISPARU depuis quasiment plus d'un an maintenant... C'est bizarre, car en l'écrivant je me rends compte que cela fait vraiment très longtemps que j'ai délaissé le blog et qui sait s'il y aura encore quelqu'un pour lire ce post... Et je suppose que le moins que je puisse faire si vous êtes en train de lire ces lignes est de vous remercier de continuer à me suivre !
Toujours est-il que je suis de retour aujourd'hui et oui, comme vous vous en doutez j'ai une fois encore une "bonne" excuse pour avoir pris cette très longue pause. Alors si vous n'êtes pas assis confortablement mieux vaut le faire maintenant car je pense que ce post va être très long... !
Ces derniers temps, un terrible virus a sévit dans la blogosphère et je l'ai bien entendu attrapé. De quoi je parle ? Le genre de virus qui vous rend tellement malade que la moindre odeur de tout et rien est une véritable torture. Il vous rend si fatigué que la seule chose que vous voulez faire c'est dormir pendant des jours, vous devenez irritable et par dessus tout vous pleurez sans même savoir pourquoi vous pleurez ! Et le pire, c'est qu'il n'y a rien à faire si ce n'est être patiente pendant 9 longs mois... Je suis sure que vous avez compris de quoi je parle mesdames : la grossesse ! Mais bon, vous aviez probablement déjà deviné rien qu'en voyant cette photo de moi avec ce gros ventre ! (Parce que non, ce n'était pas moi un jour où j'avais mangé trop de crème glacée Ben & Jerry au Chocolat Caramel et Brownie !) C'était mon ventre à 4 mois de grossesse et ce qui était bien c'était qu'à ce stade je pouvais encore voir mes pieds et ces jolies chaussures roses à talon... Mais croyez-moi, cela n'a pas duré. Parce qu'un autre symptôme que je n'ai pas mentionné, et que j'aurais pu ajouter à la liste ci-dessus, est que cela vous fait prendre du poids et dans mon cas BEAUCOUP DE POIDS !!! J'étais tellement enflées grâce à cette joie de la grossesse que l'on nomme pré-éclampsie et qui vous gonfle comme un ballon de baudruche et c'est peu dire ! Je me suis métamorphosée et je ressemblais au Bonhomme Michelin de Ghostbusters pour ceux qui se souviennent du film.
Alors oui, rien de vraiment nouveau dans la blogosphère car qui sait pourquoi ces 2 dernières années de nombreuses blogueuses sont tombées enceintes et une nouvelle catégorie appelée "Bébé" ou "Maternité" a soudainement fait son apparition dans certains de mes blogs favoris. Toutes ces blogueuses à la mode parlaient de leur grossesse et prenaient de magnifiques photos où elles étaient même parfois encore plus belles avec leur petit ventre tout rond (ce qui par ailleurs me laissait parfois penser "Mais sont-elles vraiment enceintes ? Où est-ce qu'elles mettent leur bébé ? Est-ce qu'elles auraient par hasard une sorte de poche magique comme les kangourous dans laquelle elles cacheraient leur bébé pendant 9 mois ?"). Parce que pour être honnête ma grossesse n'avait rien d'élégant ni de glamour comme on peut parfois le voir sur certains blogs et magasines. A partir du moment où mon corps a su que j'étais enceinte il a commencé a accumuler et à stocker des kilos partout où il le pouvait. Et je peux vous dire maintenant, quasiment 6 mois après avoir accouché que je n'ai pas perdu tous ces kilos comme par magie. Parce que c'est évidemment ce que bon nombre de personnes vous disent aussi quand vous êtes enceinte "Ne t'inquiètes pas dés que tu auras accouché tu vas dégonfler et tu vas perdre tout ce poids" Faux et archi-faux ! Alors je ne sais pas si c'est une autre de ces légendes urbaines que l'on raconte aux femmes enceintes pour ne pas les effrayer, mais en ce qui me concerne j'ai encore plus de 20kg à perdre... Donc non, je ne vais pas poster de jolies de photos de moi après ma grossesse comme certaines le font car contrairement à elles je suis une "vraie" jeune maman et je ne rentre pas dans mes jeans d'avant !
Bref, même si aujourd'hui je peux plaisanter au sujet de ma grossesse je dois dire que cela a été si bouleversant physiquement et émotionnellement que j'ai eu besoin de prendre un "congé maternité" loin de tout et également loin du blog. Mais croyez-moi je n'aurais jamais pensé que cette pause durerait finalement 1 an ! En fait cette grossesse a été un grosse surprise et quand je dis surprise c'est un bien faible mot ! Parce qu'évidemment on ne planifie pas une grossesse quelques mois après le décès de sa mère car on est encore trop fragile. Et on ne planifie pas non plus et encore moins une grossesse 3 mois après s'être mis avec quelqu'un. Mais c'est arrivé et je dois avouer que cette minuscule petite chose qui a grandit en moi est maintenant la meilleure et la plus belle chose dans ma vie. Ces montagnes russes d'émotions sont maintenant derrière et je partage désormais ma vie avec un mini humain que j'aime plus que tout et qui me rend chaque jour heureuse !
Alors oui, beaucoup de choses se sont passées pendant cette longue période. J'ai tellement de projets à partager avec vous et je le ferai dans les prochains posts. Car oui, je suis une blogueuse après tout, alors même enceinte je n'ai bien évidemment pas oublié de prendre des photos des choses que j'ai réalisé ! Et oui, soyons honnête, je vais aussi très probablement ajouter une catégorie "Maternité" au blog pour parfois aborder ma nouvelle vie de maman avec mon petit chou ou pour parler de mon "incroyable" expérience de la grossesse. Je vais le faire car cela fait maintenant partie de ma vie, mais aussi parce que regardez cet article, c'est de loin le plus long que je n'ai jamais écrit et il y a encore tellement à dire... ! Il y a aura donc très bientôt certains changements mais ne vous en faites pas, ce blog est et restera cet espace unique pour partager mes projets, mes belles trouvailles, un lieu que j'ai créé pour vous inspirer. Et cette fois-ci mes chers amis,  je promets de faire de mon mieux pour être plus régulière avec le blog. Mon premier défi est d'essayer d'écrire 3 posts par semaine, ce qui dans la vie d'une jeune maman est une montagne de travail, pour ne pas dire Mission Impossible ! Parce que donner le biberon, changer les couches et bercer bébé prend beaucoup de temps ! Et je n'exagère pas du tout en disant cela. La preuve, pouvez-vous croire que j'ai mis plus de 5 heures à écrire ce simple post, tout ça parce que quand un bébé pleure et a faim peu importe que vous soyez déjà occupée à faire autre chose vous devez tout arrêter !
Quoiqu'il en soit, ce blog m'a tellement manqué que je vais vraiment apprécier cette montagne de travail et j'ai déjà hâte de partager tellement de nouvelles choses avec vous... Maintenant tout ce qui me reste à vous dire après cet article très long c'est à très bientôt je l'espère et en attendant je vous envoie tout plein de bisous !
P. S : Pour ceux qui ont réussi à lire jusqu'à la fin, félicitations ! Je pense que vous méritez vraiment un prix spécial pour ça... Encore une fois merci du fond du coeur d'être ici.
Biz