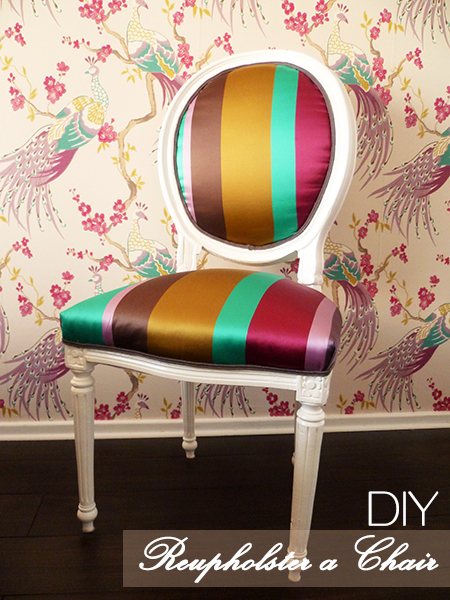 When I posted the pictures of my bedroom small makeover, I told you that I would show you how I renovated the chair that I found for my vanity. I'm not a professional, far from it, but I'm going to try to show you step by step how I do every time.
Lorsque j'ai mis en ligne les photos du petit relooking de ma chambre, je vous ai dit que j'allais vous montrer comment j'ai rénové la chaise que j'ai trouvée pour ma coiffeuse. Je ne suis pas une professionnelle, loin de là, mais je vais essayer de vous montrer étape par étape la manière dont je procède à chaque fois.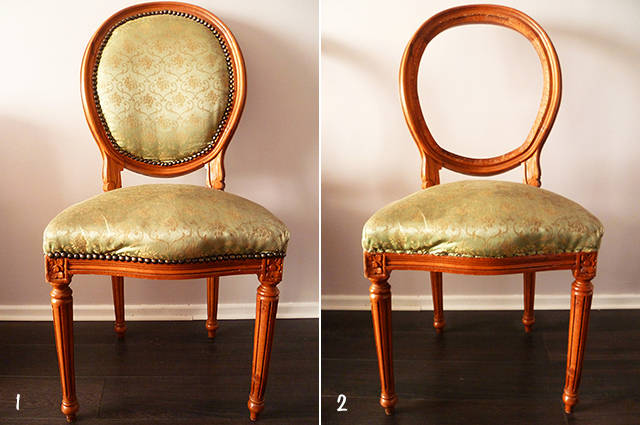 Here is a picture of one of the chairs that I bought. This pair of chairs was old but in good condition. So first of all, I removed all the carpet nails that were on it. Then I completely removed the back of the chair, but I kept the hair-cloth that was inside for later. The seat of the chair was in very good condition so there was no need to remove it.
Voici une photo d'une des chaises que j'ai achetées. Cette paire de chaises était ancienne mais en bon état général. J'ai tout d'abord enlevé tous les clous à tapisser qui étaient dessus. J'ai ensuite entièrement retiré le dossier mais j'ai conservé et mis de côté la garniture en crin qui s'y trouvait pour plus tard. Pour l'assise, elle était en très bon état et je n'ai donc pas eu besoin de la retirer.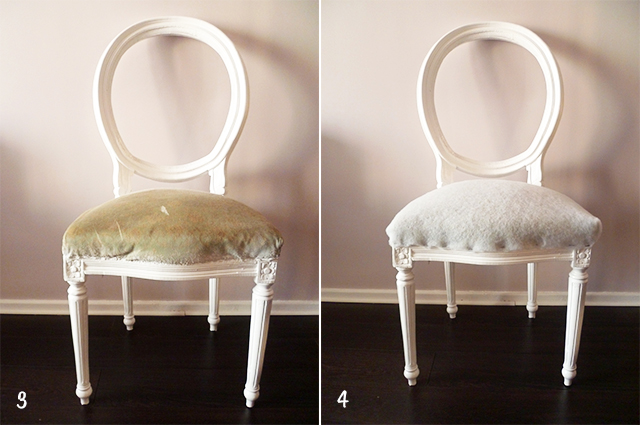 Then I sanded the wood before painting white. At this point the chair is ready to be reupholstered. So I simply added a layer of flannel on the seat and I stapled it.
Ensuite, j'ai poncé le bois avant de le repeindre en blanc. A ce stade, la chaise est prête à être recouverte. J'ai donc simplement ajouté une couche de molleton sur l'assise que j'ai agrafée.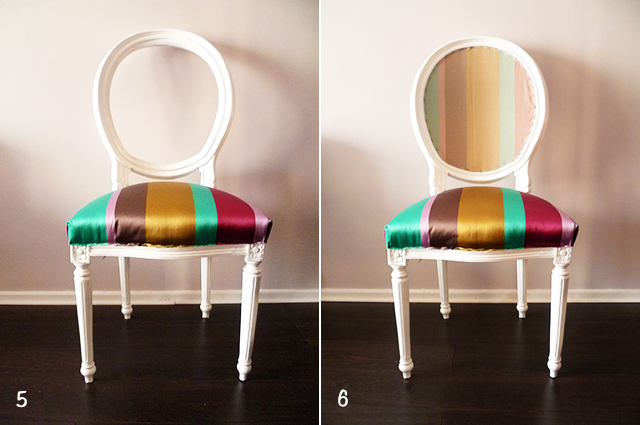 Then I began to put the striped fabric I chose firstly by fastening it on the seat and after on the chair back.
J'ai ensuite commencé à mettre le tissu à rayures que j'avais choisi tout d'abord en l'agrafant sur l'assise, puis au dos de la chaise.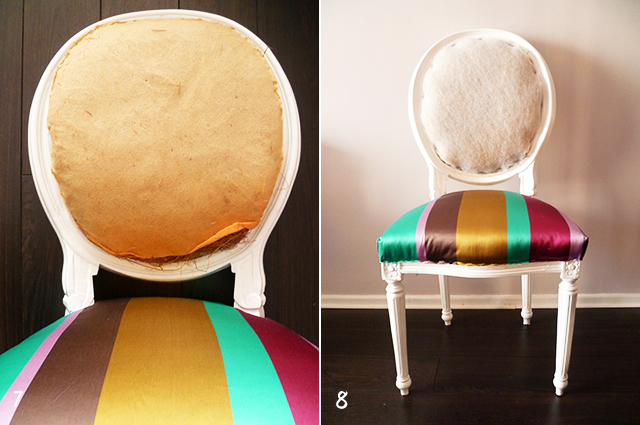 As you can see in the picture 7, I put on the hair-cloth that I had removed and kept at the beginning on the chair back. Then I covered it with fleece before stapling it.
Comme vous pouvez le voir sur l'image 7, j'ai remis sur le dossier la garniture en crin que j'avais retirée et conservée au départ. Je l'ai ensuite également recouverte de molleton que j'ai agrafé.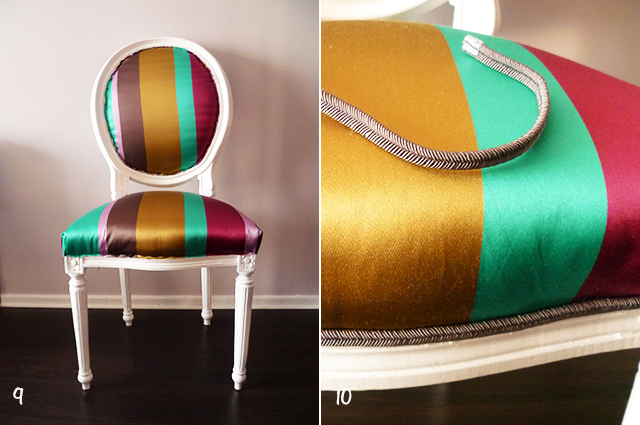 I finally reupholstered the back of the chair with the fabric and I stapled. To finish, simply cut the excess cloth and stick a braid stripe on the staples all around the chair.
Enfin, j'ai recouvert le dossier avec le tissu que j'ai agrafé. Pour la finition, il suffit de découper les excédants de tissu puis de coller un galon sur les agrafes sur tout le pourtour de la chaise.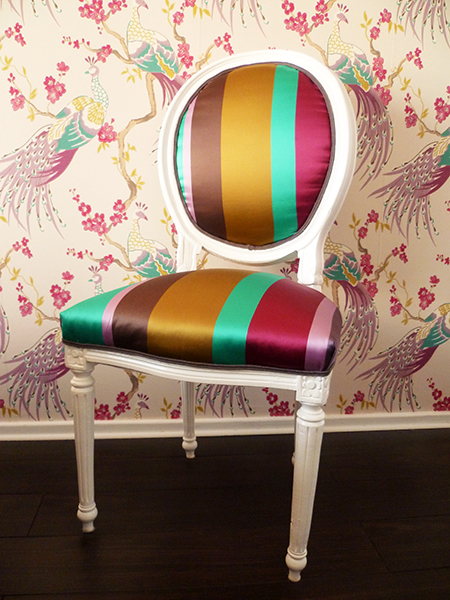 And here is the chair entirely reupholstered!
Et voici la chaise entièrement recouverte !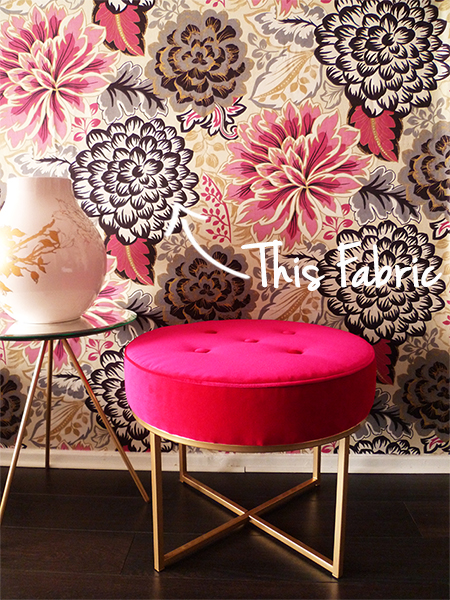 And you remember this photo of my DIY Kate Spade stool, many people asked me the name of this wallpaper. Actually it is not wallpaper but a piece of cloth that I simply put on the wall to take my photos. As I told you at the beginning, I bought a pair of old chairs to renovate ... well I repeated all these steps again to cover the second chair with this fabric.
Et vous vous souvenez de cette photo de mon tabouret Kate Spade DIY, de nombreuses personnes m'avaient demandé le nom de ce papier peint. En réalité il ne s'agit pas de papier peint mais d'un bout de tissu que j'avais simplement mis sur le mur pour prendre mes photos. Comme je vous l'ai dit au départ, j'ai acheté une paire de chaises anciennes à rénover... et bien j'ai recommencé toutes ces étapes pour recouvrir la seconde chaise avec ce tissu.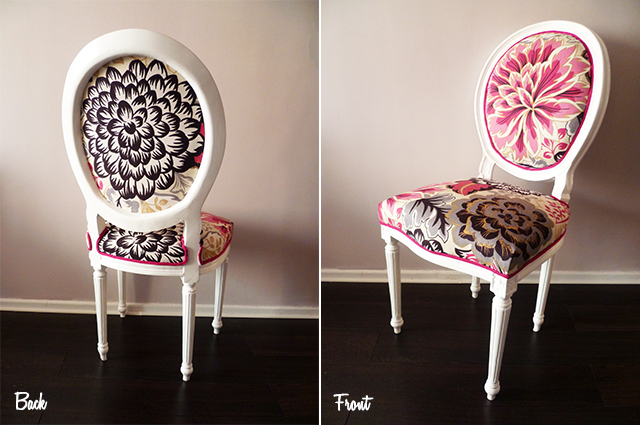 And here is the second chair!
Et voici donc la seconde chaise !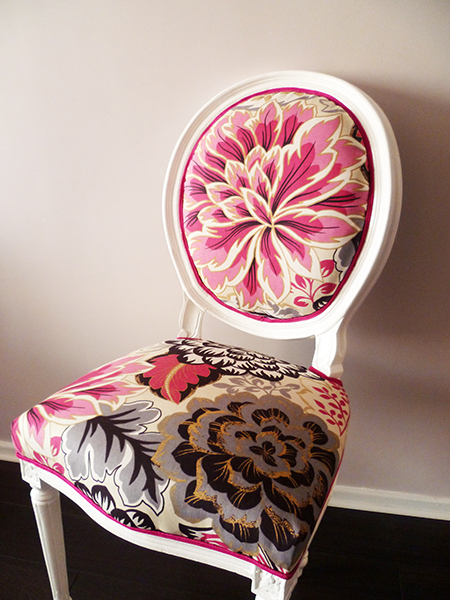 I covered many chairs always following these simple steps, such as the chair on the photo just below.
J'ai recouvert de nombreuses chaises toujours en suivant ces étapes simples comme par exemple la chaise sur la photo juste en dessous.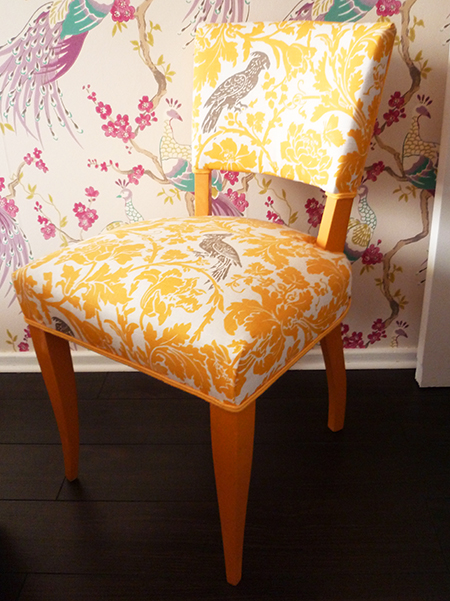 So start stapling! Do not hesitate anymore to rescue old chairs to give them a second life!
Alors à vos agrafeuses ! N'hésitez plus à récupérer d'anciennes chaises pour leur donner une seconde vie !