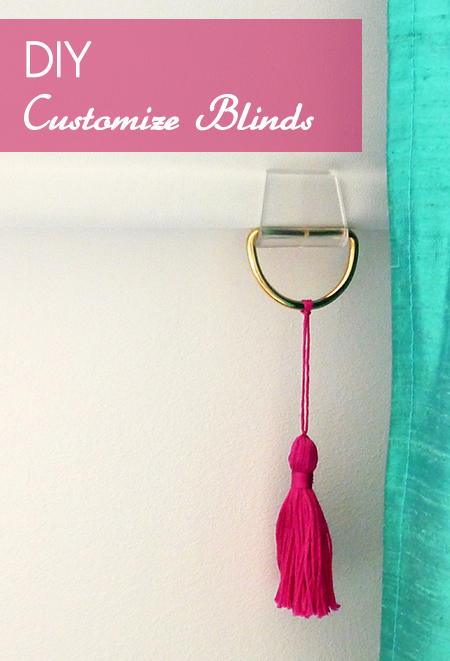 I already showed you how to customize blinds with ribbon, today I'm back with a new and lovely DIY to customize them with tassels ...
Je vous ai déjà montré comment customiser des stores avec du ruban, aujourd'hui je suis de retour avec un nouveau joli DIY pour les customiser avec des pompons...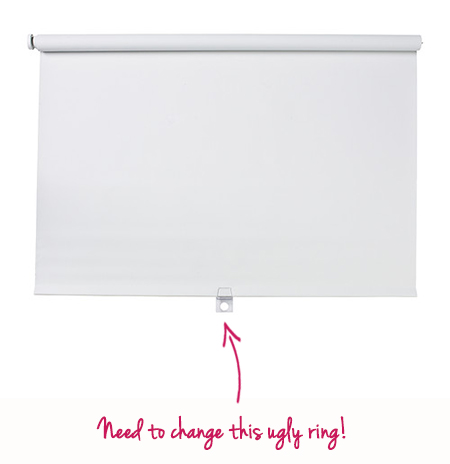 I recently purchased Ikea Tupplur blinds and the good news is that on the new models the mechanism to raise and lower the blinds has changed. The unsightly and dangerous cord disappeared. The only simple problem is that there is now an ugly plastic ring right in the middle! So obviously I decided to change that little detail and replace it with something a little more chic: tassels. You will see it is very simple and it will not take you more than 5 minutes.
To do this you will only need:
- A 40 mm D ring for bags (it has that name because of its D shape)
- DMC embroidery floss
- Scissors
J'ai récemment acheté des stores Tupplur d' Ikea et la bonne nouvelle est que sur les nouveaux modèles le mécanisme pour monter et descendre les stores a changé. La corde disgracieuse et dangereuse a disparu. Le seul petit hic est qu'il y a maintenant un anneau en plastique plutôt moche et qui se trouve en plein milieu ! J'ai donc bien évidemment pensé à changer ce petit détail pour le remplacer par quelque chose d'un peu plus chic : des pompons. Vous allez voir c'est très simple et cela ne vous prendra pas plus de 5 minutes.
Pour cela il faudra simplement :
- Un anneaux pour sac D de 40 mm (il porte ce nom pour sa forme en D)
- Du fil à broder DMC
- Des ciseaux


First take your material (you can find D rings and thread on eBay for example). Take a piece of thread and make a double knot like in the picture above.
Tout d'abord prenez votre matériel (vous pouvez trouver des anneaux et du fil sur eBay par exemple). Prenez un morceau de fil et faites un double noeud comme sur l'image ci-dessus.


Take a new skein (or floss) and make another double knot to attach it to the first thread.
Prenez une nouvelle échevette (ou bobine) et faites un autre double noeud pour l'attacher au premier fil.


You will have what you see in the picture 5. Take another piece of thread and wrap it around numerous times and made ​​another double knot.
Vous obtiendrez ce que vous voyez sur l'image 5. Prenez à nouveau du fil et enroulez-le plusieurs fois autour puis faites à nouveau un double noeud.


Finally, you just have to cut the tips of the thread and put the tassel on your bag D ring.
Enfin, il ne vous reste plus qu'à découper le bout des fils et à mettre votre pompons sur votre anneau de sac D.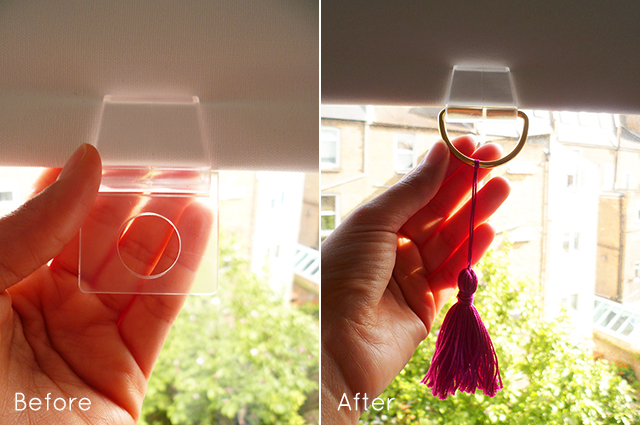 Now you can replace your plastic ring by your new ring. So it's much prettier like that, isn't it?
Maintenant vous pouvez remplacer votre anneau en plastique par votre nouvel anneau. Alors, c'est quand même plus joli comme ça, non ?