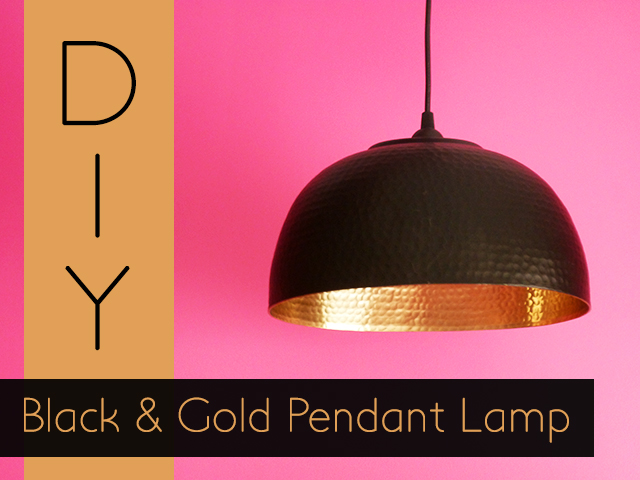 Lately we can see more and more of these lovely black and gold hammered iron pendant lights.
Ces derniers temps on a peut voir de plus en plus de ces jolies suspensions en fer martelé de couleur noire et or.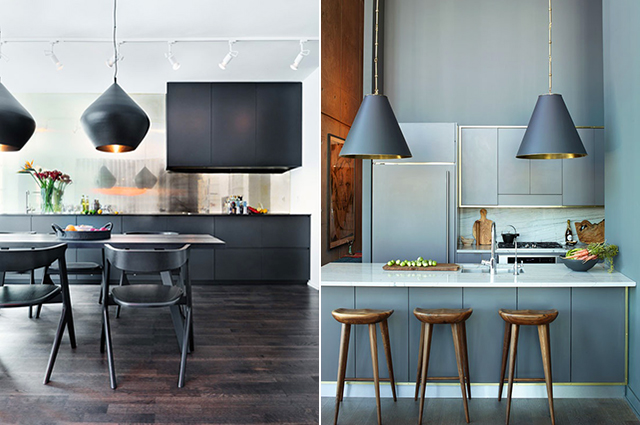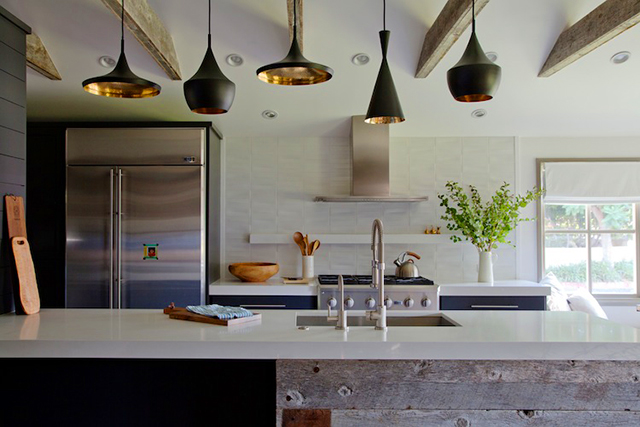 You can find them in different sizes and shapes as well. I think they are especially beautiful above a table or better when there are several of these pendant lamps above a kitchen island like the picture just above that I saw last week in Albertina's post on Heart of Gold and Luxury. So I did not resist and I decided to do this DIY!
On peut les trouver de différentes tailles et formes également. Je les trouve belles notamment au-dessus d'une table ou encore plus lorsqu'il y en a plusieurs suspendues au-dessus d'un îlot de cuisine comme sur l'image juste au-dessus que j'ai vue la semaine dernière dans le post d'Albertina sur Heart of Gold and Luxury. Je n'ai donc pas pu résister et j'ai décidé de me lancer dans ce DIY !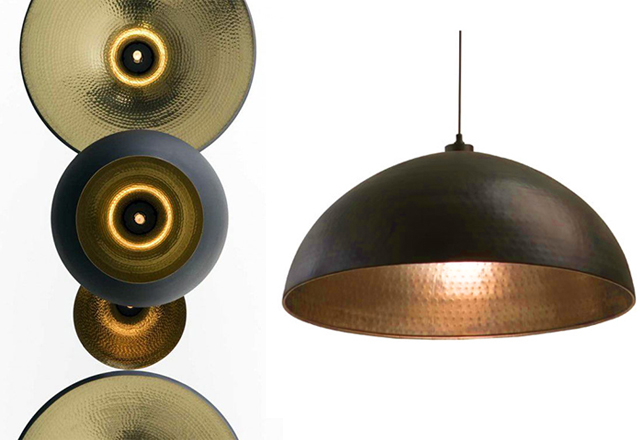 To do this I first had to find a hammered metal basis if possible with the same color to avoid having to repaint. You will see that the pendant lamp I made is similar to the one you can see just above on the right.
Pour faire cela il fallait tout d'abord trouver une base en fer martelé, si possible de la même couleur pour éviter d'avoir à la repeindre. Vous allez voir que la suspension que j'ai réalisée ressemble à celle que vous pouvez voir sur juste au-dessus à droite.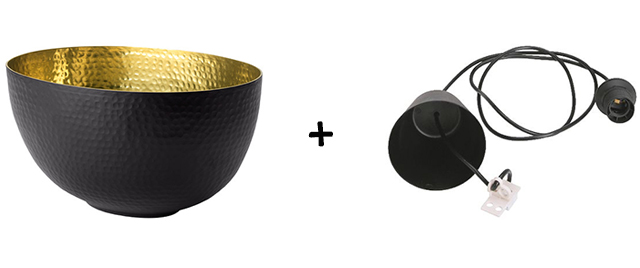 As usual a small turn visit to Ikea and I found everything I needed!
For this very simple DIY you will need:
- An Angenäm bowl from Ikea (€ 19.95)
- A light cord set also available in Ikea, name Hemma (3.99 €)
- A light bulb
Equipment:
- Drill
- A hole saw
Comme d'habitude un petit tour chez Ikea et j'ai trouvé tout ce dont j'avais besoin !
Pour ce DIY très simple il vous faudra :
- Une coupe Angenäm de chez Ikea (19,95€)
- Une monture électrique également disponible chez Ikea, c'est le modèle Hemma (3,99€)
- Une ampoule
Pour le matériel :
- Une perceuse
- Une scie cloche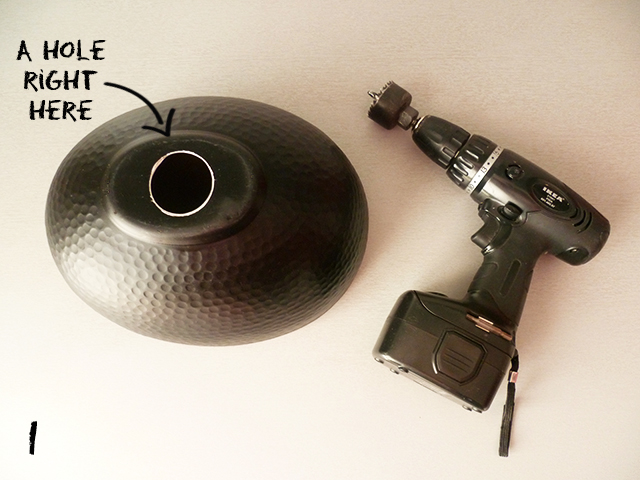 You first have to make a hole with the hole saw on the bottom of the bowl. The diameter of the hole saw I used is 45 mm, it matches the diameter of the electric mount that will be inserted later. If you use a different cord set simply adapt the diameter of your hole saw.
Vous devez tout d'abord faire un trou à l'aide de la scie cloche sur le fond de la coupe. Le diamètre de la scie cloche que j'ai utilisée est de 45 mm, ceci correspond au diamètre de la monture électrique qui sera insérée par la suite. Si vous utilisez une monture différente adaptez tout simplement le diamètre de votre scie cloche.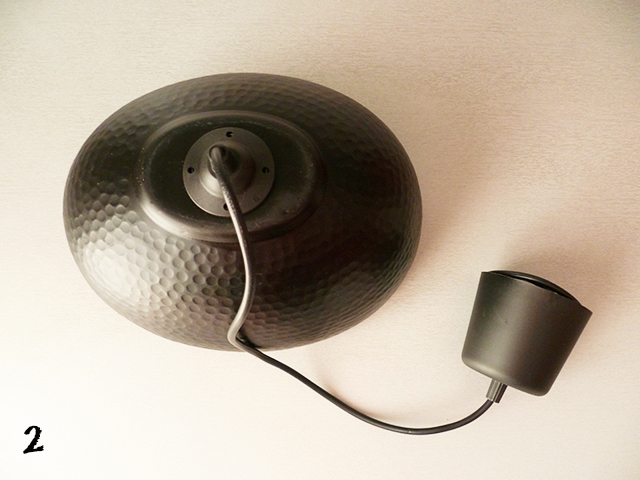 Then put the electric mount or cord set and fix it by screwing from the inside
Ensuite mettre la monture électrique et la fixer en la vissant par l'intérieur.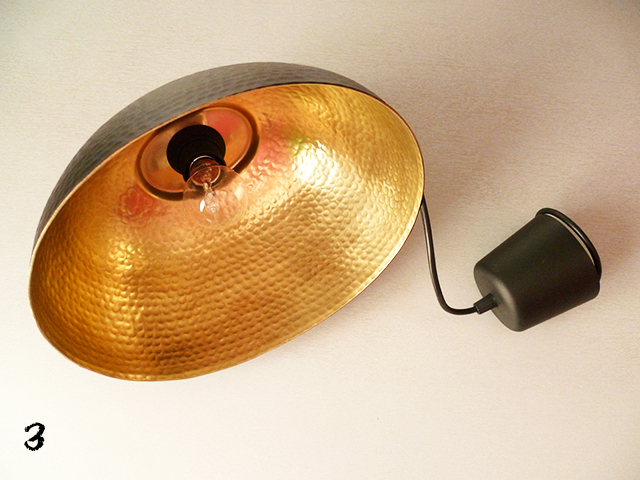 Put your light bulb and that's it, your pendant lamp is over! Now you only have to hang it wherever you want. I told you that it was very easy and in addition it is also quick to make. A pretty pendant lamp for less than 24 € so why do without it ... If you have a kitchen island or a long table, do not hesitate to make several of these to hang side by side.
Mettez votre ampoule et voilà, votre suspension est terminée ! Maintenant vous n'avez plus qu'à l'accrocher où vous voulez. Je vous avais dit que c'était très facile et en plus c'est aussi rapide à réaliser. Une jolie suspension pour moins de 24€ alors pourquoi s'en priver... Si vous avez un îlot ou une longue table, n'hésitez pas à en faire plusieurs pour les suspendre les unes à côté des autres.