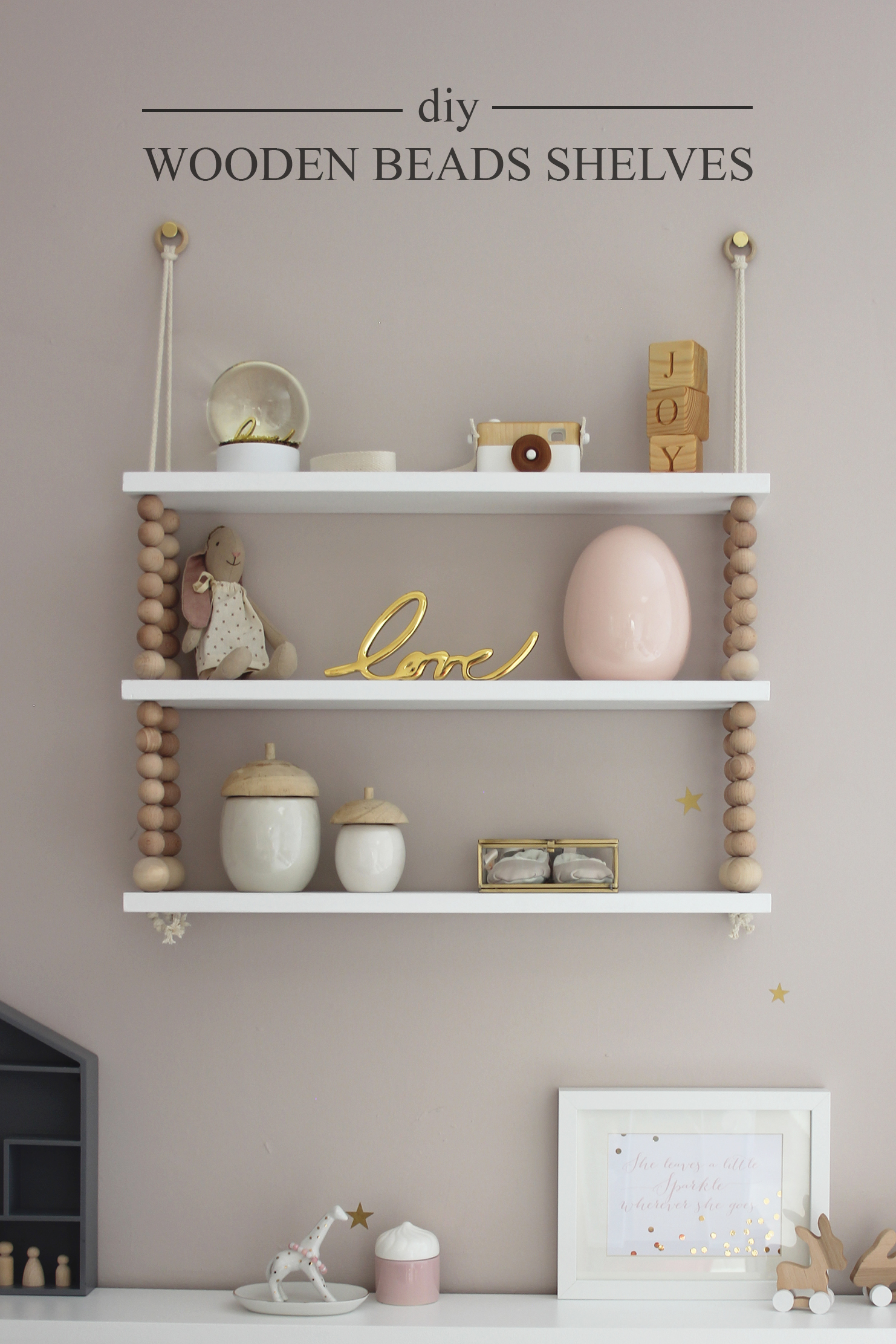 What about starting the week with an easy and lovely DIY...?
Que diriez-vous de commencer la semaine avec un DIY à la fois joli et facile...?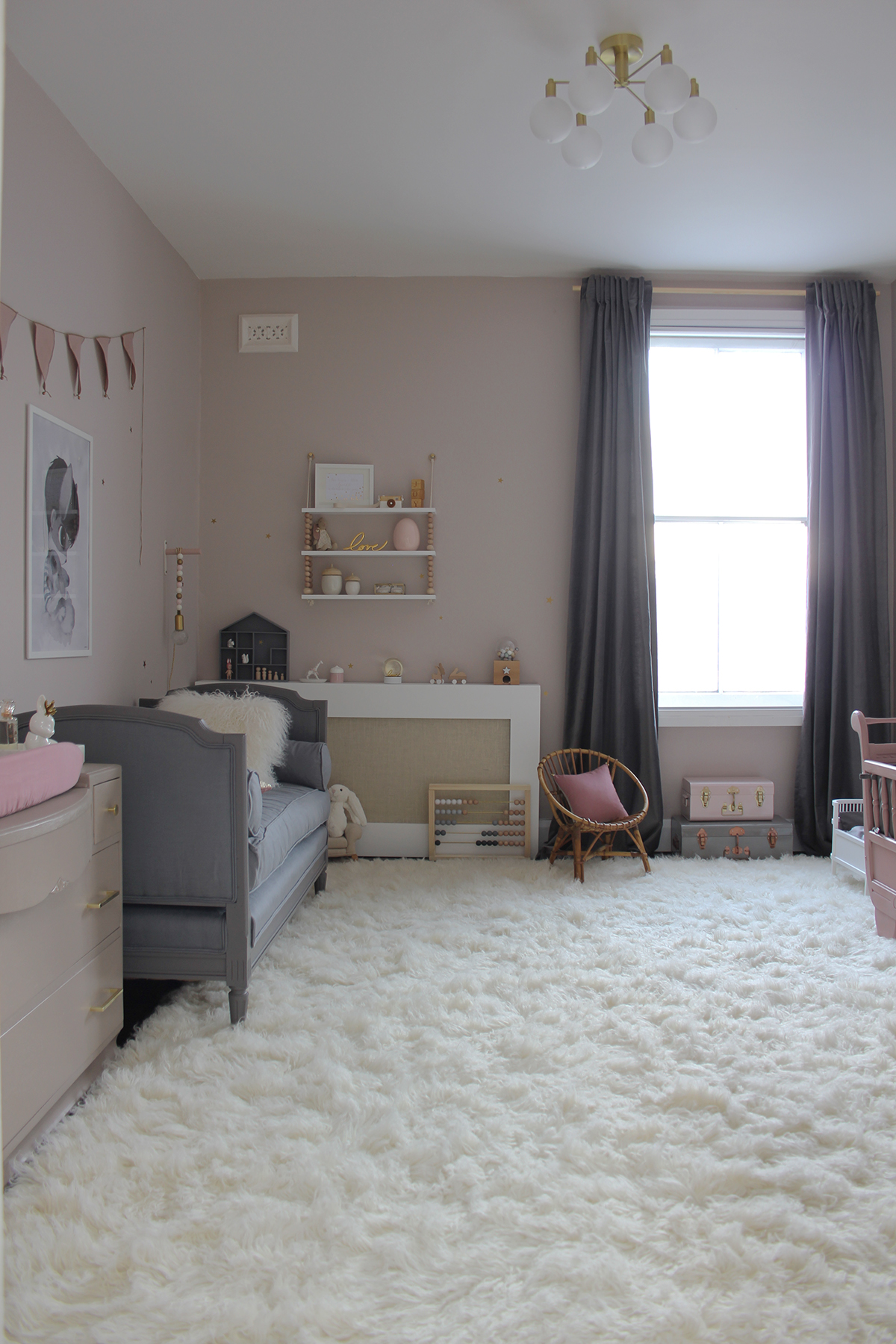 After the reveal of my little one's nursery for the ORC, many of you asked me about some of my DIYs and in particular the cute wooden beads shelves I made to display my lovely finds. I know it's been a while since I had to share this project, but as you know during the past few months it has been a bit hard for me to find time for the blog... Now that I'm back, I promise to do my best to make up for the lost time and share all my DIYs!
Après vous avoir montré la transformation de la chambre de bébé de ma petite puce pour l'ORC, beaucoup m'ont posé des questions sur mes DIY, et en particulier l'adorable étagère avec les perles en bois que j'avais faite pour exposer mes jolies trouvailles. Je sais que cela fait un bout de temps que je devais partager ce projet, mais comme vous le savez, ces derniers mois il a été difficile pour moi de trouver du temps pour le blog... Maintenant que je suis de retour, je promets de faire de mon mieux pour rattraper le temps perdu et partager tous mes DIY !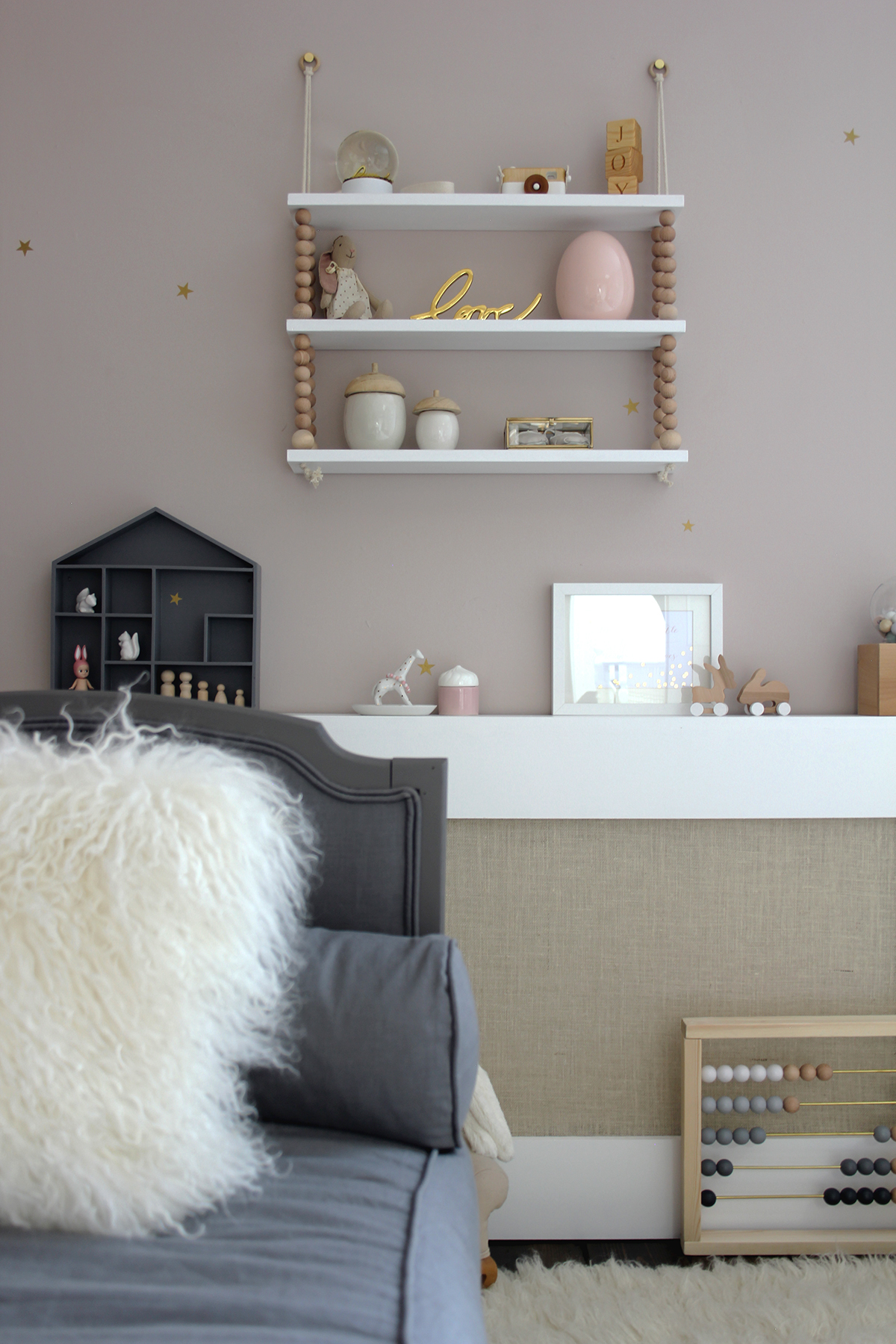 So let's start today with the wooden beads shelves! You'll see that it's an easy DIY and here is what you need to make it, with all the instructions step by step:
- Wooden boards
- Cotton rope
- Wooden beads
- 2 Wooden curtain rings
- Paint (optional)
- 2 Brass mirror screws (optional)
- Drill
- Scissors
- Adhesive tape (optional)
- Spirit level (optional)
Alors commençons aujourd'hui avec l'étagère avec perles en bois ! Vous allez voir que c'est un projet facile et voici ce dont vous avez besoin pour le faire avec les instructions pas à pas :
- Planches en bois
- Corde en coton
- Perles en bois
- 2 anneaux de rideau en bois
- Peinture (facultatif)
- 2 vis avec cache-vis dorés (facultatif)
- Perceuse
- Ciseaux
- Ruban adhésif (facultatif)
- Niveau à bulle (facultatif)


First, take the wooden boards and drill 4 holes, one on of each corner. Here I used pine wood, if you prefer natural wood you can obviously avoid the painting part and leave them unfinished. Otherwise, paint them white or the colours of your choice and then let them dry.
In my project, I used 3 wooden planks of 60cm by 12cm. But it's completely up to you to decide how many you want for your shelves and the size.
Tout d'abord, prenez les planches en bois et percez 4 chaque trous, soit un à chaque coin. Ici j'ai utilisé du pin, si vous préférez le bois naturel vous pouvez bien entendu sauter l'étape peinture et laisser le bois brut. Autrement, peignez-les en blanc ou de la couleur de votre choix et laissez sécher.
Pour mon projet, j'ai utilisé 3 planches de bois de 60cm sur 12cm chacune. Mais c'est à vous de décider du nombre d'étagères que vous voulez et de la taille.


Take the rope and the wooden rings. Fold the rope in half and insert it in the hole. Do this for both wooden rings.
Here I used a 6mm cotton rope and I cut 2 pieces of approximately 180cm length each. You can use a different kind of rope as long as it's strong enough to hold the weight of the shelves.
For the length of the rope, it will depend on the number of shelves you will have and the number of beads you will use. The best thing is to always leave extra rope to be safe and cut it at the end.
Prenez la corde et les anneaux en bois. Plier la corde en deux et passez-la dans le trou. Faites cela pour les deux anneaux en bois.
J'ai ici utilisé de la corde de coton de 6mm de diamètre et j'ai coupé 2 morceaux d'environ 180cm de longueur chacun. Vous pouvez très bien utiliser différentes sortes de cordes mais assurez-vous qu'elles soient assez solides pour supporter le poids des étagères.
Pour la longueur de la corde, cela dépend du nombre d'étagères que vous aurez et du nombre de perles que vous utiliserez. La meilleure chose à faire est de toujours laisser de la corde en plus par précaution et de la couper à la fin.


Pass the ends of the rope in the loop and pull.
Passez les bouts de la corde dans la boucle et tirez.


You get the 2 wooden rings with the rope knotted around. Now take one of these and insert the rope through the holes in the first board.
To make it easier, you can put some adhesive tape on the end of the rope so it goes through smoothly.
Vous obtenez 2 anneaux en bois avec les cordes nouées autour. Maintenant prenez-en un et passez la corde à travers les trous de la première planche.
Pour que ce soit plus facile, vous pouvez mettre du ruban adhésif sur les bouts de la corde pour qu'elle glisse et passe plus aisément.

Now you can start stringing the beads on the rope. Then you repeat the last two steps until the last wooden board. When you arrive at the last board leave the extra rope and make a knot to secure so everything stays attached on the rope.
Here I used 3 different sizes of wooden beads: 25mm, 30mm and 35mm.
You can put as many beads as you want. The more beads you put, the longer the space between each shelf will be. You are also free to choose the size of the beads, but just make sure that the hole is big enough for the rope or you will have to make it bigger using a drill.
Vous pouvez maintenant commencer à enfiler vos perles sur la corde. Ensuite répétez les deux dernières étapes jusqu'à votre dernière planche en bois.
Ici, j'ai utilisé 3 différentes tailles de perles en bois : 25mm, 30mm et 35mm.
Vous pouvez mettre autant de perles de bois que vous le souhaitez. Plus vous mettrez de perles, plus l'espace entre chaque étagère sera important. Vous êtes également libres de choisir la taille des perles mais assurez-vous simplement que le trou soit assez gros pour y passer la corde ou vous devrez l'élargir à l'aide de la perceuse.


The next step is to attach your shelves on the wall. Fix 2 screws on the wall and attach the shelves using the wooden rings.
The screws will be visible and no one wants to have lovely shelves with ugly screws on the wall. So here is a little tip that I always use to make ugly screws look nicer... I use mirror screws instead!
For this DIY I put screws with flat brass screw covers but you can also get them in different shapes and colours. This little tip is great for all the things you will hang on your walls when you have visible screws or nails.
La prochaine étape est d'accrocher l'étagère au mur. Mettre 2 vis dans le mur et y suspendre l'étagère à l'aide des anneaux en bois.
Les vis seront visibles et personne ne veut avoir une jolie étagère avec d'horribles vis sur son mur. Alors voici une petite astuce que j'utilise toujours pour rendre les horribles vis plus jolies... J'utilise à la place des vis pour miroir !
Pour ce projet j'ai mis des vis avec des cache-vis plats en laiton mais il existe d'autres finitions et formes. Cette petite astuce est valable pour toutes les choses que vous accrocherez sur vos murs et qui ont des vis ou clous visibles.


Now starting on one side make the shelves straight. You can use a level if you have one as it will be much easier. Then pull the end of the rope and once the shelves are straight on this side you can make a knot on both ends of the rope and then cut the excess.
Maintenant, en commençant par un côté mettez votre étagère droite. Vous pouvez vous aider d'un niveau à bulle si vous en avez, ce sera beaucoup plus simple. Ensuite, tirez l'extrémité de la corde et une fois que l'étagère est droite de ce côté vous pouvez faire un noeud sur les deux bouts de la corde.


Finally, make the shelves straight once again and repeat the last step for the other side of the shelves and that's it!
Enfin, mettez encore une fois l'étagère à niveau et répétez la dernière étape pour l'autre côté de l'étagère et voilà !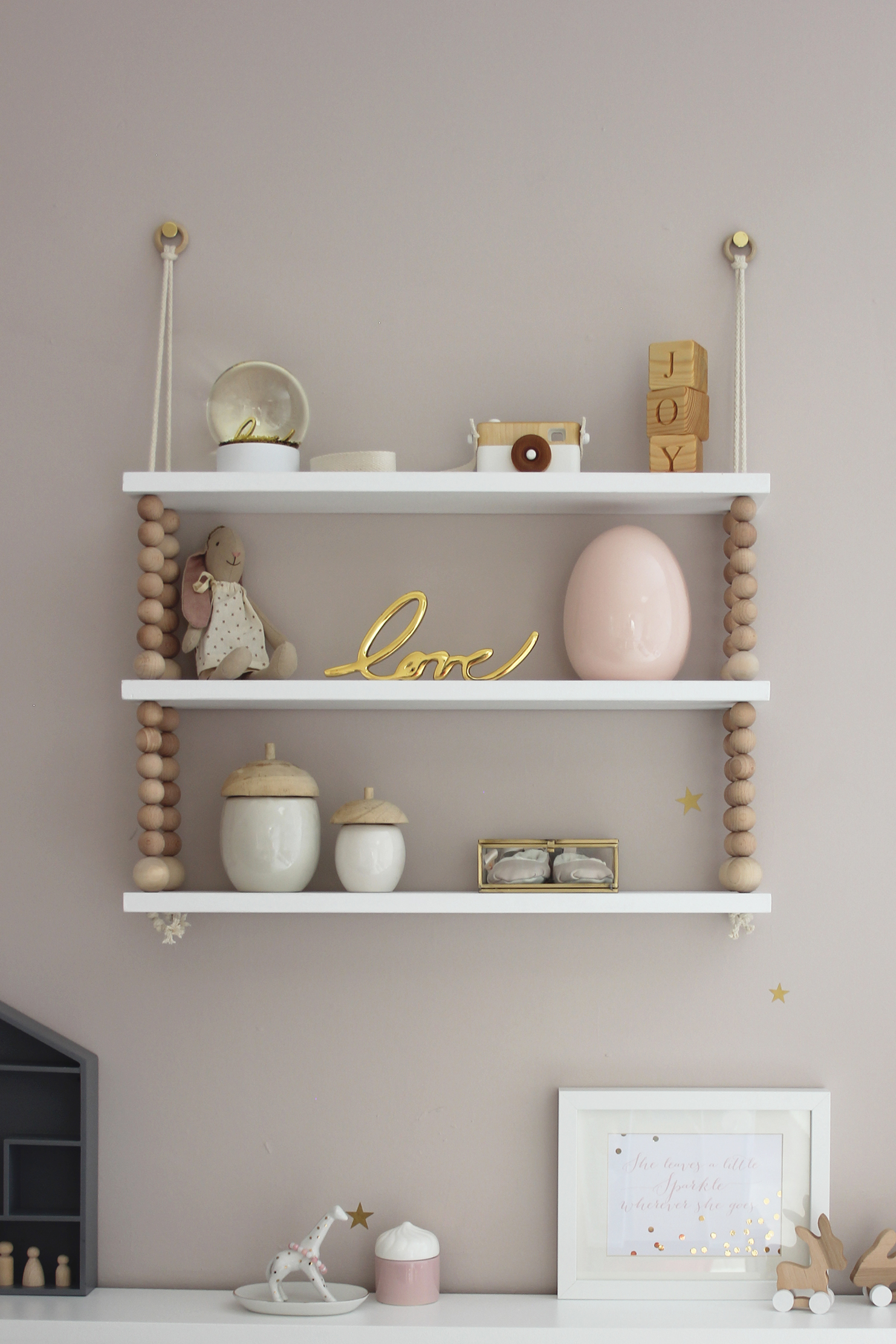 You now have lovely wooden beads shelves to display all your treasures and beautiful finds!
Vous avez maintenant une jolie étagère avec des perles en bois pour exposer tous vos trésors et belles trouvailles !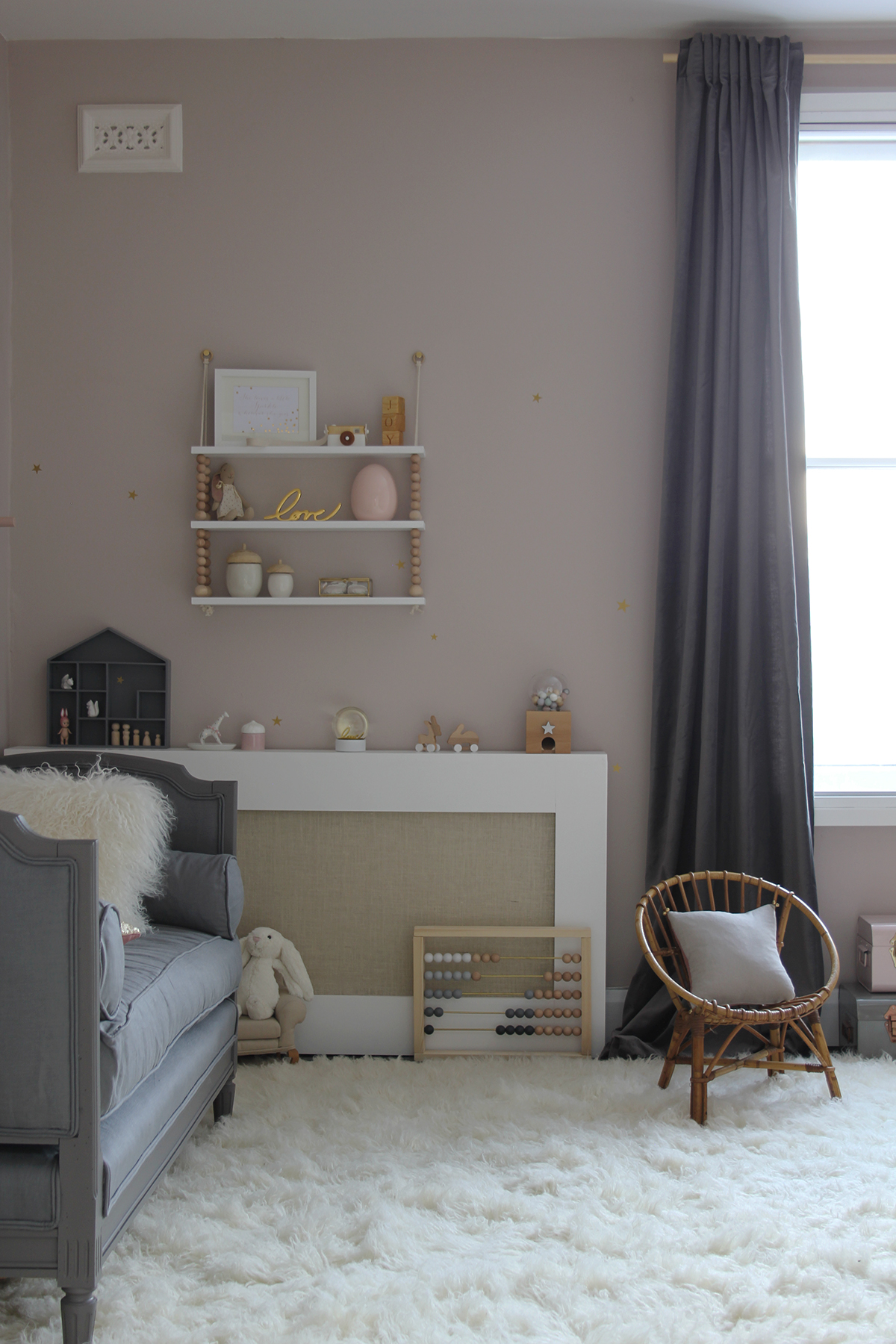 Here is mine in my little angel's nursery and I love it!
Voici la mienne dans la chambre de mon petit ange et je l'adore !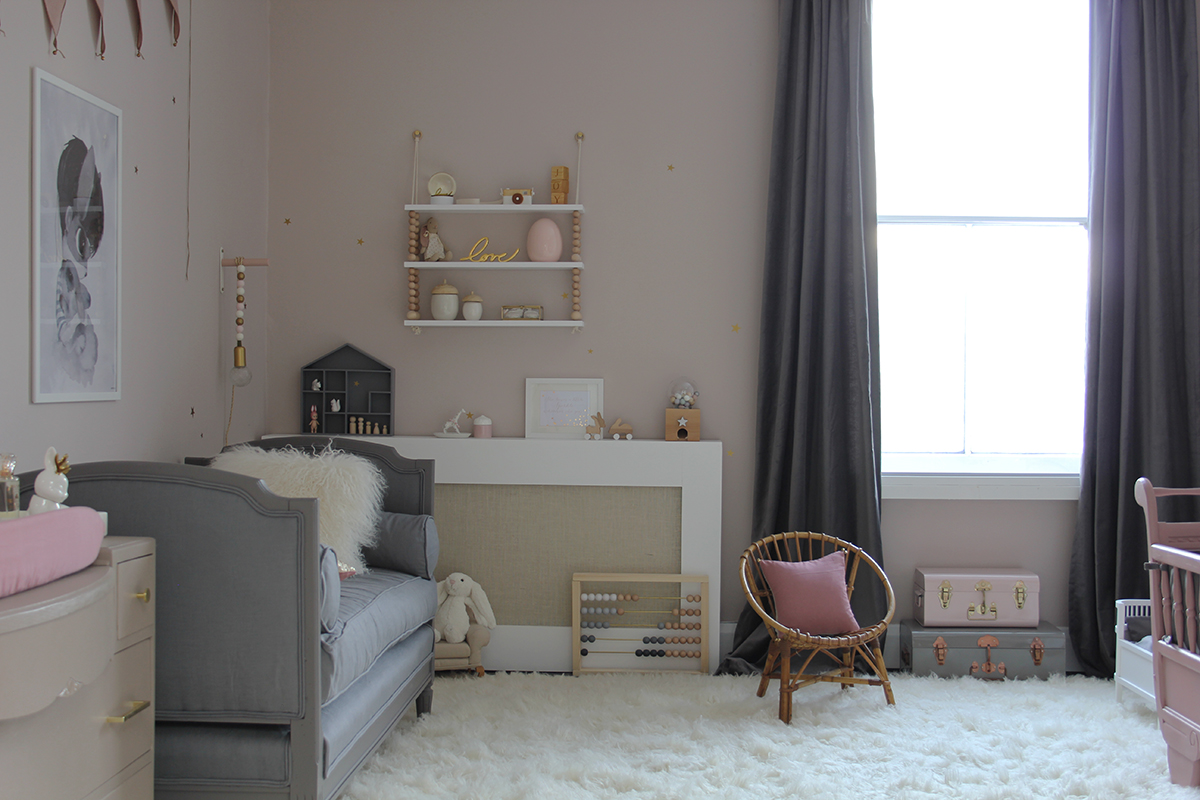 I hope this DIY will inspire you and will help you to make your own! Don't hesitate to leave a comment or email me if you have any questions about this project. And above all don't forget one thing, if I can do it, you can do it!
J'espère que ce DIY vous inspirera et vous aidera à vous lancer pour faire votre propre étagère ! Si vous avez des questions sur ce projet, n'hésitez pas à laissez un commentaire ou m'envoyer un mail. Et surtout n'oubliez pas une chose, si je peux le faire, vous le pouvez aussi !