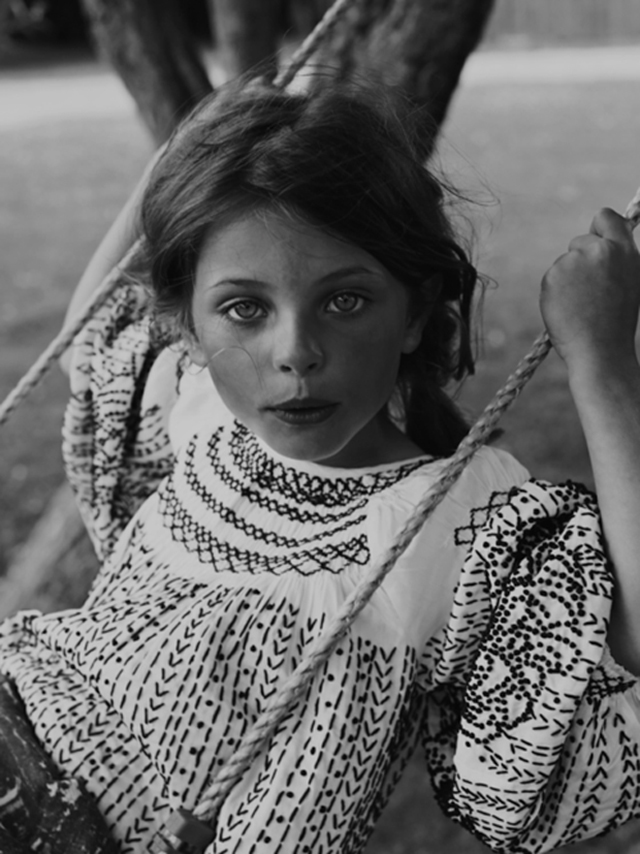 I am in love the first H&M Studio collection for kids that will be in store in a few days.
Je suis tombée amoureuse de la première collection H&M Studio pour enfant qui sera en boutique d'ici quelques jours.

This collection inspired by folk-tales and fantasy is a bit whimsical. It reminds me of the old circus universe, full of magic and dreaming. A world apart, unique and full of poetry where kids can be whoever they want to be. A world where there is no more barriers between imagination and reality. A kind of "Alice in Wonderland" world. This is exactly how I feel when I see these pictures and I really wish my little one was a bit older just so she could wear one of these beautiful pieces.
Cette collection, inspirée par la fantaisie et les contes folkloriques, a quelque chose de magique. Elle me rappelle l'univers des anciens cirques, rempli de rêve et de magie. Un monde à part, unique et plein de poésie où les enfants peuvent être ce qu'ils veulent. Un monde où il n'y a plus de frontière entre imagination et réalité. Une sorte de monde à la "Alice aux pays des merveilles". C'est exactement ce que je ressens quand je vois ces images et j'aurais vraiment voulu que ma petite puce soit un peu plus grande juste pour pouvoir porter une des ces belles pièces.

If like me you succumbed to the charms of these dreamy pictures, don't miss this first Kids Studio collection. It will be available from the 8th of September in a selection of H&M stores and on line and I am pretty sure it will quickly be sold out!
Si comme moi vous avez succombé aux charmes de ces photos de rêve, ne manquez pas cette première collection Studio pour enfants. Elle sera disponible dans une sélection de magasins H&M et en ligne à partir du 8 septembre et je suis quasiment certaine qu'elle sera très rapidement épuisée !

Images source Milk