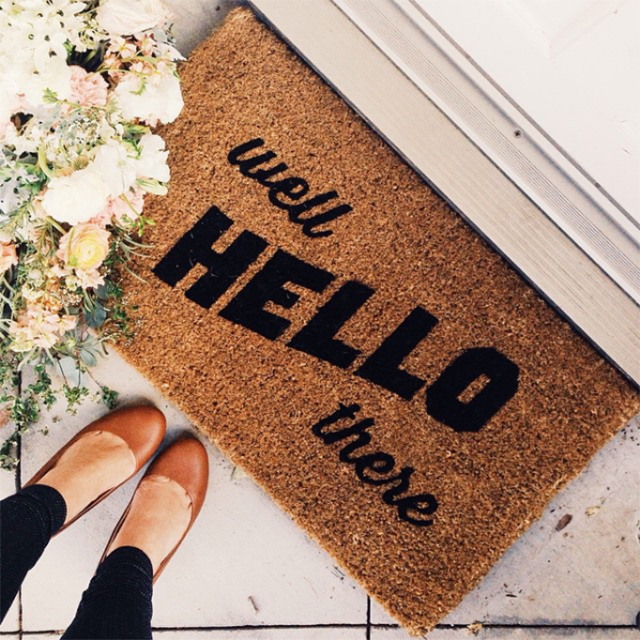 When my little one arrived, I had to move into a new apartment...
Avec l'arrivée de bébé, j'ai dû déménager dans un nouvel appartement...
I already mentioned it months ago right here and I was also supposed to show you the pictures of this new home months ago!!! But my new mom's busy life didn't give me much time to do it...
Anyway, better late than never and I am finally going to give you a quick tour of this new home sweet home. It is much bigger than my last home and I really love it! It's an old conversion apartment with original wooden floor throughout, so much character and huge potential. Many things need to be "updated" and some works here and there but I still loved it the first time I came to visit it. It's a rental in need of some TLC but I agreed with the landlord to do works to improve the property in exchange of a little discount on the rent ;)
Je l'avais déjà mentionné des mois auparavant juste ici et j'étais aussi censée vous montrer les photos de ce nouveau foyer il y a des mois de cela !!! Mais ma vie débordée de jeune maman ne m'a pas vraiment le temps de le faire...
Bref, mieux vaut tard que jamais et je vais enfin vous faire la visite de ce nouveau home sweet home. Il est beaucoup plus grand que mon ancien petit chez moi et je l'adore ! C'est un appartement dans une ancienne maison qui a été divisée, il a beaucoup de cachet, un parquet en bois d'origine dans toutes les pièces et un énorme potentiel. Beaucoup de choses doivent être "remises au goût du jour" et des travaux ici et là mais je l'ai adoré dés la première visite. C'est une location et il a grandement besoin que l'on prenne soin de lui, mais je me suis arrangée avec le propriétaire pour y faire les travaux nécessaires en échange d'une petite réduction sur le loyer ;)

Let's start now this little tour with the living room. I took those pictures a few days after moving in so don't expect to see anything glamorous!
Commençons cette petite visite avec le salon. J'ai pris ces photos quelques jours après avoir emménagé alors ne vous attendez pas à voir un intérieur très glamour !

I literally just put the furniture anywhere in the rooms and everyday I was moving all the things around to try to make the space more liveable. I also hung some of the ceiling lights I have in the living room and in the kitchen so they don't break.
J'ai juste mis les meubles un peu n'importe où dans les pièces et chaque jour je changeais tout de place pour essayer de rendre l'espace un peu plus vivable. J'ai aussi suspendu certains de mes lustres dans le salon et la cuisine pour éviter qu'ils ne s'abîment.

As you can see the room is a descent size and the plus, it has a working fireplace!
Comme vous pouvez le voir la pièce a une taille convenable et le petit plus, il y a une cheminée qui fonctionne !

There's an open kitchen and behind the fridge there is another fireplace!
Il y a une cuisine ouverte et derrière le frigo il y a une autre cheminée !

This isn't what I would call a beautiful and functional kitchen at all! But don't worry I already have some plans for it...
Ce n'est pas du tout ce que j'appellerais une cuisine belle et fonctionnelle ! Mais ne vous inquiétez pas, j'ai déjà tout plein d'idées pour cette pièce...

The stairs are one of my favourite things in this home because of the light. The entry is at the bottom the stairs and the first thing you see when you enter is the impressive height under ceiling that is about 6 meters and all the light that comes from the skylight! I love it!
Les escaliers sont un de mes éléments préférés de cet appartement pour la luminosité. L'entrée se situe en bas des escaliers et la première chose que l'on voit en entrant est l'impressionnante hauteur sous plafond d'environ 6 mètres et la lumière qui vient du puit ! J'adore !

The bathroom... Well I can't really find the words to describe it... Sometimes you can find some really nice vintage bathrooms. But here, forget it! It's just and old, ugly and depressing bathroom in need of big change!
La salle de bain... Bien je ne trouve pas vraiment les mots pour la décrire... On peut parfois trouver de très belles salles de bain vintage. Mais là, oubliez ça ! C'est juste une vieille salle de bain, moche et déprimante qui a besoin d'un grand changement !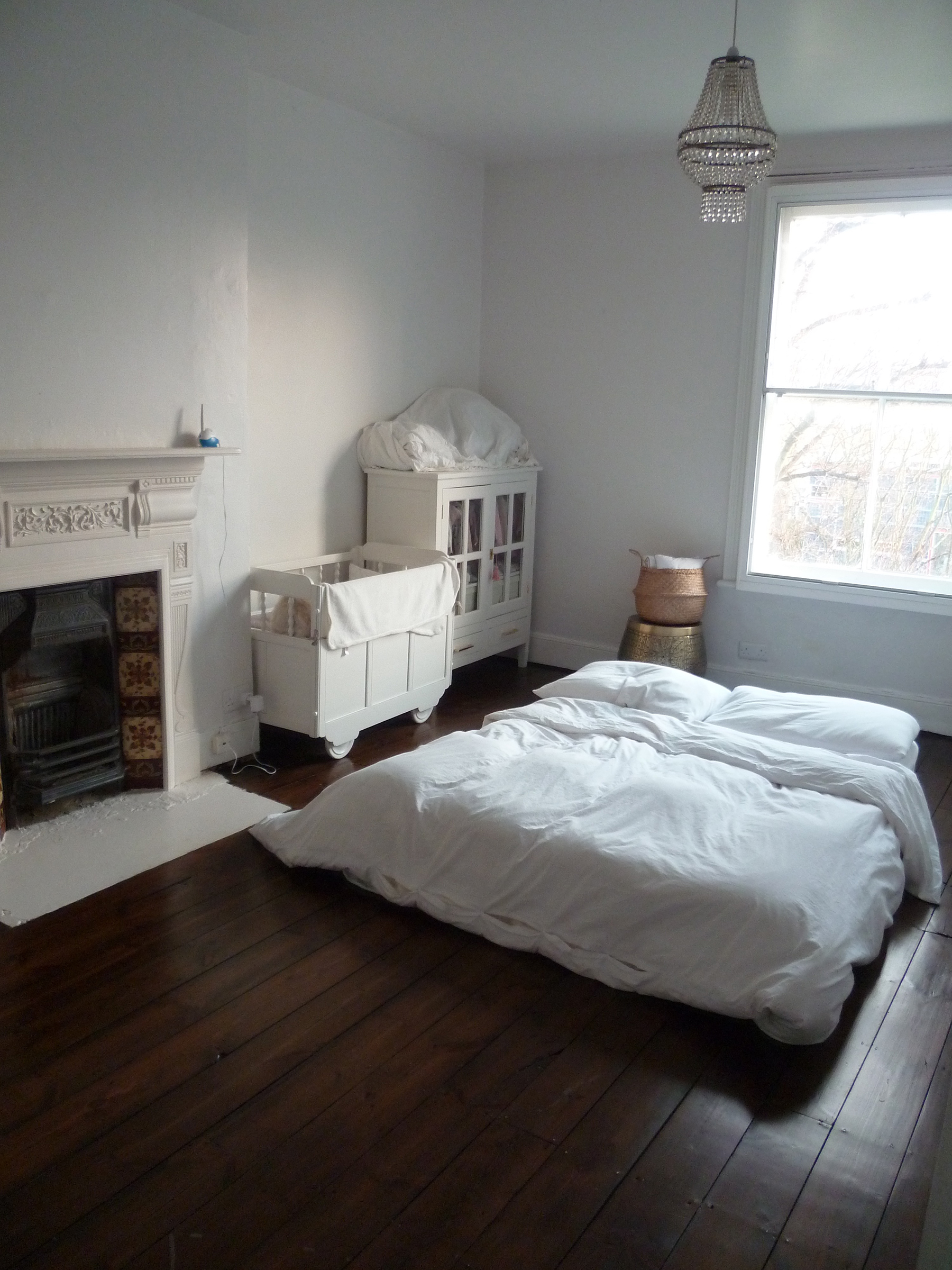 Now, here is the main bedroom. I think the is the biggest room and it also has a fireplace!!! I never had any fireplace before and this home has 3 fireplaces! For me it's just wow! Ok, only the one in the living room actually works, but I still think that even a non working fireplace can add so much character to any room.
Voici maintenant la chambre principale. Je pense que c'est la plus grande pièce et elle a aussi une cheminée !!! Je n'avais jamais eu de cheminée auparavant et cet appartement en a 3 ! Pour moi c'est tout simplement Waouh ! D'accord, seule celle du salon est en état de marche, mais je trouve que même une cheminée qui ne fonctionne pas peut vraiment ajouter du caractère à n'importe quelle pièce.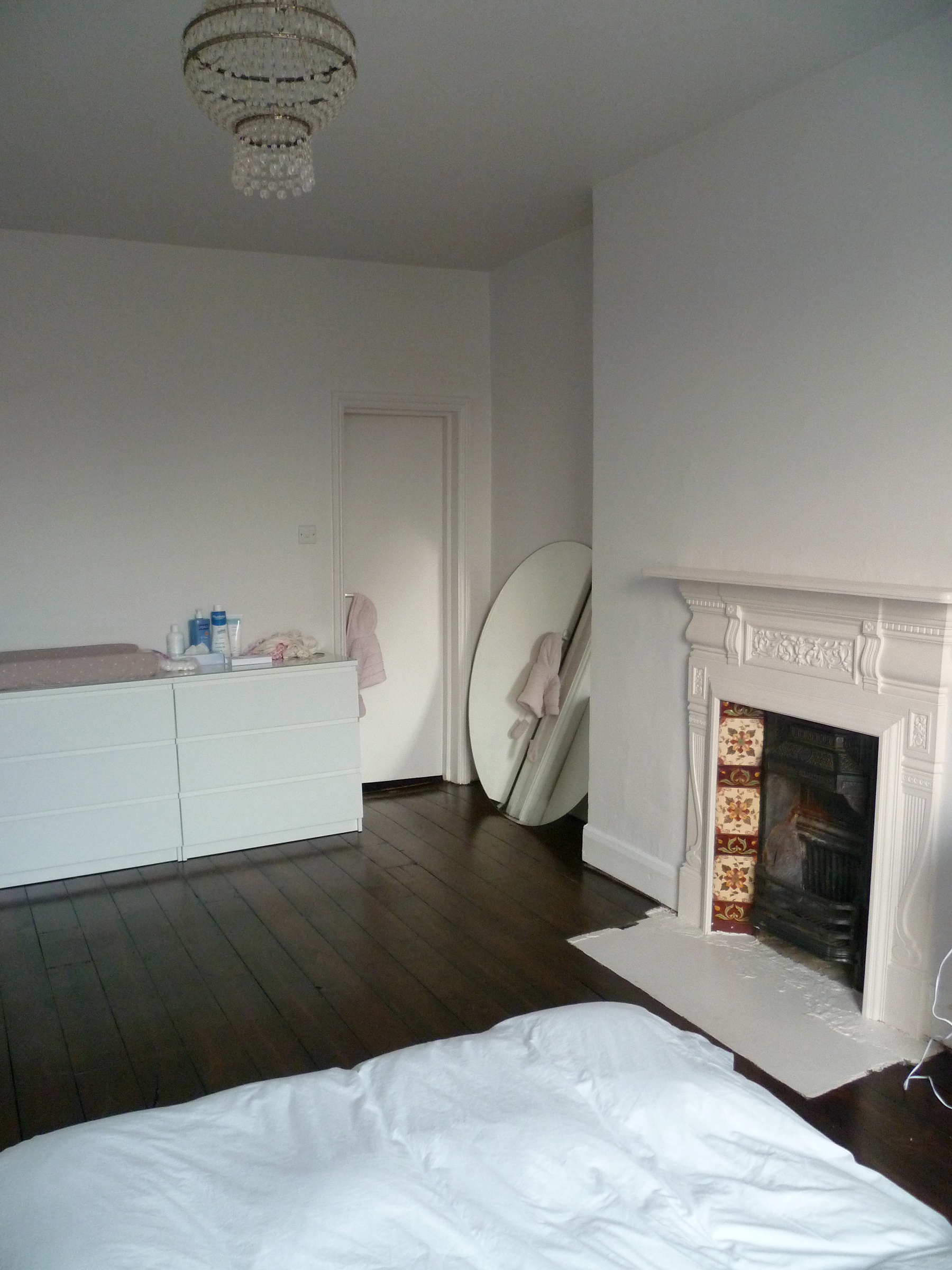 The little door that you can see in the corner is a small wardrobe or walk in closet.
La petit porte que vous voyez dans le coin est un petit placard ou dressing.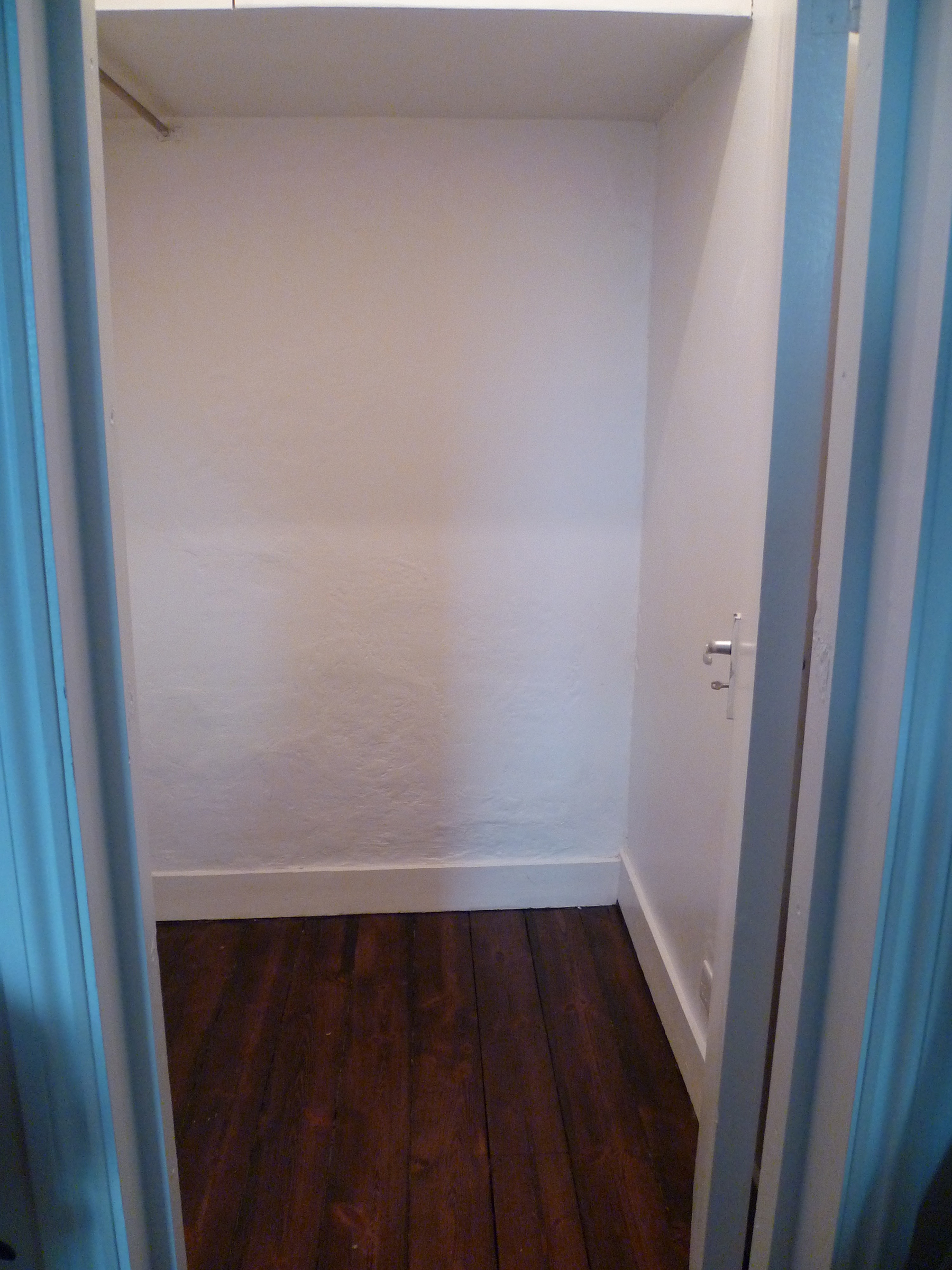 Here it is. It's quite small, so I really have to make the most of it to store all the things I have.
Le voici. Il est plutôt petit, je vais donc devoir l'optimiser au maximum pour y ranger toutes les choses que j'ai.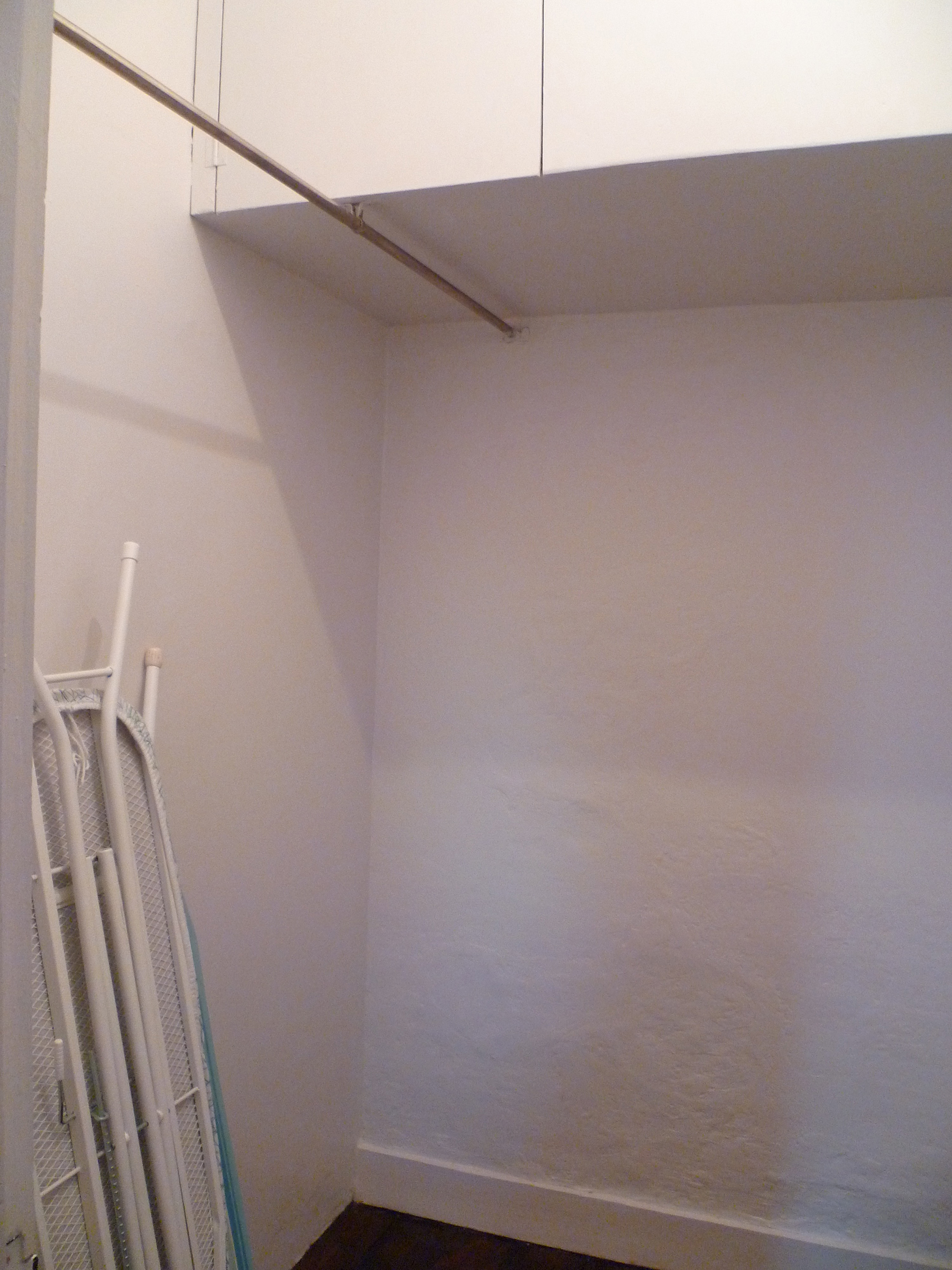 And finally, my little one's bedroom that I already showed you for the ORC. This is still today the only room that is done in this new home! So yes, I still have a lot of things to do but I have to admit I couldn't be more excited! Because you know I love those kind of projects! Now that my little angel is almost one year, I finally feel like I can manage to do more things. Which means a lot of before/after and DIY to come!!!
So, what do you think of this new little home? Do you like old houses as I do?
Et enfin, la chambre de ma petite puce que je vous avais déjà montrer pour l'ORC. C'est toujours à ce jour la seule pièce qui est terminée dans ce nouveau petit chez moi ! Alors oui, j'ai encore beaucoup à faire mais je dois avouer que tout cela est tellement excitant ! Et oui, vous savez que j'aime ce genre de projets ! Maintenant que ma petit puce à bientôt un an, j'ai enfin l'impression de pouvoir faire plus de choses. Ce qui signifie beaucoup d'avant/après et de DIY à venir !!!
Alors, que pensez-vous de ce nouveau foyer ? Est-ce que comme moi vous aimez les vieilles maisons ?

Image 1 source Instagram