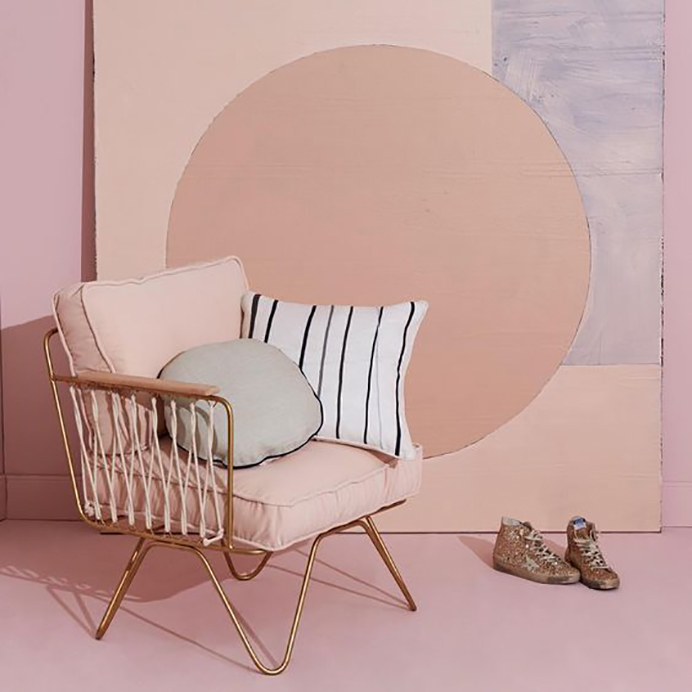 Pink, pink and more pink... Yes, as you can see I am still in a "pink mood" today!
Du rose, du rose et encore du rose... Et oui, comme vous pouvez le voir je suis encore "d'humeur rose" aujourd'hui !

Not only I desperately want a pink sofa for my little home, but I also dream to have one of these gorgeous pink velvet Croisette armchairs. I discovered Honoré Décoration a little while ago and I literally fell in love with their beautiful furniture collection! Behind this French brand you have Annick Lestrohan and her daughter Ingrid. They have a shop and hotel in Marseille and the objects and furniture they design are mostly inspired by the South of France. I love the chic and vintage vibe of their creations and the fact that they are so nice anywhere inside but are also great outdoor. My fave is from far the Croisette chair that exists in many different amazing colours as mustard, navy blue or emerald. The plus is that you can even also choose your frame colour. Obviously, my fave is the pink velvet one with the gold frame! Look at the gold metal back of this chair, isn't it gorgeous from every angle...?!
Non seulement je voudrais plus que tout avoir un canapé rose pour mon petit chez moi, mais je rêve également d'avoir un de ces superbes fauteuils Croisette en velours rose. J'ai découvert Honoré Décoration il y a quelque temps de cela et je suis littéralement tombée amoureuse de leur splendide collection de meubles ! Derrière cette marque française, il y a Annick Lestrohan et sa fille Ingrid. Elles ont une boutique et un hôtel à Marseille et les objets et meubles qu'elles créent sont essentiellement inspirés du sud de la France. J'aime le côté chic et l'esprit vintage de leurs créations et le fait qu'elles peuvent souvent trouver leur place aussi bien à l'intérieur qu'à l'extérieur. Ma pièce préférée est de loin le fauteuil Croisette qui existe dans de nombreux magnifiques coloris comme moutarde, bleu marine ou émeraude. Le plus est que vous pouvez même aussi choisir la couleur de l'armature. Bien évidemment, mon préféré est celui en velours rose avec le cadre doré ! Regardez le dossier en métal doré de ce fauteuil, n'est-il pas superbe sous toutes les coutures...?!

Here are a few other beautiful pieces of their furniture collection.
Voici quelques unes des autres belles pièces de leur collection de meubles.

The Carmen daybed is perfect to lounge anywhere and I love the vintage style of it!
La méridienne Carmen est parfaite pour se reposer n'importe où et j'aime son côté très vintage !

This round chair... just beautiful! It reminds me of the Acapulco chair.
Ce fauteuil rond... Simplement magnifique ! Il me rappelle la chaise Acapulco.

And here is the Barba armchair and stool. A simple and vintage shape for timeless pieces of furniture.
All those furniture are just so beautiful, aren't they? And Honoré Décoration also have so many other stunning items for home such as mirrors, marble tables and more. You can discover their whole collection right here.
Et voici le fauteuil et le repose pieds Barba. Des lignes simples et vintages pour une pièce intemporelle.
Toutes ces meubles sont vraiment superbes, n'est-ce pas ? Et Honoré Décoration c'est aussi d'autres splendides objets tels que des miroirs, des tables en marbre et plus encore. Vous pouvez découvrir le reste de leur collection juste ici.

Images sources Bastilles and Sons, Curated By and Honoré Décoration