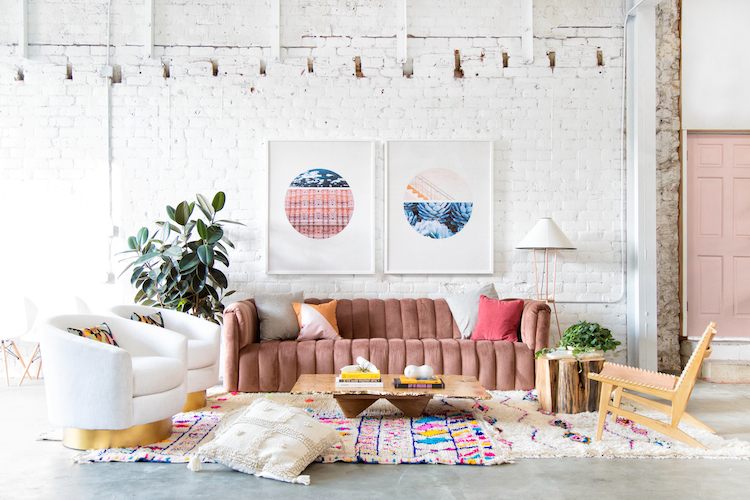 If I had to create my own studio it would look like this amazing dream space!
Si je devais créer mon propre studio, il ressemblerait à cet incroyable espace de rêve !

I love everything about this space and this is the kind of place where I would LOVE to go to work every morning, the kind of space that makes you even more creative. I love it all and I don't even know where to begin... The two white swivel armchairs are gorgeous! And is it me or that pink velvet sofa is absolutely stunning?! I already told you I am currently coveting a pink sofa. Well, this one is for me the dream sofa!
The designer behind this stylish studio is the super talented Sarah Sherman Samuel and the clients are Anne Sage and Caroline + Jayden Lee. This space called the Light Lab, won't only be a workspace for these three creative people, but it will also host workshop, curated events and more.
J'aime tout de cet espace et c'est le genre d'endroit où J'ADORERAIS aller travailler tous les matins, le genre d'espace qui booste votre créativité. J'aime absolument tout et je ne sais même pas par où commencer... Les deux fauteuils pivotants blancs sont sublimes ! Et est-ce que c'est moi, ou ce canapé en velours rose est vraiment magnifique?! Je vous ai déjà dit qu'en ce moment j'avais des envies de canapé rose, et bien celui-ci est pour moi le canapé de rêve !
La décoratrice derrière ce beau studio est la très talentueuse Sarah Sherman Samuel et les clients sont Anne Sage et Caroline + Jayden Lee. Cet endroit, appelé Light Lab, ne sera pas seulement un espace de travail pour trois personnes créatives, mais également un lieu qui accueillera des ateliers, des soirées évènementielles et bien plus encore.

This pink marbleized wallpaper is amazing and also has been designed by Sarah Sherman Samuel.
Ce papier peint rose effet marbre est incroyable et a également été dessiné par Sarah Sherman Samuel.

And this kitchen...! Mix pink, black, marble and touches of gold and you will get the perfect combo for the most stylish kitchen!
Et cette cuisine... ! Mélangez du rose, du noir, du marble et des touches de dorés et vous obtiendrez le combo parfait pour la plus belle des cuisines !

Again that pink sofa is just killing me!
Encore une fois, ce canapé rose qui me laisse sans voix !

Well, I hope you enjoyed starting the week with this stylish studio tour! If you want more, you can see the video and some Before/After pictures of this amazing warehouse makeover right here.
Et bien, j'espère que vous avez aimé commencer la semaine avec la visite de ce superbe studio !  Si vous voulez en voir plus, vous avez une vidéo et des photos Avant/Après de l'incroyable transformation de cet entrepôt juste ici.

Images source Woodnote Photography via Design Sponge