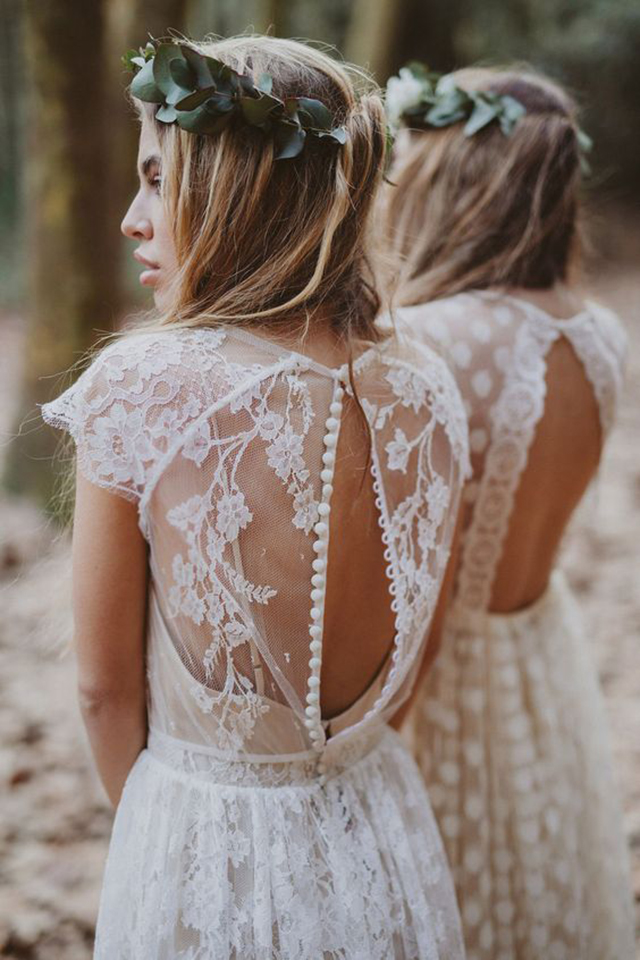 What if you could have a wedding dress that you could also wear any other day of the year?
Et si vous pouviez avoir une robe de mariée que vous pourriez également porter n'importe quel autre jour de l'année ?
A while ago I shared  a post of my dream wedding. If you remember, I am not into extraordinary weddings. I prefer to keep it simple, an intimate ceremony with your closest friends and family. So I am not at all the kind of girl who would spend a fortune for a gorgeous wedding dress that I could only wear one day in my life. It just doesn't make sense to me, even if it's the most special occasion or day of your life. What will make that day really special and unforgettable, is the people you will share it with, the nice memories you will keep, it's the love and emotions that you will feel that day and hopefully for the rest of your life.
I recently bought this lovely lace dress from H&M and I love it! I intend to wear it as an everyday dress (if I finally lose that pregnancy weight... but this is another story...). This is also the kind of dress that I would definitely wear as a wedding dress. And just in case you are wondering, no I am not going to get married! Anyway, I wanted to show how an inexpensive everyday dress could also easily, with the right accessories, become a beautiful wedding dress.
Il y a un moment de cela, j'ai partagé sur le blog mon mariage de rêve. Si vous vous souvenez, je ne suis du genre à aimer les mariages spectaculaires. Je préfère les choses simples, une cérémonie intime avec la famille et les amis les plus proches. Je ne suis donc pas du tout le genre de fille à dépenser une fortune pour une sublime robe de mariée que je ne porterais qu'une seule fois dans ma vie. Cela n'a tout simplement pas de sens pour moi, même si c'est l'occasion ou le jour le plus spécial de sa vie. Ce qui rendra ce jour vraiment spécial et inoubliable ce sont les gens avec qui vous le partagerez, les beaux souvenirs que vous garderez, l'amour et les émotions que vous ressentirez ce jour et j'espère pour le reste de votre vie.
J'ai récemment acheté cette jolie robe en dentelle chez H&M et je l'adore ! J'ai l'intention de la porter comme une robe de tous les jours (si je finis enfin par perdre tout le poids de ma grossesse... mais ça c'est une autre histoire...). C'est également le genre de robe que porterais aisément en robe de mariée. Et juste au cas où vous vous poseriez la question, non je ne vais pas me marier ! Enfin bref, je voulais vous montrer comment une robe de tous les jours pas très chère pouvais facilement aussi, avec les bons accessoires, devenir une belle robe de mariée.

H&m lace dress - Jimmy Choo pink Anouk heels - Vintage brooch - Floral crown
H&M lace dress - Tory Burch crossbody bag - Madewell Billie booties - H&M denim jacket
So if you are like me and don't want to splurge money for your wedding dress or for a lovely everyday dress, you'd better go quick because this very beautiful lace dress is now on sale!!!
Voila, that's it for today as it's now time for me to go back to my new mom's life... I wish you a wonderful weekend!
XO
Alors si vous êtes comme moi et que vous voulez pas dépenser une somme folle pour une robe de mariée ou pour une jolie robe de tous les jours, vous feriez mieux de vous dépêcher car cette belle robe en dentelle est actuellement en soldes !
Voilà, ce sera tout pour aujourd'hui puisqu'il est temps pour moi de retourner à ma vie de jeune maman... Je vous souhaite un merveilleux week-end !
Biz

Image 1 source Immaclé