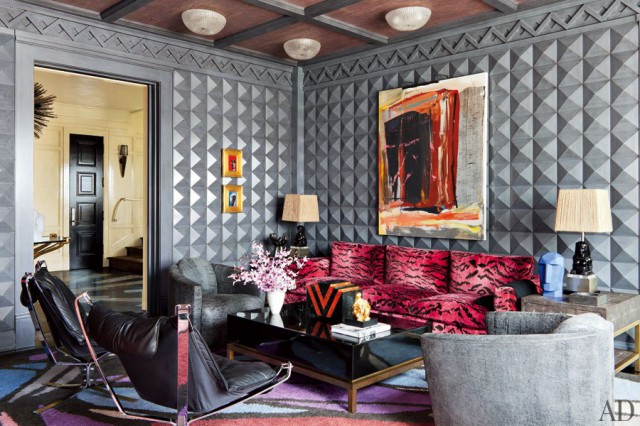 Here are some pictures of a superb and amazing interior in Bel Air.
Voici des photos d'un intérieur superbe et surprenant à Bel Air.
I think it was needless to say that it was decorated by one of my favorite designers, Kelly Wearstler. Her style is inimitable and as usual she has achieved here a unique and bold design which does not leave indifferent. There are some elements that she often uses as the patterned marble floor in the entry and in the kitchen. But also a lot of furniture designed by herself, as the black leather "Souffle" chair that we can see in the picture just below and which is on my precious list for a while ... What more to say except that I adore!
Je pense qu'il était inutile de dire qu'il avait décoré par une des mes designers préférées, Kelly Wearstler. Son style est inimitable et comme à son habitude, elle a ici réalisé une décoration unique, osée et qui ne laisse pas indifférent. On retrouve des éléments qu'elle reprend assez souvent comme le sol à motifs en marbre de l'entrée et de la cuisine. Mais également beaucoup de meubles qu'elle a dessiné elle-même, comme ce fauteuil "Souffle" en cuir noir que l'on peut voir sur la photo juste en-dessous est qui est sur ma precious list depuis un moment... Que dire de plus si ce n'est que j'adore !!!
And this mirrored bed is absolutely gorgeous!
Et ce lit en miroir est vraiment splendide !

Images source Architectural Digest