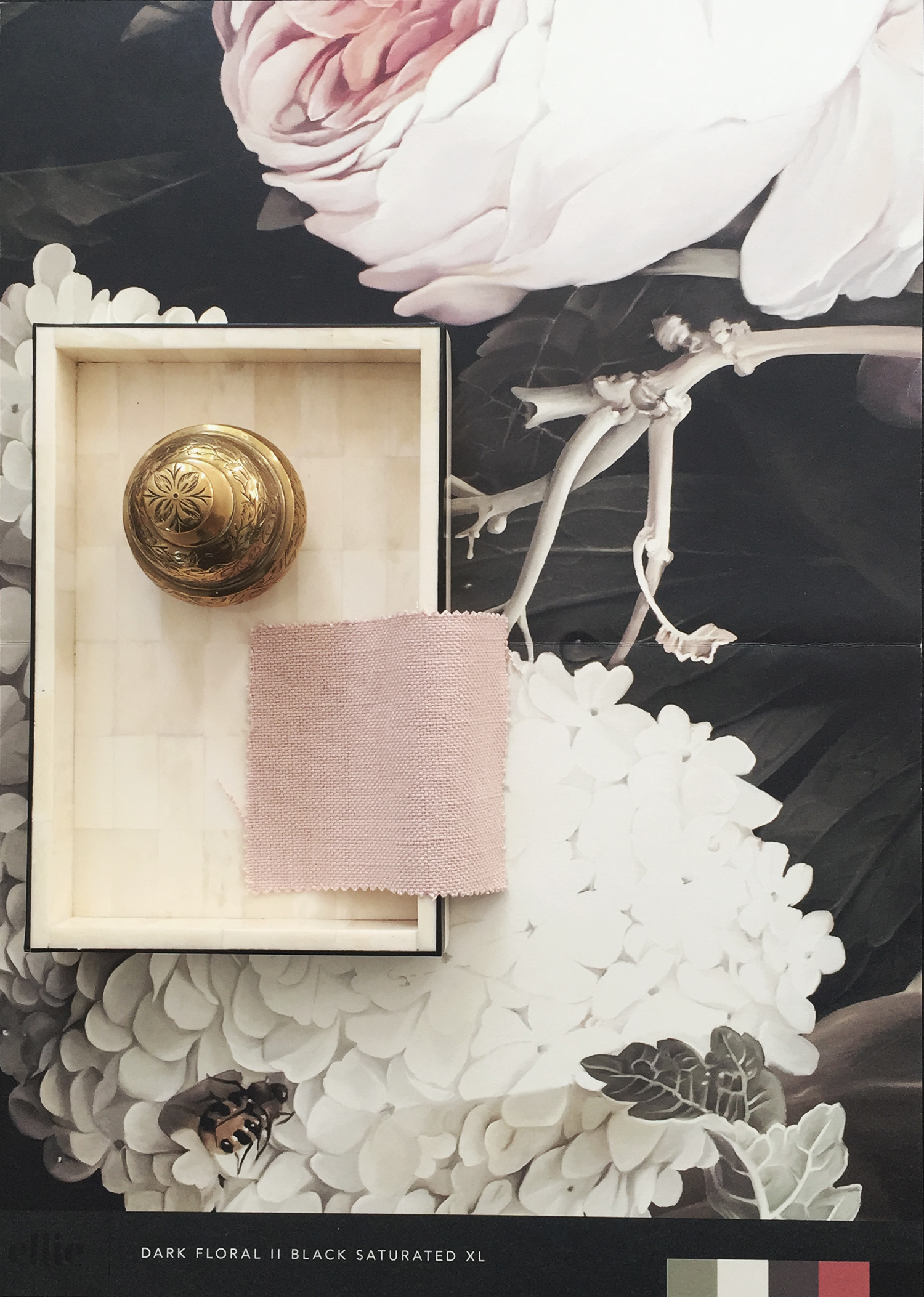 Only two weeks left before the end of the One Room Challenge!
Plus que deux semaines avant la fin du One Room Challenge !
Two weeks before the big reveal, two weeks to complete the makeover, two more stressful weeks to do everything! Which means it should be now time to style the rooms, to think of the little details for the pictures. This is how things should be with a normal project, but not with mine. When I started this ORC I didn't have any real plans and in case you missed the previous weeks don't worry you still can catch up week 1, week 2 and week 3.
At the beginning I just knew I wanted something dark and moody because I literally fell in love with Ellie Cashman's wallpaper. Or maybe I should say instead that I was obsessed with it because let's be honest it's absolutely gorgeous! The problem is that when I have something in mind, I can't focus properly on a project and this is what happened to me during the past weeks. So a few days ago I decided to make a list with "Should I" or "Should I not" but the Dark Floral II wallpaper. In short, the only reason why I shouldn't have bought it is because it's pricey and I am in rental. But instead, in the other column of the list there were plenty of reasons why I should have bought it! Because obviously you always find "good" reasons to do it when you are obsessed by something!
Well, as you might have already guessed, I couldn't resist longer and I finally decide to buy it! It can sounds crazy because there are only 2 weeks left and still quite a few things to do here and not to mention the price! But love means giving without limits, right? And I love this wallpaper. The thing is that this madness comes at a price and I now have to change a few things in my plans to stay within my budget. The positive thing is that until now I had been a good girl because I didn't spend a lot of money. All I did was painting the room and adding some inexpensive storage in the closet. I am mostly using furniture that I already had and I always try to buy second hand items to save money. But I don't think all this is enough and I will have to figure out in the next days what can or cannot be done.
But let's stop talking about what still need to be done and let's talk instead about the progress of this week.
Deux semaines avant de vous dévoiler les pièces, deux semaines pour terminer les transformations, deux semaines stressantes supplémentaires pour tout faire ! Ce qui signifie qu'il est normalement temps de commencer à décorer les pièces, penser aux petits détails pour les photos. En tout cas, ça devrait être ainsi pour un projet normal, mais pas pour le mien. Quand j'ai commencé ce ORC je n'avais pas de vrais plans et au cas où vous auriez manqué les semaines précédentes, pas de soucis vous pouvez toujours voir la semaine 1, la semaine 2 et la semaine 3.
Au départ, je savais juste que je voulais créer une ambiance sombre car j'étais tombée amoureuse du papier peint d'Ellie Cashman. Ou peut-être devrais-je dire que j'étais obsédée par lui car, il faut bien l'avouer, il est vraiment sublime ! Le problème, est que quand j'ai ce genre de choses en tête, je n'arrive plus à me concentrer correctement sur un projet et c'est exactement ce qui m'est arrivé ces dernières semaines. Alors il y a quelques jours de cela j'ai décidé de faire une liste avec "Devrais-je" ou "Ne devrais-je pas" acheter le papier peint Dark Floral II. Pour faire court, la seule raison pour laquelle je ne devrais pas l'acheter est son prix car je suis en location. Mais en revanche, dans l'autre colonne de la liste il y avait tout un tas de raisons pour lesquelles je devrais l'acheter ! Car bien évidemment, quand on est obsédé par quelque chose on trouve toujours des "bonnes" raisons de le faire !
Et bien, vous l'aurez sans doute deviné, je n'ai pas pu résister plus longtemps et j'ai finalement décidé de l'acheter ! Ça peut sembler fou car il ne reste plus que 2 semaines et il reste encore pas mal de choses à faire ici et sans oublier son prix ! Mais quand on aime on ne compte pas, n'est-ce pas ? Et j'adore ce papier peint. Mais cette folie a un prix et je dois maintenant changer certaines choses dans mon projet pour respecter mon budget. La chose positive est que jusqu'ici j'avais plutôt été une gentille fille puisque je n'avais pas dépensé beaucoup d'argent. Tout ce que j'avais fait était peindre la pièce et ajouter quelques rangements peu chers dans le dressing. J'ai réutilisé essentiellement des meubles que j'avais déjà et j'essaie toujours d'acheter des objets d'occasion pour faire des économies. Mais je ne pense pas que cela suffise et je verrai dans les prochains jours ce qui peut et ne peut plus être fait.
Mais arrêtons de parler de ce qui reste à faire et parlons plutôt de l'avancement des travaux de la semaine.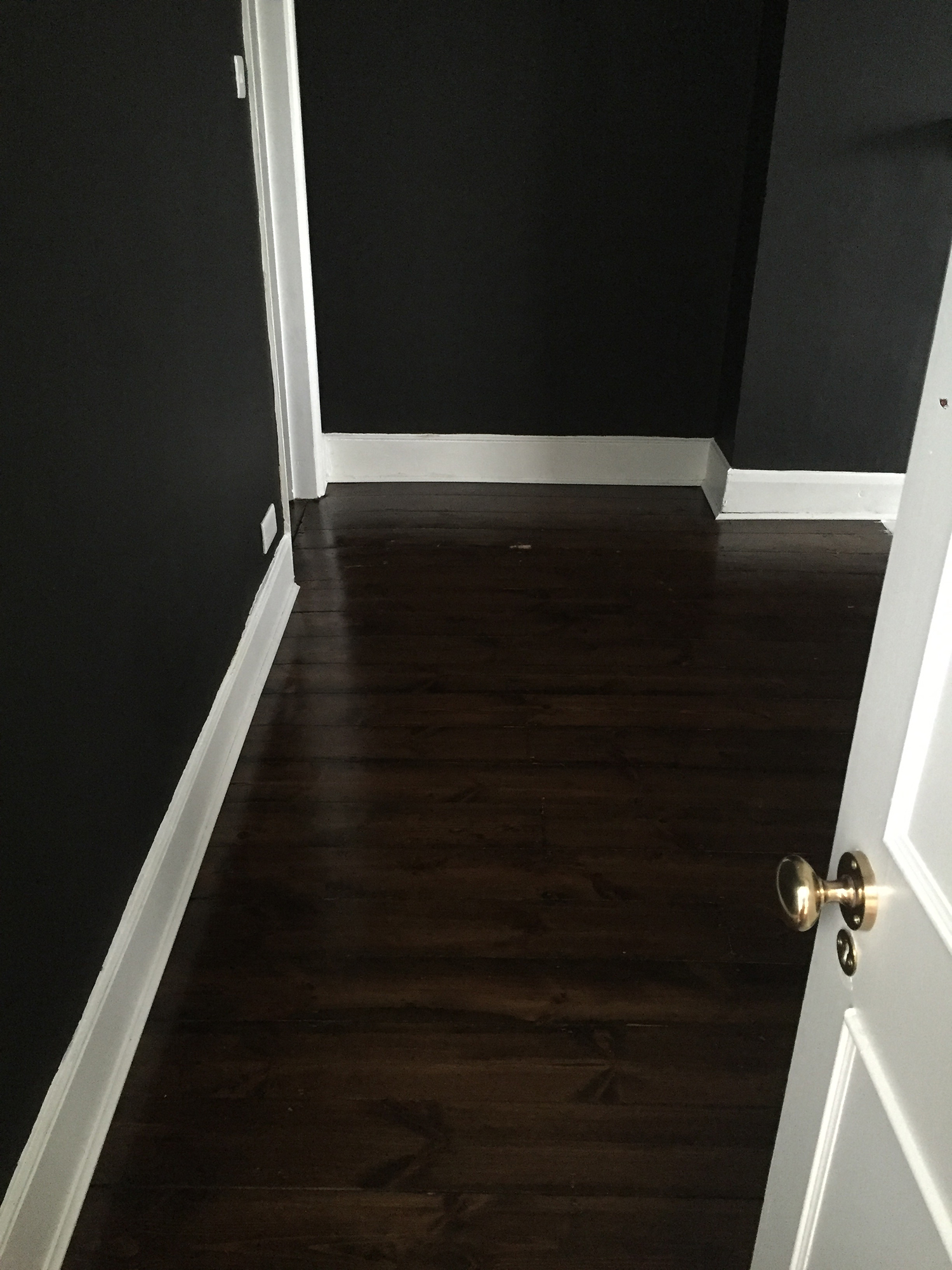 This week I spent a lot of time cleaning! It may be weird but I love that moment when the painting is done and you can take off all the plastic sheets. You can finally clean and begin to appreciate your new room.
Cette semaine j'ai passé beaucoup de temps à nettoyer ! Cela peut sembler bizarre mais j'aime bien ce moment où la peinture est finie et où l'on peut enlever toutes les bâches de protection. On peut enfin nettoyer et commencer à apprécier la nouvelle pièce.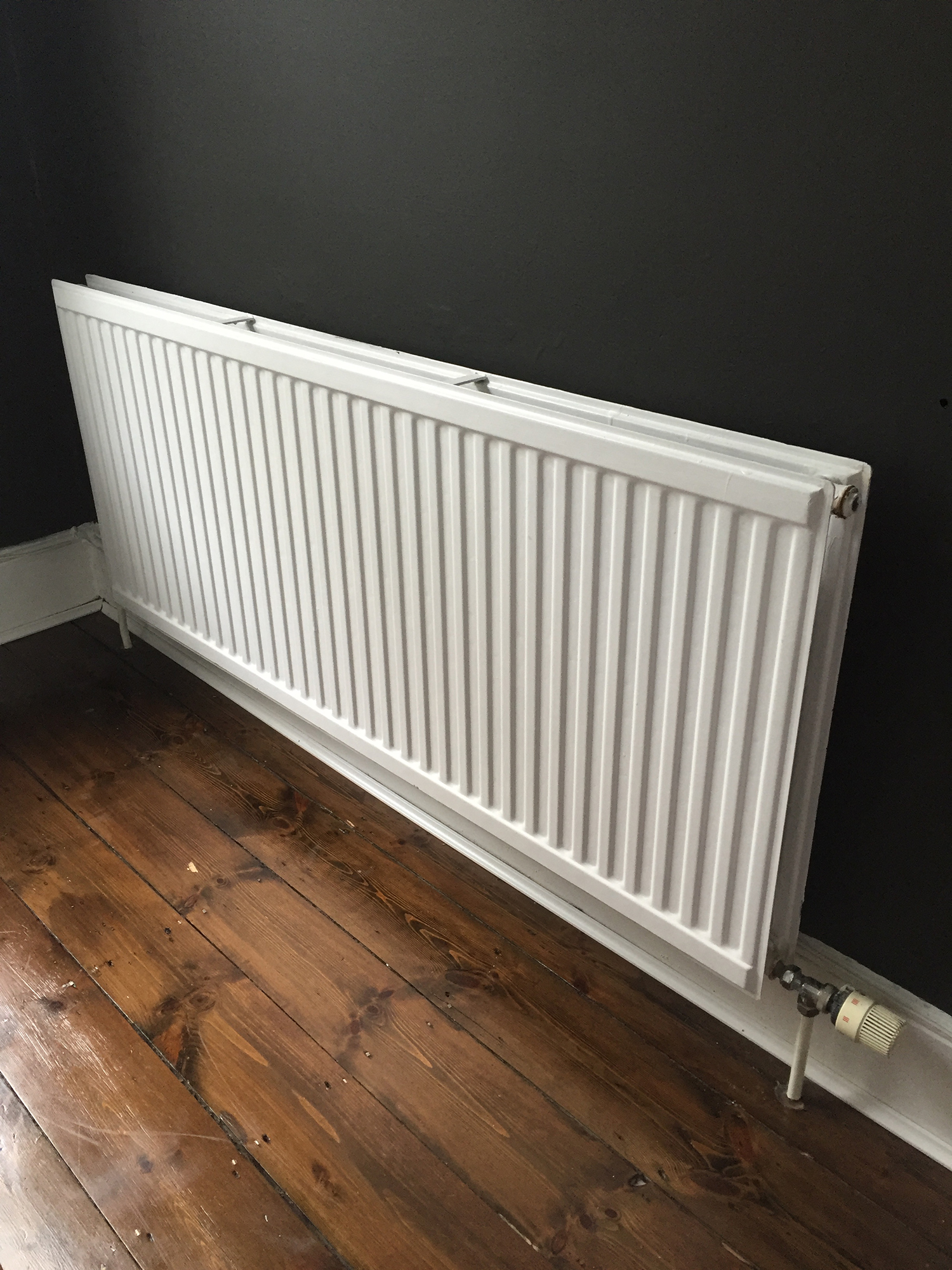 I still have to find an inexpensive way to hide this radiator.
Je dois encore trouver une solution économique de cacher ce radiateur.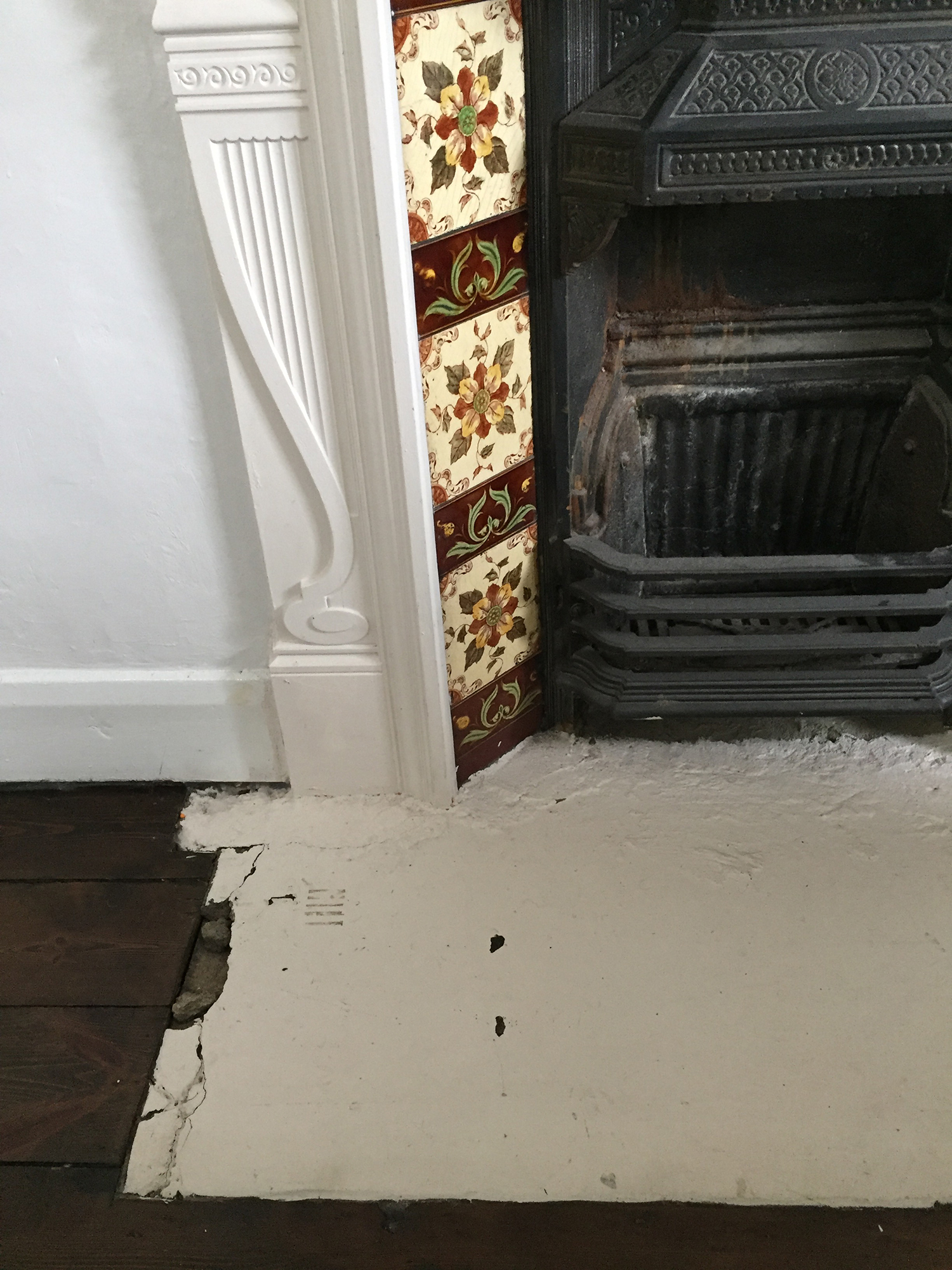 If you remember the hearth of the fireplace was broken.
Si vous vous souvenez le foyer de la cheminée était cassé.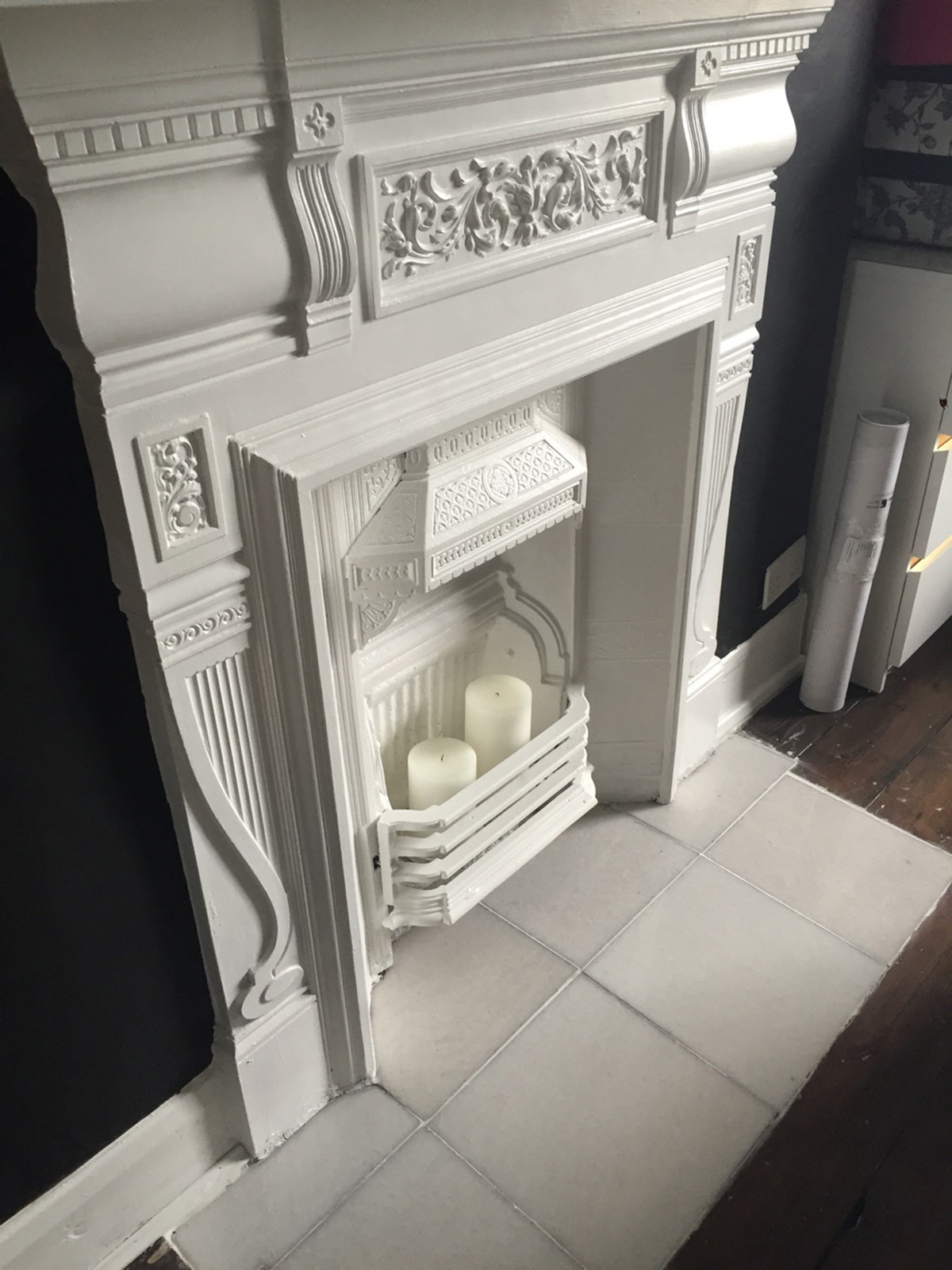 Here it is now with some basic white marble tiles.
Le voici maintenant avec de simples carreaux de marbre blanc.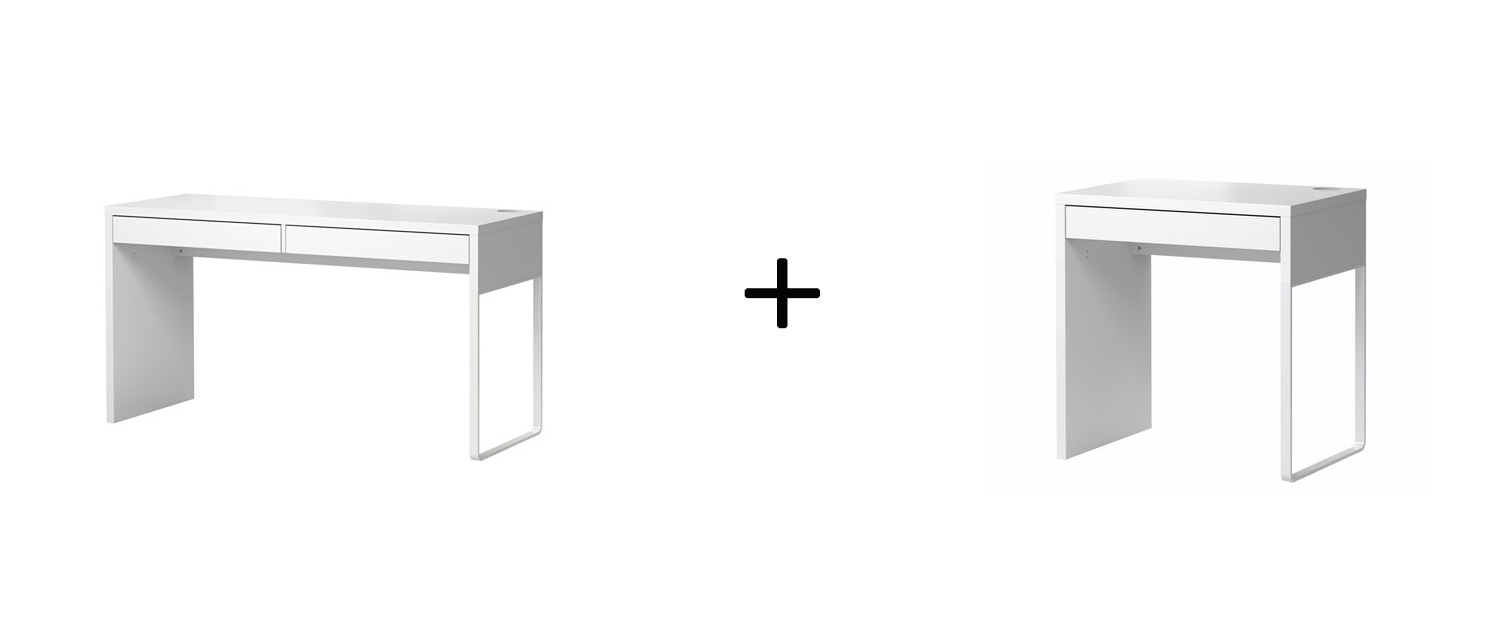 I bought a desk or should I say 2 desks second hand. Someone was selling a small and a large version of the Ikea Micke desk on ebay. I like them because they have a simple design and they were really cheap so perfect for my budget! I obviously couldn't keep both so I kept the large one but I exchange the legs with the small one.
J'ai acheté un bureau ou plutôt 2 bureaux d'occasion. Une personne vendait un petit et un grand bureau Micke d'Ikea sur ebay. Ils me plaisent car ils ont un design simple et ils étaient vraiment pas chers du tout, donc parfaits pour mon budget ! Je ne pouvais bien évidemment pas garder les deux alors j'ai gardé le plus grand mais j'ai échangé les pieds avec le petit.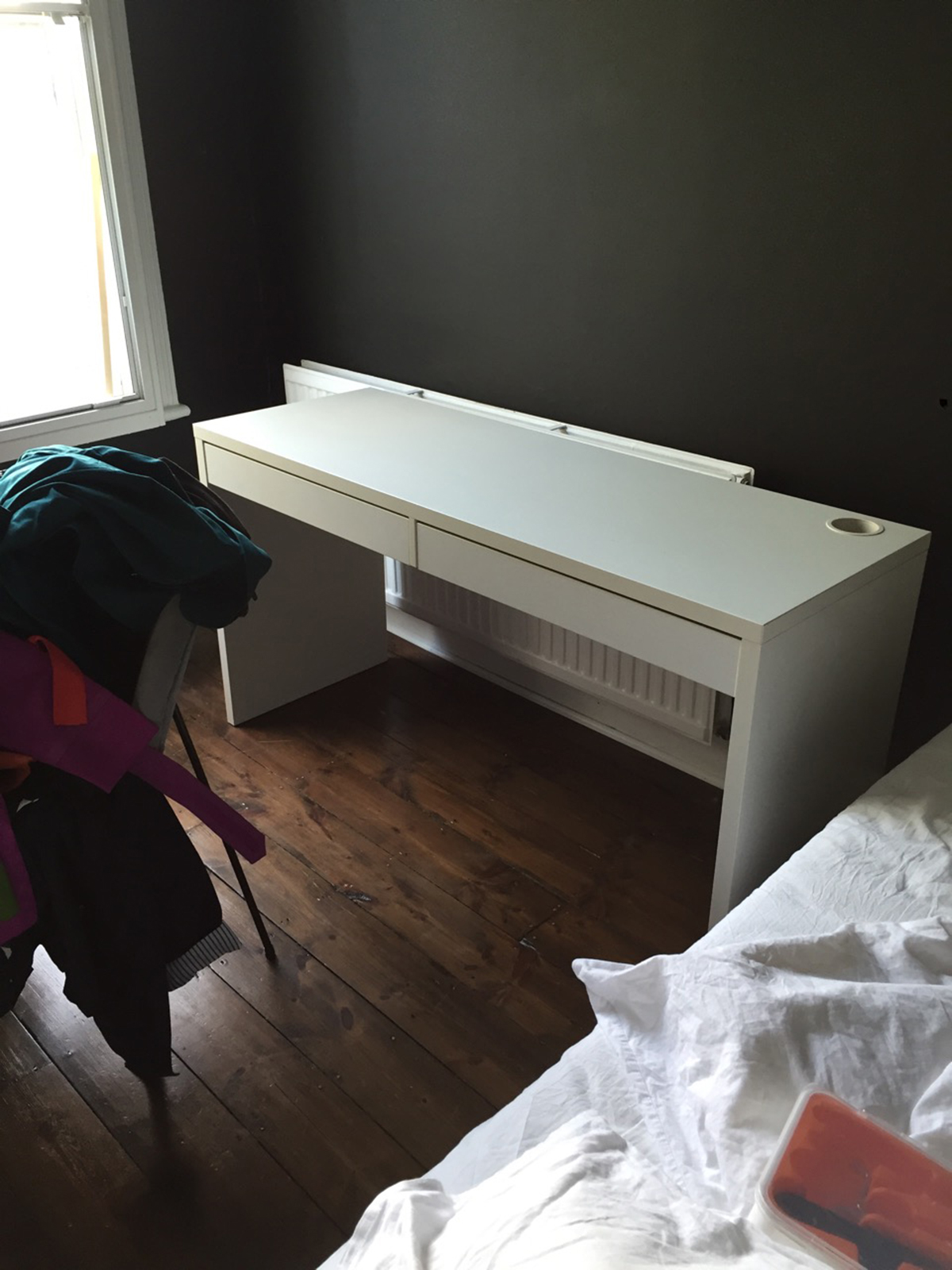 As you can see I only kept the plain legs because I wanted both sides to be the same.
Comme vous pouvez le voir j'ai conservé les deux parties pleines car je voulais que les deux pieds soient identiques.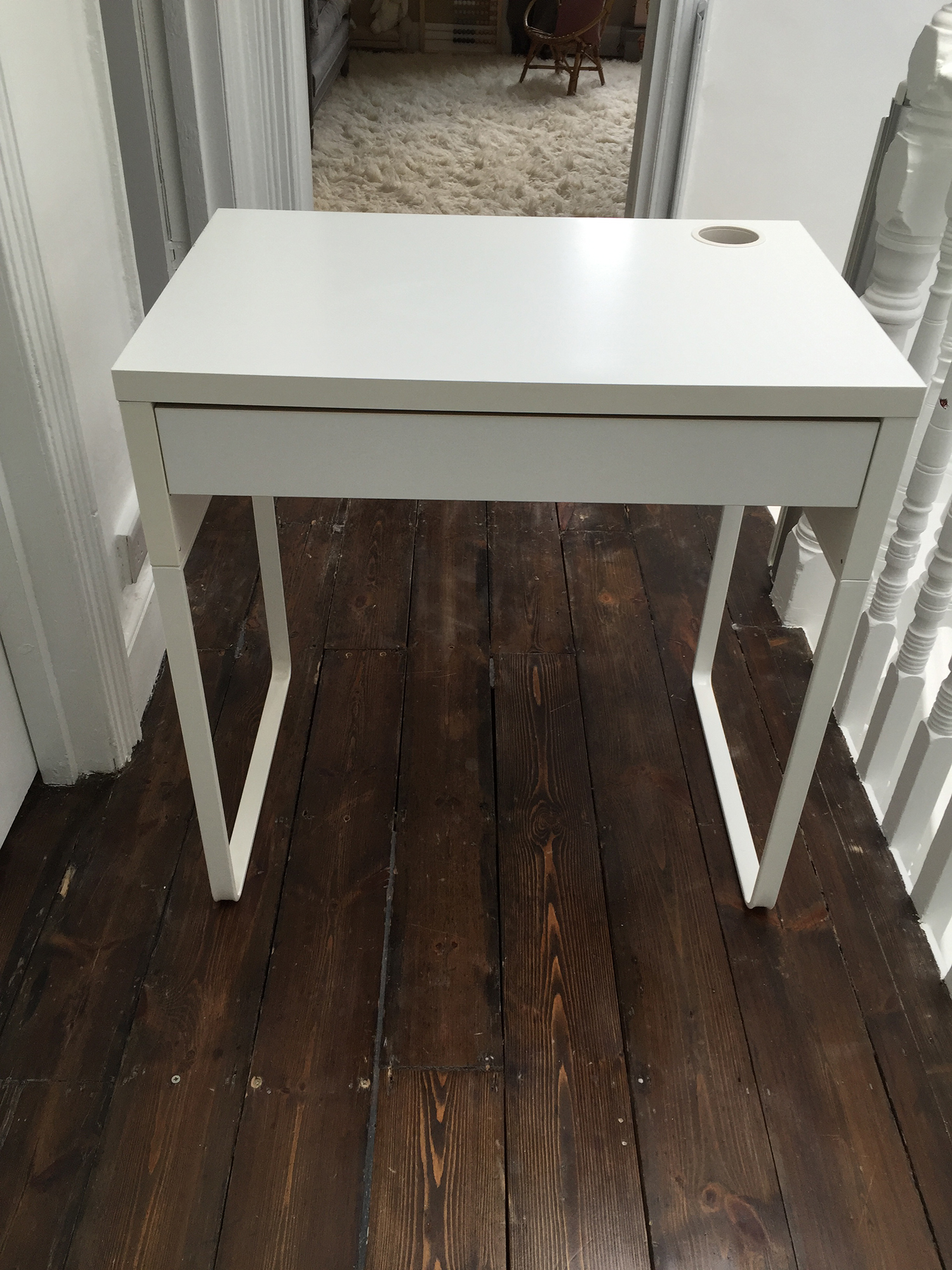 I put the two U shape metal legs on the small desk and I sold it (perfect for my budget!)
J'ai mis les deux pieds métalliques en forme de U sur le petit bureau et je l'ai revendu (parfait pour mon budget !)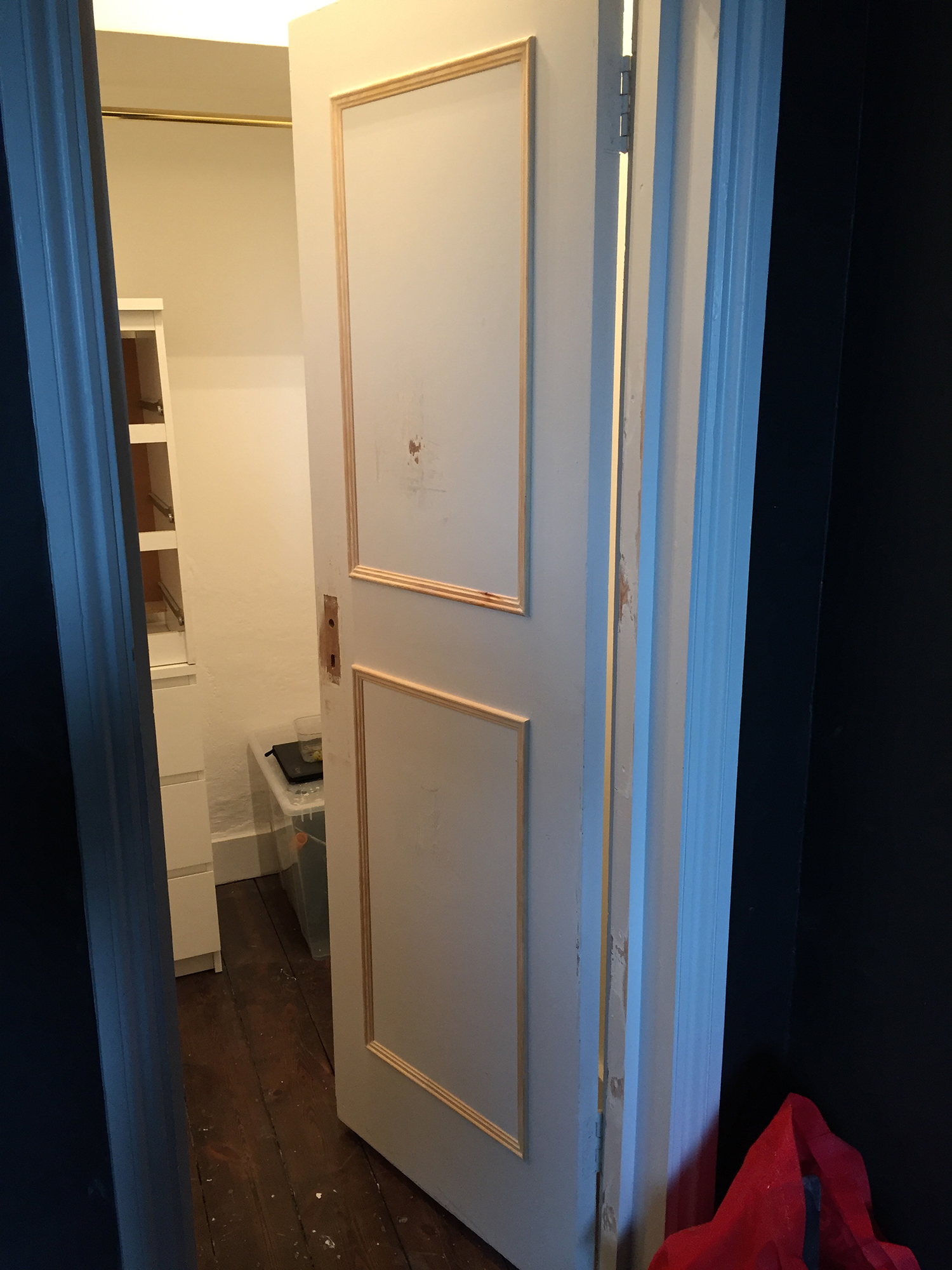 Finally the closet. I added some trims on the door and still need to put handles.
Et enfin le dressing. J'ai ajouté des moulures sur la porte et je dois encore mettre une nouvelle poignée.

And for the storage I simply added some Ikea kitchen cabinet! Inexpensive and great to organise all my stuff. About the Joy Pink wallpaper that I was planning to put on those walls, I don't know yet if I will be able to afford it now... I still have to see what my budget still allows me to do.
Well, that's it for today but I hope to FINALLY show you a few nice pictures next week because it's going to be DIY time and the Dark Floral II should be on the walls! I didn't receive it yet but I am already so excited!!! See you next week and as usual don't forget to have a look at the other projects of the ORC and the ORC Guest Participants.
XO
Et pour le rangement j'ai tout simplement ajouter des caissons de cuisine Ikea ! Pas cher et parfait pour ranger toutes mes affaires. En ce qui concerne le papier peint Joy Pink que je devais mettre sur ces murs, je ne sais pas encore si je vais pouvoir l'acheter... Je dois encore voir ce que mon budget me permet de faire.
Voilà, c'est tout pour aujourd'hui et j'espère ENFIN pouvoir vous montrer quelques belles images la semaine prochaine puisque ça va être le moment des DIY et le Dark Floral II devrait être sur les murs ! Je ne l'ai pas encore reçu mais je suis déjà tellement excitée !!!
Je vous dis à la semaine prochaine et comme d'habitude n'oubliez pas de jeter un oeil aux autre projets de l'ORC et de l'ORC Guest Participants.
Biz