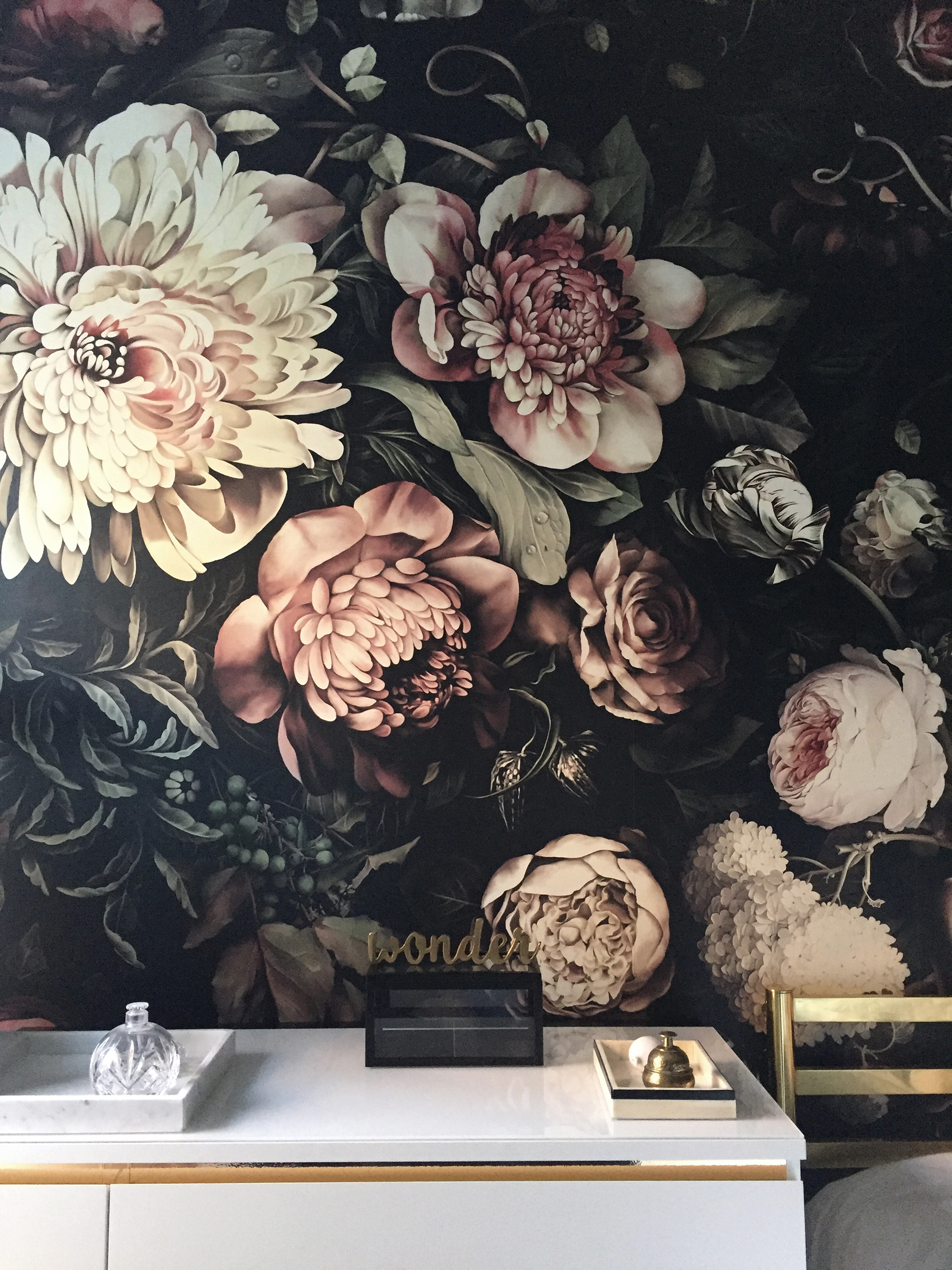 Final countdown my friends, as this is the last week before the reveal!
C'est le compte à rebours les amis, puisque c'est la dernière semaine avant de vous dévoiler les pièces !
Yep! The One Room Challenge is almost finished and in case you missed what happened during the previous weeks, no worries you can catch up the week 1, week 2, week 3 and week 4.
To be honest, there are still so many things to do around here that I am sure I will make it in time. But you know what? I don't even panic or stress, because now everyday I wake up surrounded by wonderful flowers! This gorgeous wallpaper killed my budget but this last minute change of plan was totally worth it!!! I really can't believe this dream wallpaper is finally on my wall...! Just for that, I think this week was by far my favourite week.
Et oui ! Le One Room Challenge touche bientôt à sa fin et au cas où vous auriez manqué ce qui s'est passé les semaines précédentes, pas de soucis pour pouvez voir les semaine 1, semaine 2, semaine 3 et semaine 4.
Pour être honnête, il y a encore tellement de choses à faire ici que je ne suis pas certaine de pouvoir finir dans les temps. Mais vous savez quoi ? Je ne panique ou je ne stresse même pas, puisque maintenant je me réveille chaque matin entourée de magnifiques fleurs ! Ce sublime papier peint a tué mon budget mais ce changement de dernière minute en valait vraiment la peine !!! Je n'arrive vraiment pas à croire que ce papier peint de rêve soit enfin sur mon mur... ! Juste pour ça, je pense que c'est de loin ma semaine préférée.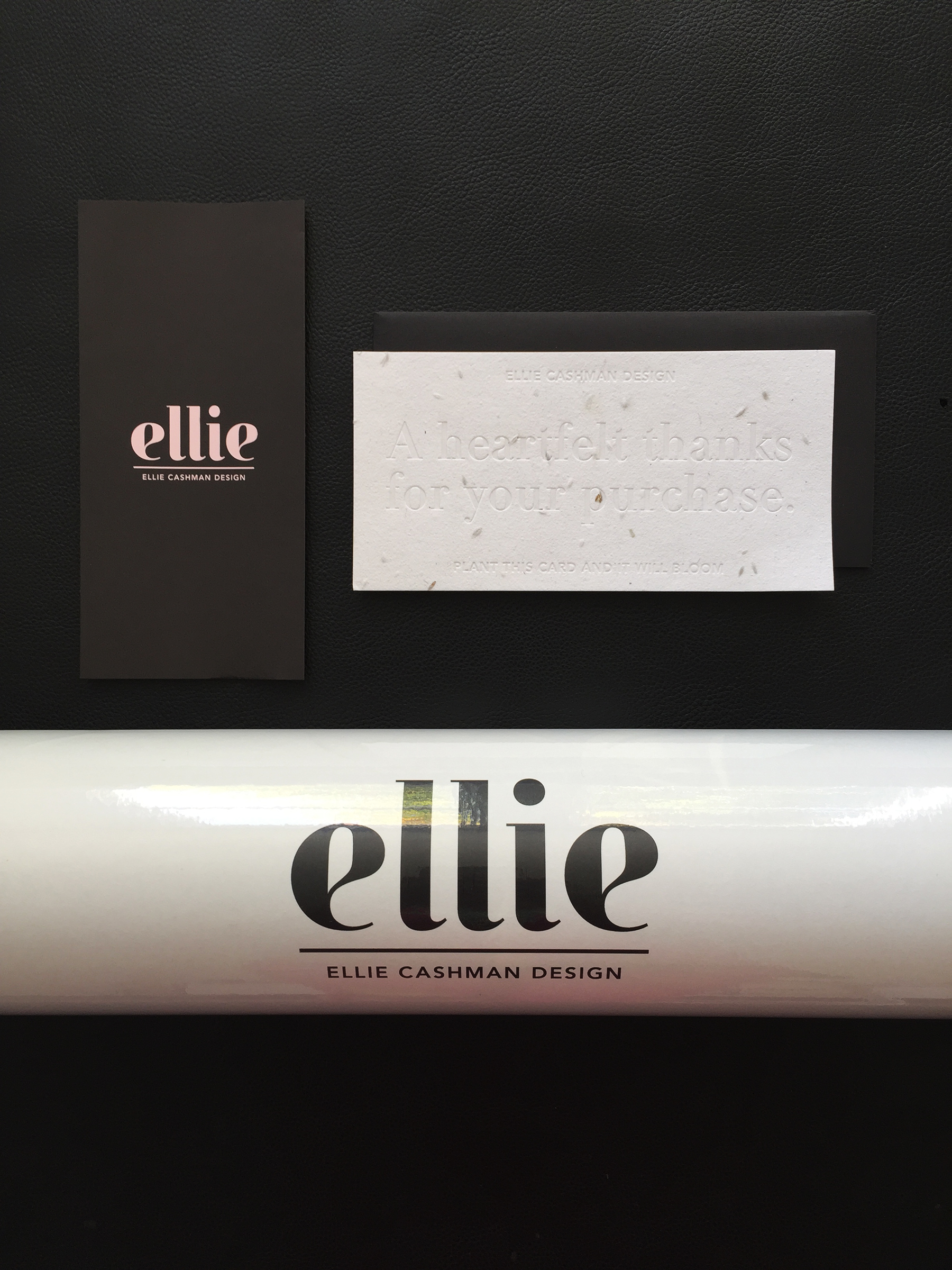 This beauty arrived on Friday in a gorgeous packaging. Look at this beautiful card that will bloom if you plant it! Just to see this was enough to make my day!
Cette beauté est arrivée vendredi dans un superbe emballage. Regardez cette jolie carte qui fleurit si on la plante ! Rien que de voir a suffit a illuminé ma journée !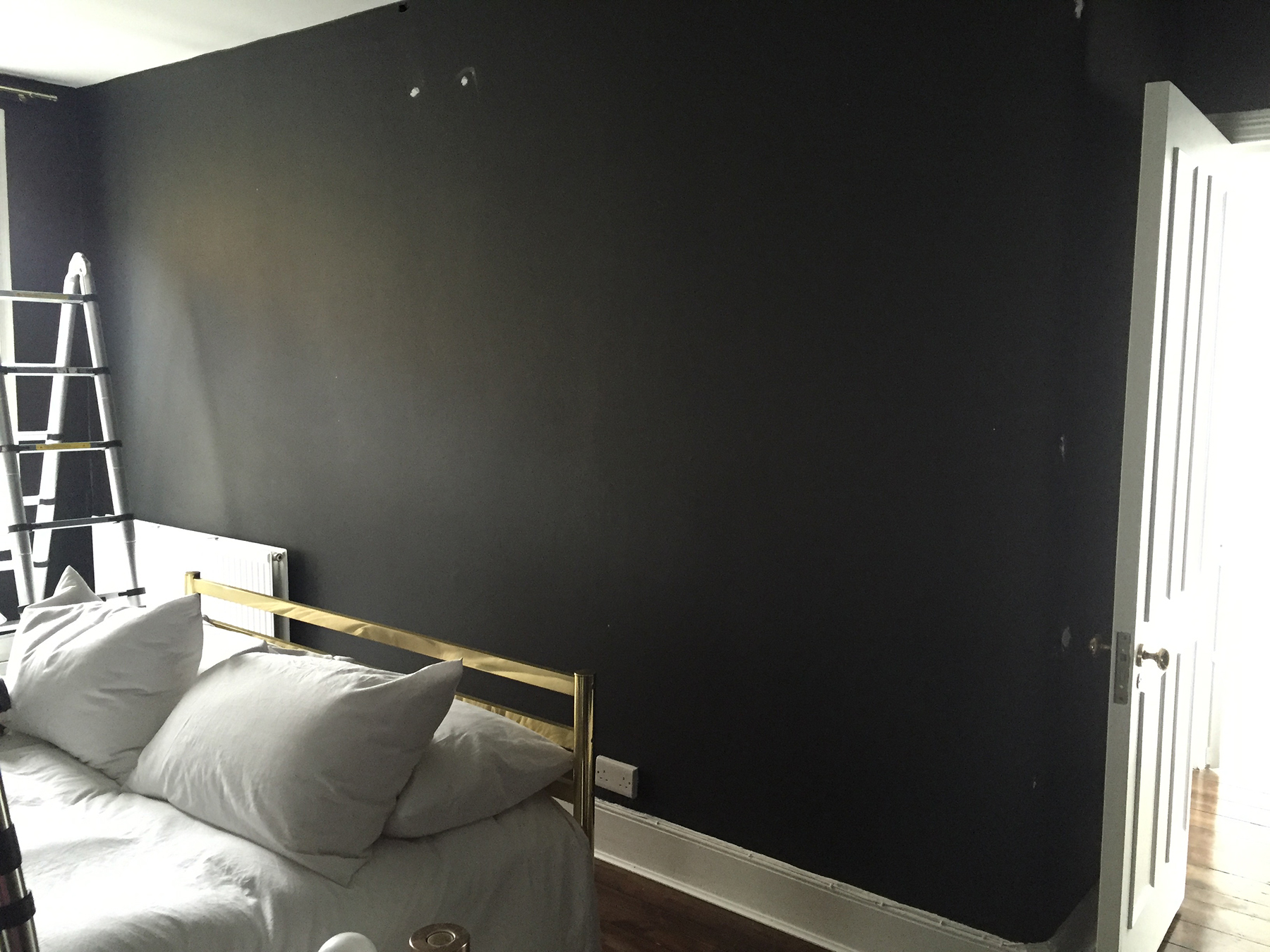 And it was also enough to make me nervous! For the first time in may life I was so nervous to put a wallpaper on the wall... I mean I did this so many times but with this wonder, I was so scared to touch it and damage it. But then on Sunday, when my little one was away with her dad, I summoned up all my courage and did it. I prepared the room first ...
Et cela a également suffit à me rendre nerveuse ! Pour la première fois de ma vie, j'étais vraiment nerveuse de poser un papier peint sur le mur... Je l'ai fait tellement de fois, mais cette fois-ci j'avais peur de le toucher et d'abîmer cette merveille. Mais dimanche, alors que ma petite puce était partie avec son papa, j'ai pris mon courage à deux mains pour le faire. J'ai d'abord préparer la pièce...

... and 2 hours later I was in wonderland! I can't even say how much I love it and this is by far the most beautiful wallpaper I have ever seen!
... et 2 heures plus tard j'étais au pays des merveilles ! Je ne saurais vous dire à quel point je l'adore et c'est de loin le plus beau papier peint que j'ai jamais vu !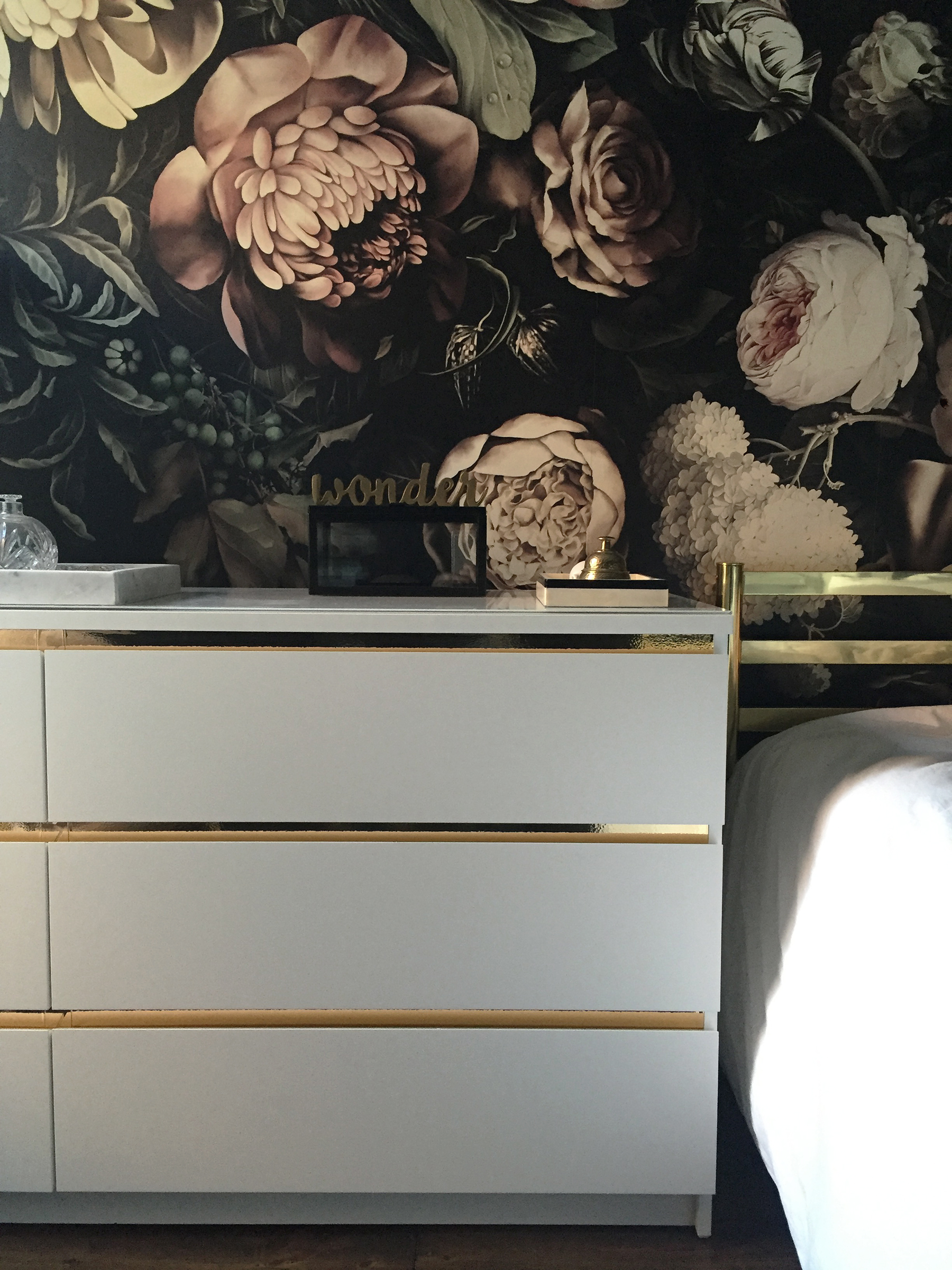 Now slowly slowly the things start to take their place with this wonderful background. Here you can see my new Ikea Malm dresser that I glamourised a bit with an easy DIY that I will show you next week.
Maintenant les choses commencent petit à petit à prendre place avec ce merveilleux fond. Vous pouvez ici voir ma nouvelle commode Ikea Malm que j'ai glamourisée un peu avec un DIY facile que je vous montrerai la semaine prochaine.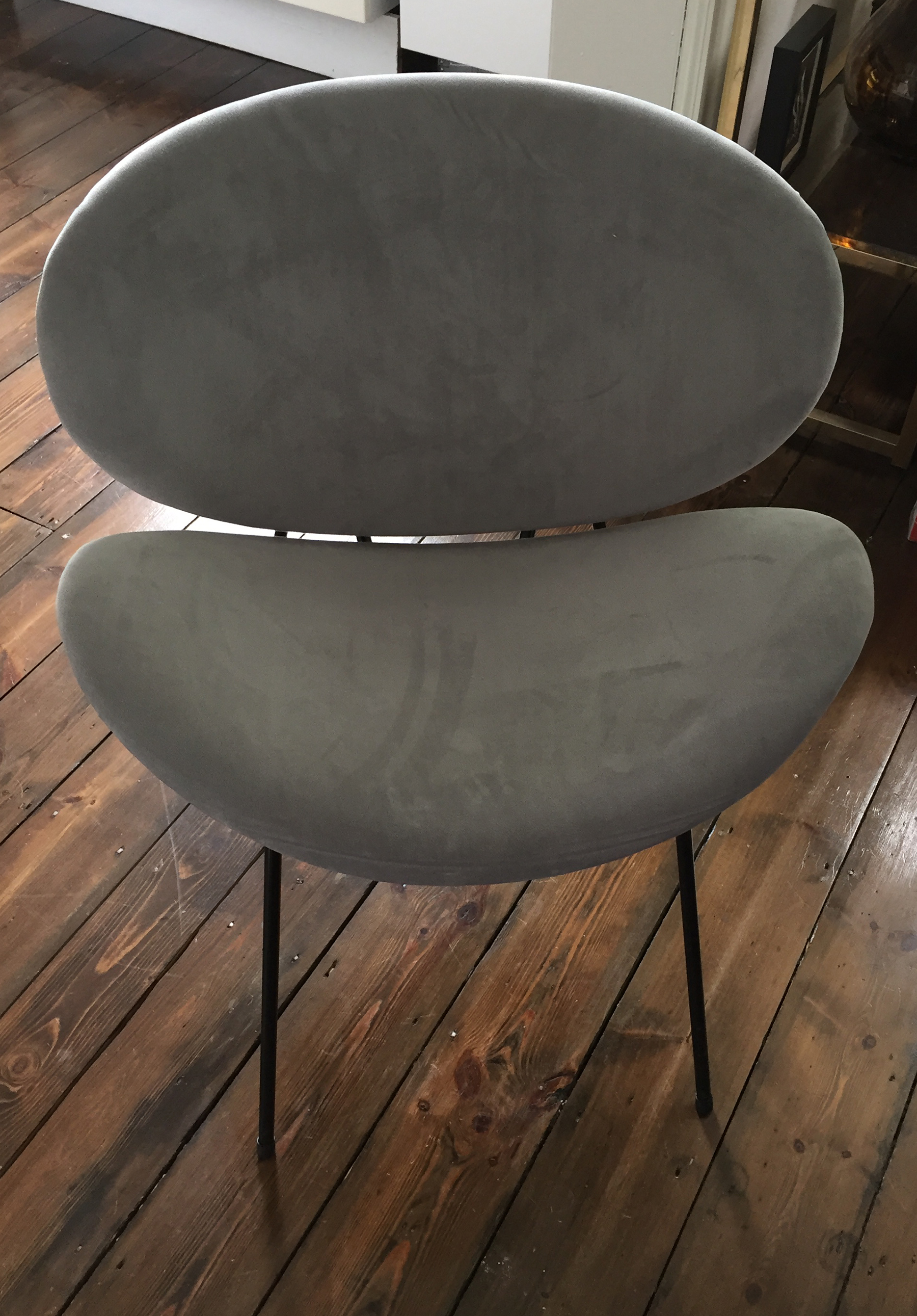 Then, if you remember the chair that I wanted to use for my desk. It looked a bit sad.
Ensuite, si vous vous souvenez de la chaise que je voulais utiliser pour mon bureau. Elle avait l'air un peu triste.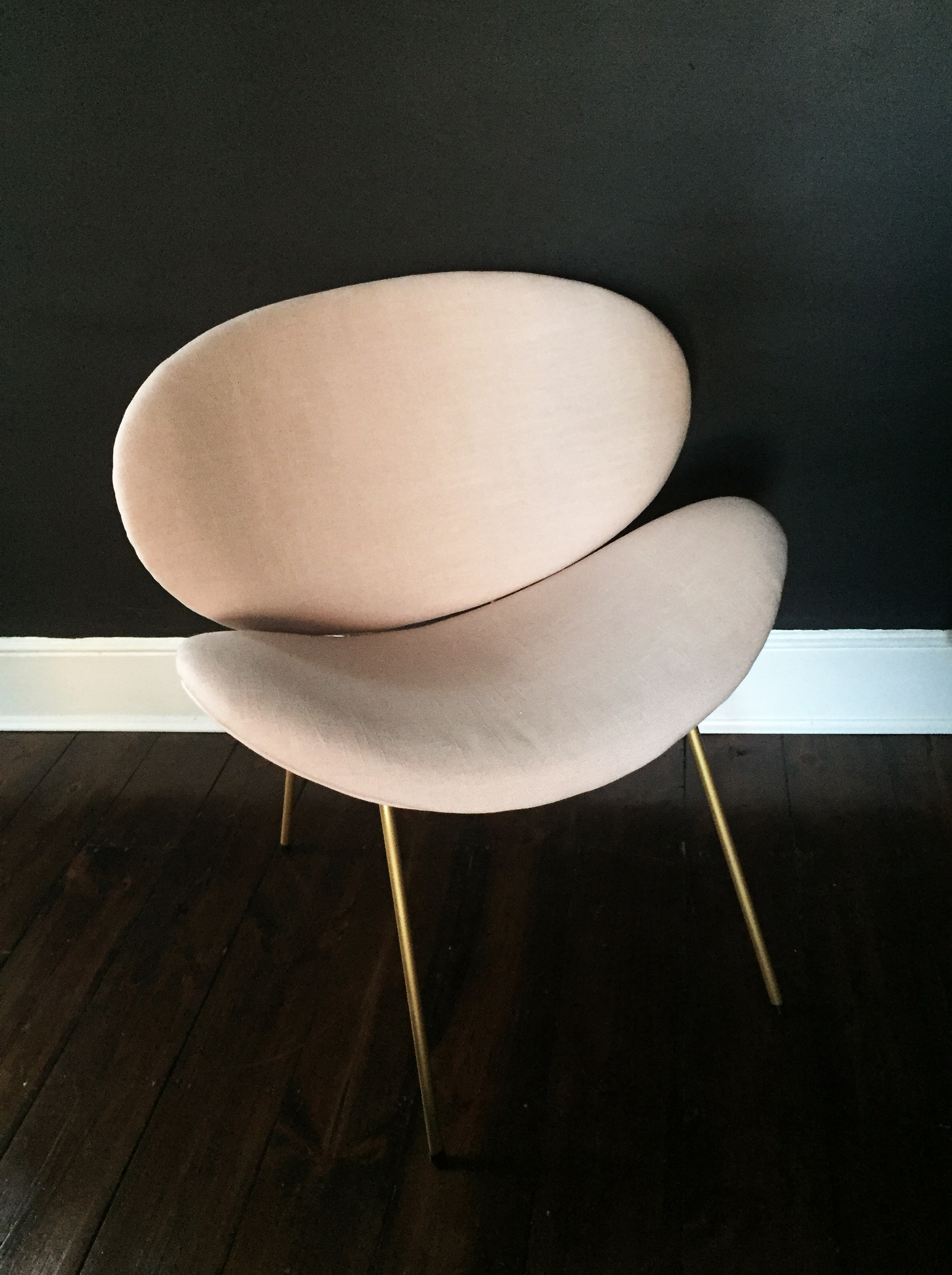 So I spray painted the frame in gold and reupholstered it in a lovely pink shade.
Alors je l'ai repeinte à la bombe aérosol dorée et recouverte d'un joli tissu dans les tons roses.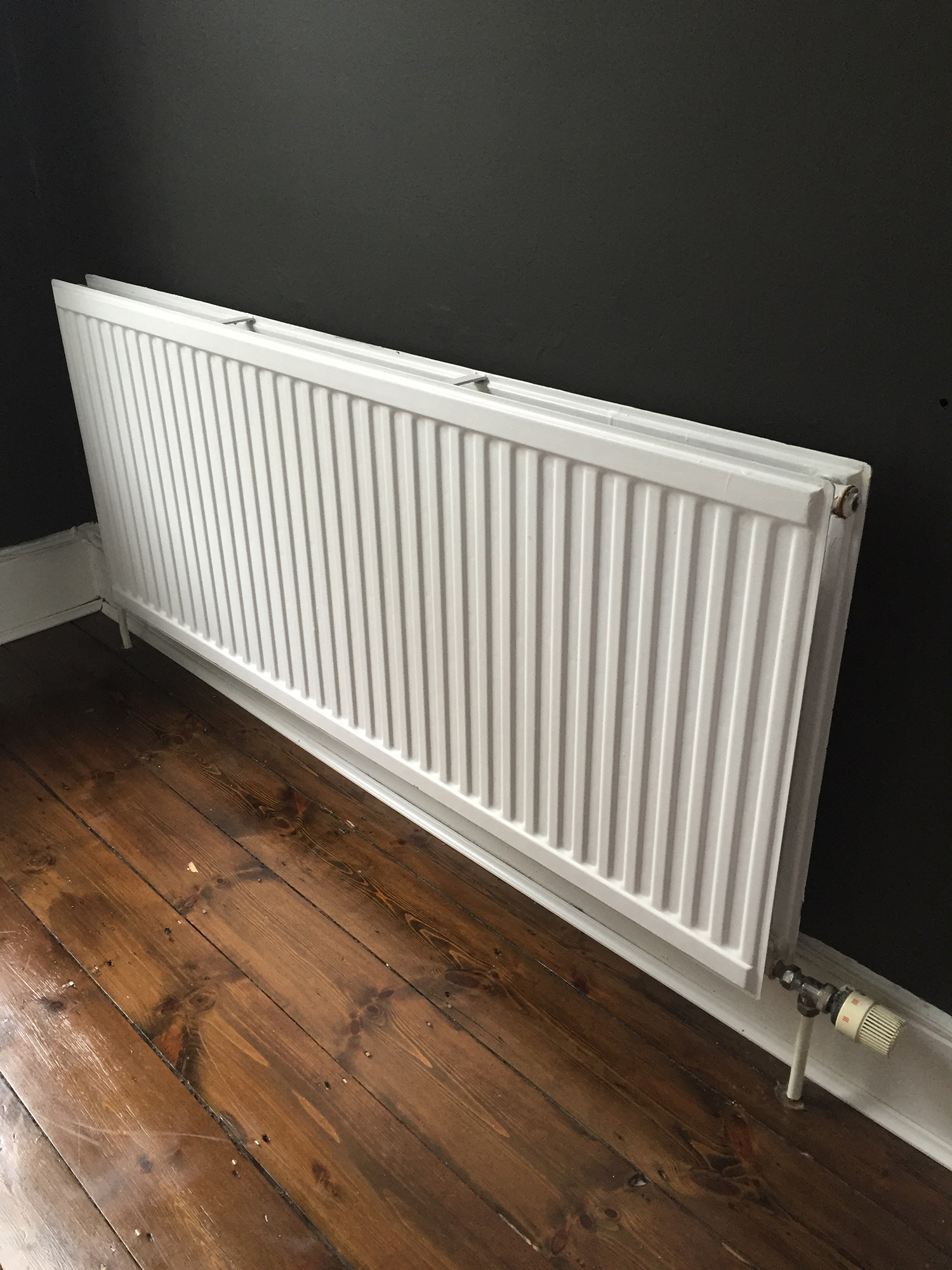 You know I hate ugly radiators! So here is a very easy, rental friendly and inexpensive DIY to hide them.
Vous savez que je déteste les vilains radiateurs ! Alors voici un DIY pour les cacher qui est facile, pas cher et parfait lorsque l'on est en location.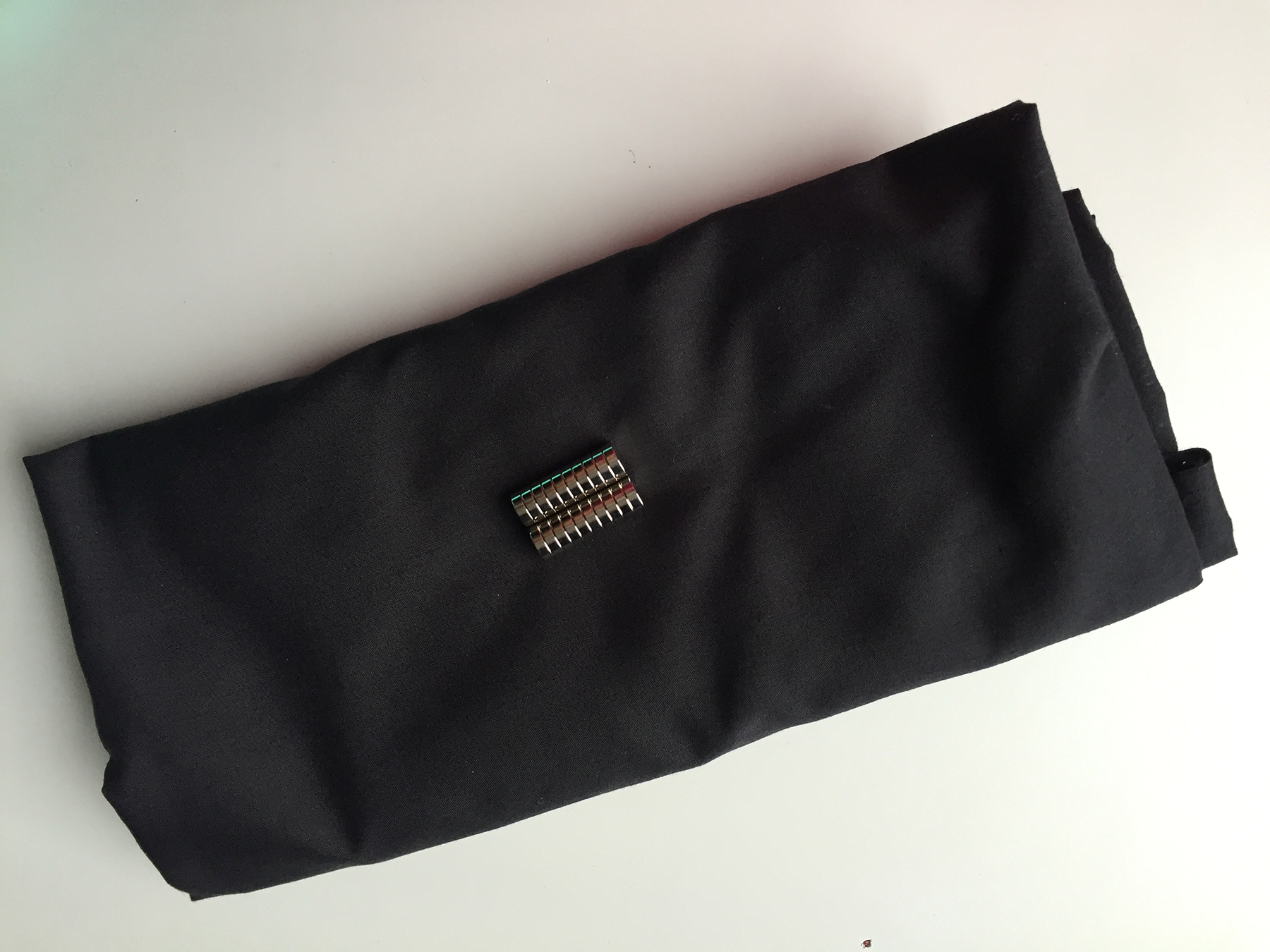 Simply use a light fabric that matches the colour of the walls and some magnets.
Obviously you can only do this DIY if you have a radiator that can be covered, like this one for example which is a water radiator. Don't do it with electric radiators!
Utilisez simplement un tissu léger de la même couleur que vos murs et des aimants.
Bien entendu, vous pouvez faire ce DIY uniquement si vous avez un radiateur que vous pouvez recouvrir, comme par exemple celui-ci qui est un radiateur à eau. Ne le faites pas avec un radiateur électrique !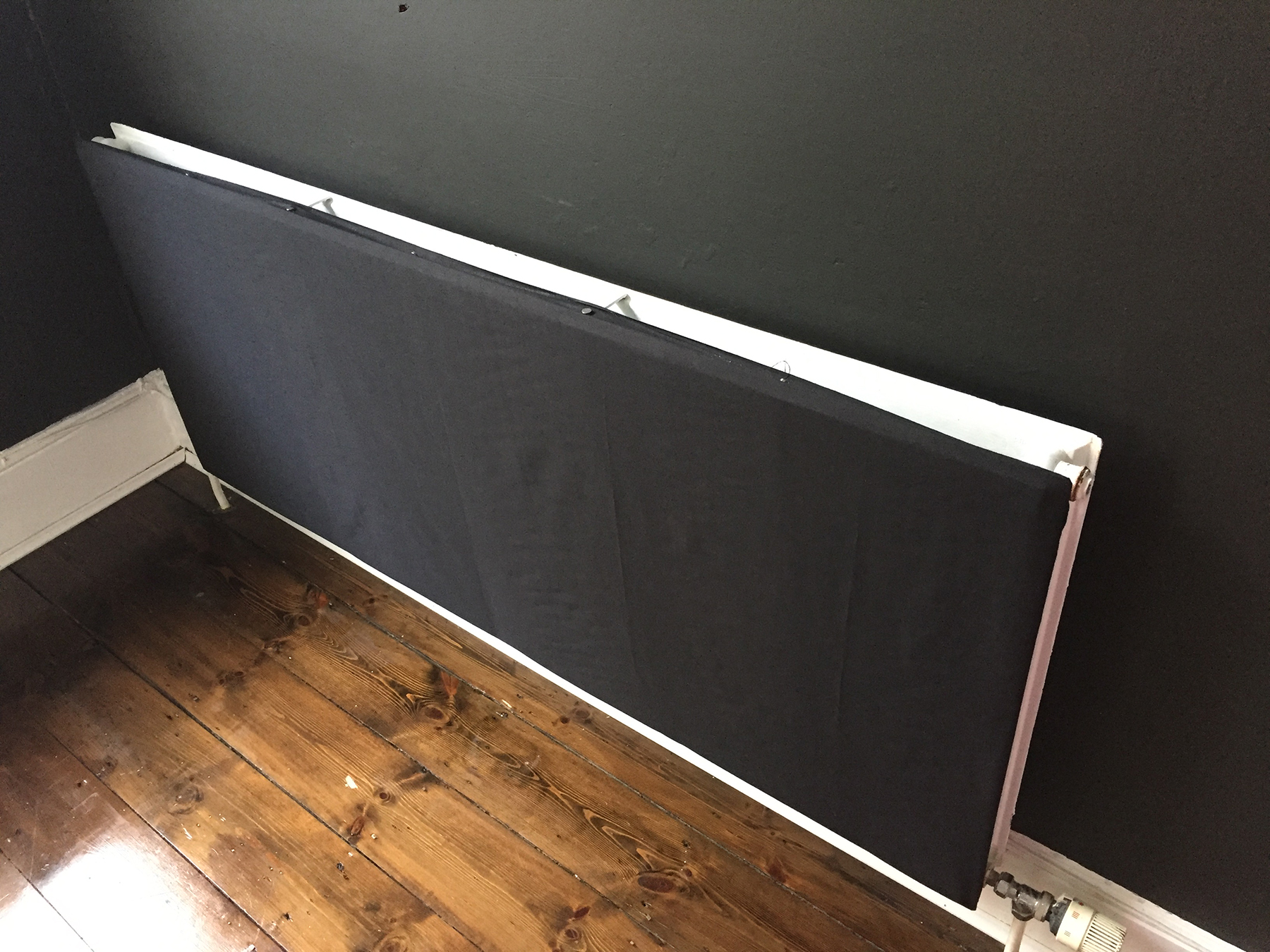 Cut the fabric slightly larger than the size of your radiator and attach it using the magnets. The good thing with magnets is that you can easily remove the fabric to wash it or even change it.
Coupez le tissu légèrement plus grand que la taille de votre radiateur et fixez-le à l'aide des aimants. Ce qui est bien avec les aimants, c'est que vous pouvez facilement retirer le tissu pour le laver ou même pour le changer.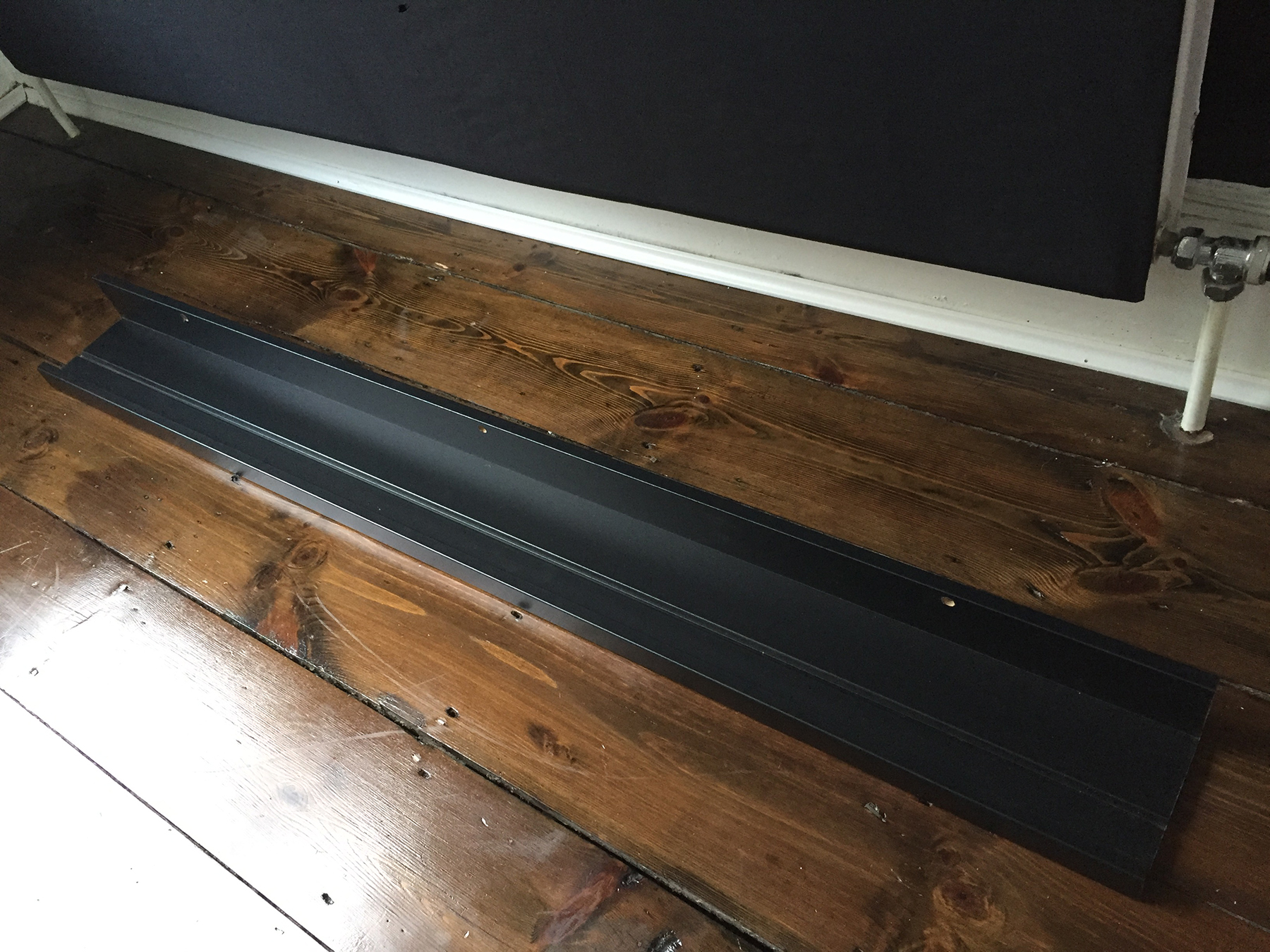 Then for the top I used an Ikea Mosslanda picture ledge that I simply turned it and placed it above the radiator.
Ensuite pour le dessus j'ai utilisé une étagère pour cadres Ikea Mosslanda que j'ai simplement retournée et posée dessus.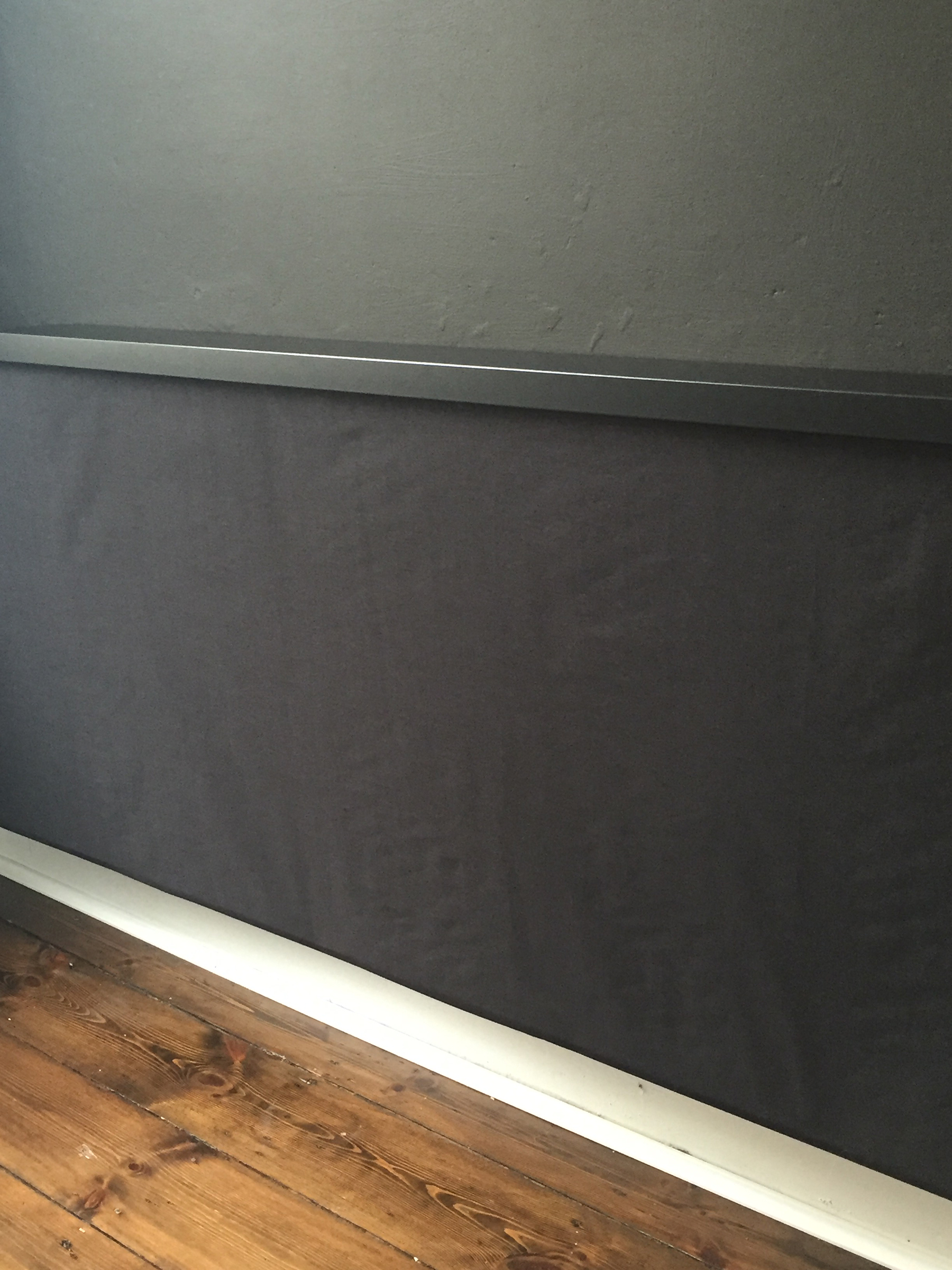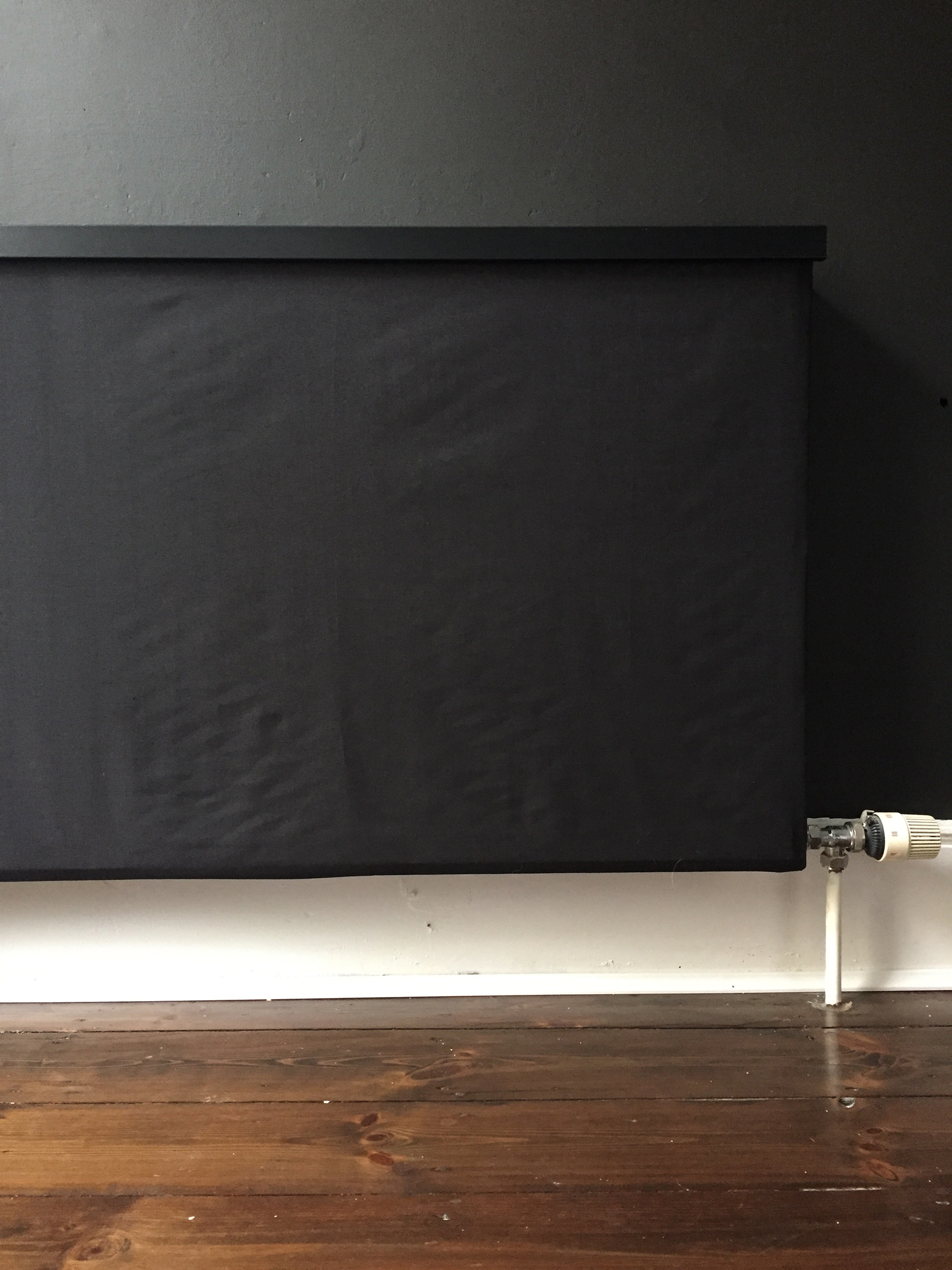 And voila! Easy, quick and inexpensive!
Et voilà ! Facile, rapide et pas cher !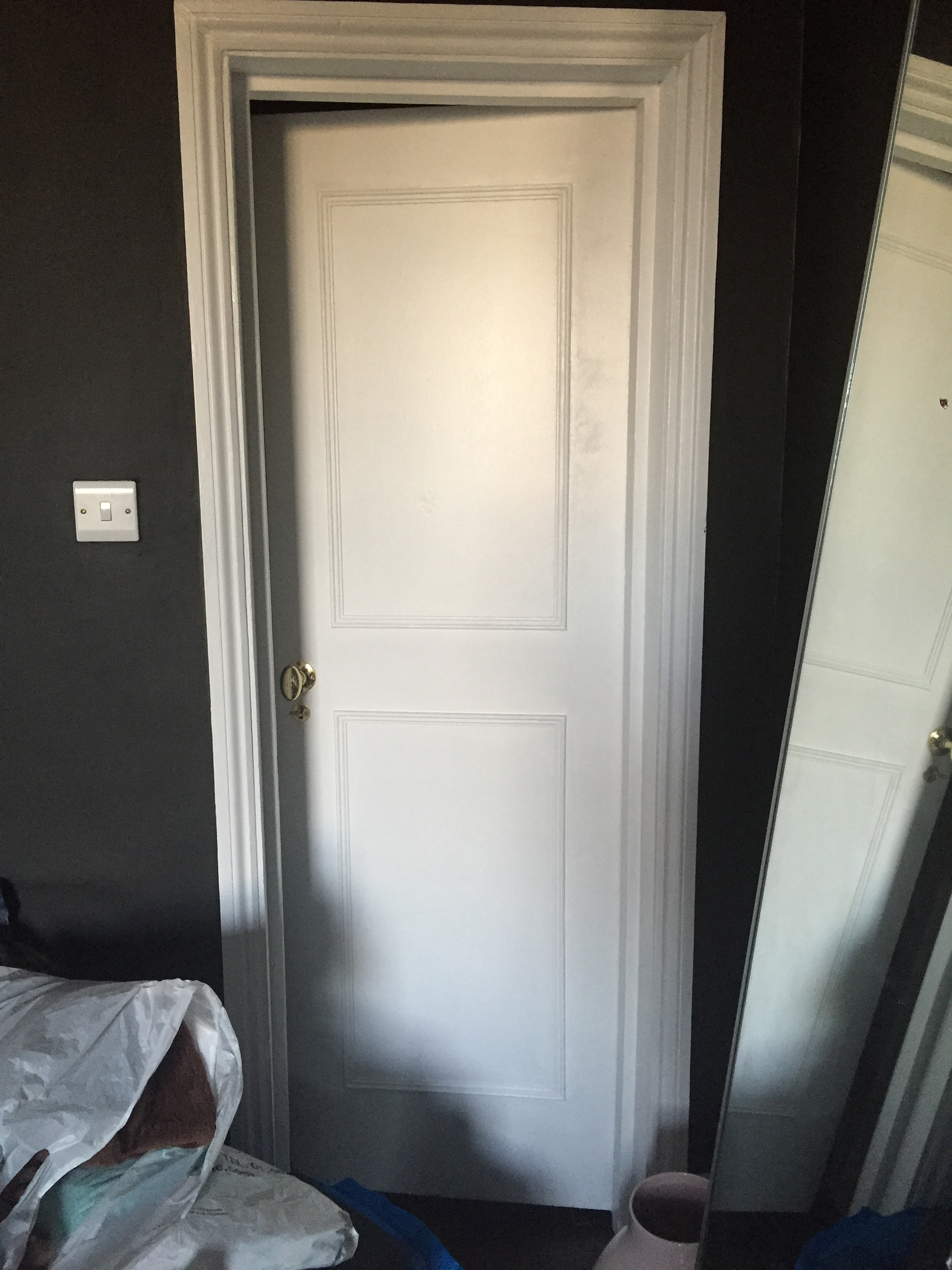 Now, the other side of the room is still a bit chaotic and to tell the truth I don't have real plans for it yet. But the good news is that closet door is now painted and has a new knob.
Maintenant, l'autre côté de la pièce est toujours un peu chaotique et à dire vrai je n'ai toujours pas de vrais plans. Mais la bonne nouvelle est que la porte du dressing est maintenant repeinte et a une nouvelle poignée.

And if you have a look inside the closet, you'll see that the kitchen cabinets now have doors and the things finally start to get organised!
Well, I guess that's it for today. Don't forget that next Thursday will be the big reveal!!! In the meantime, you can have a look at the other inspiring projects of the ORC and the ORC Guest Participants.
See you next week!!!
XO
Et si vous regardez à l'intérieur du dressing, vous verrez que les caissons de cuisine ont dorénavant des portes et que les choses commencent enfin à s'organiser !
Et bien, je pense que c'est tout pour aujourd'hui. N'oubliez pas que jeudi prochain je dévoilerai enfin la pièce transformée ! En attendant, vous pouvez jeter un coup d'oeil aux autres inspirants projets de l'ORC et de l'ORC Guest Participants.
A la semaine prochaine !!!
Biz