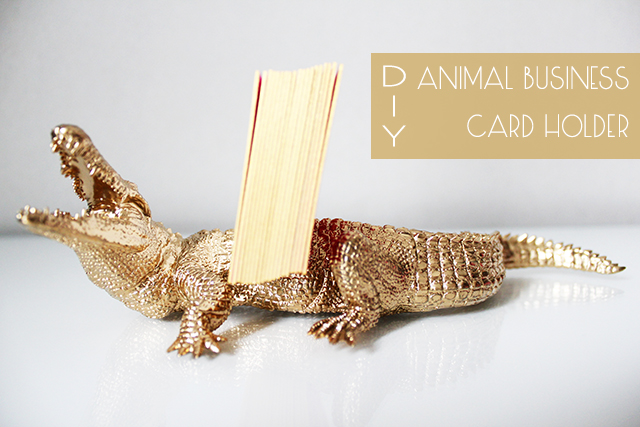 What about a simple DIY to make this unique and gilded business card holder!
Que diriez vous d'un DIY simple pour réaliser ce porte cartes de visite unique et doré !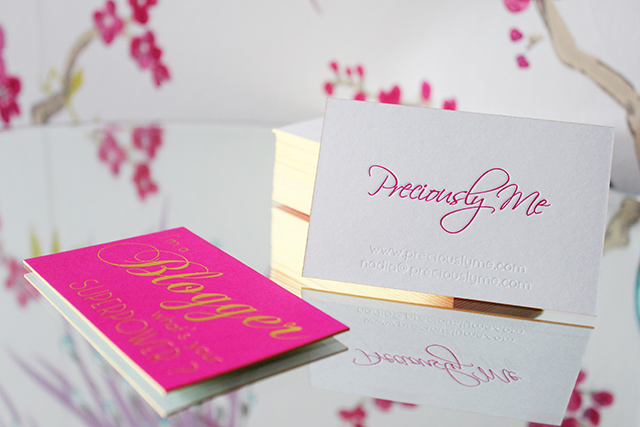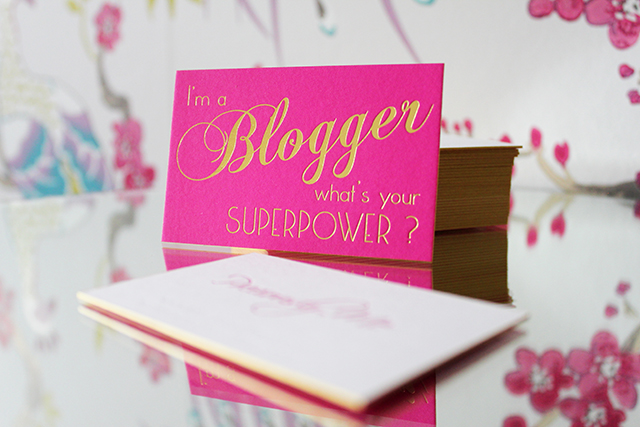 A few months ago, I wanted to make business cards for my blog. I had an accurate idea of ​​what I wanted namely thick letterpress business cards, pink and above all gold sides! It took me a while to find the perfect company in France to make this kind of cards and I finally found Badcass. To work with Jessica and her team was a real pleasure! They have always been available to answer any questions and I was more than happy with the outcome. As you can see, one side is quite simple with the name of my blog, the website address and my email address. The other one is bolder with a bright hot pink and a writing marked in gold by hot stamping. Precious cards, exactly what I wanted! And I wanted to let you know that prints "I'm a Blogger. What's your Superpower?" like the writing on my cards will shortly be available on my Etsy shop, but I'll tell you more very soon ... !
Il y a quelques mois de cela, j'ai voulu faire faire des cartes de visite pour mon blog. J'avais une idée bien précise de ce que je voulais à savoir des cartes épaisses en letterpress, du rose et surtout de jolies tranches dorées ! J'ai mis du temps à trouver l'entreprise idéale en France pour réaliser ce genre de cartes et j'ai finalement trouvé Badcass. Travailller avec Jessica et son équipe a été un vrai plaisir ! Tous étaient très disponibles pour répondre à mes questions et j'ai été plus que ravie du résultat. Comme vous pouvez le voir, il y a un côté simple avec le nom de mon blog, l'adresse du site et mon adresse mail. Et une côté plus osé avec un rose fuchsia pétant et une inscription au marquage à chaud couleur or. Des cartes Précieuses, exactement ce que j'attendais ! Je voulais d'ailleurs vous faire savoir que des illustrations "I'm a Blogger. What's your Superpower?" comme l'inscription de ma carte seront bientôt disponibles sur ma boutique Etsy mais je vous en dirais plus très prochainement... !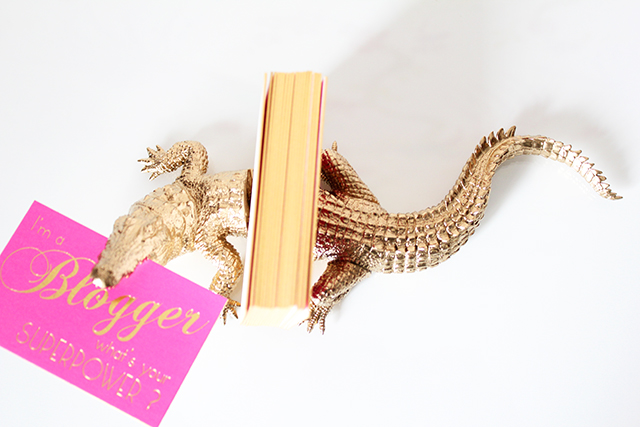 But hey, let's get back to the topic of the day as I'm supposed to show you how to make this glamorous business card holder! So for this DIY you will need very little material:
- A toy animal of your choice
- A sharpie
- A craft knife (or even better a Dremel)
- Spray paint the color you want
Mais bon, revenons-en au sujet du jour car je suis censée vous montrer comment faire ce porte cartes de visite très glamour ! Alors pour ce DIY vous aurez besoin de très peu de matériel :
- Un animal en jouet de votre choix
- Un feutre
- Un cutter (ou encore mieux un Dremel)
- De la peinture en bombe de la couleur de votre choix


First, take your toy. Using a sharpie, make lines to indicate where your animal will be cut.
Tout d'abord, prendre votre jouet. A l'aide d'un feutre, faire des marques à l'endroit où votre animal va être découpé.


Cut your toy using a craft knife or even better a Dremel if you have one. This is much faster and you will have clean cut. Finally, you only have to paint your animal with the color of your choice but I recommend the gold one because the card holder really seems to be made of metal!
Découper votre jouet avec un cutter ou encore mieux un Dremel si vous en avez un. C'est bien plus rapide et les découpes sont nettes. Pour finir, vous n'avez plus qu'à peindre votre animal de la couleur de votre choix mais je vous conseille le doré car le porte carte semble vraiment être en métal !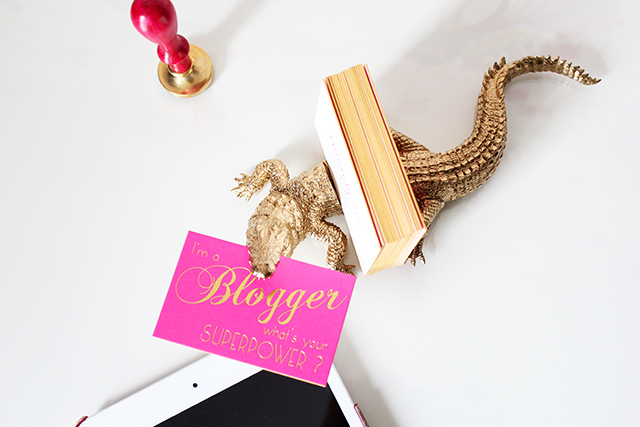 Et voilà, a beautiful animal business card holder easy and quick to make!
PS: Just in case, I wanted to make clear that no animals were harmed or tortured in the making of this post!
Et voilà, un superbe porte cartes de visite facile et rapide à réaliser !
P.S : Juste au cas où, je tenais à préciser qu'aucun animal n'a été maltraité ou torturé pour la réalisation de ce post !