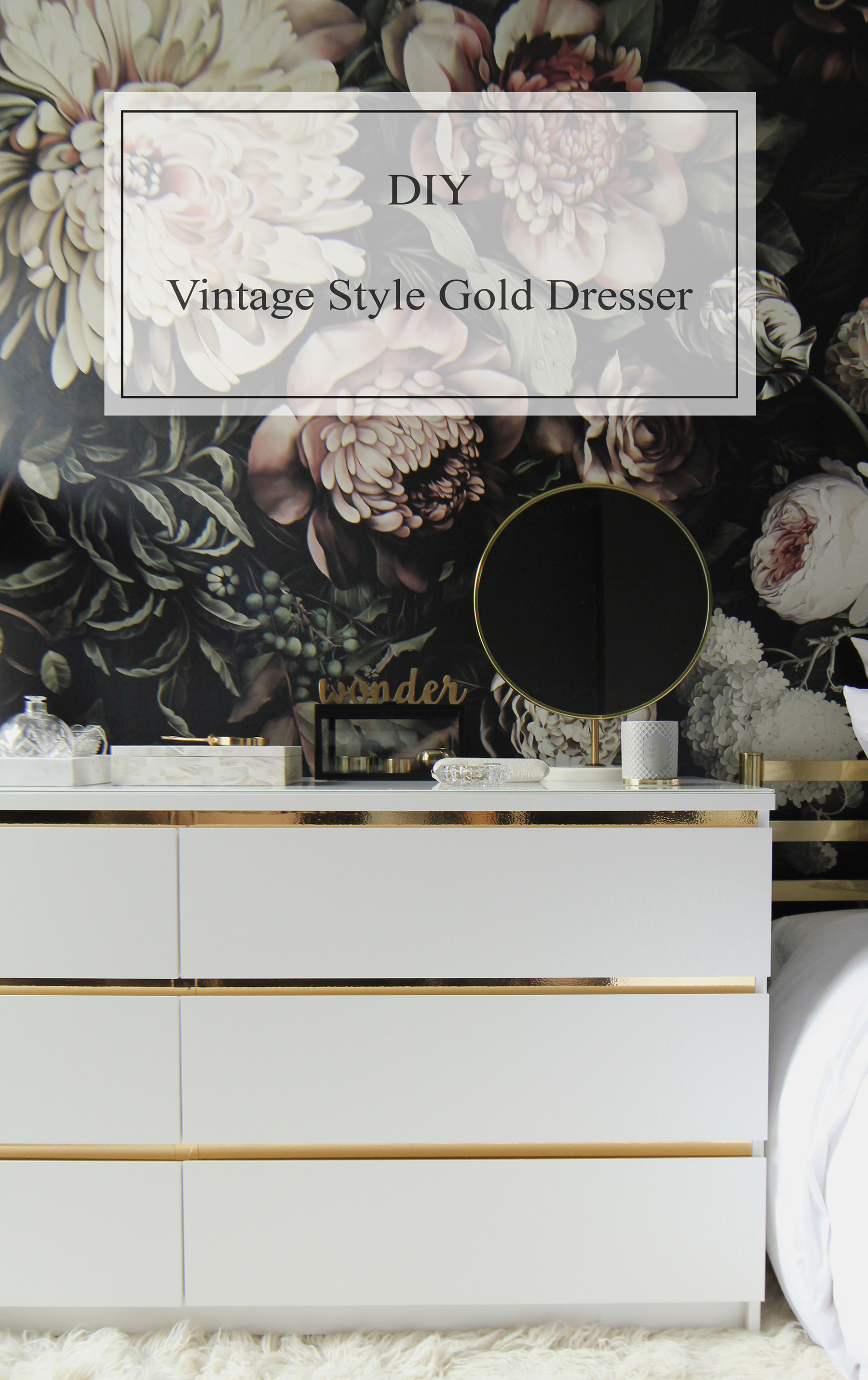 Today I am going to show you how I made my new vintage style gold dresser.
Je vais vous montrer aujourd'hui comment j'ai fait ma nouvelle commode dorée au style vintage.
But before that, I would like to thank all of you for all the nice feedback after the reveal of my bedroom and closet last week. I am so happy that you like my new rooms and reading all your sweet comments really made my weekend! With the ORC the past 6 weeks have been quite stressful, but creating something that people love is from far the best reward. This is what gives me the motivation to do those crazy makeover and share them with you on the blog. So thank you from my heart for all that pleasure you give me!
Now, after all this I think it's time for me to share the behind the scene with all the DIY. And I am going start with a very easy one that anyone could do: the vintage style gold dresser.
Mais avant cela, je voudrais tous vous remercier pour tous les retours positifs la semaine dernière, après vous avoir dévoilé la transformation de ma chambre et du dressing. Je suis vraiment ravie que les pièces vous plaisent et lire tous vos gentils commentaires a illuminé mon week-end ! Avec l'ORC, les 6 dernières semaines ont été plutôt stressantes, mais créer quelque chose que les gens aiment est de loin la plus belle des récompenses. C'est ce qui me donne la motivation de faire ces défis fous et de les partager avec vous sur le blog. Alors merci du fond du coeur pour tout le plaisir que vous me donner !
Maintenant, après tout cela je pense qu'il est temps de partager ce qui s'est passé en coulisse avec tous les DIY. Et je vais commencer avec un très facile et à la portée de tous : la commode dorée style vintage.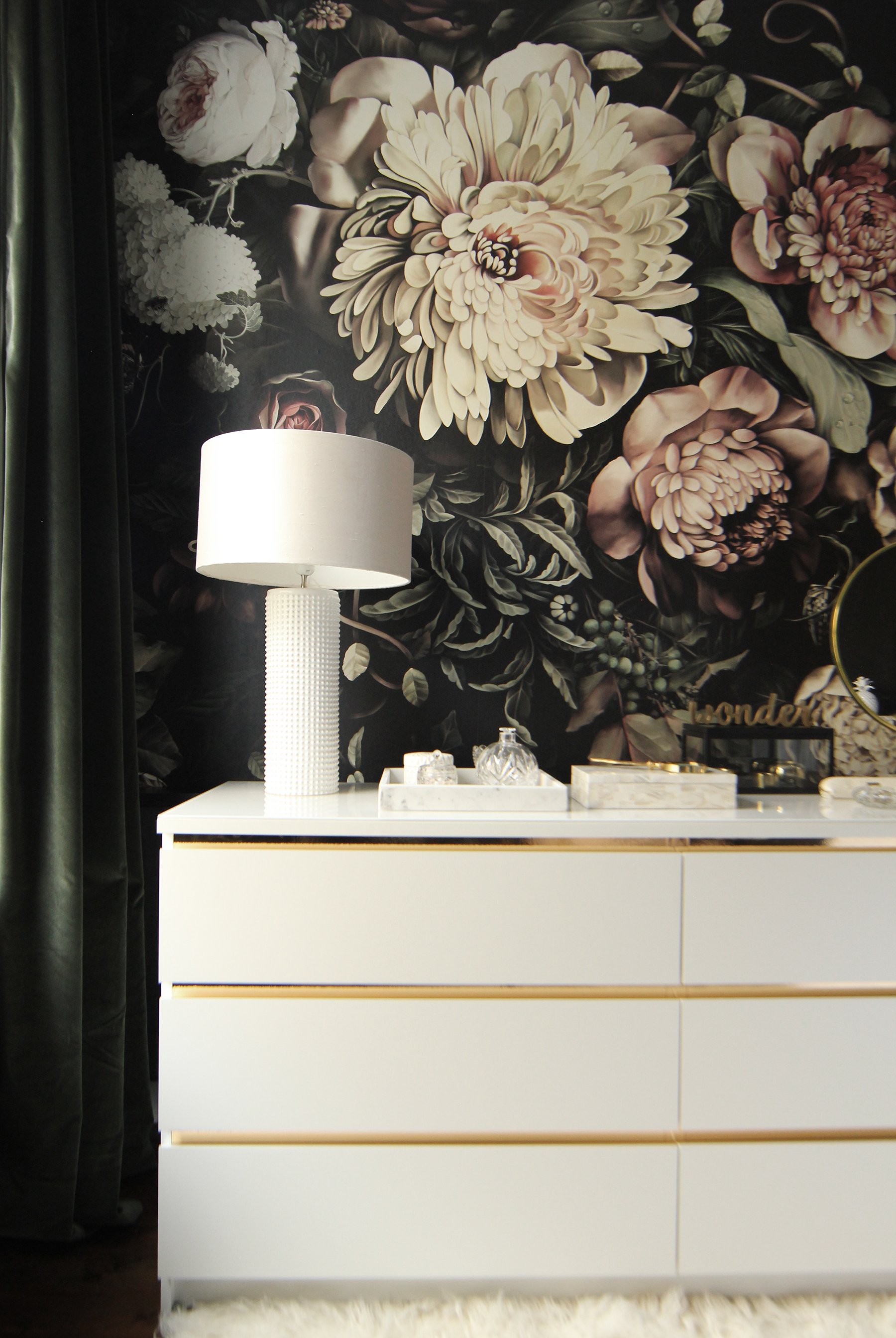 This is a DIY that I wanted to do a long time ago, since I saw Joy's Gorgeous vintage credenza in her daughter's nursery. When I decided to do my bedroom, I thought that it would be the perfect project to finally give it a try.
C'est un DIY que je voulais faire depuis un moment déjà, depuis que j'ai vu le magnifique buffet vintage dans la chambre de bébé de la fille de Joy. Quand j'ai décidé de refaire ma chambre, j'ai pensé que ce serait le projet idéal pour enfin le faire.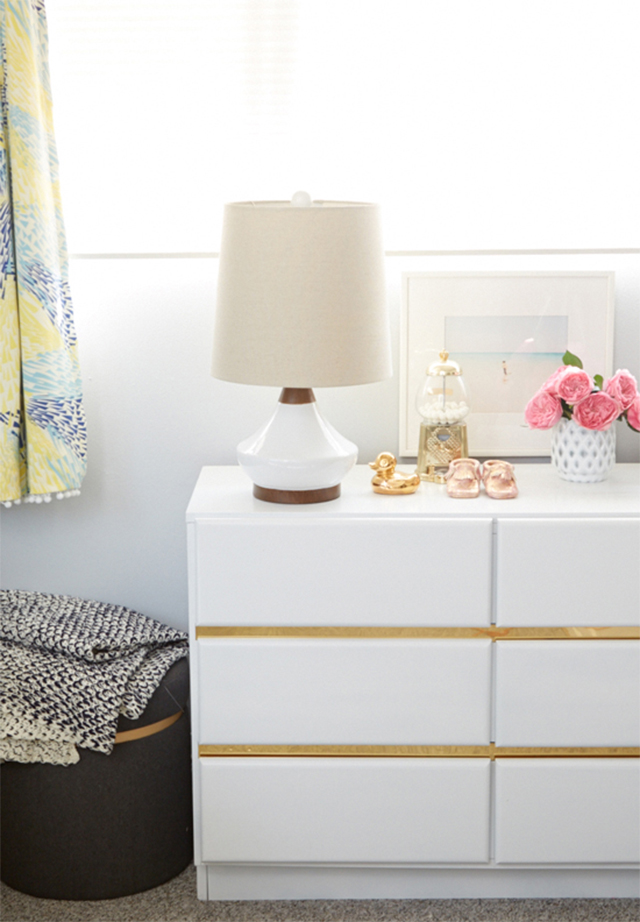 Here is above a picture of this beautiful credenza with gold accents. I have been looking for a similar one for a long time but couldn't find anything nice and affordable. Then (and because obviously you know I love Ikea!) I thought I could use their Malm chest of drawers and some gold contact paper I had at home to make my own. Here is what you need for this DIY:
Voici ci-dessus une photo de ce joli buffet avec des touches de doré. J'en ai cherché un similaire pendant longtemps mais je n'ai rien trouvé qui soit beau et dans mon budget. Ensuite (et parce que vous savez bien évidemment que j'adore Ikea !) j'ai pensé que je pourrais utiliser leur commode Malm avec le rouleau de papier adhésif doré que j'avais à la maison pour faire ma propre commode. Voici ce qu'il faut pour ce DIY :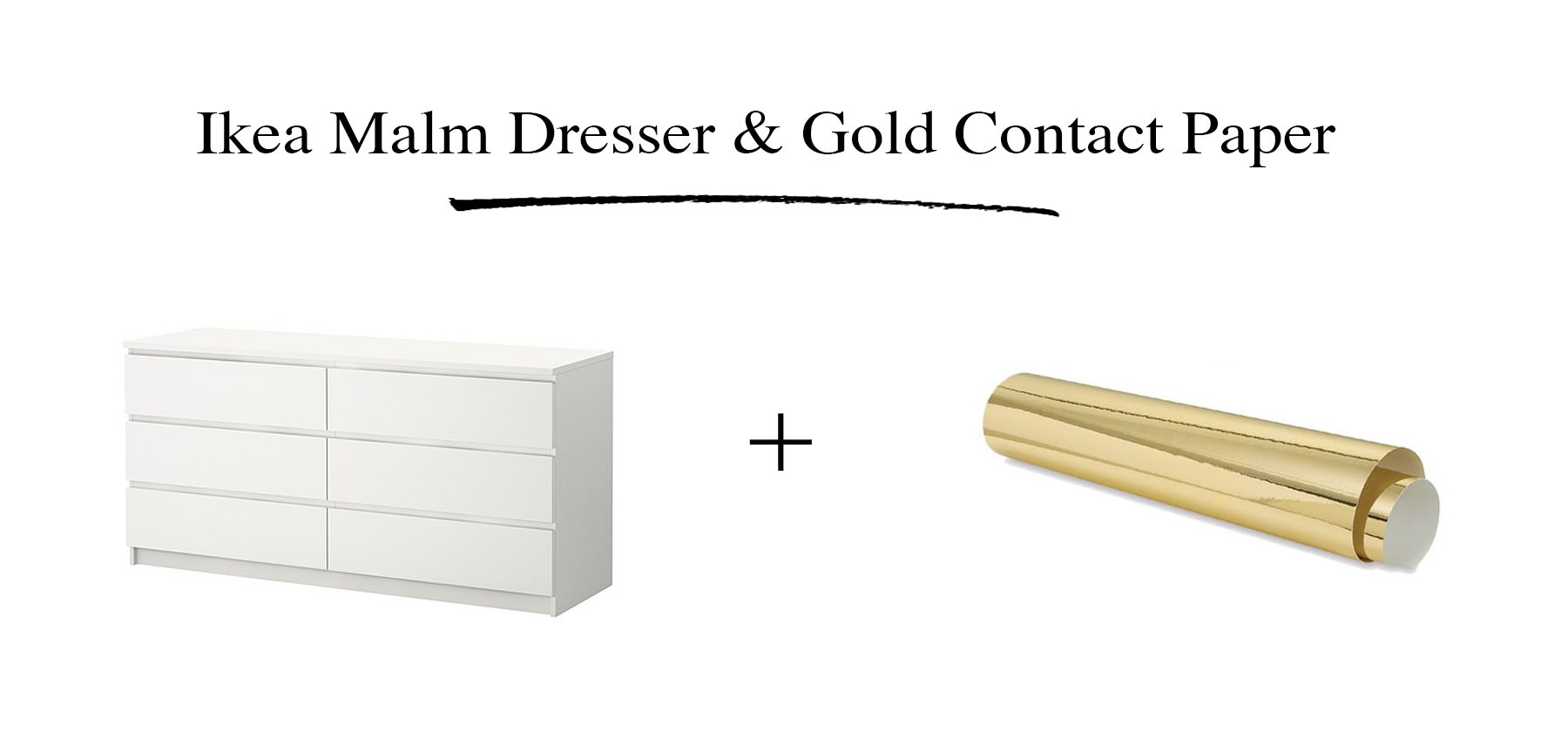 Material:
- Ikea Malm dresser
- Gold contact paper roll
- Scissors
- Cutter blade
Matériel :
- Commode Ikea Malm
- Rouleau de papier adhésif doré
- Ciseaux
- Cutter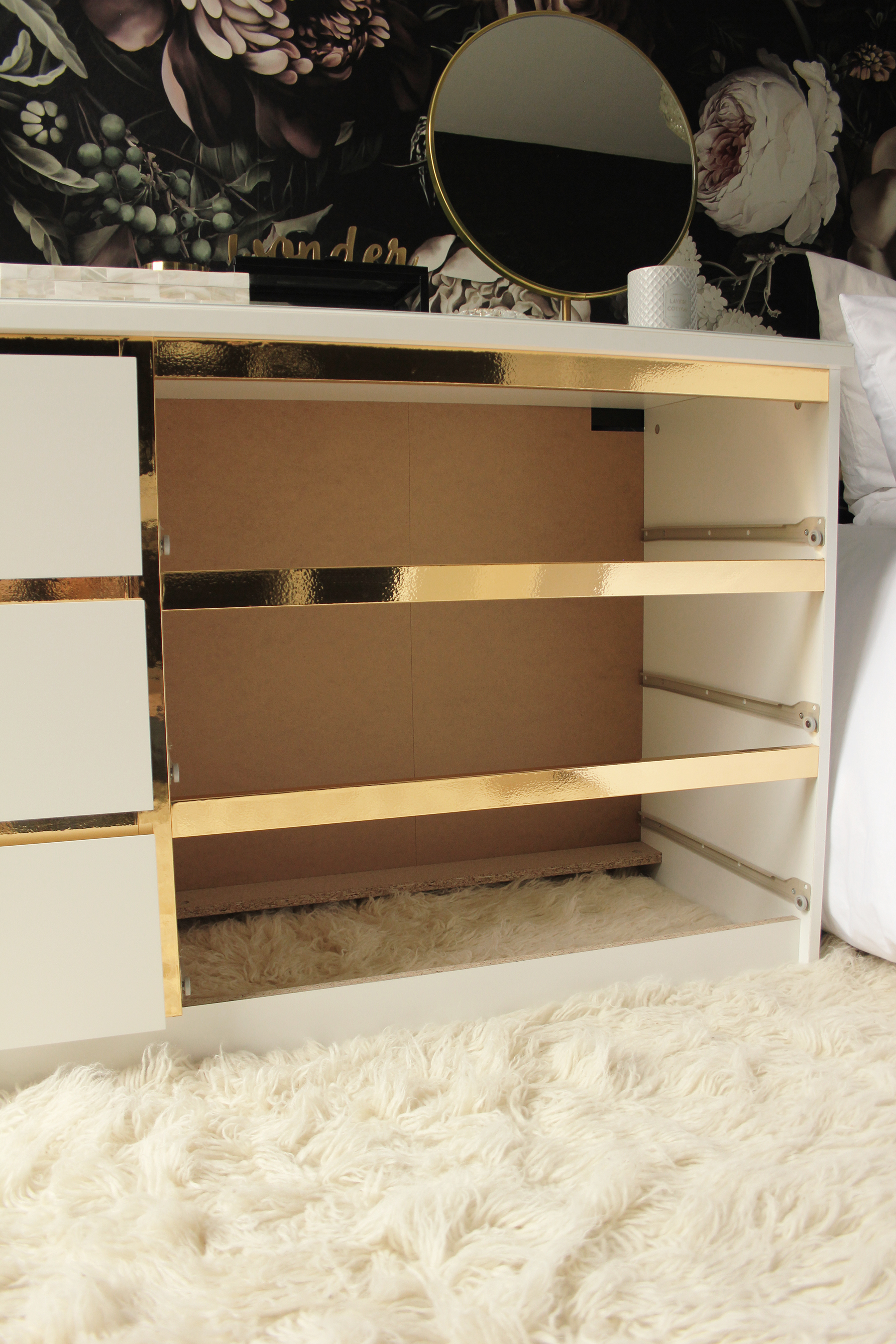 As you can see here, all you have to do is cut some gold contact paper and put it on the middle sections of your dresser.
Comme vous pouvez le voir ici, vous devez tout simplement couper du papier adhésif doré et le mettre sur les parties centrales de la commode.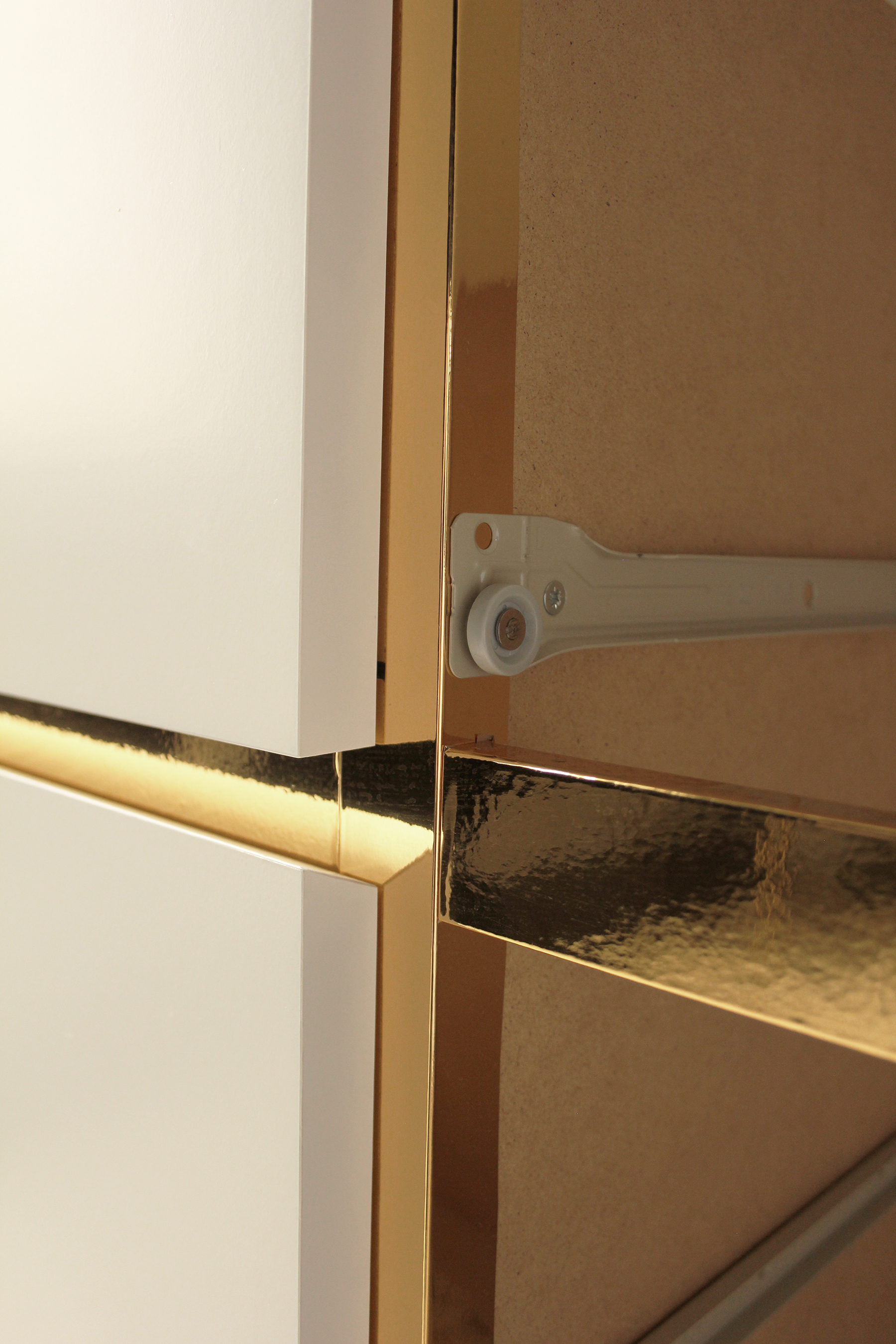 For the middle part, the best thing is to unscrew the drawers rails while you do it so you can perfectly stick the paper.
Pour la partie du milieu, le mieux est de dévisser les rails des tiroirs pendant que vous le faites pour vous puissiez parfaitement coller le papier.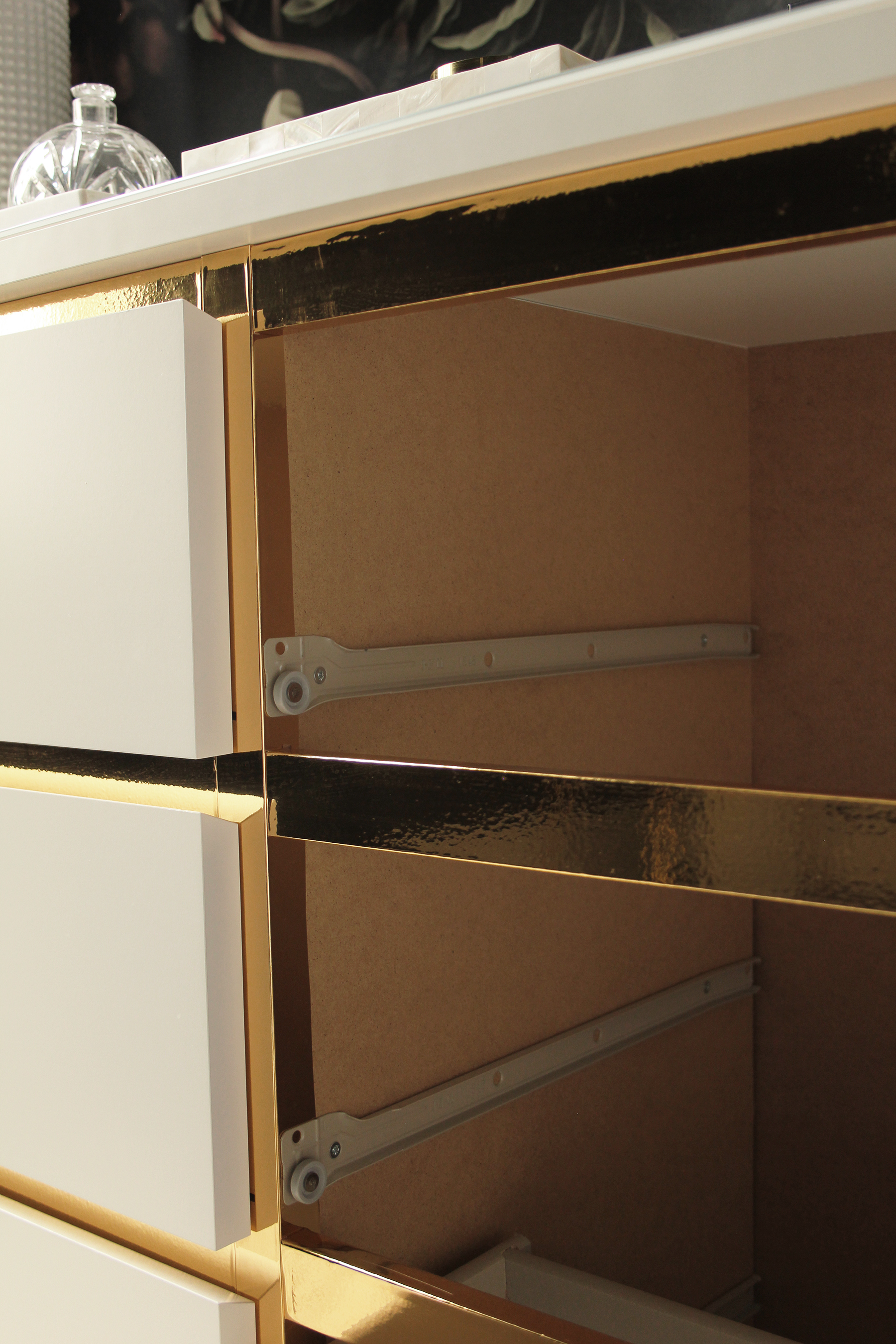 And for the horizontal parts, just wrap the contact paper all around so it will stick perfectly and last longer. Then trim the excess.
Et pour les parties horizontales, enveloppez-les de papier adhésif pour qu'il colle parfaitement et tienne plus longtemps. Ensuite découpez l'excédent.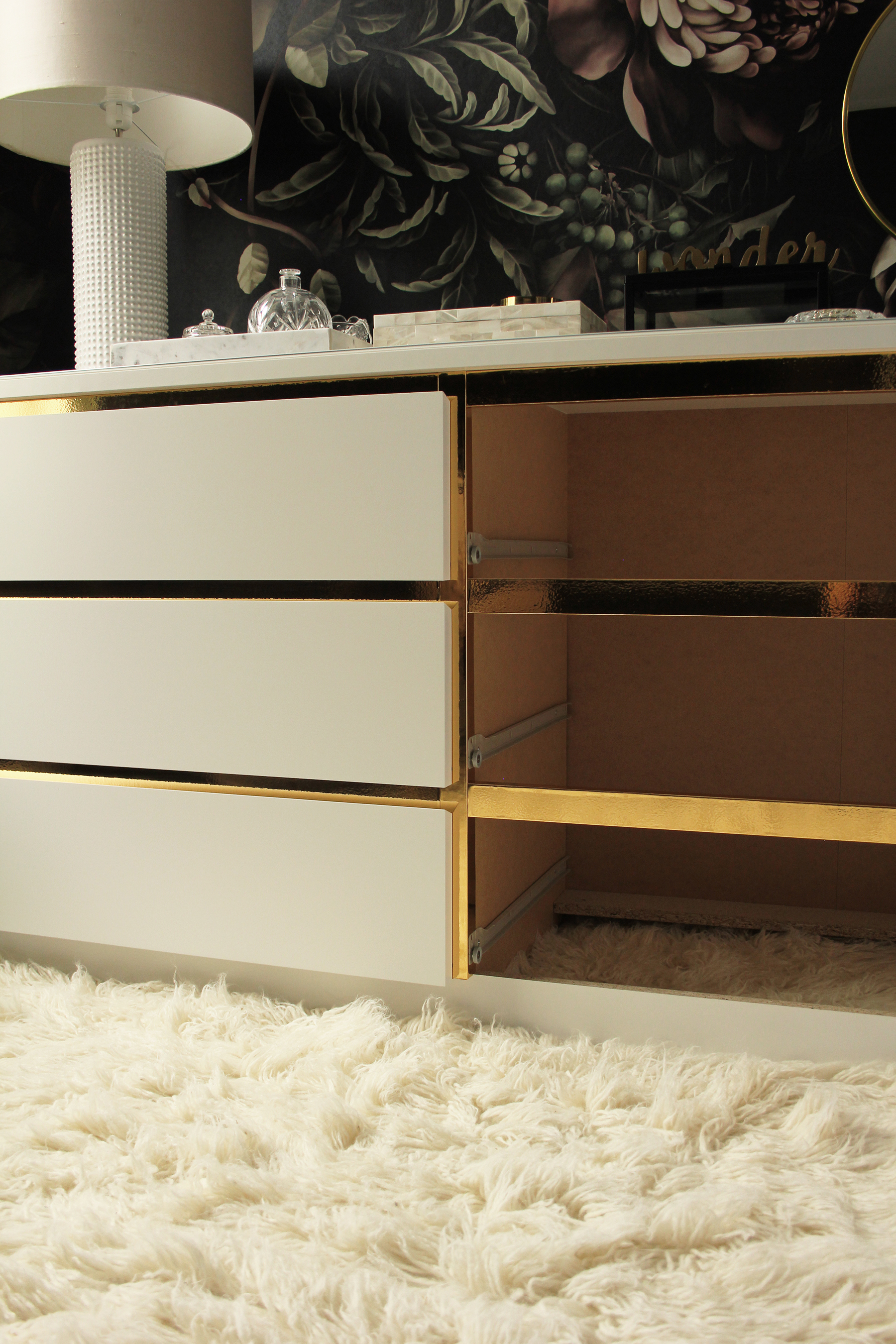 Once all the parts are covered you can put back the drawers. It told you it was easy and quick!
Une fois que toutes les parties sont recouvertes vous n'avez plus qu'à remettre les tiroirs. Je vous ai dit que c'était facile et rapide !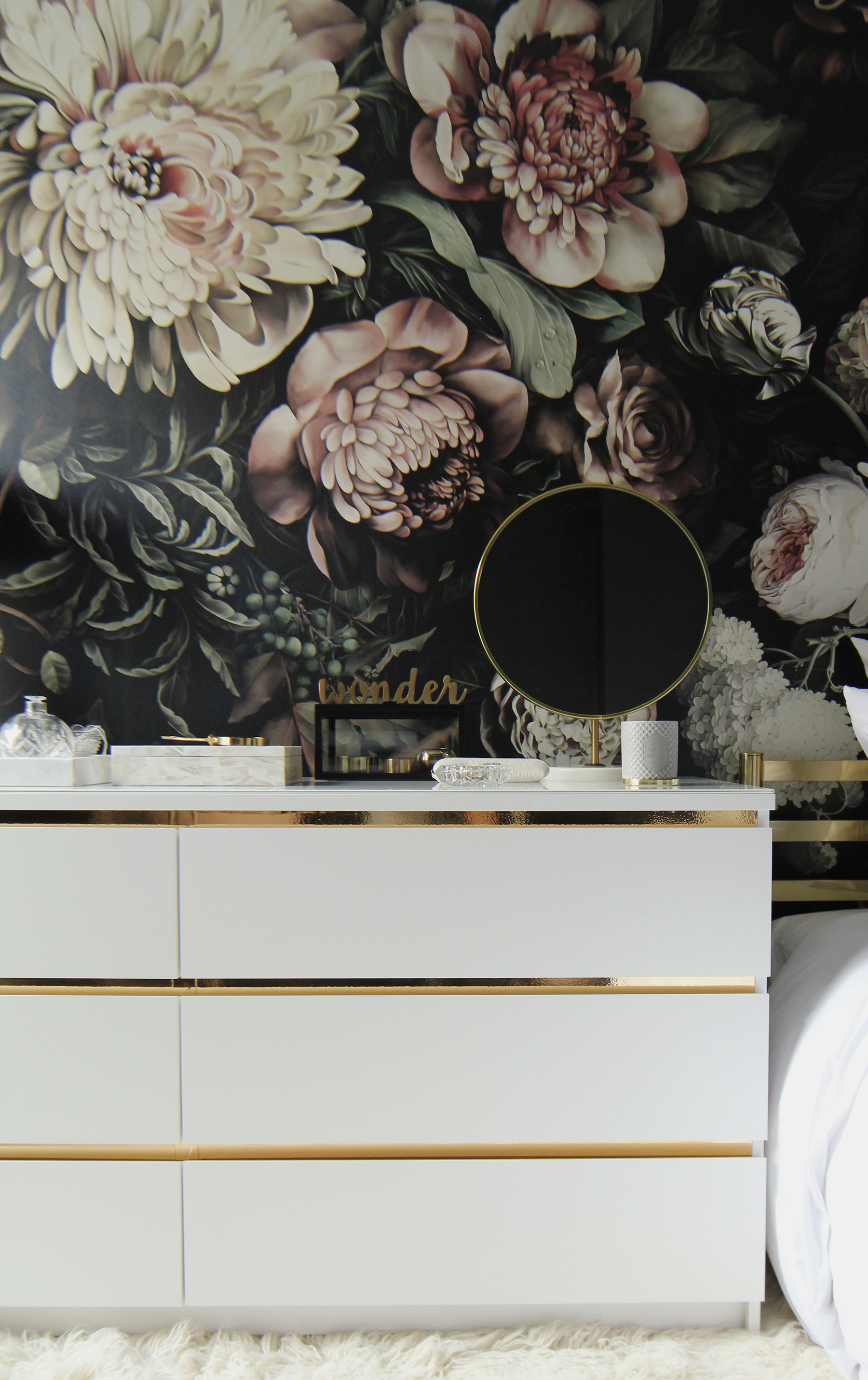 And voila! You have just customised your Ikea Malm dresser and now have a beautiful vintage style gold accents credenza.
Et voilà ! Vous venez de customiser votre commode Ikea Malm et vous avez maintenant un beau meuble au style vintage avec des touches de doré.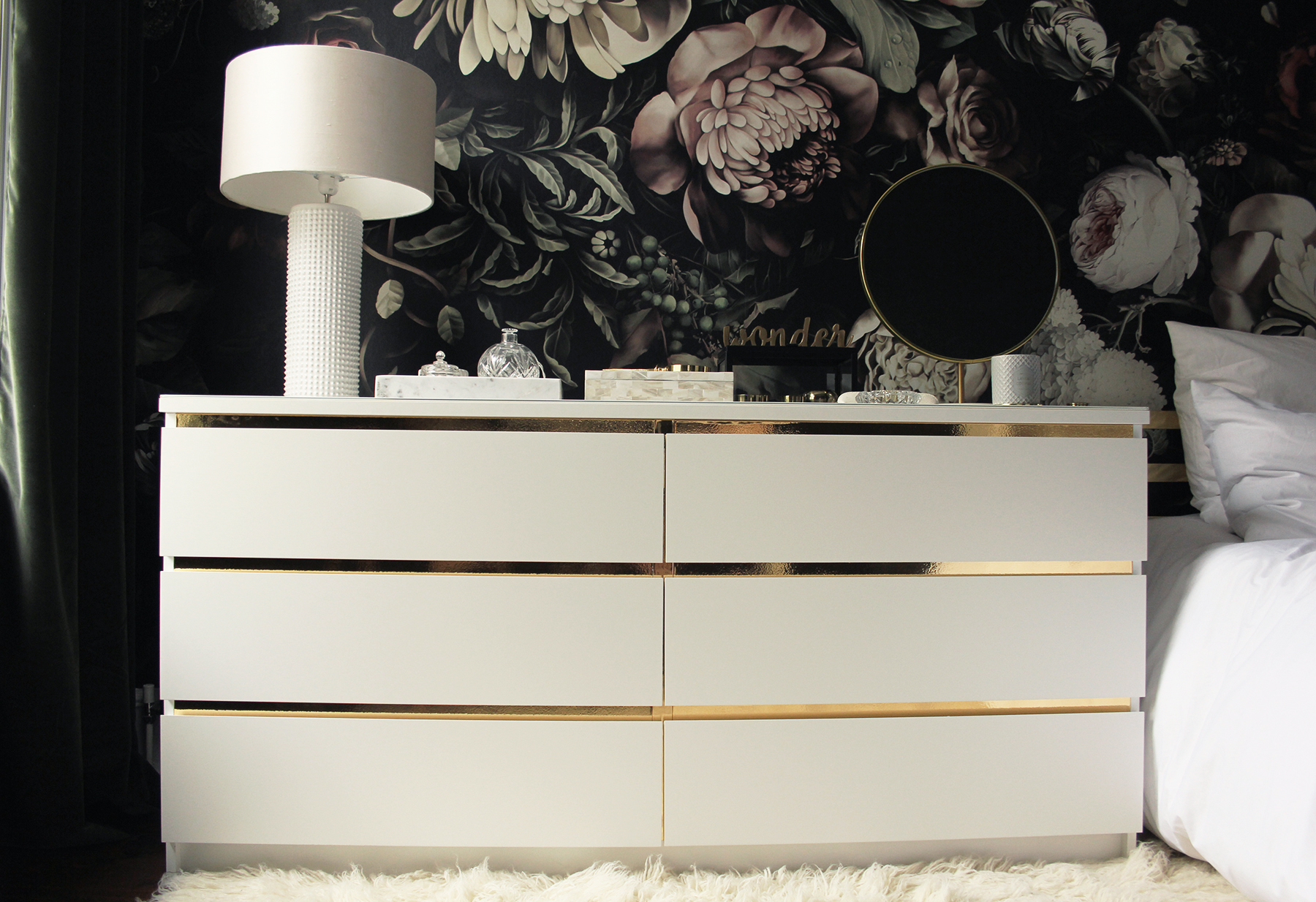 Hope you like it! I will share more DIY in the next days... so stay tuned!
XO
J'espère que vous aimez ! Je partagerai d'autres DIY dans les prochains jours... alors soyez au rendez-vous !
Biz

Image 2 source Oh Joy!