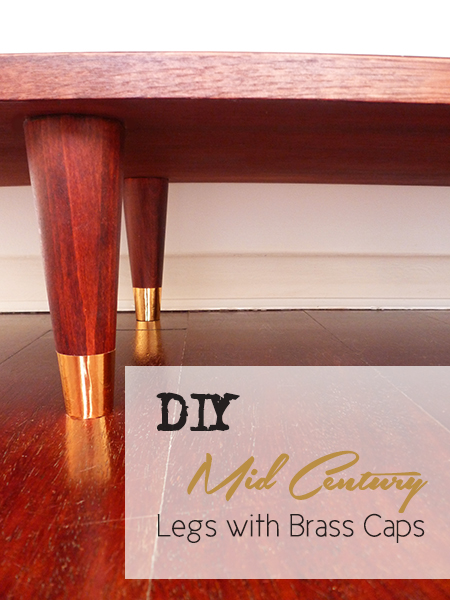 Hi everyone, I hope you had a great weekend and you were able to rest. For my part, the last two days I took the time to finalise some projects I was working on ...
Bonjour à tous, j'espère que vous avez passé un agréable week-end et que vous vous êtes reposés. Pour ma part, ces deux derniers jours j'ai pris le temps de finaliser quelques projets sur lesquels je travaillais...
And as you know, I always share my little secrets with you so I'll start this new week with a super easy DIY. One of my last projects was to make a cabinet for my 'home project' but I'll tell you more in the coming days. Anyway, I wanted to give this sideboard a vintage look and for that I really wanted wooden legs with brass caps. Unfortunately the ones I found were either too damaged or the size did not fit, not sturdy enough or too expensive ... I had to find another solution and I thought of using simple wooden furniture legs that you can find in any hardware store and are also very cheap. So here's what you'll need if you want to make these mid century furniture legs:
- Wood conical sofa legs
- Wood stain
- Clear varnish
- Gold adhesive contact paper
Et comme vous le savez, j'ai pour habitude de partager mes petits secrets avec vous alors je vais commencer cette nouvelle semaine avec un DIY ultra facile. Un de mes derniers projets était de faire un meuble pour mon "projet maison" mais je vous en dirai plus dans les prochains jours. Toujours est-il que je voulais donner à ce buffet un côté vintage et pour cela je voulais absolument des pieds en bois avec des embouts en laiton. Malheureusement, ceux que j'ai trouvé étaient ou trop abîmés, ou la taille ne convenait pas, pas assez solides ou trop chers... J'ai dû trouver une solution alternative et j'ai pensé utiliser de simples pieds de lit en bois que l'on trouve dans tous les magasins de bricolage et qui de plus ne sont pas chers du tout. Alors voici ce dont vous aurez besoin si vous voulez vous aussi faire ces pieds de meuble au look rétro :
- Pieds de lit coniques en bois
- Teinte à bois
- Vernis transparent
- Papier adhésif Vénilia doré


Take your wooden feets and stain them with a cloth. I used a teak color but of course you can use the color you want. Then apply a coat of clear varnish to protect them.
Prenez vos pieds en bois et teintez-les avec un chiffon. J'ai utilisé de la teinte couleur teck mais vous pouvez bien évidemment utiliser la couleur que vous voulez. Ensuite passez une couche de vernis pour les protéger.


Finally, cut the gold adhesive contact paper and stick it on the legs. Use a cutter for finishing and to cut out any excess of adhesive paper and voila. Your mid century legs are done!
Pour finir, découpez du papier adhésif doré pour le coller sur le bout des pieds. Utilisez un cutter pour la finition et pour découper le papier qui dépasse et voilà. Vos pieds vintages sont finis !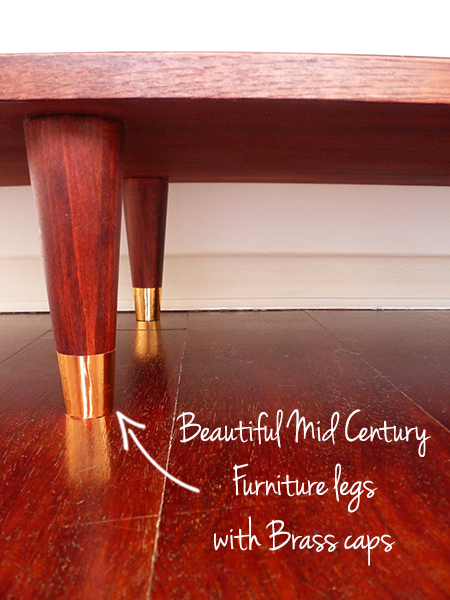 I told you so it was super easy! Those legs have been on for a few weeks ago now and they're still perfect. And they're even more beautiful in person! Now I can't wait to show you this 'new' cabinet ... A little more patience my friends. In the meantime I wish you all a wonderful week and see you tomorrow!
Je vous avais bien dit que c'était ultra facile ! Ces pieds sont en place depuis quelques semaines déjà et ils sont toujours aussi parfaits. Et ils sont encore plus beaux en vrai ! J'ai maintenant vraiment hâte de vous montrer ce "nouveau" buffet... Encore un peu de patience les amis. En attendant je vous souhaite à tous une excellente semaine et je vous dis à demain !