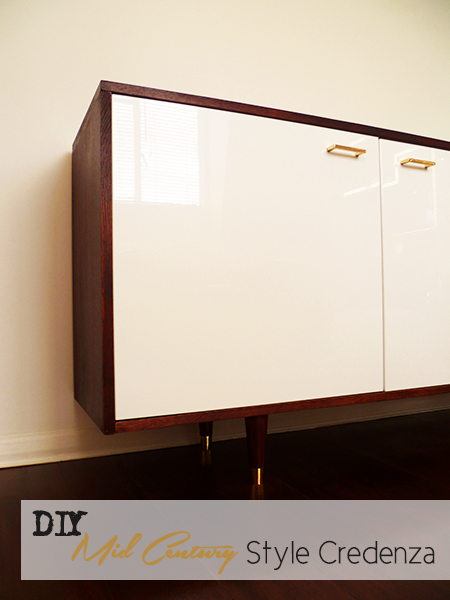 For the last DIY of the week, I really wanted to show you the new sideboard I made! Who would believe that this was originally Ikea kitchen cabinets ...?
Pour ce dernier DIY de la semaine, je tenais absolument à vous montrer le nouveau buffet que j'ai fait ! Qui pourrait croire qu'il s'agissait à la base d'éléments de cuisine Ikea... ?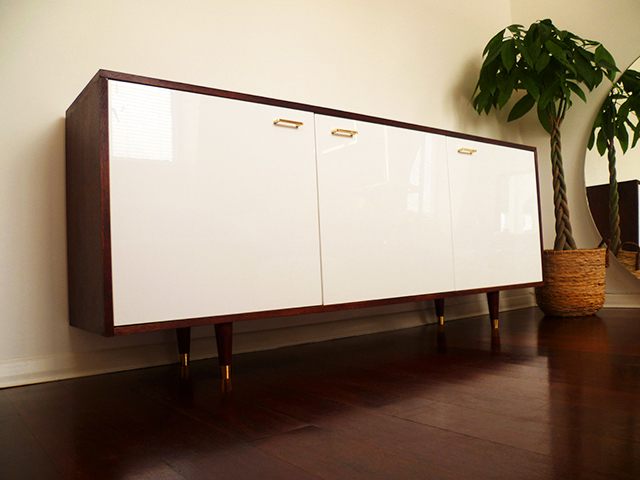 Well yes, even if seeing this picture it may seem hard to believe, I made this vintage style credenza with Ikea cabinets that I already had before.
Et oui, même si en voyant cette photo cela peut sembler difficile à y croire, j'ai fait ce buffet au style vintage avec d'anciens éléments Ikea que j'avais auparavant.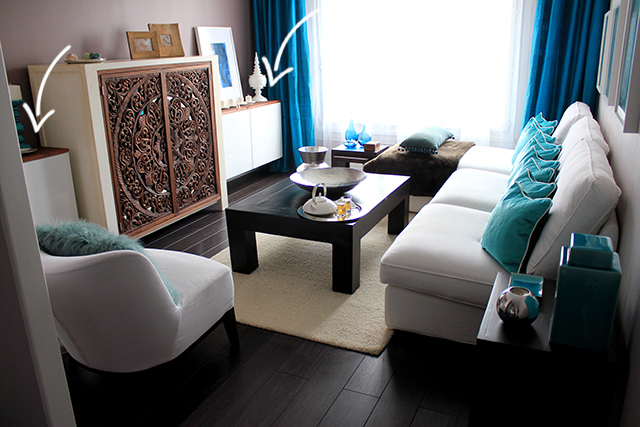 Here is a picture of my previous living room where you can see on the left the Ikea Faktum (or Akurum) kitchen units that I had on the wall. For the decor of my 'home project', I wanted to reuse a maximum of furniture and objects above all to save money. I kept those cabinets and I put them in the living room since, in any case, I could not have put them in a future kitchen because as you know Ikea has recently changed the kitchen range for the new Metod.
Voici une photo de mon ancien salon sur laquelle vous pouvez voir sur la gauche des éléments de cuisine Faktum d'Ikea que j'avais suspendu au mur. Pour la décoration de mon "projet maison", j'ai tenu à réutiliser un maximum de meubles et objets surtout par souci d'économie. J'avais gardé ces éléments et je les ai ici mis dans le salon puisque de toute manière je n'aurais pas pu les utiliser dans une future cuisine car comme vous le savez désormais Ikea a changé pour une nouvelle gamme de cuisine, Metod.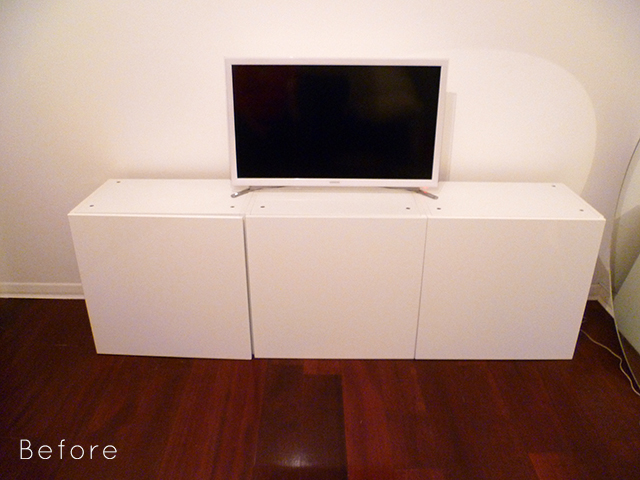 This room is much smaller, so I could only reuse three of the old cabinets. As you can see on this picture they're great for storing your things or to put a TV on but they're not stylish at all. I always liked the beautiful vintage teak credenzas but the ones I found were always too expensive. So I thought I could give a makeover to these simple white units and here is what they look like today ...
Cette pièce étant plus beaucoup petite, seuls trois des éléments ont pu être récupérés. Comme vous pouvez le voir sur cette photo ces éléments sont très pratiques pour y ranger des affaires ou y poser une télévision mais côté déco, peut mieux faire. J'ai toujours aimé les superbes buffets vintages en teck mais ceux que j'avais vu était souvent hors de prix. J'ai donc pensé que je pouvais redonner un peu de style à ces simples éléments blancs et voilà à quoi ils ressemblent aujourd'hui...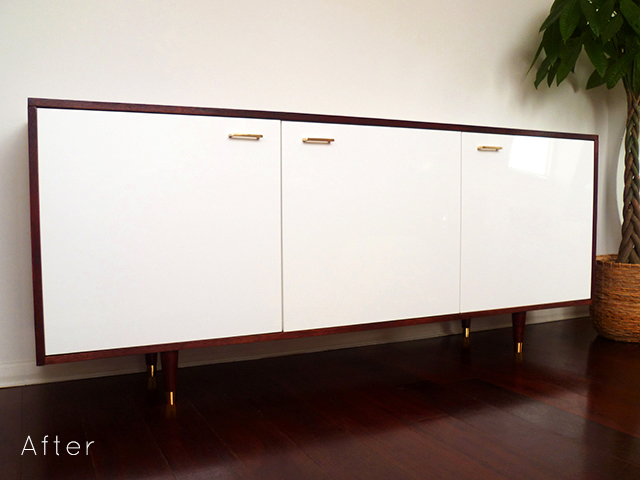 Much better, isn't it? I have to say I'm pretty satisfied with the outcome. I recycled old cabinets to get a brand new furniture and without spending a lot of money. Here is briefly how I did:
Beaucoup mieux, n'est-ce pas ? Je dois dire que je suis assez satisfaite du résultat. J'ai recyclé d'anciens éléments pour obtenir un tout nouveau meuble et cela à moindre coût. Voici brièvement comment j'ai fait :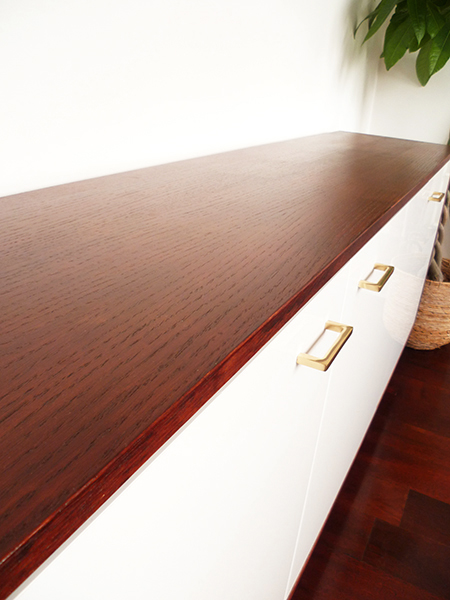 After assembling the three cabinets, I put on all four sides veneered oak MDF boards and as you can see they really looks like wood. I stained them for a nice contrast with the white lacquered doors and then I applied a coat of clear varnish to protect the wood.
Après avoir assemblé les trois éléments ensemble, j'ai posé sur les quatre faces des planches de MDF recouvert de chêne et comme vous pouvez le voir, on dirait vraiment du bois. Je les ai teintées pour avoir un joli contraste avec les façades blanc laqué puis j'ai mis une couche de vernis transparent pour protéger le bois.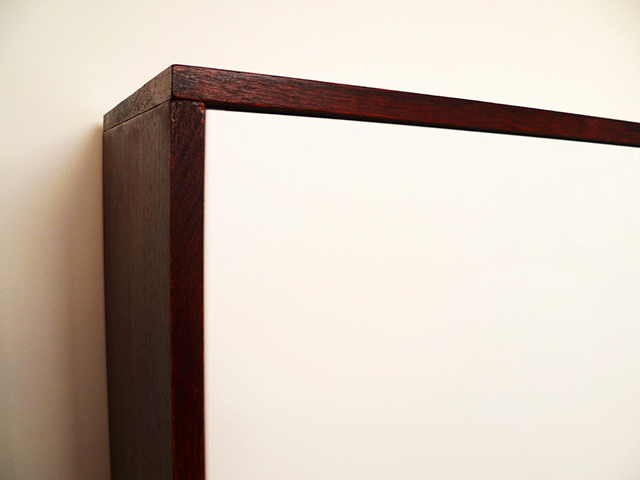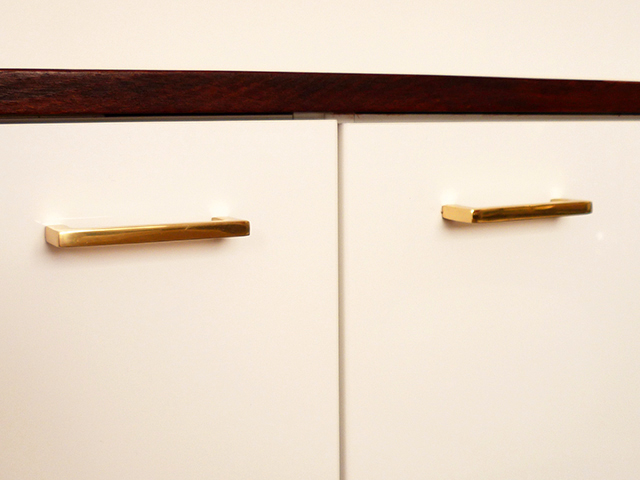 I put brass handles on the doors.
J'ai mis des poignées en laiton doré sur les portes.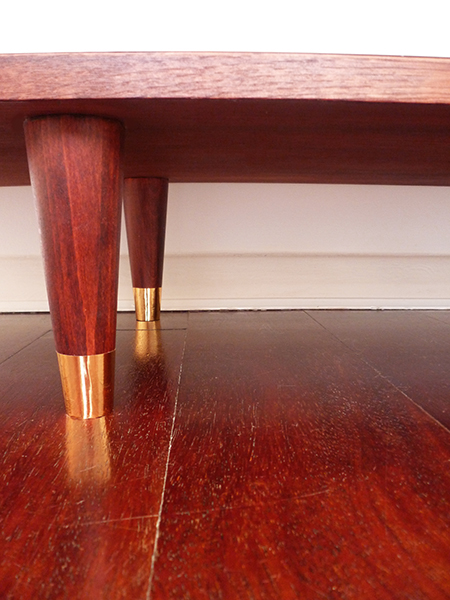 Finally, I screwed the wooden legs with brass caps that I made right here.
Enfin, j'ai vissé les pieds en bois avec embouts dorés que j'avais fait juste ici.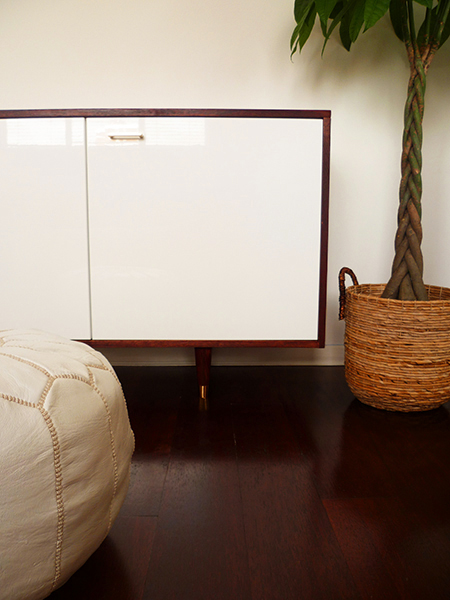 And now here is a new mid century style sideboard in this living room. So what do you think ... isn't it beautiful?
Anyway, I hope all the DIY of this week inspired you and don't forget that if I can do it, you can do it too! It is now time to wish you all a wonderful weekend! For my part, I think I'll spend the next two days resting ... See you on Monday!
XO
Et voici maintenant un nouveau buffet au style vintage dans le salon. Alors, qu'en pensez-vous... joli non ?
J'espère en tout cas que les DIY de cette semaine vous auront inspirés et n'oubliez surtout pas que si je peux le faire vous y arriverez aussi ! Il est maintenant temps de vous souhaiter à tous un merveilleux week-end ! Pour ma part, je pense que je vais passer les deux prochains jours à me reposer... A lundi !
Biz