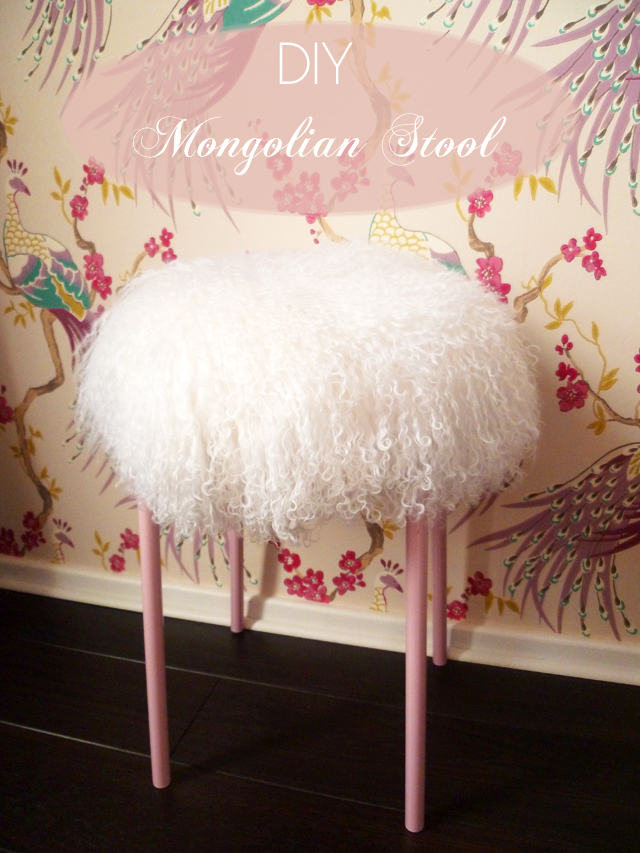 Did you notice these gorgeous stools in mongolian lamb that can be seen in many interiors?
Avez-vous remarqué ces superbes tabourets en agneau de Mongolie que l'on peut voir dans de nombreux intérieurs ?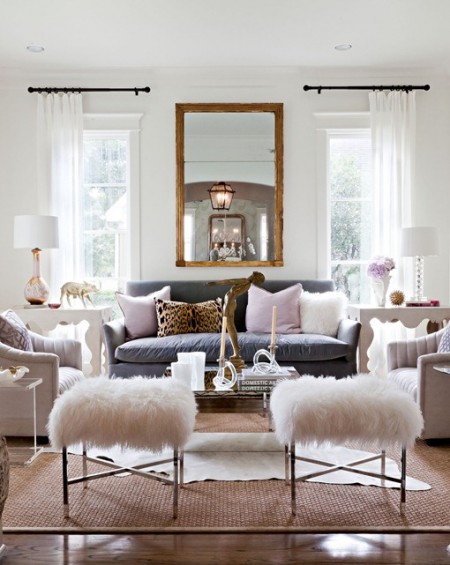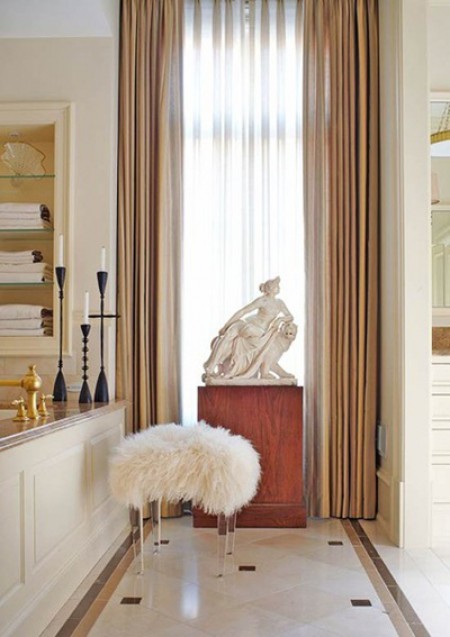 I love them! And as you already know I am currently redecorating my nieces bedroom so I thought I could make them one so they can sit on a lovely and very soft stool ... So as I promised, here is the first DIY project of my girls bedroom makeover and as you will see it's very easy to do.
Je les adore ! Et comme vous le savez déjà je suis actuellement en train de redécorer la chambre de mes petites nièces alors j'ai pensé leur en fabriquer un pour qu'elles puissent s'asseoir sur un joli tabouret tout doux... Alors comme promis, voici le premier DIY de mon projet déco de chambre de filles  très facile à réaliser comme vous allez le voir.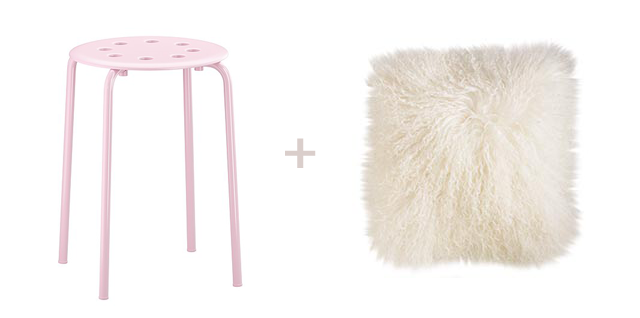 So I used an Ikea stool (pink of course) and a white mongolian lamb cushion cover.
J'ai donc utilisé un petit tabouret de chez Ikea (rose bien sûr) et une housse de coussin en agneau de Mongolie de couleur blanche.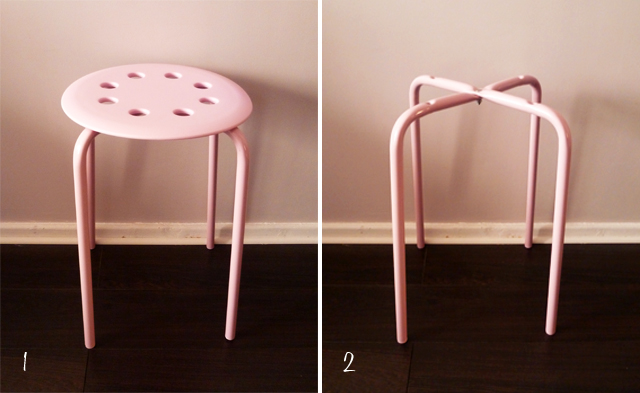 I started by taking off the top of the stool to keep only the metal structure.
J'ai commencé par enlever le dessus du tabouret pour ne garder que la structure en métal.


Then simply use the round of the seat that has been removed as a template to draw two circles: one in a wooden board and the other one in a foam with a thickness of about 4 cm. Cut them using a jig saw for the board and scissors for the foam.
Ensuite, il suffit d'utiliser le rond de l'assise qui a été enlevée comme gabarit pour tracer deux cercles : l'un dans une planche en bois et l'autre dans de la mousse d'une épaisseur d'environ 4 cm. Les découper en utilisant une scie sauteuse pour la planche et des ciseaux pour la mousse.


Glue the foam on the wooden board so that it no longer moves. Cover the whole with a layer of flannel and staple on the back of the board.
Coller la mousse sur la planche en bois pour qu'elle ne bouge plus. Recouvrir le tout avec une couche de molleton et agrafer à l'arrière de la planche.


Finally, take the mongolian lamb cushion cover. Remove the rear side and keep only the face with the Mongolia wool. Cover the whole and staple to the back of the wooden board (I kept the whole mongolian lamb side as you can see here the four corners of the cushion cover were stapled). Finally, you only have to screw the new seat on the metal structure with four screws.
Enfin, prendre la housse de coussin d'agneau de Mongolie. Oter la face arrière et ne garder que la face avec la laine de Mongolie. Recouvrir le tout et agrafer à l'arrière de la planche en bois (on voit bien ici que les quatre coins de la housse ont été conservés et agrafés). Pour finir, il n'y a plus qu'à visser cette nouvelle assise sur la structure en métal avec quatre vis.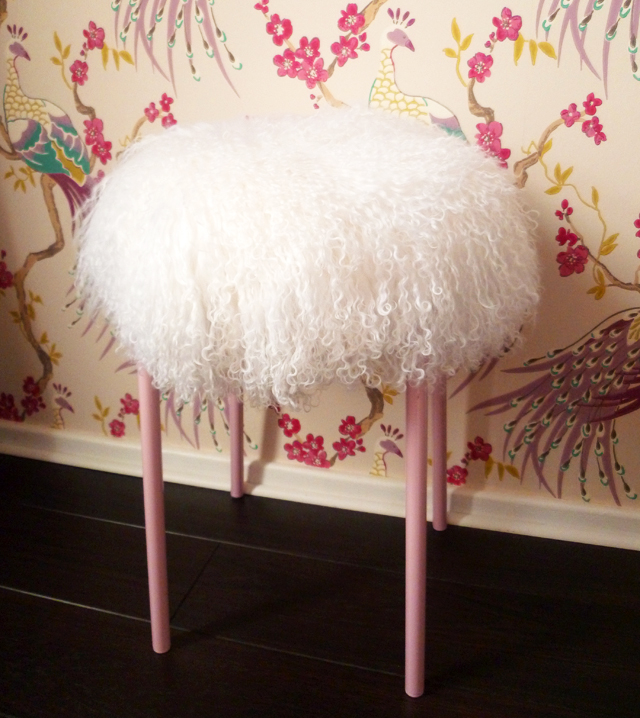 Et voila your mongolian lamb stool! What do you think? I hope you like it ... On that note, I wish you a great weekend to you all!
XO
Et voilà votre tabouret en agneau de Mongolie ! Qu'en pensez-vous ? J'espère que cela vous plaît... Sur ce, je vous souhaite un excellent week-end à tous !
Biz