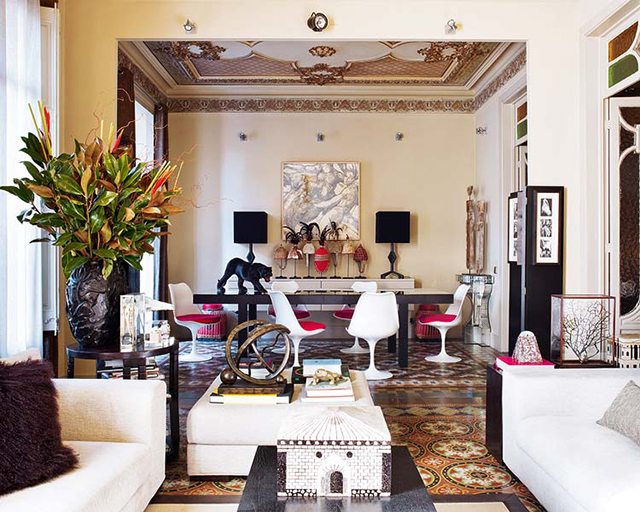 Today, I take you on a trip to one of my favorite cities: Barcelona.
Aujourd'hui, je vous emmène en voyage dans une de mes villes préférées : Barcelone.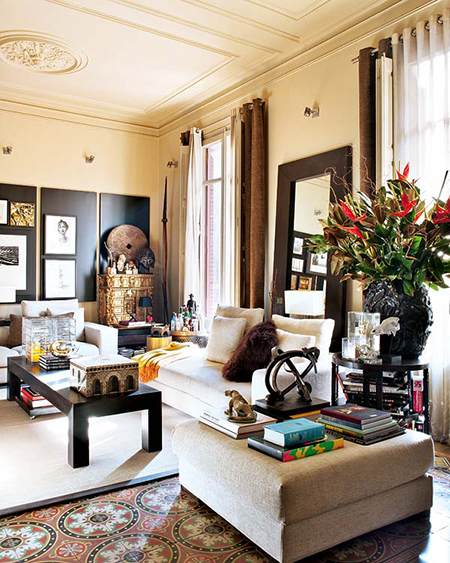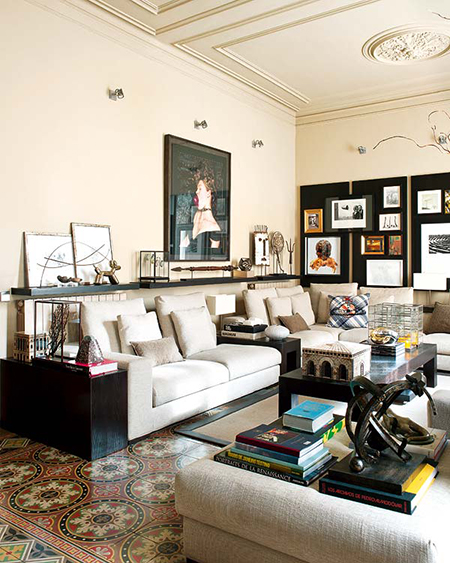 One of the reasons why I love this city is its architecture. I love the contrasts that can be seen through Barcelona, ​​you can admire the works of Gaudí and right after you can see a modern or futuristic building. There is a little bit of this in the home I show you today. The owners of this 19th-century flat, have fallen in love with this place for its mosaic floor, ceiling moldings, beautiful stained glass doors. Although in a pitiful state, during the renovation they mainly wanted to keep all these authentic details that are the charm of this space. They made this apartment an eclectic interior in which they were able to gather and display all their collections of works of art and unusual objects.
Une des raisons pour laquelle j'aime cette ville est son architecture. J'aime les contrastes que l'on peut voir à travers Barcelone, on peut admirer les oeuvres de Gaudí et juste après se retrouver face à un immeuble moderne voire futuriste. Il y a un peu de cela dans l'intérieur que je vous présente aujourd'hui. Les propriétaires de cet appartement datant du XIXème siècle, sont tombés amoureux de cet espace pour son sol en mosaïque, ses moulures au plafond, ses magnifiques portes vitrées colorées. Bien qu'étant dans un piteux état, lors de la rénovation ils ont avant tout tenu à conserver tous ces détails authentiques qui font le charme de ce lieu. Ils ont fait de cet appartement un intérieur éclectique dans lequel ils ont pu réunir et exposer toutes leurs collections d'œuvres d'art et d'objets insolites.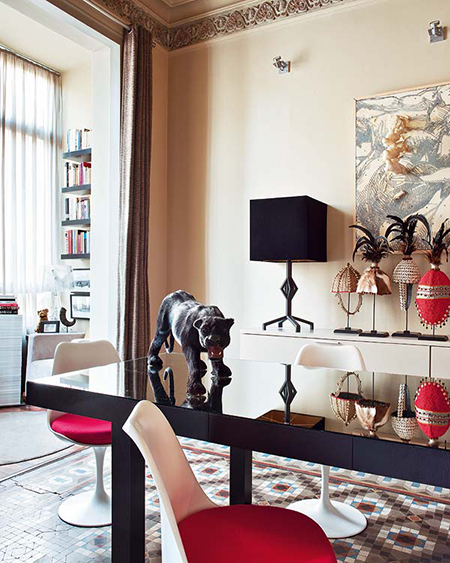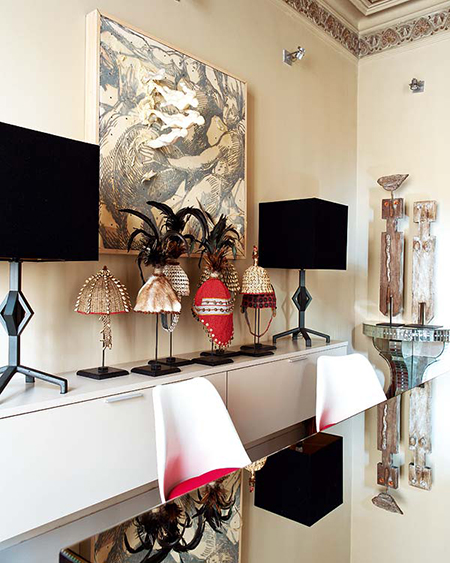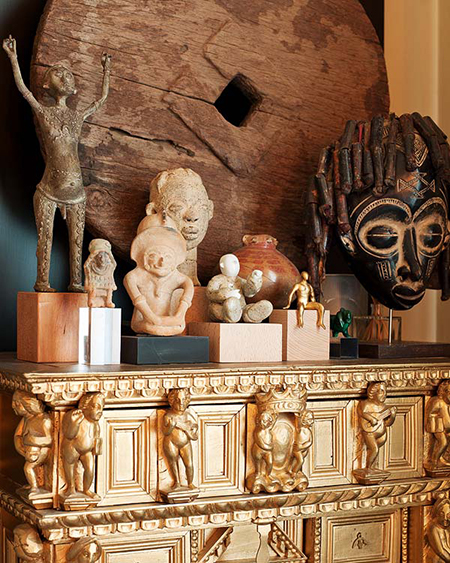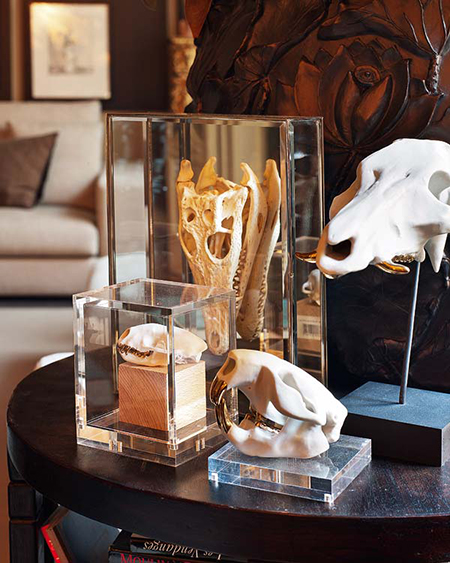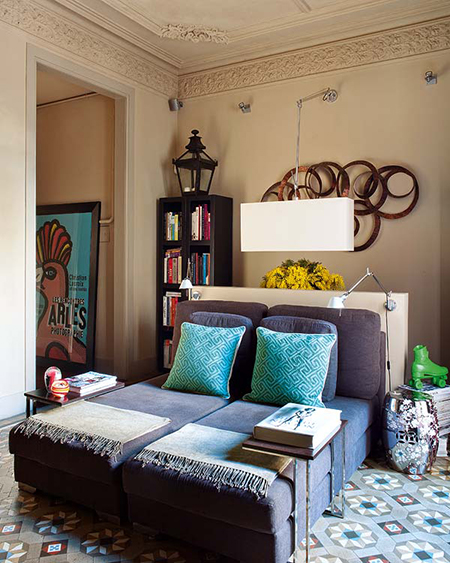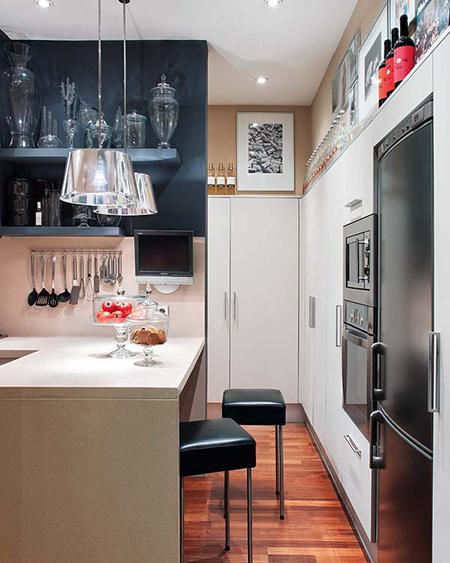 I like the idea of using large mirrors on the walls of this small kitchen to visually enlarge the space.
J'aime cette idée d'utiliser de grands miroirs sur les murs de cette petite cuisine pour agrandir visuellement l'espace.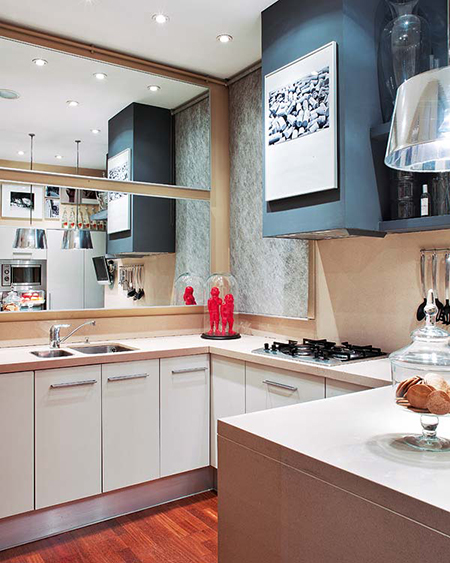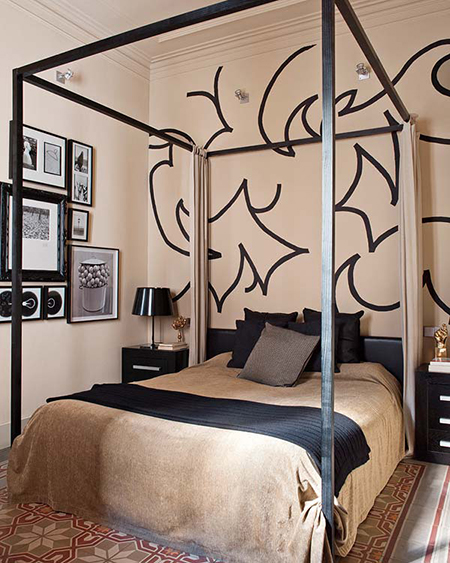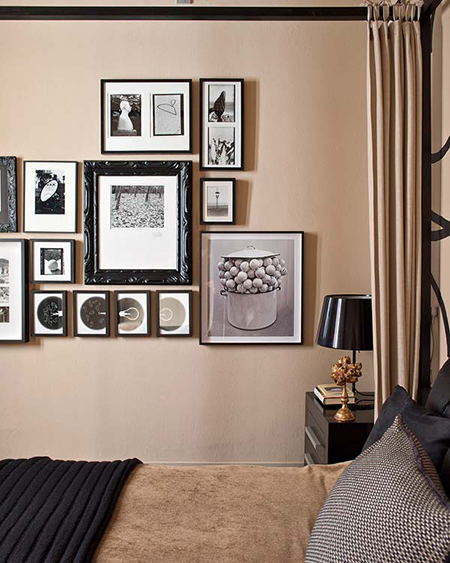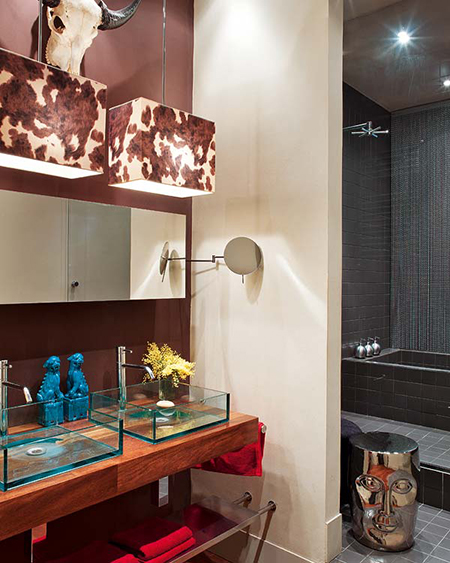 This house in which furniture and objects from different periods come together is just like of Barcelona, a mix of yesterday and of today.
Cette maison où mobilier et objets de différentes périodes se côtoient est à l'image de Barcelone, un mélange d'hier et d'aujourd'hui.

Images source Nuevo Estilo