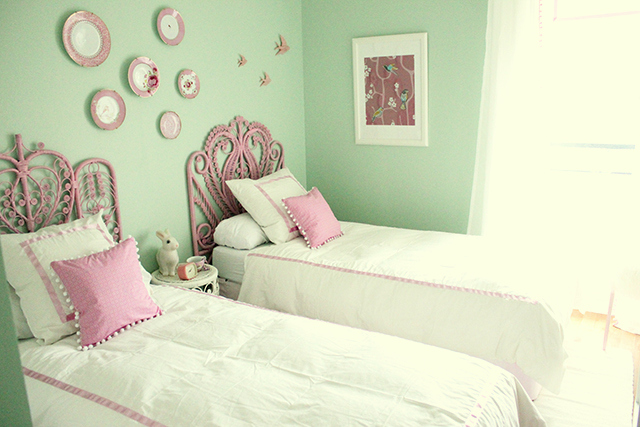 As promised, today I'll show you the pictures of my little nieces "new" bedroom.
Comme promis, je vais vous montrer aujourd'hui les photos de la "nouvelle" chambre de mes petites nièces.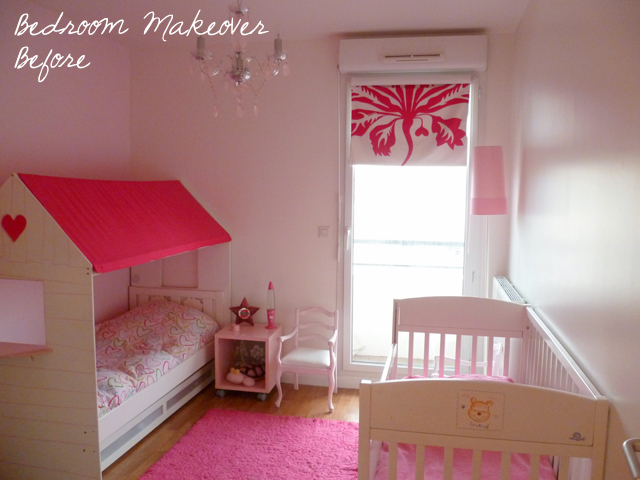 For those who have not followed this girls bedroom makeover, you can see the previous posts here, here and here. In the picture above you can see the room as it was before. I had to completely redecorate the bedroom because my nieces grow up so now they needed to have two single beds. My sister is only renting no major work for this room but a decor on small budget. My nieces only asked me two things: no bunk beds! And flowers and pink of course! So here is the room I imagined for them ...
Pour ceux qui n'auraient pas suivi ce relooking de chambre de filles, vous pouvez voir les précédents articles ici, ici et ici. Sur la photo ci-dessus vous pouvez voir la chambre telle qu'elle était avant. Il a fallu que je redécore entièrement cette chambre car mes petites nièces grandissent et il leur fallait maintenant deux grands lits. Ma soeur étant en location pas de gros travaux pour cette pièce mais une décoration à petit budget. Mes nièces quant à elles ne m'ont demandé que deux choses : pas de lits superposés ! Et des fleurs et du rose bien entendu ! Voici donc la chambre que j'ai imaginée pour elles...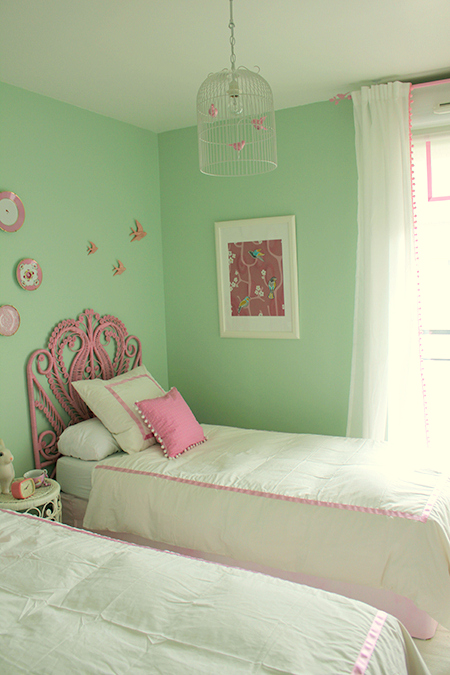 Pink, mint, flowers, birds ... A girl's universe that corresponds very well with these young ladies. Many used items such as the headboards, nightstand, mirror, peacock chair, radiator cover ... that have been entirely revamped with paint.
Du rose, du vert, des fleurs, des oiseaux... Un univers de fille qui correspond bien à ces jeunes demoiselles. Beaucoup d'objets d'occasion comme les têtes de lits, le chevet, le miroir, le fauteuil en osier, le cache radiateur... qui ont été relookés avec de la peinture.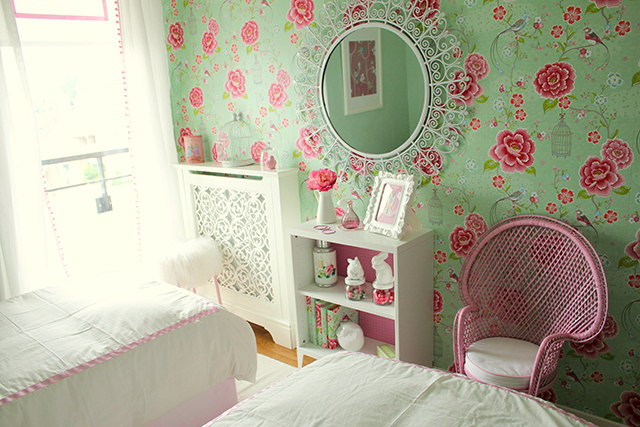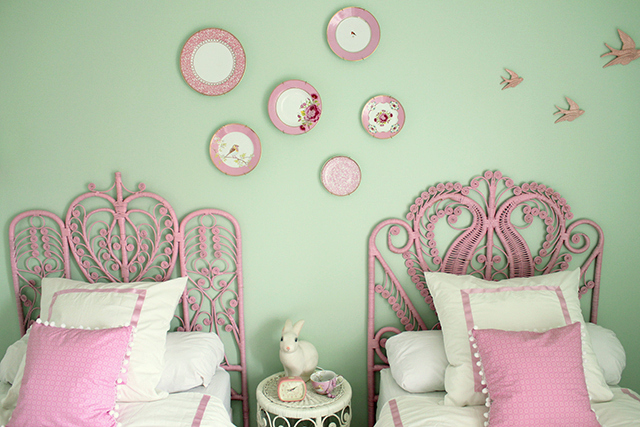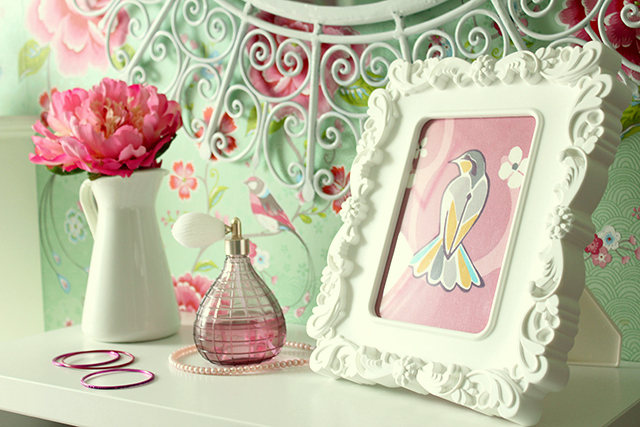 The frame and the perfume bottle are from Ikea. For the bird inside the frame, it is a simple piece of fabric just as the frame on the wall next to the window.
Le cadre et la bouteille de parfum sont de chez Ikea. Pour l'oiseau à l'intérieur du cadre, il s'agit d'un simple bout de tissu tout comme le cadre au mur près de la fenêtre.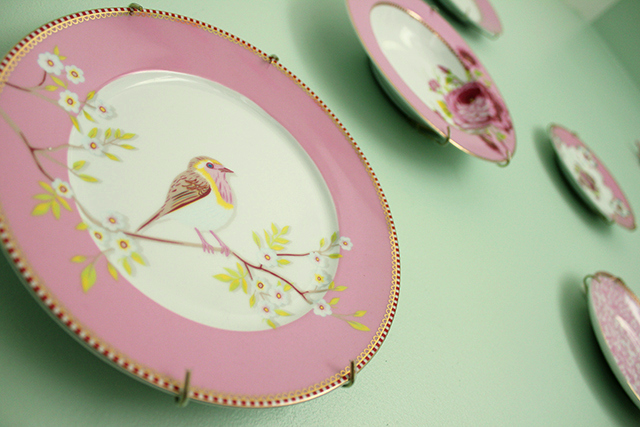 For the little wall gallery that is above the beds, I used some lovely plates from Pip Studio. For those who remember, the wallpaper is also by Pip Studio.
Pour la petite galerie murale qui est au-dessus des lits, j'ai utilisé quelques jolies assiettes de chez Pip Studio. Pour ceux qui se souviennent, le papier peint aussi est signé Pip Studio.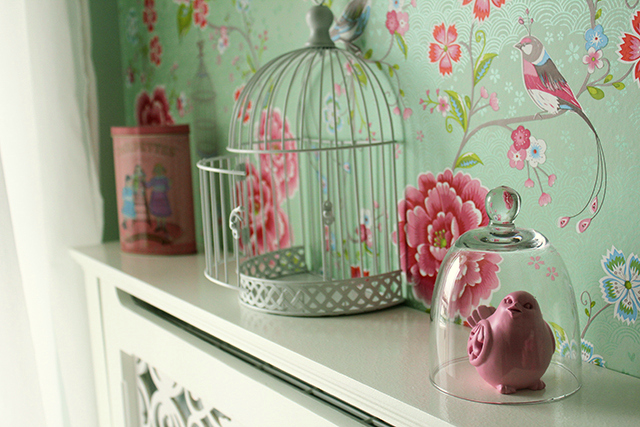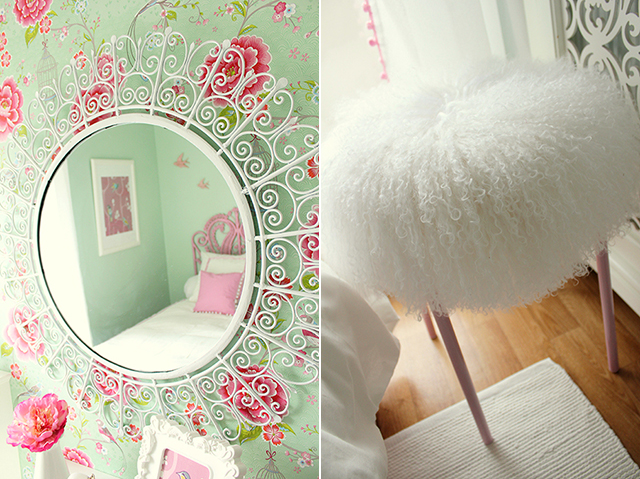 When I was looking for a mirror for the wall, I came across this old wrought iron mirror. It has been entirely pickled and then repainted white. And on the right, the first DIY I made for this bedroom, the mongolian lamb stool.
Lorsque je cherchais un miroir pour le mur, je suis tombée sur ce vieux miroir en fer forgé. Il a entièrement été décapé puis repeint en blanc. Et à droite, le premier DIY que j'ai réalisé pour cette chambre, le tabouret en laine de Mongolie.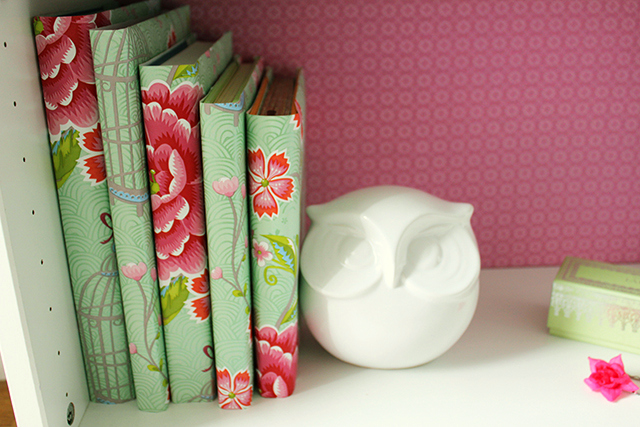 To cover the storybooks, I simply used the remaining wallpaper.
Pour recouvrir les livres de contes, j'ai simplement utilisé du papier peint qui me restait.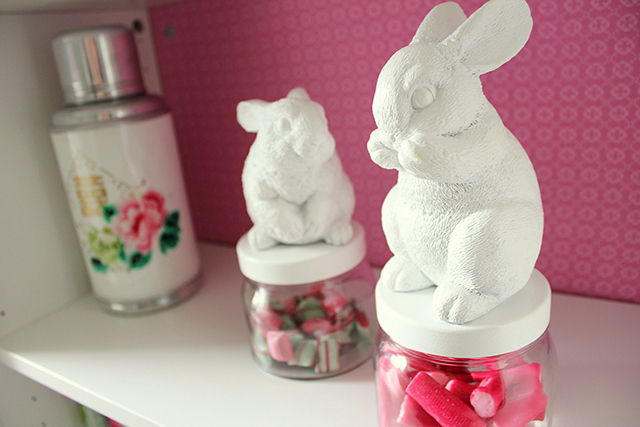 Just above my bunny jars and below a bunny lamp!
Juste au-dessus mes pots lapins et en-dessous une lampe lapin !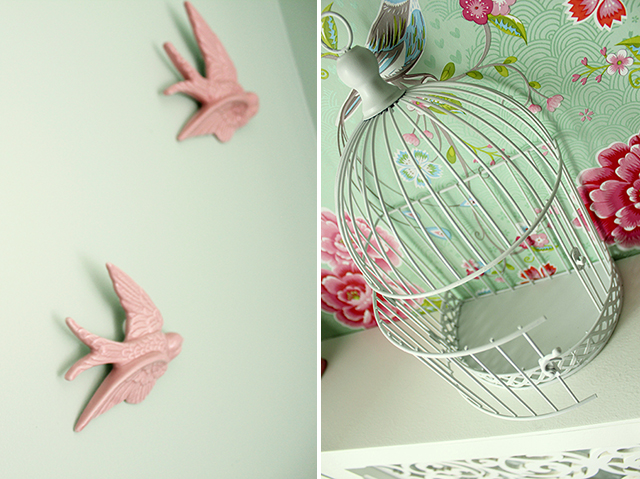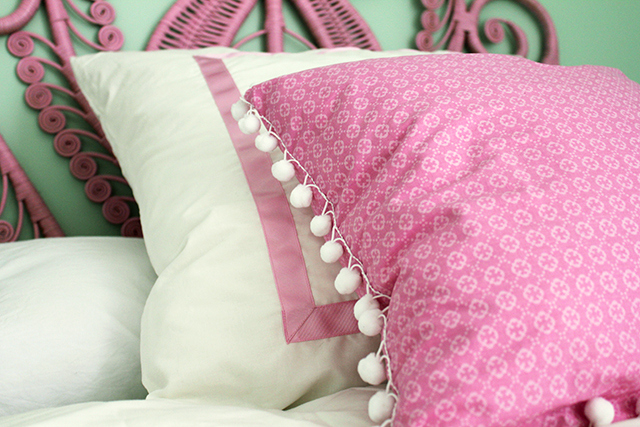 After yesterday's post, you know that the bed linen was customized to save money. The same goes for those little Pom pom cushions on the beds that I sewed myself. As there was remaining fabric, I also covered the back of the shelf just below with the same pink fabric not to have a simple white background.
Après le post d'hier, vous savez que le linge de lit a été customisé par souci d'économie. Il en va de même pour ces petits coussins à pompons sur les lits que j'ai cousu moi-même. Et comme il me restait du tissu, j'ai également recouvert le fond de l'étagère juste en-dessous avec ce même tissu rose pour ne pas avoir un simple fond blanc.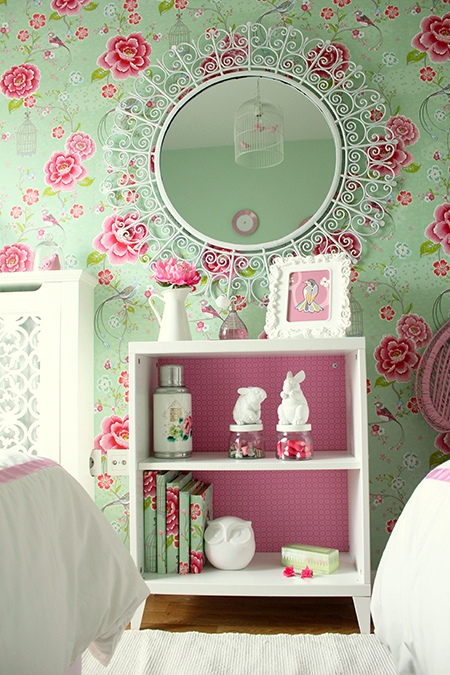 The small shelf is a Stuva frame from Ikea, I just added legs and pink fabric.
La petite étagère est un caisson Stuva de chez Ikea, j'ai juste ajouté des pieds et du tissu rose.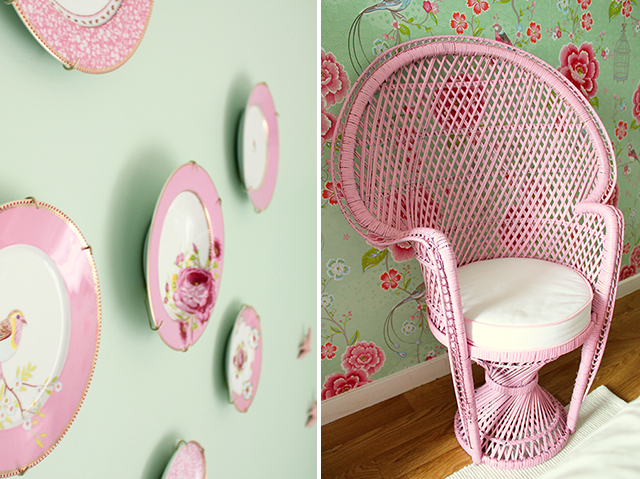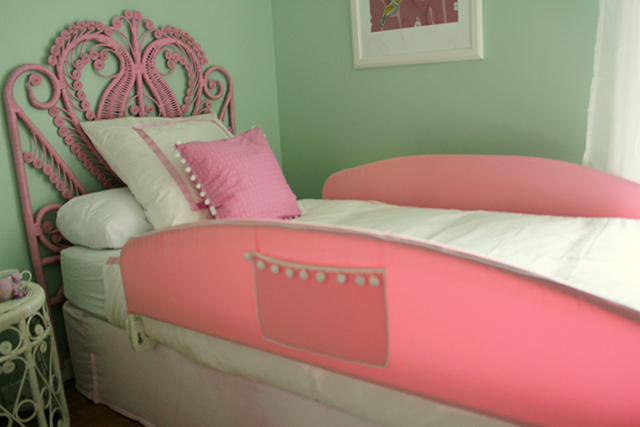 The youngest of my nieces is only 4 years old, so she needed safety rails so she can sleep without falling off the bed. I bought two used rails and I sewed pretty sleeves with a Pom pom pocket in which she can put her blanket.
La plus jeune de mes nièces n'a que 4 ans et il lui fallait donc des barrières de protection pour qu'elle puisse dormir sans tomber de son lit. J'ai acheté deux barrières d'occasion puis j'ai cousu de jolies housses avec une poche à pompons dans laquelle elle peut glisser son doudou.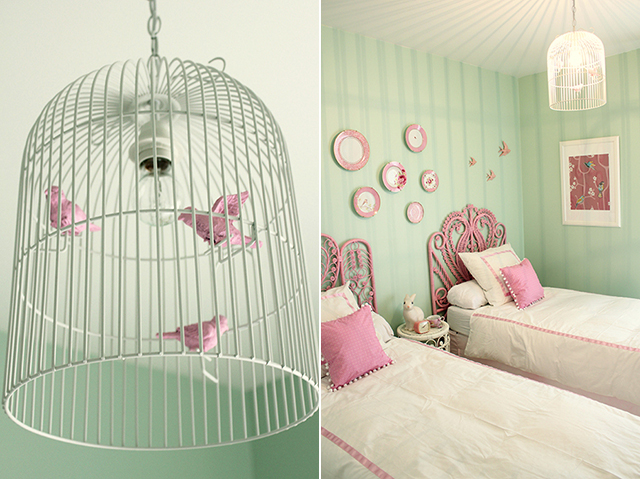 Finally, the cage chandelier. I could have done a similar DIY cage pendant but it would have been more expensive so I bought this one here. I only painted the birds in pink and when the light is switched on, the bars of the cage appear on the walls and the room becomes an aviary ... ! After these pictures, I hope I have convinced you that you don't necessarily need a lot of money to have a nice home, but just a little patience and imagination.
Enfin, le lustre cage. J'aurais pu faire une suspension cage semblable mais cela aurait été plus cher alors j'ai acheté celui-ci ici. J'ai simplement repeint les petits oiseaux en rose et lorsque l'on allume la lumière, les barreaux de la cage apparaissent sur les murs et la chambre se transforme en volière... ! Après ces quelques photos, j'espère vous avoir convaincu qu'il ne faut pas nécessairement beaucoup d'argent pour avoir un joli intérieur, mais juste un peu de patience et d'imagination.