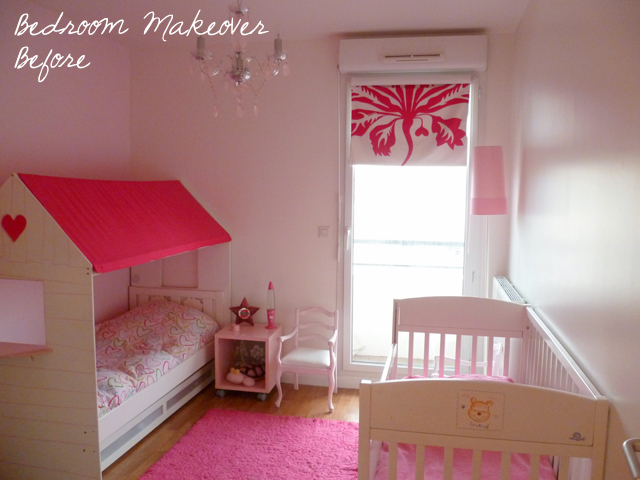 Hello everyone! As I promised last week, here are some pictures of the progress of the bedroom makeover of my little nieces ...
Bonjour à tous ! Comme promis la semaine dernière, voici quelques photos de l'avancement du relooking de la chambre de mes petites nièces...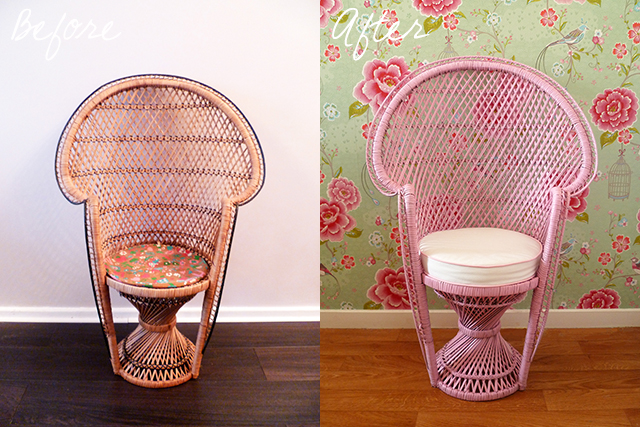 I started talking to you about this project in November here and here. For today no photos yet of the room completely redecorated because I still have some details to finish, but I'm going to show you some before / after of the items I found for this project. First of all, this pretty little peacock chair is now as new! I entirely painted it pink and of course I sewed a new small seat cushion with a white and pink fabric. It's very beautiful with this Pip Studio wallpaper I love!
J'avais commencé à vous parler de ce projet en novembre ici et ici. Pour aujourd'hui, pas encore de photo de la pièce entièrement redécorée car il reste encore quelques détails à finaliser, mais je vais vous montrer quelques avant/après des objets que j'avais chinés pour ce projet. Tout d'abord cette jolie petite chaise en rotin a retrouvé une seconde jeunesse ! Je l'ai entièrement repeinte en rose et j'ai bien entendu refait à neuf le petit coussin de l'assise avec du tissu blanc et rose. Elle rend très bien à côté du papier peint Pip Studio que j'adore !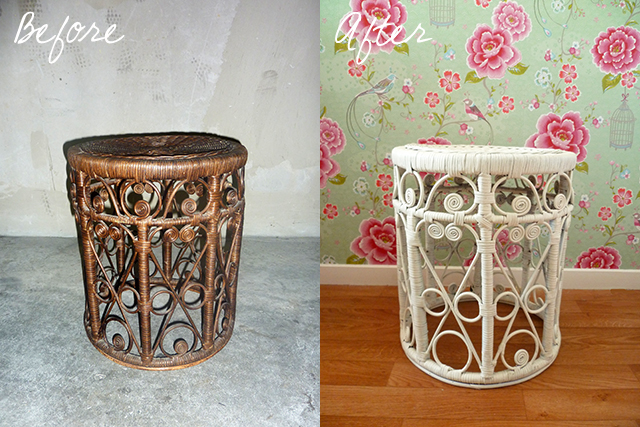 I also found this little rattan table. I painted it white and it will be used as bedside.
J'ai également trouvé cette petite table en rotin que j'ai repeint en blanc et qui servira de chevet.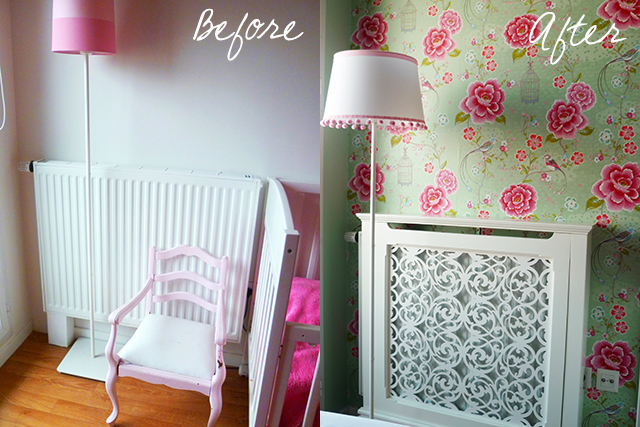 For the heater I found a used radiator screen to hide it and that was originally brown. I sanded it and painted white so it's now coordinated to the rest of the room. The floor lamp shade has also been changed as you can see.
Pour le radiateur, j'ai réussi à le dissimuler grâce à un cache radiateur d'occasion qui était à l'origine marron. Je l'ai donc poncé et repeint en blanc pour l'accorder au reste de la pièce. Le lampadaire de l'abat-jour a également été changé comme vous pouvez le voir.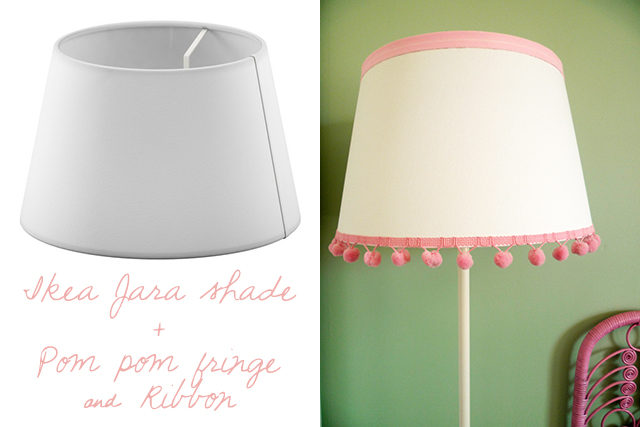 I just put a Jära lampshade from Ikea that I customized with a pink pompom fringe and ribbon.
J'ai simplement mis un abat jour Jära de chez Ikea que j'ai customisé avec du galon à pompons et du ruban roses.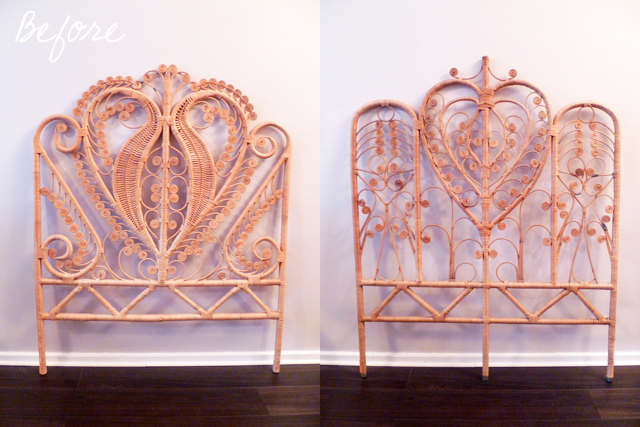 Finally, the used peacock headboards that I bought are also as new with this pink painting! I think this is really the pieces I prefer in this new room ... !
Enfin, les têtes de lit en rotin d'occasion que j'avais acheté ont elles aussi eu droit à un bon coup de peinture rose ! Je pense que c'est vraiment ce que je préfère dans cette nouvelle chambre... !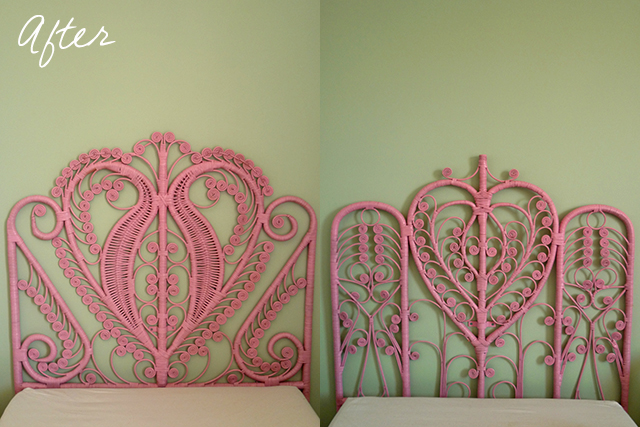 As soon as the bedroom will be entirely finished, I will not fail to show you the photos ... I promise to do my best to finish it very quickly!!!
Dés que cette chambre sera entièrement finie, je ne manquerai pas de vous montrer les photos... Promis, je vais faire de mon mieux pour la finir très rapidement !!!