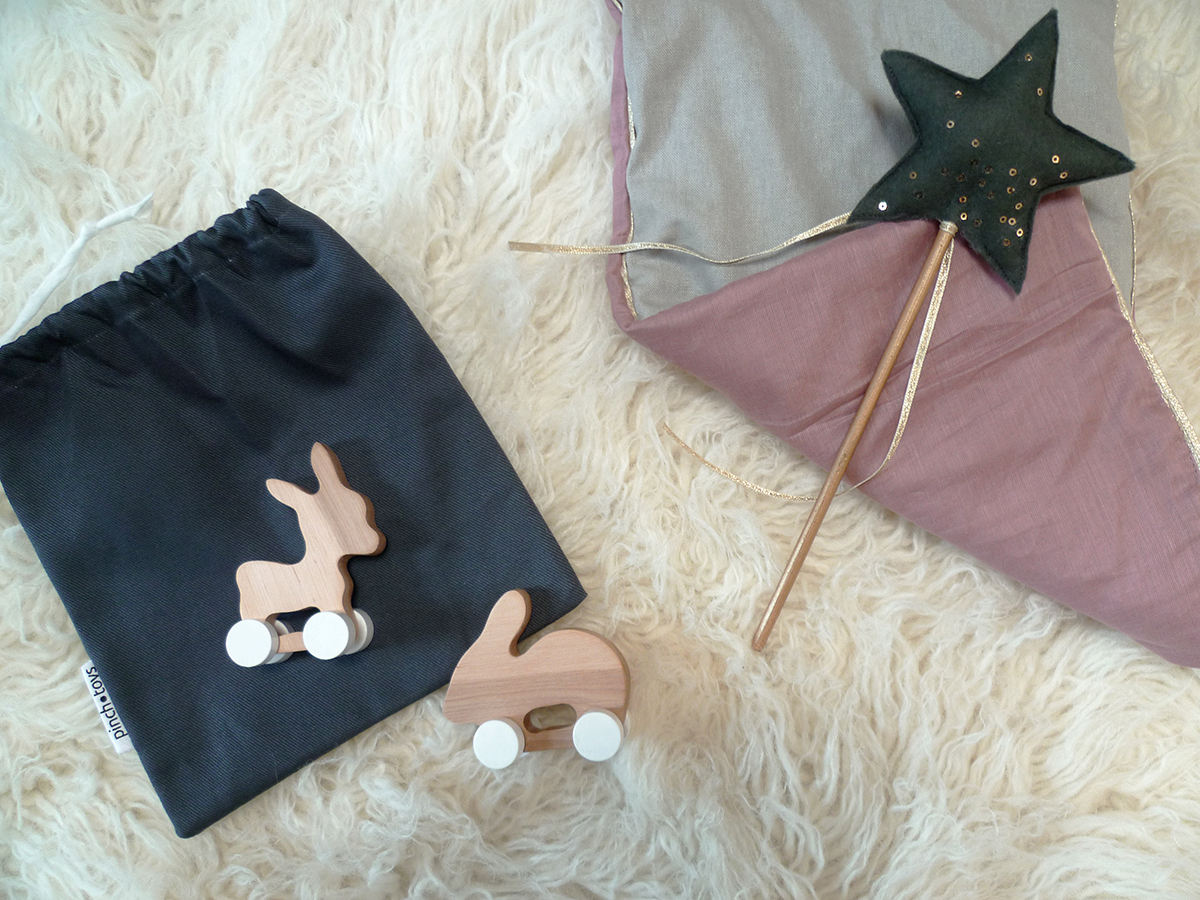 Well this is it, the last week before the big reveal!
Et bien nous y sommes, c'est la dernière semaine avant le grand dévoilement !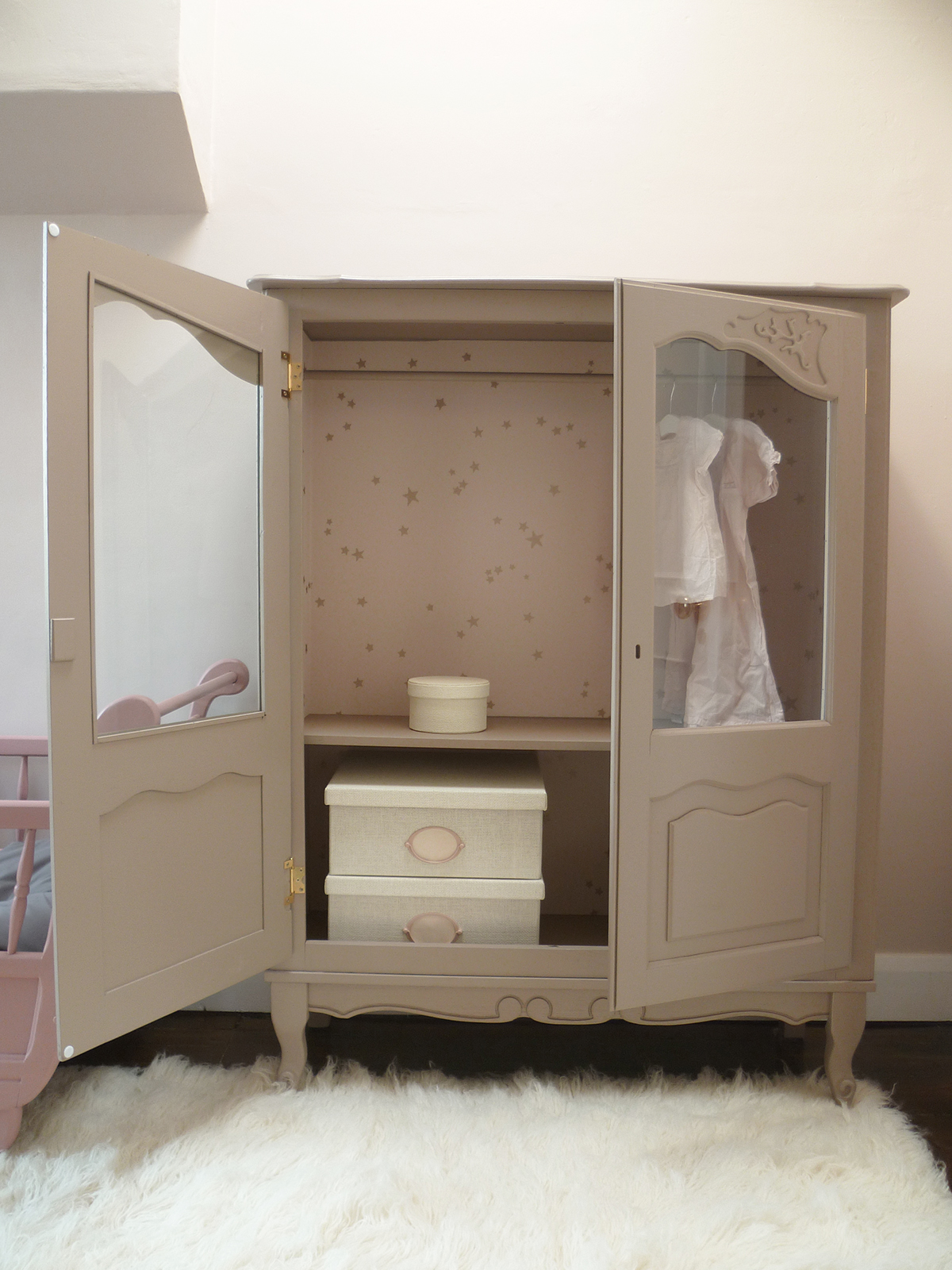 Oh how time flies... And here I am with only a few days left before showing you the finished nursery! Honestly there are still a lot of things I need to do. So obviously I am stressed out because I really wish I could finish everything before next Thursday... Or better still before Tuesday. If you think of all the time I need to take the pictures, make the post I literally have only 4 days to do everything! Maybe now it's time for me to start panicking?
Anyway, just in case you are joining now and you don't know what this project is about, I am taking part in the One Room Challenge Guest Participants organised by Linda of Calling it Home. It's a 6 weeks room makeover challenge and I chose to do my little baby's nursery. If you want to catch up you can do it here:
Week 1 "Project Nursery"
Week 2 "Nursery Plan"
Week 3 "Nursery Progress & Doubts"
Week 4 "Slowly but Surely"
So here we are today with only one week left and since the last post my plan was to finish all the sewing and start the DIY for the bedroom. But I guess that with a little baby at home I shouldn't make any plans... Because no I didn't finish sewing yet and most of my DIYs are still on the "To Do" list. The worst thing is that I honestly don't know if I will be able to do everything during the next few days because babies are cute but they are also so time consuming... So I think now it's maybe time to give up some DIY projects I had planned for the nursery and focus on the most important and doable things.
But let's now talk about positive things to motivate myself. Some projects are finally complete and I really couldn't wait to share them with you! Let's start with the new wardrobe.
Comme le temps s'est envolé... Et il ne me reste plus que quelques jours avant de vous montrer la chambre de bébé finie ! Il y a honnêtement encore tellement de choses à faire. Alors je suis bien évidemment stressée puisque j'aimerais vraiment tout finir avant jeudi prochain... Ou plutôt avant mardi car si l'on prend en compte le temps de prendre les photos, préparer l'article, il ne me reste en fait que 4 jours pour tout faire ! Alors je pense qu'effectivement c'est le moment de paniquer, non ?
Enfin bref, juste au cas où vous nous rejoigniez maintenant et que vous ne savez pas quel est ce projet dont je parle, je participe au One Room Challenge Guest Participants organisé par Linda de Calling it Home. C'est un challenge de 6 semaines pour transformer une pièce et j'ai choisi de faire la chambre de mon petit bébé. Si vous voulez voir les précédents posts c'est juste ici :
Semaine 1 "Projet Chambre de Bébé"
Semaine 2 "Chambre de Bébé le plan"
Semaine 3 "Chambre de Bébé Progression et Doutes"
Semaine 4 "Doucement mais Sûrement" 
Alors nous voici aujourd'hui à une semaine de la fin et depuis mon dernier post mes plans étaient de finir la couture et commencer les DIY pour la chambre. Mais je suppose qu'avec un petit bébé à la maison je ne devrais pas faire de plans... Car non je n'ai toujours pas fini la couture et la plupart de mes DIY sont toujours sur la liste "A faire". Le pire c'est que je ne sais sincèrement pas si je serai en mesure de tout faire durant ces prochains jours car les bébés sont certes mignons mais ils prennent aussi tout votre temps... Je pense donc qu'il est maintenant peut-être temps d'abandonner certains projets DIY que j'avais pour la chambre pour me concentrer sur les choses les plus importantes et faisables.
Mais parlons maintenant de choses positives pour me motiver. Certains projets sont enfin terminés et j'étais vraiment impatiente de les partager avec vous ! Commençons par la nouvelle armoire.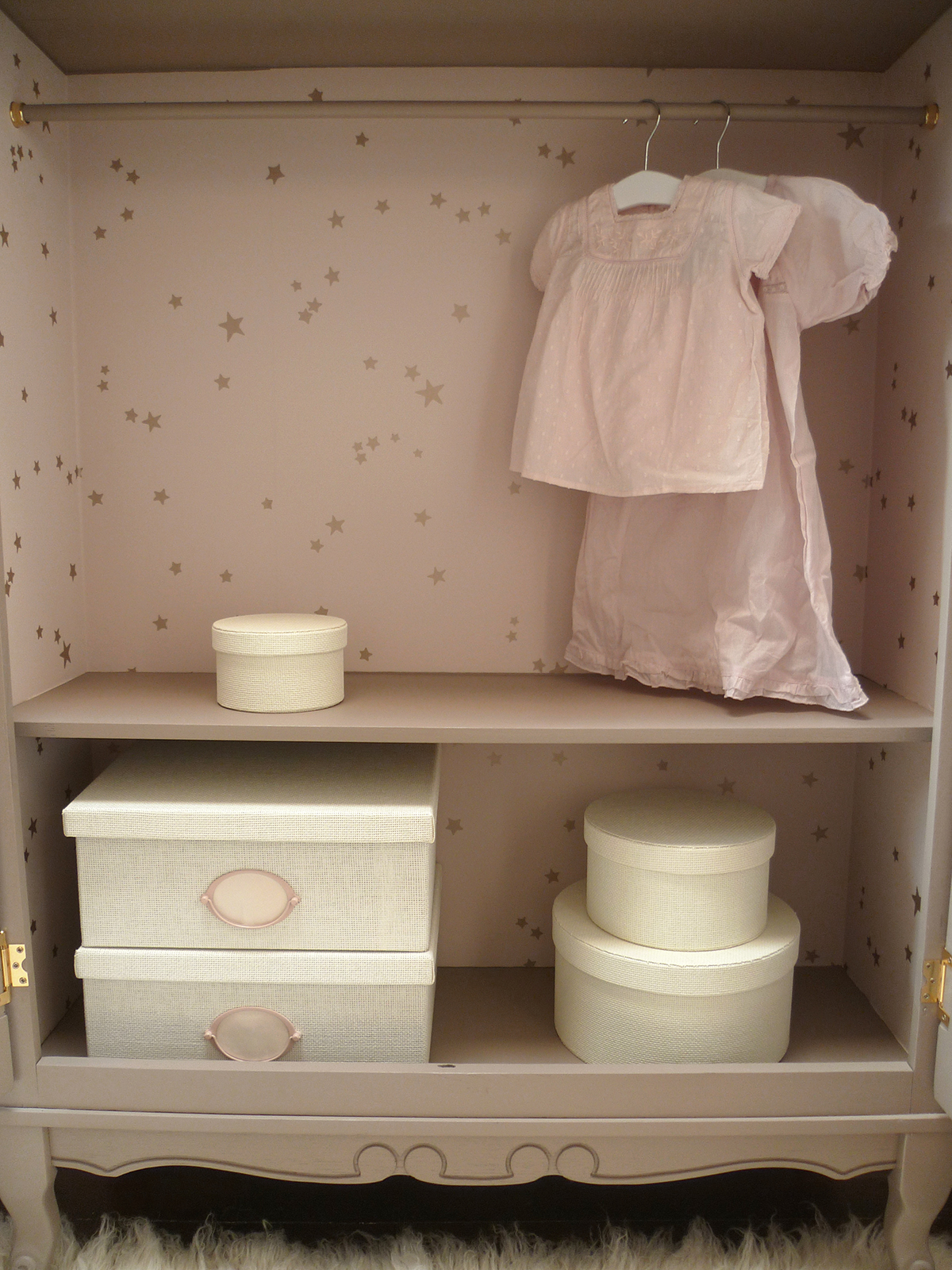 It's done and I really love it! Just in case you don't remember it you can see on the picture below what it looked like before. It was originally a display cabinet with two shelves inside. I removed the top shelf and only left the bottom one. New paint and brass hardware for a more modern look. This beautiful wallpaper is Stars by Cole and Son and it's just perfect in this room.
Elle est terminée et je l'adore ! Juste au cas ou vous ne vous en souviendriez pas vous pouvez voir sur la photo juste en-dessous à quoi elle ressemblait avant. C'était à l'origine une vitrine avec deux étagères à l'intérieur. J'ai enlevé celle du haut pour ne garder que celle du bas. Nouvelle peinture et quincaillerie dorée pour un look plus moderne. Ce magnifique papier peint est le Stars de Cole and Son et il est tout simplement parfait pour cette pièce.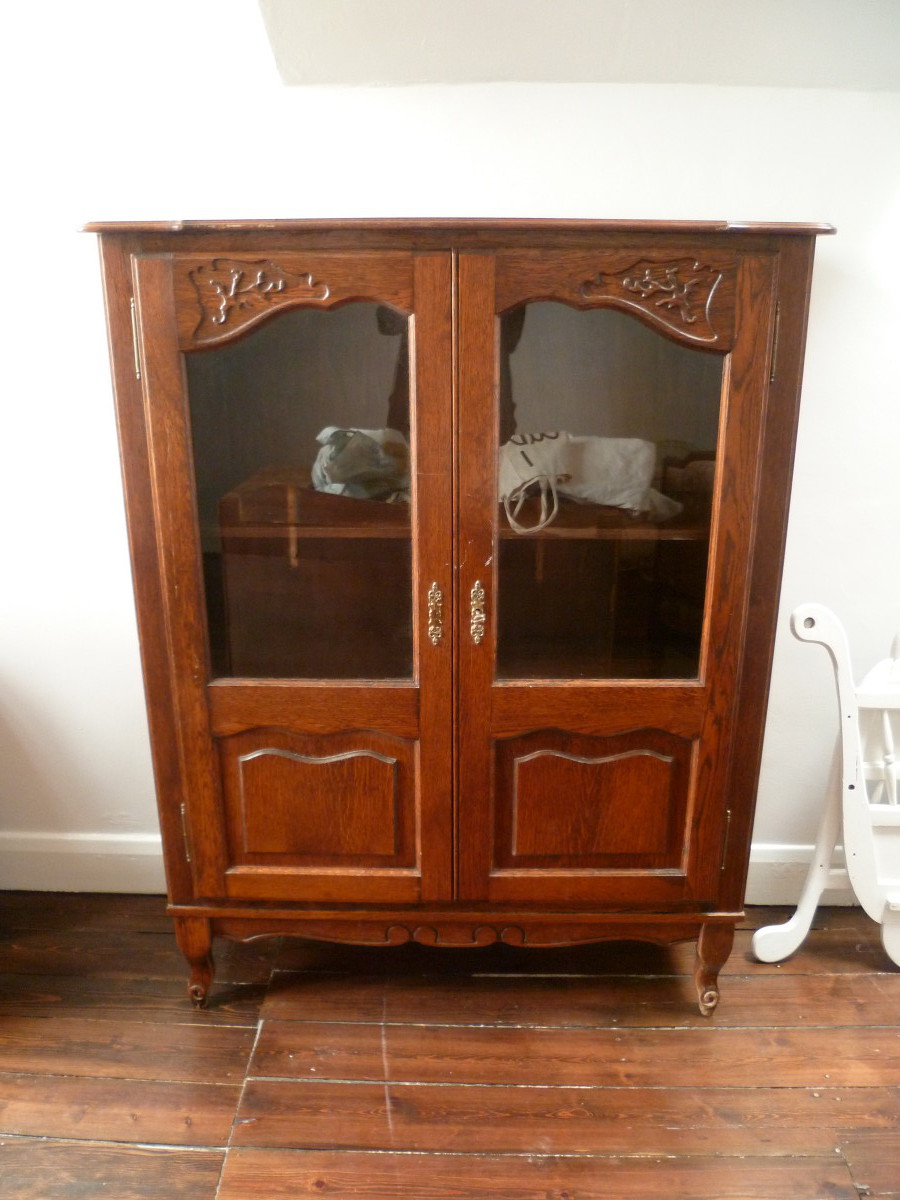 Much better now, isn't it?
Beaucoup mieux maintenant, n'est-ce pas ?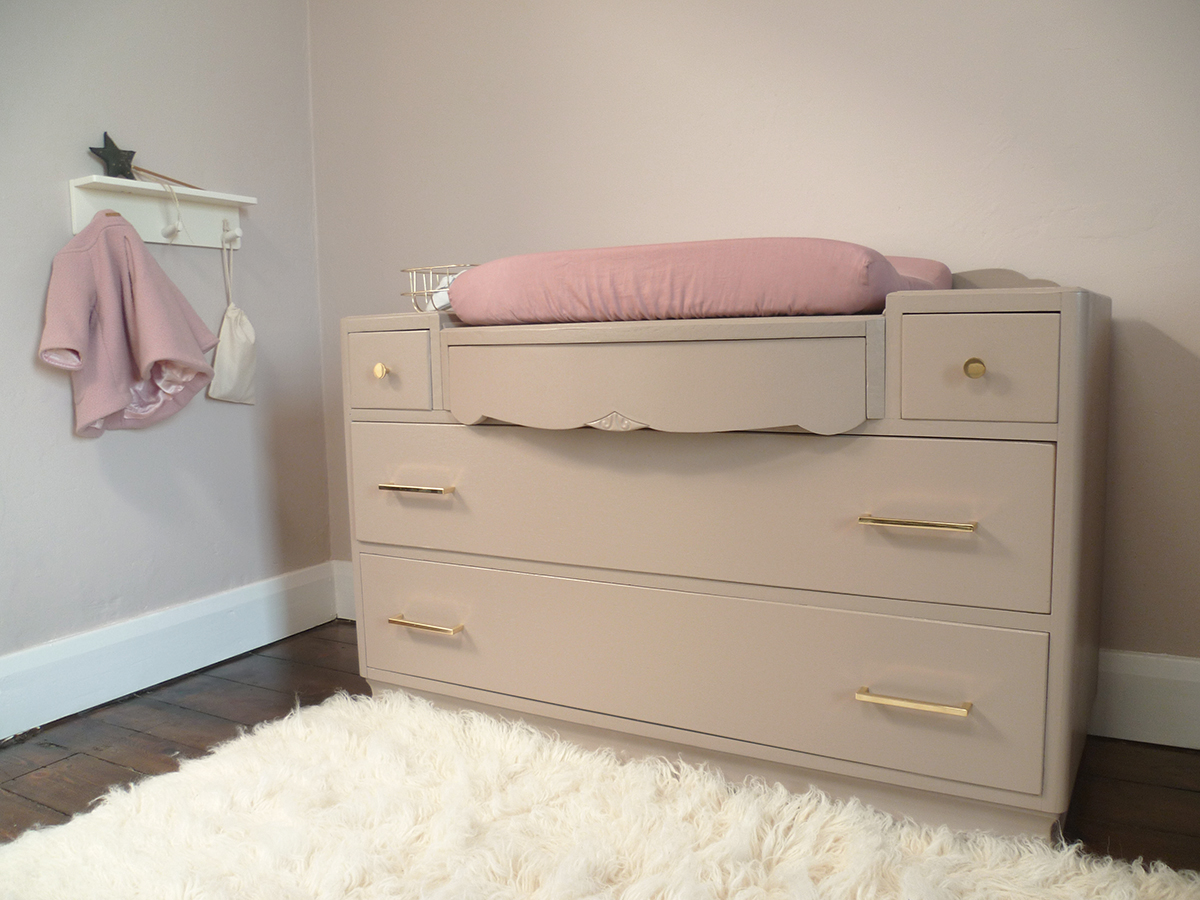 Now the dresser with new paint and handles.
Maintenant la commode avec les nouvelles peinture et poignées.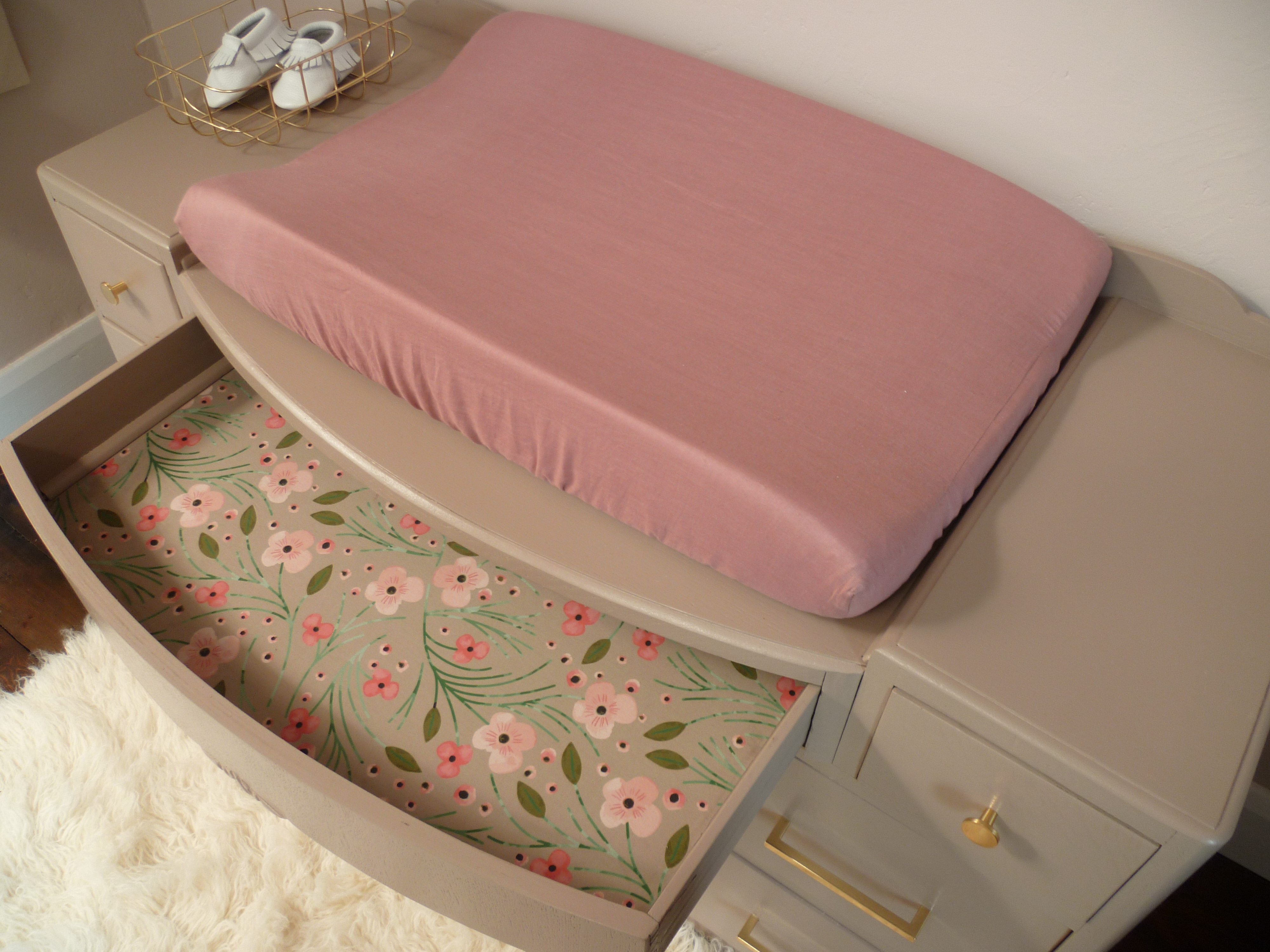 To line the drawers I chose a lovely floral fabric from Spoonflower. And below here is the dresser before its makeover.
Pour tapisser l'intérieur des tiroirs j'ai choisi un joli tissu fleuri de chez Spoonflower. Et voici juste en-dessous la commode avant.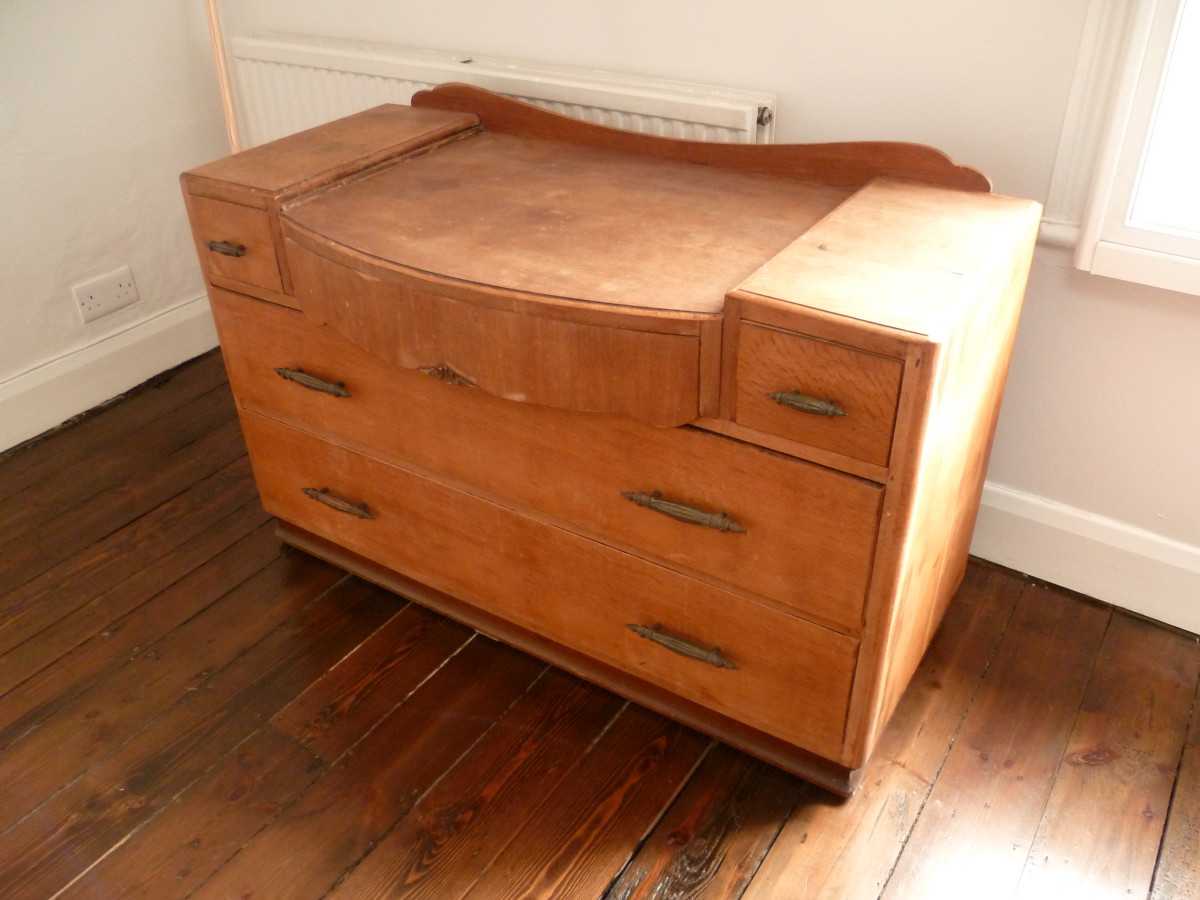 What do you think?
Qu'en pensez-vous ?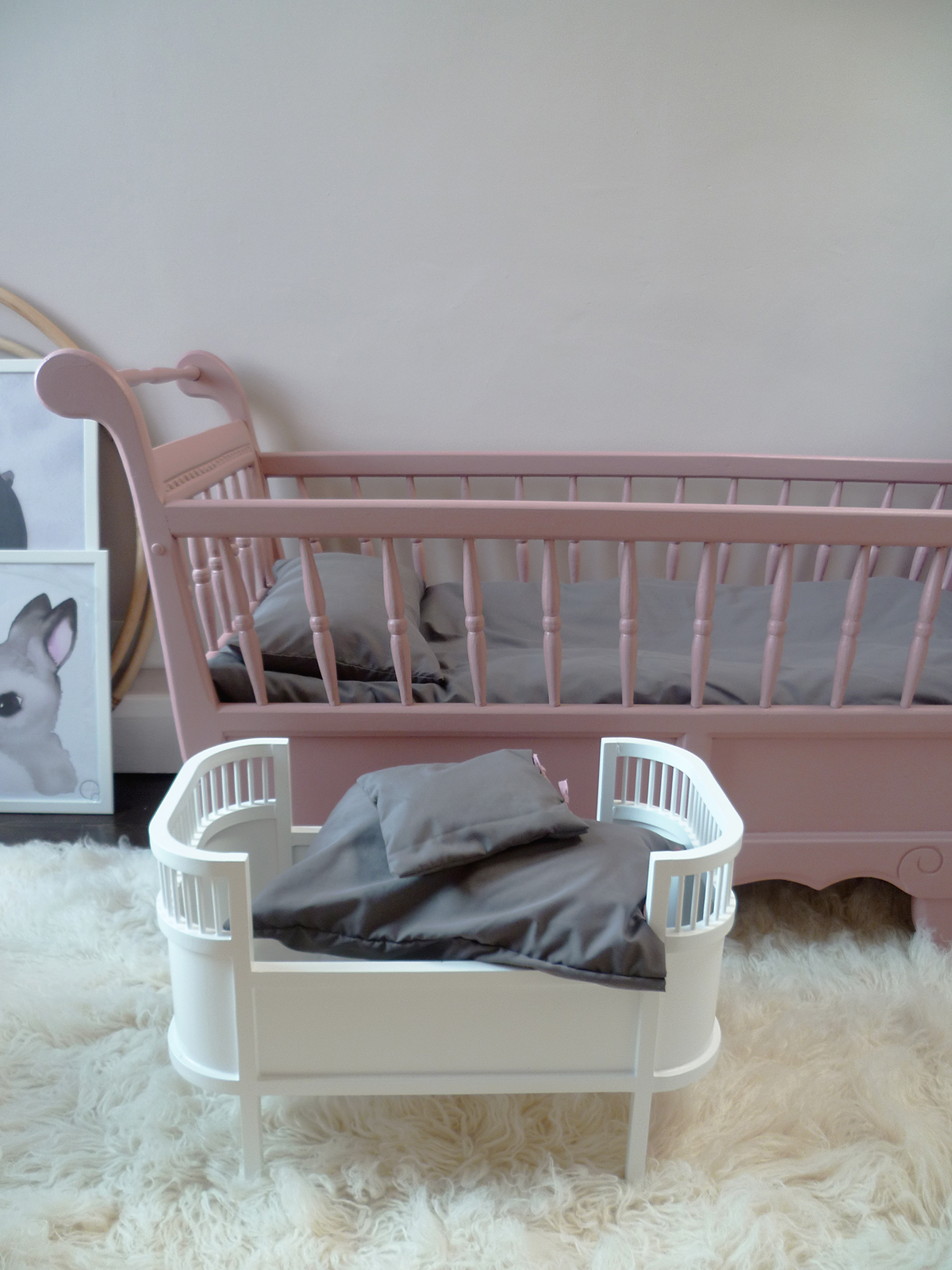 The baby cot with its new pink color. I finished sewing the bedding for it and also made a matching bedding set for the doll cot! Cute, isn't it?
Le lit bébé avec sa nouvelle couleur rose. J'ai terminé de coudre sa parure de lit et j'ai aussi fait une parure assortie pour le lit de poupée ! Mignon, n'est-ce pas ?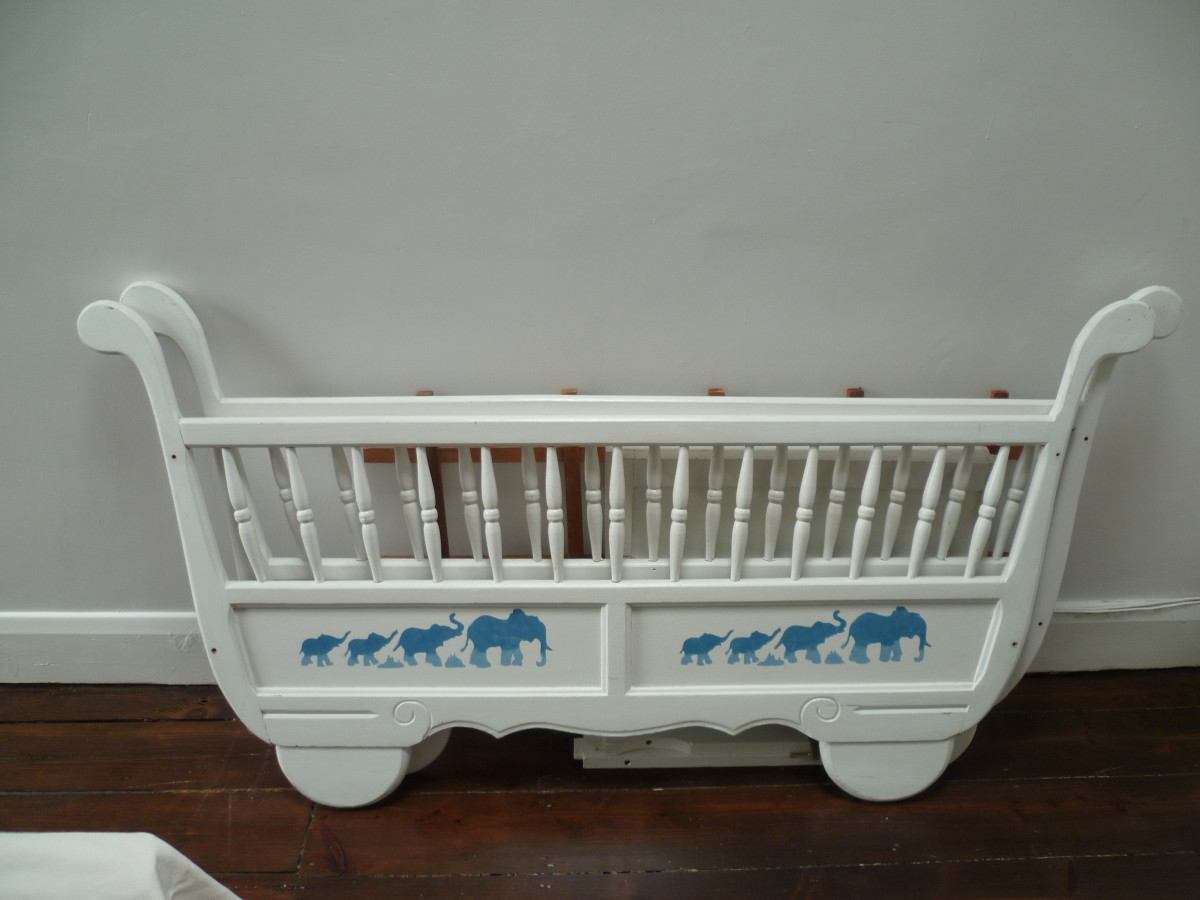 Here is a picture of this vintage french baby bed before, the white paint and blue elephants are gone!
Voici une image de ce lit bébé vintage avant, au revoir peinture blanche et éléphants bleus !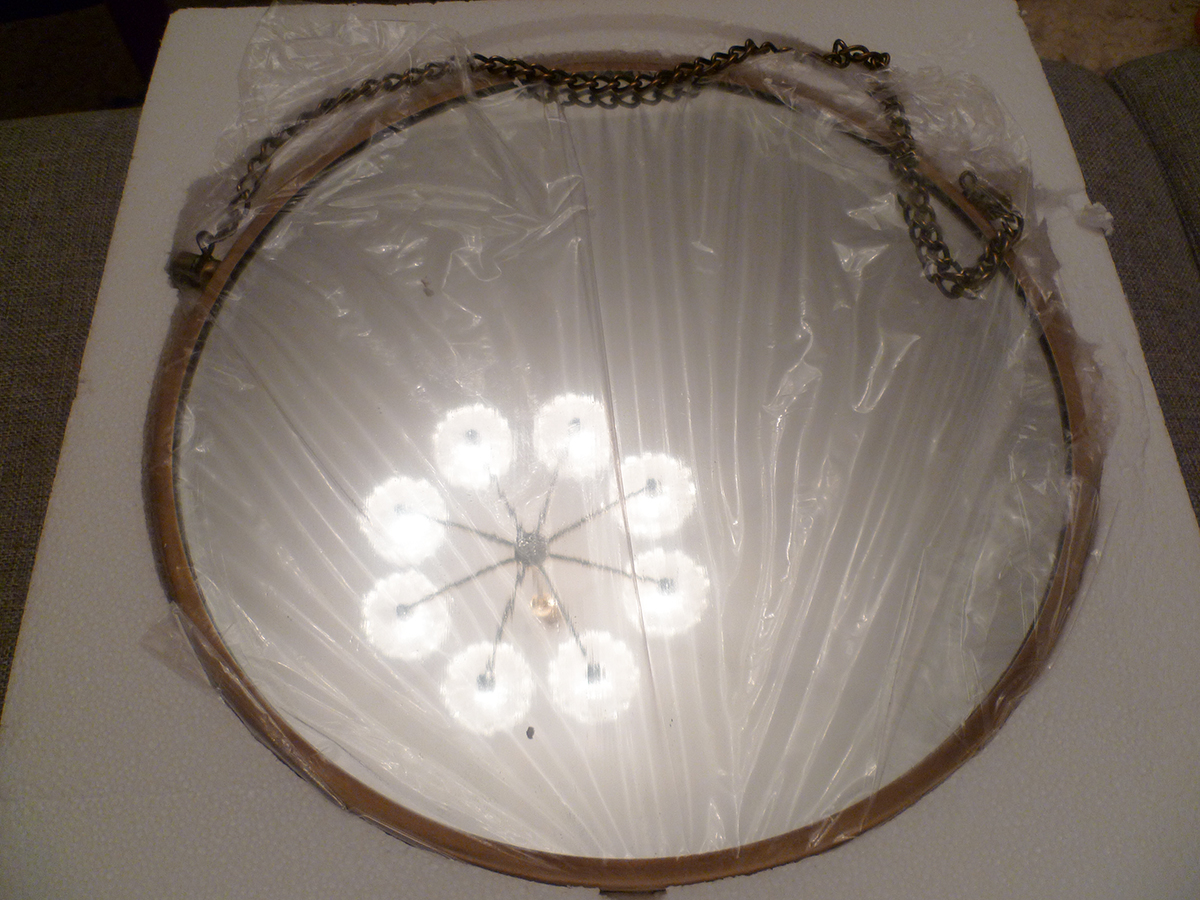 Now let's talk about the decorative items for the room. If you remember my inspiration board right here, I wanted a brass round chain mirror to hang above the dresser. I finally decided to buy it despite its small size and the price. I received it this week but with great disappointment! I took a picture to show you guys as it's not at all like shown on the online shop; instead of polished brass it's a kind of a dark antique brass. So I had to return it and now I have to find something else quickly!
Parlons maintenant des objets déco pour la pièce. Si vous vous souvenez mon tableau d'inspiration juste ici, je voulais un miroir doré rond avec chaîne pour accrocher au-dessus de la commode. Je me suis finalement décidée à l'acheter malgré sa petite taille et le prix. Je l'ai reçu cette semaine mais grosse déception ! J'ai pris une photo pour vous montrer mais il n'est pas du tout comme sur l'image de la boutique en ligne car au lieu d'être en d'aspect laiton poli c'est une sorte de laiton vieilli sombre. Alors j'ai dû le renvoyer et je dois maintenant trouver autre chose rapidement !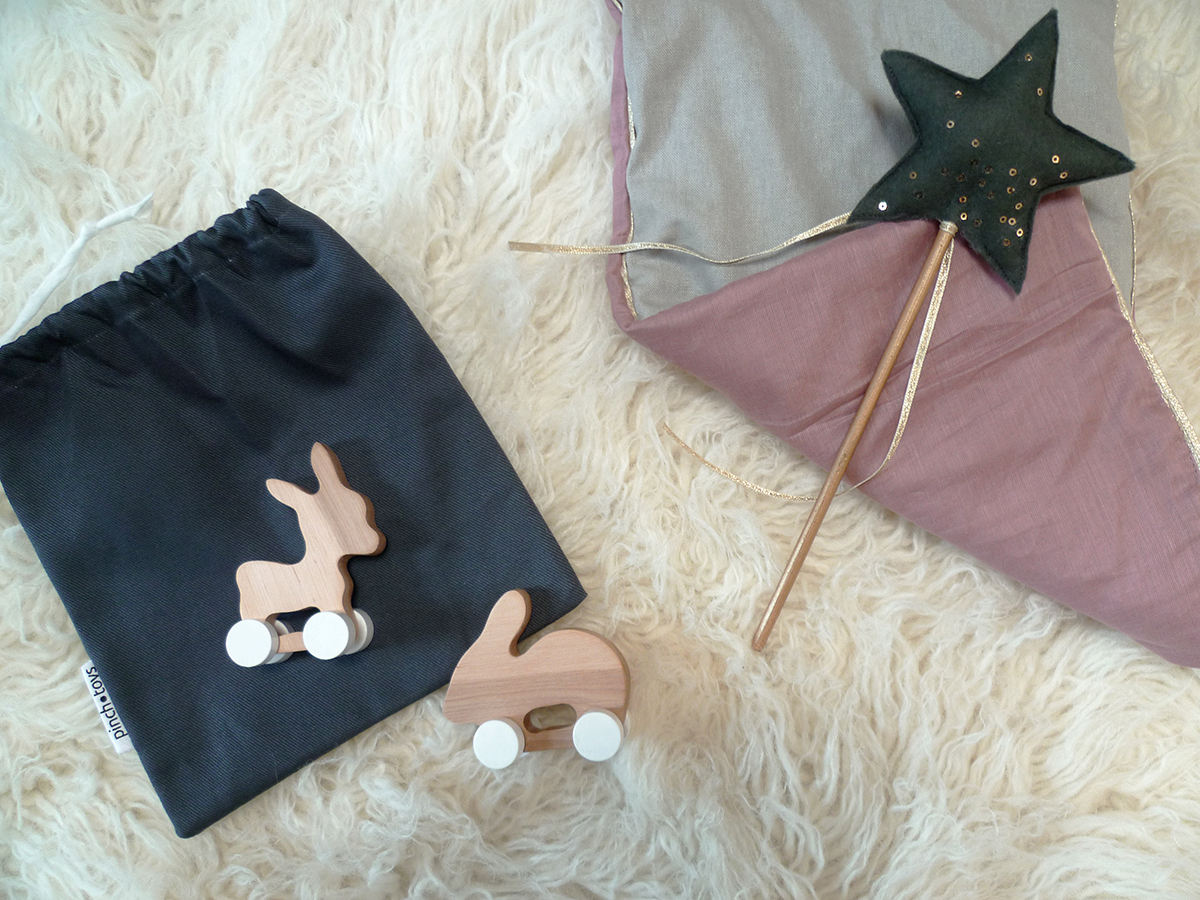 Some lovely news is that I received the cute little wooden toy set that I ordered and I love it! It's from Pinch Toys and these two little donkey and rabbit have the perfect size for my daughter's little hands!
Voila, that's it for today and now I really have to keep my fingers crossed to complete the room in time and finish all the DIY I can... Now don't forget to have a look at the other projects of the ORC and the ORC Guest Participants right here. I hope to see you here next week for the 6th and last part for the reveal of my room makeover...
XO
Dans les jolies nouvelles, j'ai reçu ce mignon petit ensemble de jouets en bois que j'ai commandé et je suis ravie ! Il est de chez Pinch Toys et ces deux petits âne et lapin ont la taille parfaite pour les petites mains de ma fille !
Voilà, c'est tout pour aujourd'hui et je dois maintenant garder les doigts croisés pour finir la pièce à temps et terminer tous les DIY que je peux... Maintenant n'oubliez pas de jeter un coup d'oeil aux autre projets de l'ORC et de l'ORC Guest Participants juste ici. J'espère vous revoir la semaine prochaine pour la 6ème et dernière semaine où ma pièce sera enfin dévoilée...
Biz