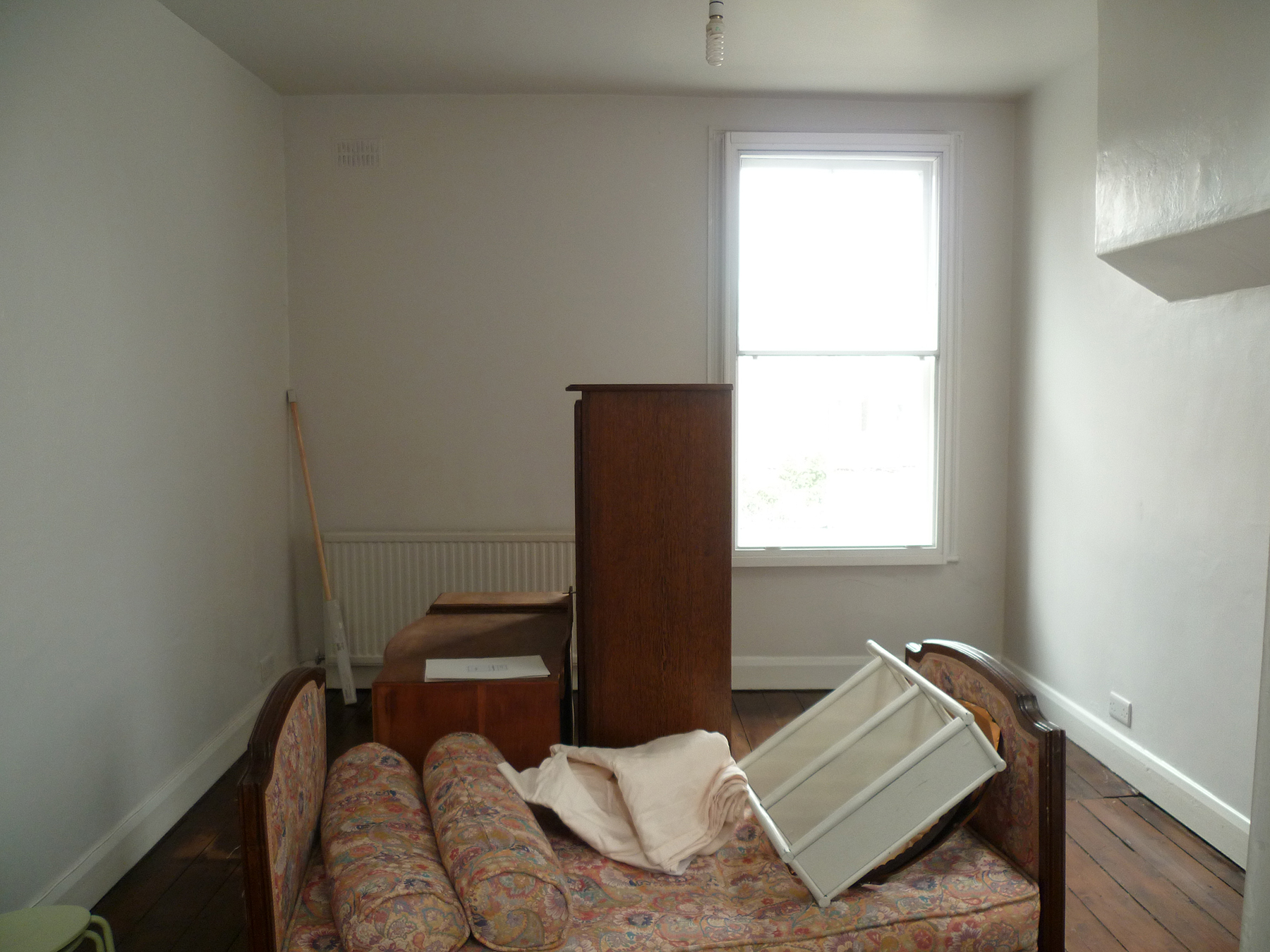 I told you I had a surprise and here it is...
Je vous avais dit que j'avais une surprise et la voici...
I decided to take part to the One Room Challenge Spring 2016 Guest Participants! In case you don't know this huge event, twice a year Linda from Calling it Home invites 20 amazing bloggers to the ORC for a 6 weeks challenge room makeover. Every Wednesday they share the progress of their project on their blog until the big reveal on the last week. The great thing is that during those 6 weeks, there is also a guest participants event every Thursday! Everyone who has a blog can take part and share a room makeover. And it begins today! So first of all, for the ones new to my blog thanks for visiting and welcome into my world! I'm so thrilled to have you here. My name is Nadia and I am blogger, interior design lover, DIYer, new mom and I recently moved into a new apartment that I am renting and seriously needs a lot of TLC.
You probably will think that I am kinda crazy, I mean a new home where I am still unpacking many boxes, a 6 months baby who still doesn't sleep at night and so many other things to manage... And yes, you are probably right, maybe I completely lost my mind but you know what? This 6 weeks challenge is something I really want to do. And for the first time on this blog I will share with you the step by step of a room makeover. And even crazier, one of my favorite thing is that it will be a makeover on a budget! So a lot of DIY to come... It's going to be exciting, stressful, crazy and I'm sure I will also have fun and enjoy doing it!
So let's start now and let me introduce you the room that I will try to achieve during the next 6 weeks. This is obviously my little angel's nursery! I tried to take pictures from every angle so you can see better the shape and size of the bedroom.
J'ai décidé de participer au One Room Challenge Spring 2016 Guest Participants ! Au cas où vous ne connaîtriez pas ce grand évènement, deux fois par an Linda de Calling it Home invite 20 blogueurs d'exception à l'ORC pour un challenge de 6 semaines durant lesquelles ils doivent redécorer une pièce. Chaque mercredi ils partagent l'avancement de leur projet sur leur blog jusqu'à la dernière semaine ou ils dévoilent la pièce entièrement transformée. Ce qu'il a de bien, c'est que durant ces 6 semaines, il y a également un évènement similaire organisé en parallèle chaque jeudi auxquels des participants s'invitent. Toute personne ayant un blog peut y participer et partager la transformation d'une pièce. Et cela commence aujourd'hui ! Alors tout d'abord, pour ceux qui sont nouveaux sur mon blog merci de votre visite et bienvenu dans mon monde ! Je suis vraiment ravie de vous voir ici. Je m'appelle Nadia et je suis blogueuse, amatrice de décoration d'intérieur, DIYer, jeune maman et je biens tout juste d'emménager dans un nouvel appartement que je loue et qui a vraiment besoin d'un sérieux relooking.
Vous pensez certainement que je suis folle, avec un nouveau chez moi où je suis encore en train de déballer des cartons, un bébé de 6 mois qui ne fait toujours pas ses nuits et un tas d'autres choses à gérer... Et oui, vous avez probablement raison, peut-être que j'ai complètement perdu l'esprit mais vous savez quoi ? Ce challenge de 6 semaines est vraiment quelque chose que j'ai envie de faire. Et pour la première fois je vais partager avec vous sur ce blog la transformation pas à pas d'une pièce. Et encore plus fou, une des choses que je préfère est que ça va être une transformation avec un petit budget ! Alors beaucoup de DIY à venir... Tout cela va être excitant, stressant, fou et je suis sure que je vais également m'amuser et prendre plaisir à le faire !
Alors commençons maintenant et laissez-moi vous présenter la pièce que je vais essayer de réaliser durant les 6 prochaines semaines. Il s'agit bien évidemment de la chambre de mon petit ange ! J'ai essayé de prendre des photos de tous les angles pour que vous puissiez bien voir la forme et la taille de la chambre.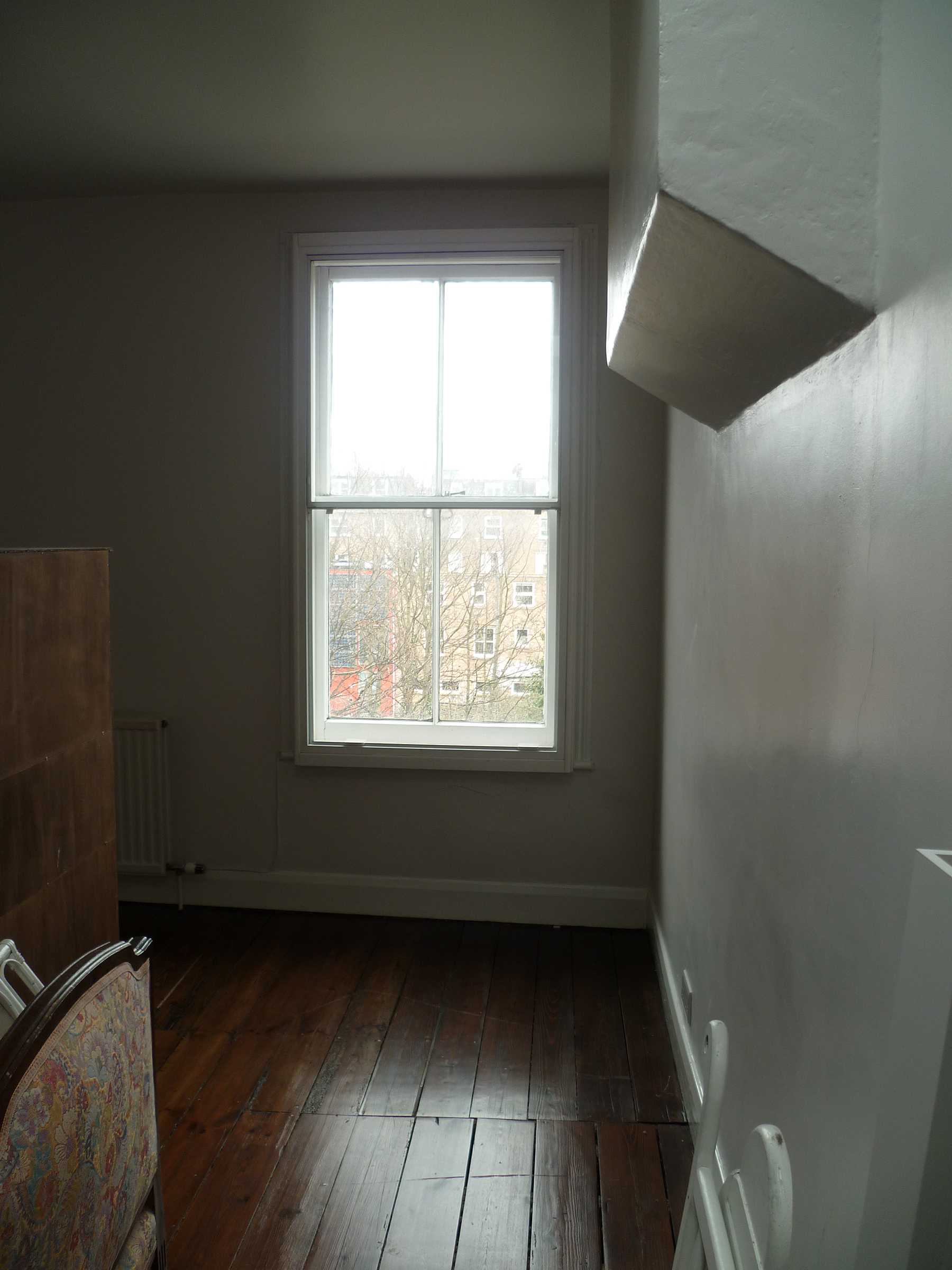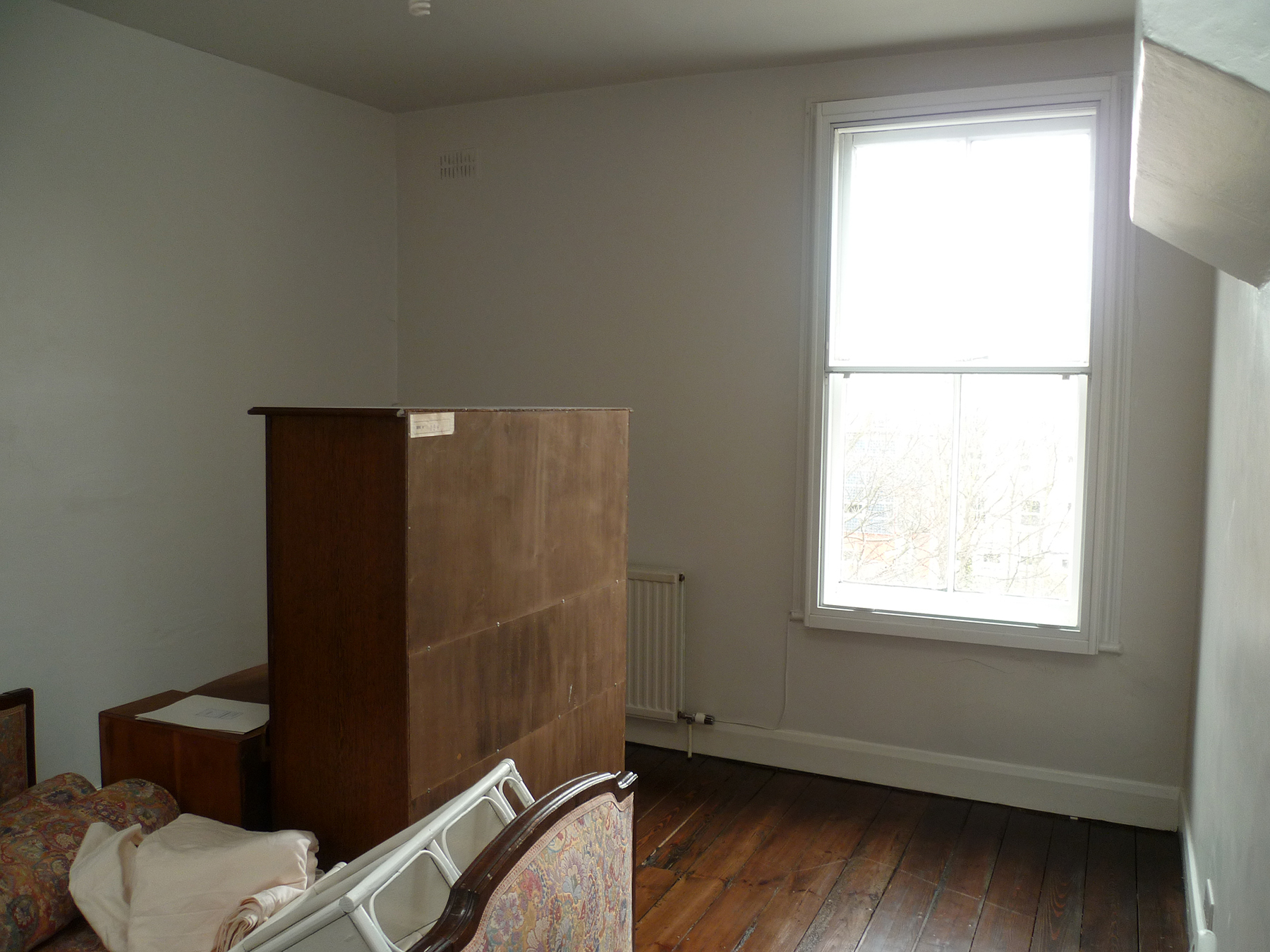 This is a good size bedroom and now it's still a blank canvas. My favorite thing is this old wooden floor! The thing I hate is that ugly radiator that I definitely need to hide.
La chambre est de bonne taille et c'est pour l'instant toujours une toile blanche. Ce que préfère, le vieux parquet en bois ! Ce que je déteste, ce radiateur hideux que je dois absolument dissimuler.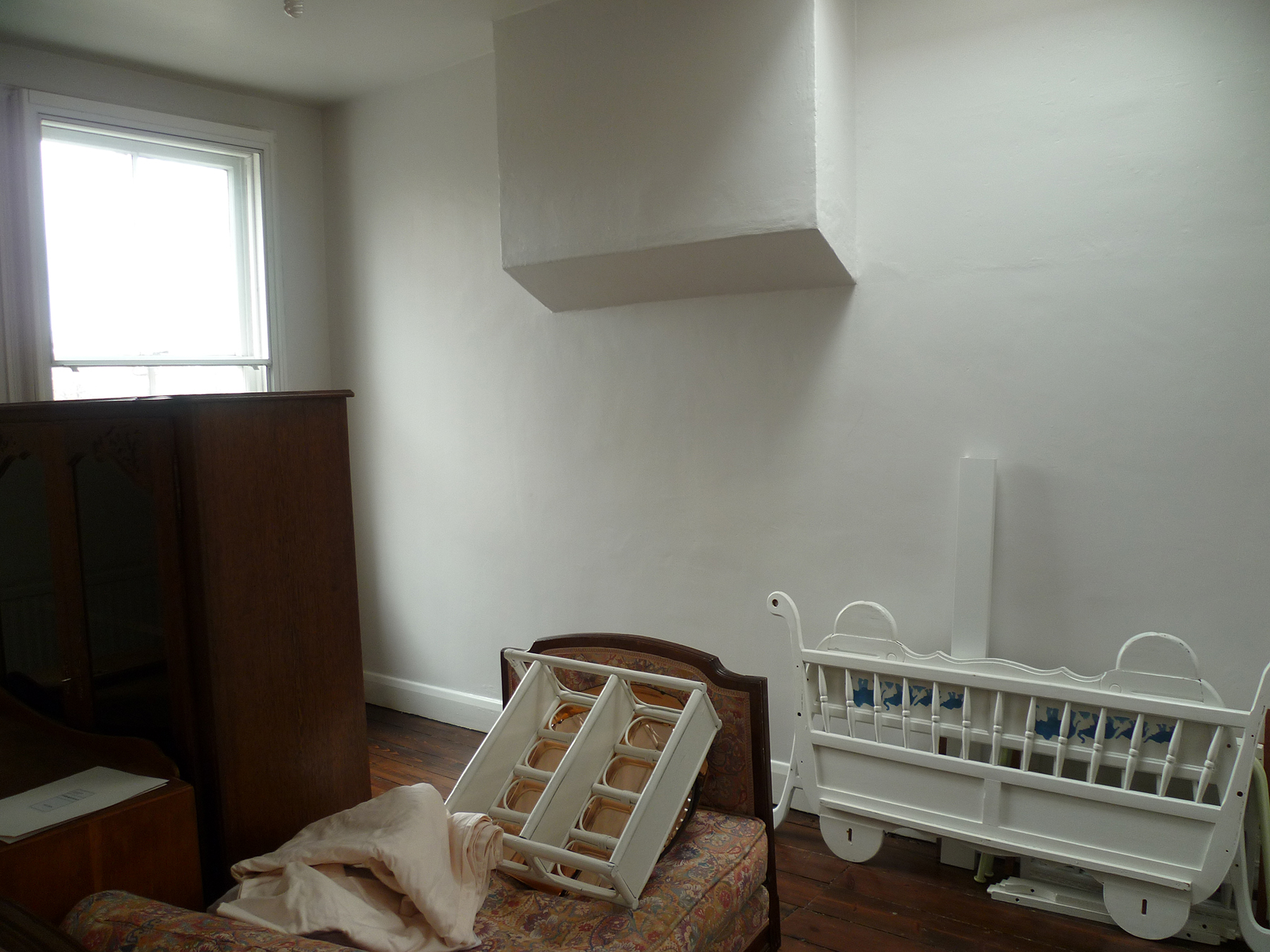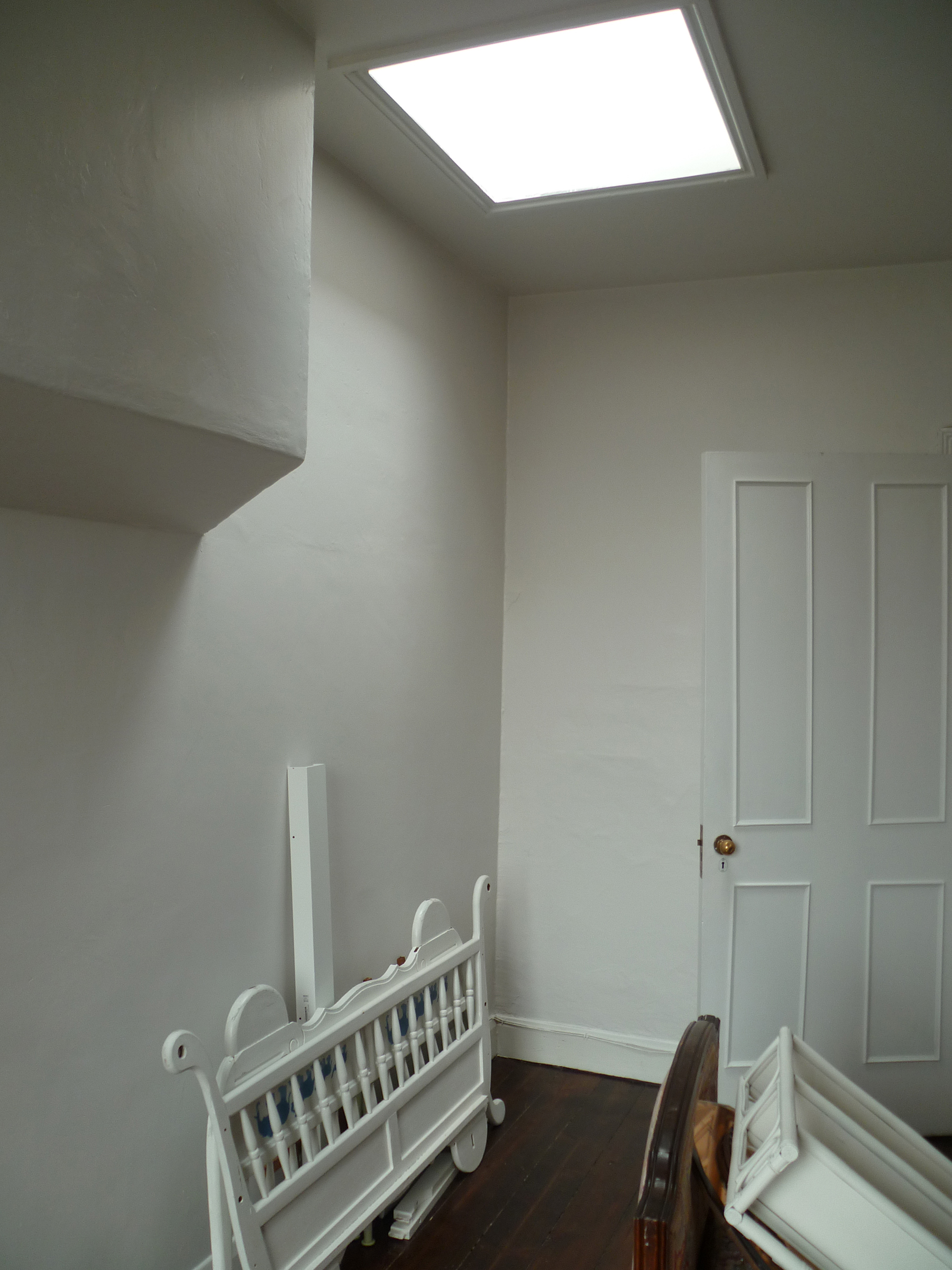 I love the skylight! But I will need to put a blackout blind if I want my little one to sleep longer...
J'aime le puit de lumière ! Mais il faudra que je mette un store occultant si je veux que ma petite dorme plus longtemps...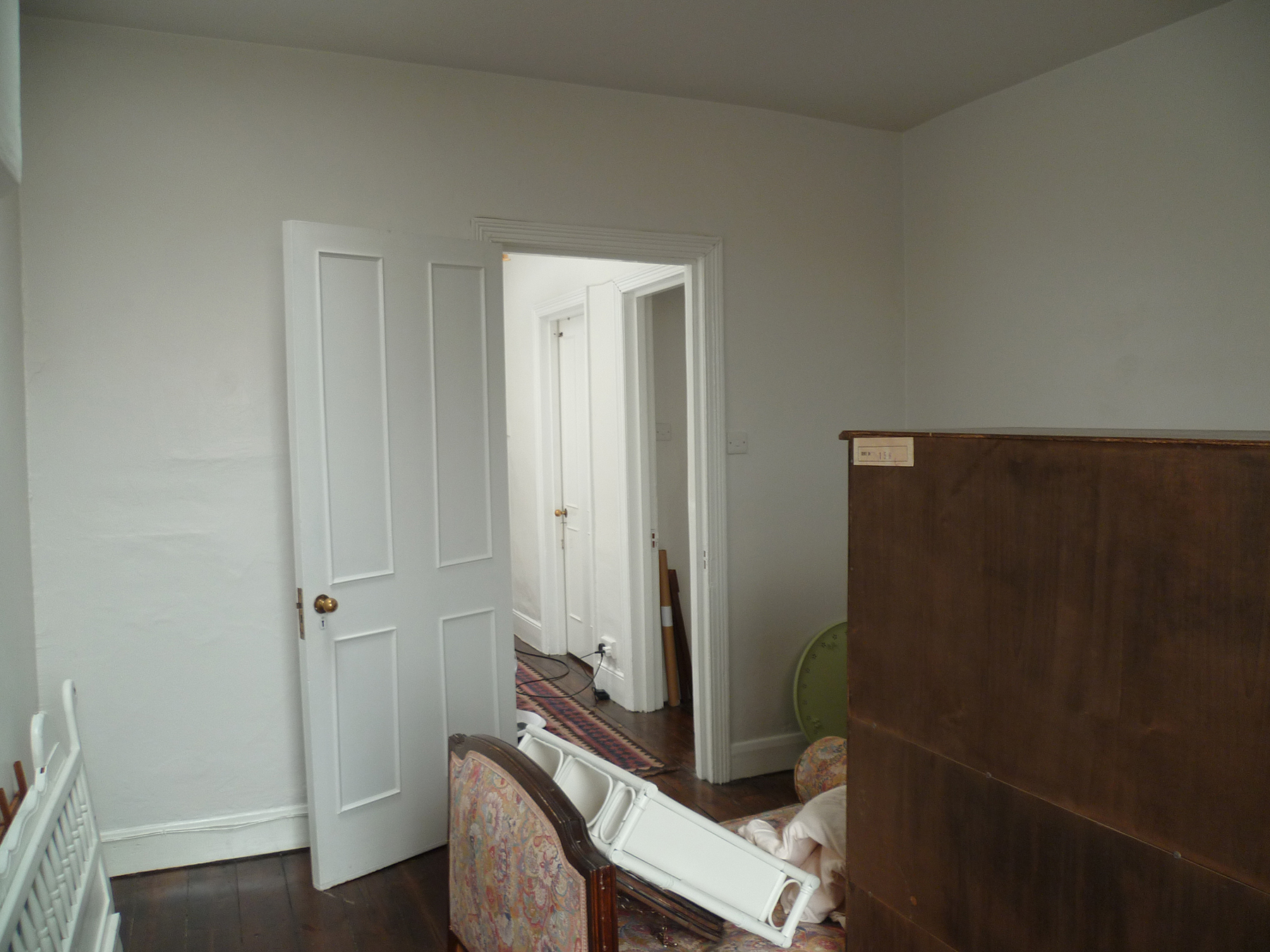 As I said it's going to be a complete makeover on a budget so the stuff you can see in the middle of the bedroom are old thrifted furniture that I will use in this project. So the first part of the challenge is going to be sanding, sanding, sanding and painting! For the colours I was thinking to go for pink and some grey maybe, with a touch of gold... But I am not sure yet as I still have so many samples to try. All I know is that I would like to mix old furniture with a more modern decor.
Voila, I think that's all for this first week my friends. Now the program is to be able to make a choice of colours and obviously paint the room before next week! So I hope you will stay tuned to see the progress of my little angel's nursery... and if you want to join the linking party and have a look at the other participants projects it's right here.
XO
Comme je l'ai déjà dit, ça va être une transformation complète à petit budget alors toutes les choses que vous voyez au milieu de la chambre sont de vieux meubles que j'ai chiné et que je vais utiliser pour ce projet. Alors pour la première partie de ce challenge ce sera ponçage, ponçage, ponçage et peinture ! Pour les couleurs je pensais à du rose avec peut-être du gris et une touche de doré... Mais je ne suis pas sure pour le moment comme j'ai encore de nombreux échantillons à tester. Tout ce que je sais, c'est que je voudrais un mélange de meubles anciens avec un décor plus moderne.
Voilà, je pense que c'est tout pour cette première semaine les amis. Maintenant le programme est de faire un choix de couleurs et bien entendu peindre la pièce d'ici la semaine prochaine ! Alors j'espère que vous serez au rendez-vous pour voir la progression de la chambre de mon petit ange... et si vous voulez vous aussi vous joindre à la fête ou jeter un coup d'oeil aux projets des autres participants c'est juste ici.
Biz