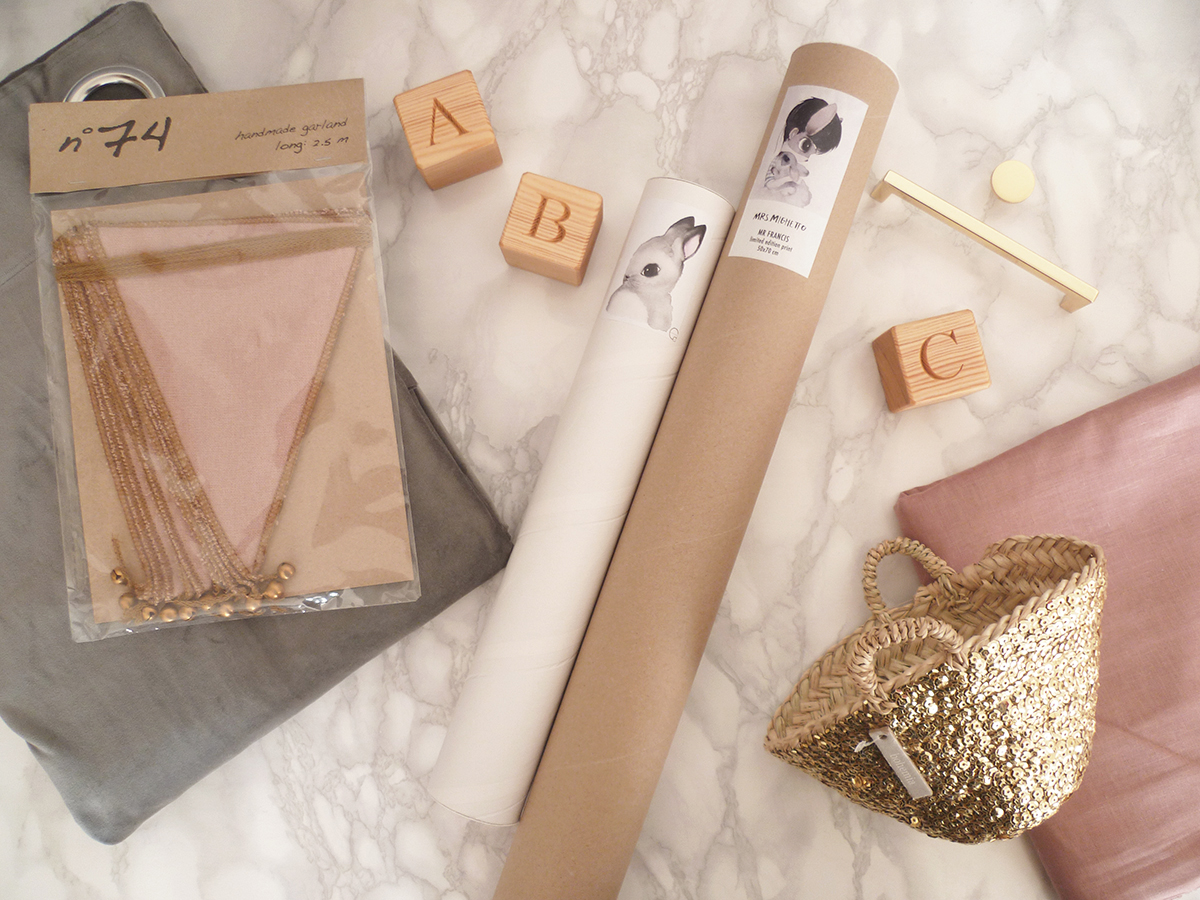 Oh my God, I still can't believe it's already the third week...
Mon Dieu, je n'arrive toujours pas à croire que c'est déjà la troisième semaine...
Which means we are now half way into this challenge! I try to do my best to stay calm and positive but I honestly think it doesn't really work because I am so stressed out when I think of all the things I still have to do... And this week I feel like I didn't really achieve anything, so I keep on thinking in my mind: Will I make it ? Will this nursery be finished in 3 weeks time...?
Anyway, just in case you missed the first two weeks and you don't know what the One Room Challenge and the ORC Guest Participants are, you can catch up right here and here. And now let's start first with the bad or not so good things. For this week my plan was to finish painting all the furniture and source all the decorative items for the room. Well, I have to admit that I failed because the painting still isn't finished. Here are the furniture that I can take out of the "To paint" list but still are not complete.
Ce qui signifie que nous sommes maintenant à mi-parcours de ce challenge ! J'essaie de faire de mon mieux pour rester calme et positive mais je pense sincèrement que rien n'y fait car je suis tellement stressée quand je pense à tout ce qu'il me reste à faire... Et cette semaine j'ai l'impression de ne pas avoir vraiment avancé et je me demande sans cesse : Est-ce que je vais y arriver ? Est-ce que cette chambre sera finie d'ici 3 semaines... ?
Enfin bref, juste au cas où vous auriez manqué les deux premières semaines et que vous ne sauriez pas ce que sont le One Room Challenge et l'ORC Guest Participants, vous pouvez rattraper le retard juste ici et ici. Et maintenant, commençons d'abord par les mauvaises ou plus tôt les choses pas très positives. Pour cette semaine, j'avais prévu de finir la peinture des meubles et de trouver tous les objets déco pour la pièce. Et bien je dois l'admettre, j'ai échoué car la peinture n'est toujours pas finie. Voici les meubles que je peux enlever de ma liste "A peindre" mais qui ne sont pas pour autant finis.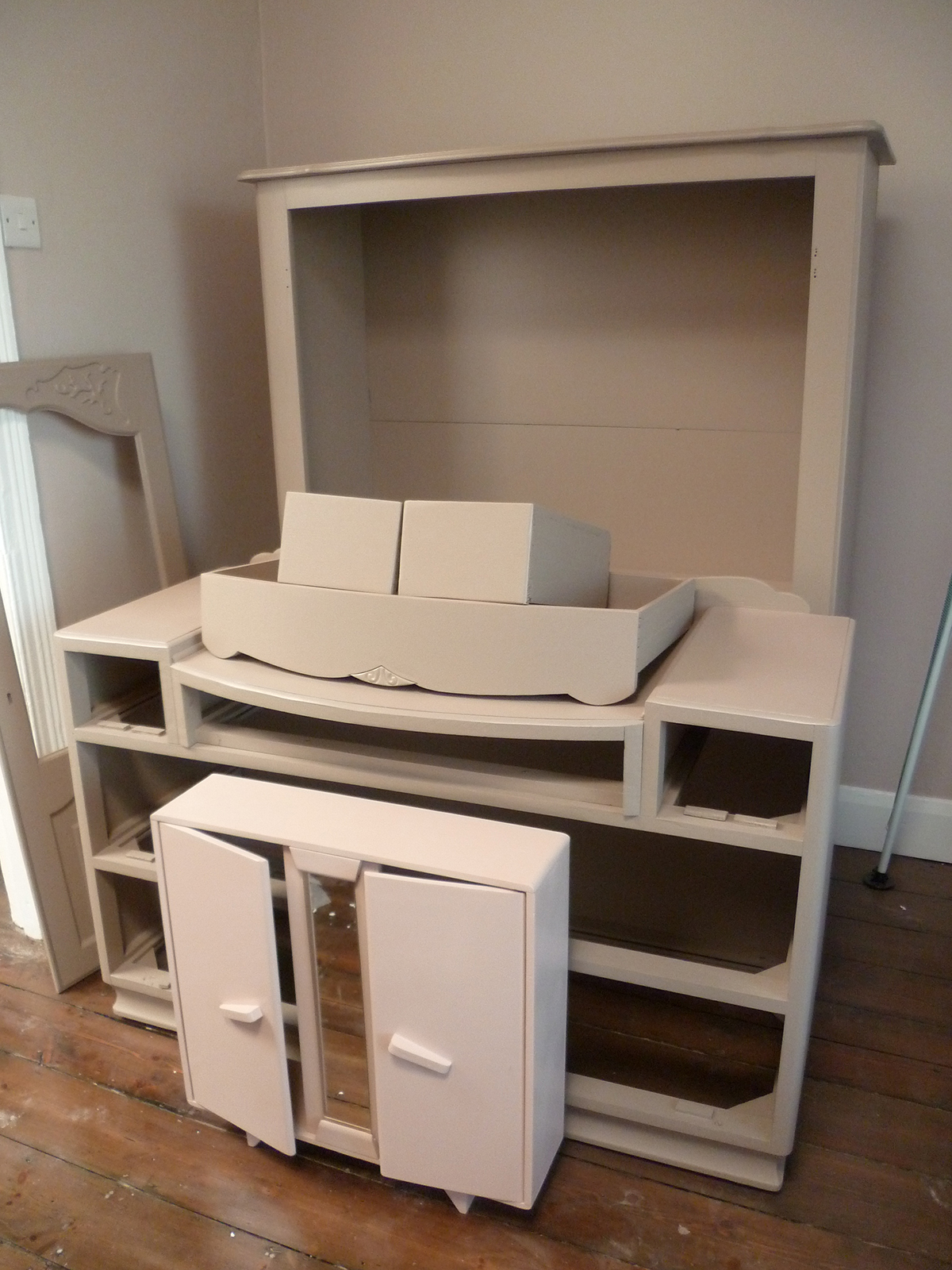 First of all, sorry for the mess on the pictures but this is the real backstage of my room makeover! So, the ex display cabinet or future wardrobe is done but still needs some work on it. The dresser is also painted. And the bonus is the small pink vintage doll wardrobe you can also see on the picture, it's another find that also needed a makeover.
Tout d'abord, désolé pour le désordre sur les photos mais ce sont les vraies coulisses de la transformation de ma chambre ! Alors, l'ancienne vitrine ou future armoire est faite mais elle a encore besoin de petites modifications. La coiffeuse est également peinte. Et le bonus c'est la petite armoire de poupée vintage rose que vous pouvez aussi voir sur la photo, il s'agit d'une autre trouvaille qui avait tout aussi besoin d'un bon relooking.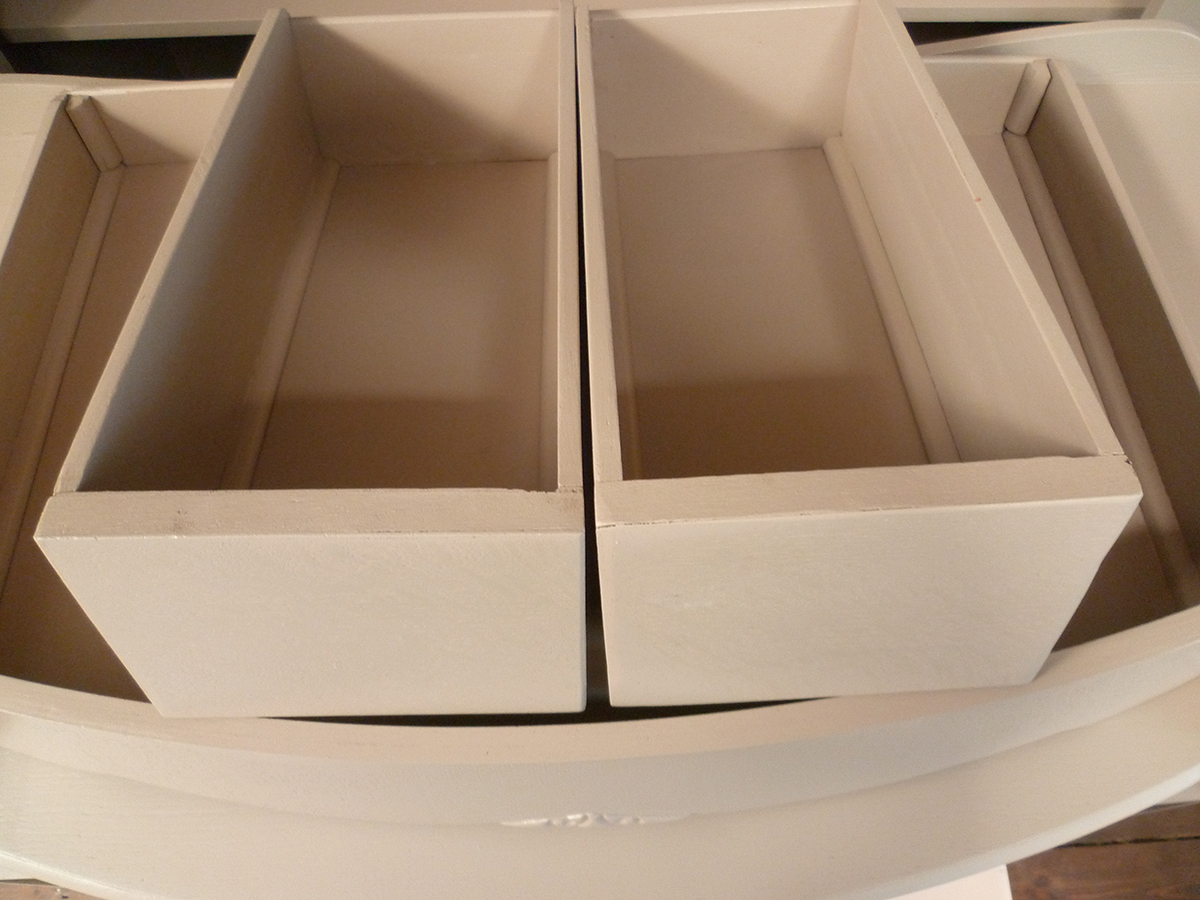 These drawers need now new handles and I also ordered a lovely fabric to add a nice liner inside.
Ces tiroirs ont maintenant besoin de nouvelles poignées et j'ai également commandé un joli tissu pour en tapisser le fond.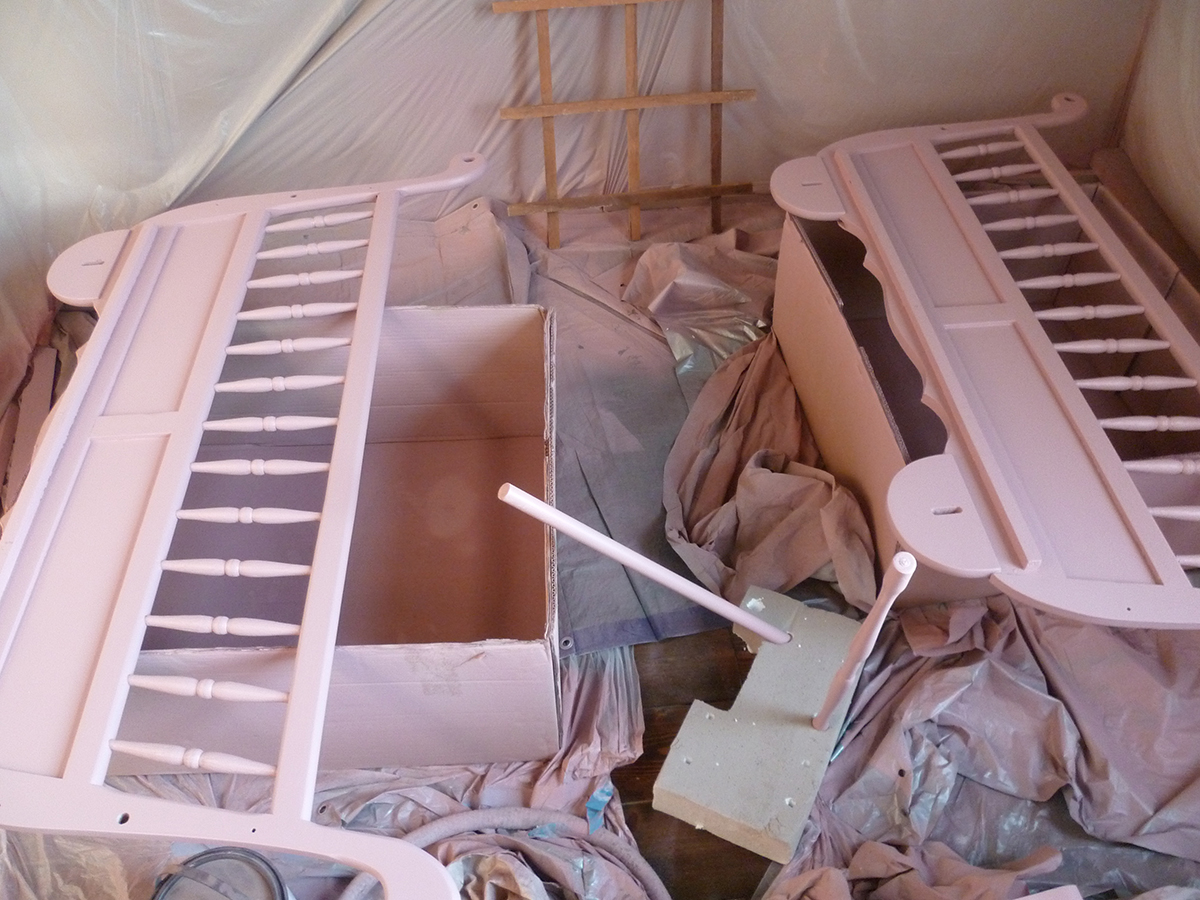 As you can see the baby bed is drying but it still needs another coat of paint.
Comme vous pouvez le voir le lit bébé est en train de sécher mais il a encore besoin d'une autre couche de peinture.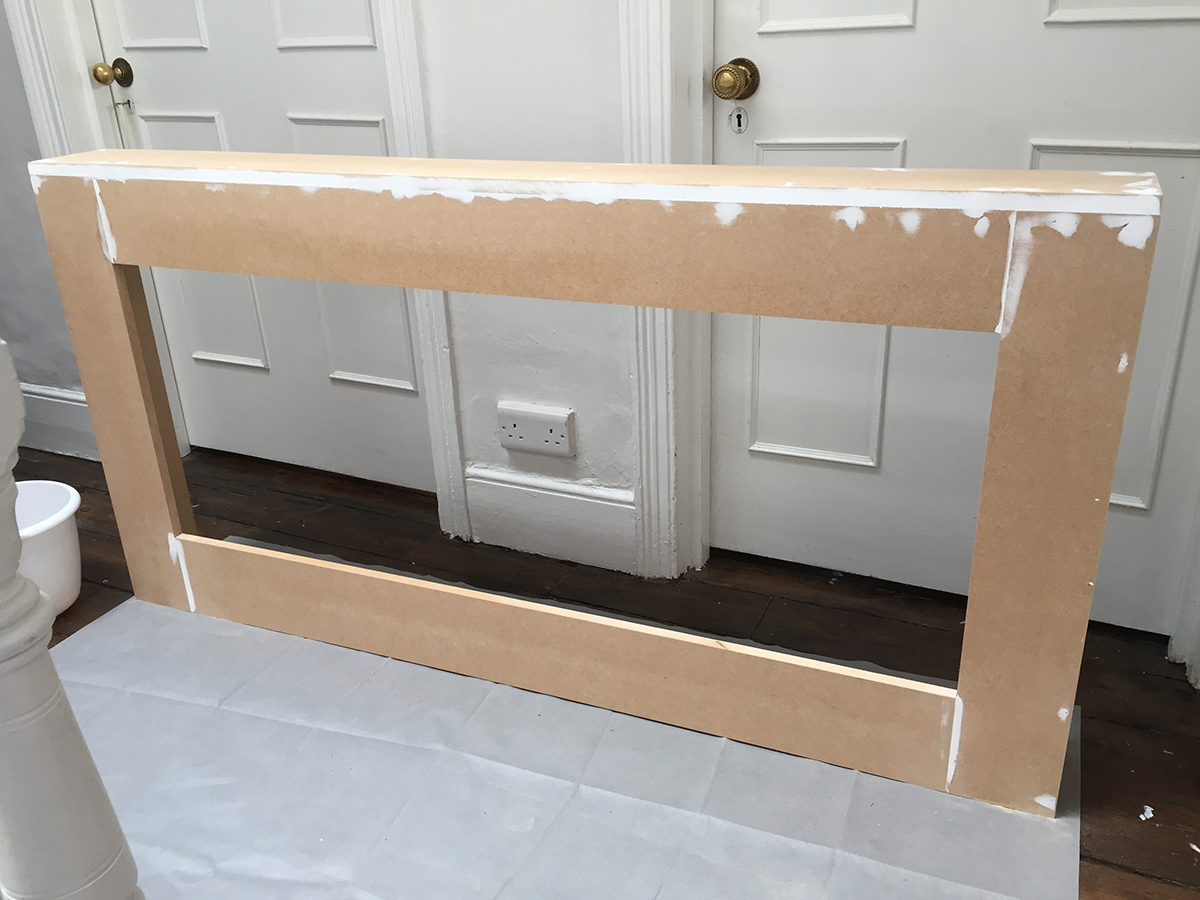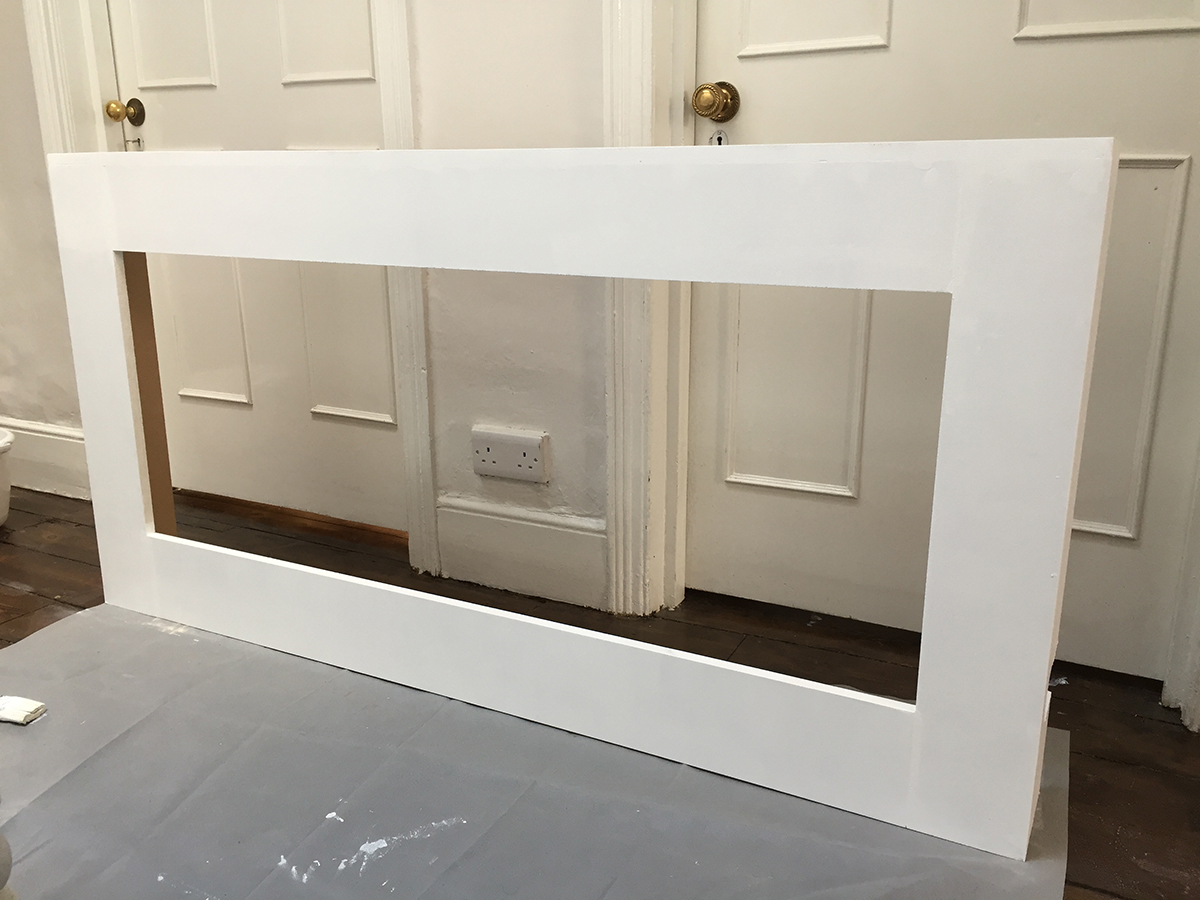 If you remember I said that I wanted to hide the ugly radiator in the bedroom so I made a radiator cover using MDF. Here it is but it also needs another coat of paint and a panel to attach on the front.
Si vous vous souvenez j'avais parlé de recouvrir l'hideux radiateur de la chambre alors j'ai fabriqué un cache radiateur à partir de MDF. Le voici mais il a lui aussi besoin d'une autre couche de peinture et d'un panneau à fixer sur la partie avant.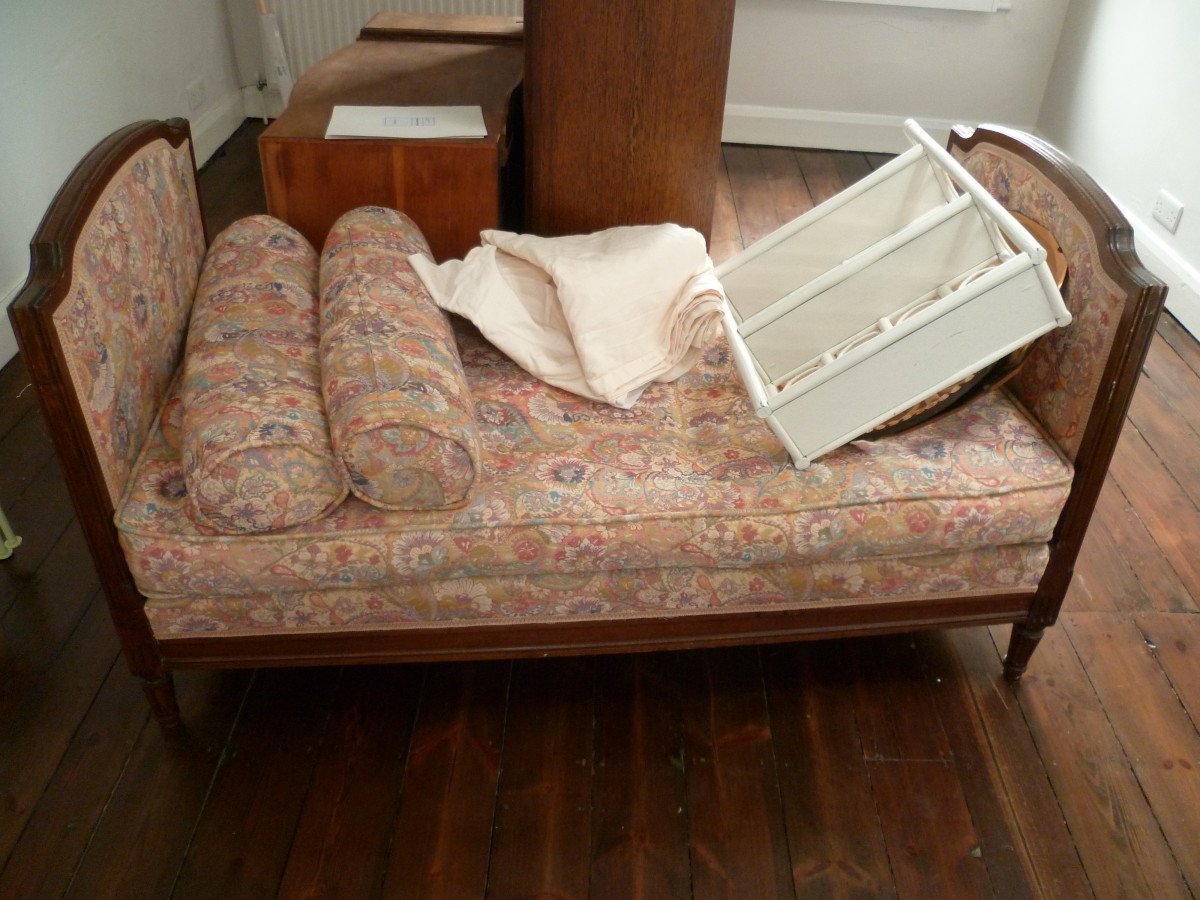 And finally, my dilemma of the week is about the daybed...! It still looks like that today as my first plan was to paint it with the Village Lane colour that I showed you last week (which is the darkest one). But then I realise that at night and with the light I have at home this grey is completely different. It looks almost brownish or purplish I don't know exactly. And I really wanted a grey that contrasts with the other colours of my palette that already have all pink shades inside. Something a bit cold to balance with the warm tones. So I was thinking of going with a real dark grey.
Et enfin, mon dilemme de la semaine est au sujet de la banquette... ! Elle est toujours comme ça aujourd'hui car ma première idée était de la peindre avec la couleur Village Lane que je vous ai montrée la semaine dernière (qui est la couleur la plus foncée). Mais j'ai ensuite réalisé que le soir et avec l'éclairage que j'ai chez moi ce gris est complètement différent. Il devient presque marron ou violet, je ne sais pas trop. Et je voulais vraiment un gris qui contraste avec les autres couleurs de ma palette qui ont déjà toutes des tons rosés. Quelque chose d'un peu froid pour équilibrer les tons chauds. J'ai donc pensé changer pour un vrai gris foncé.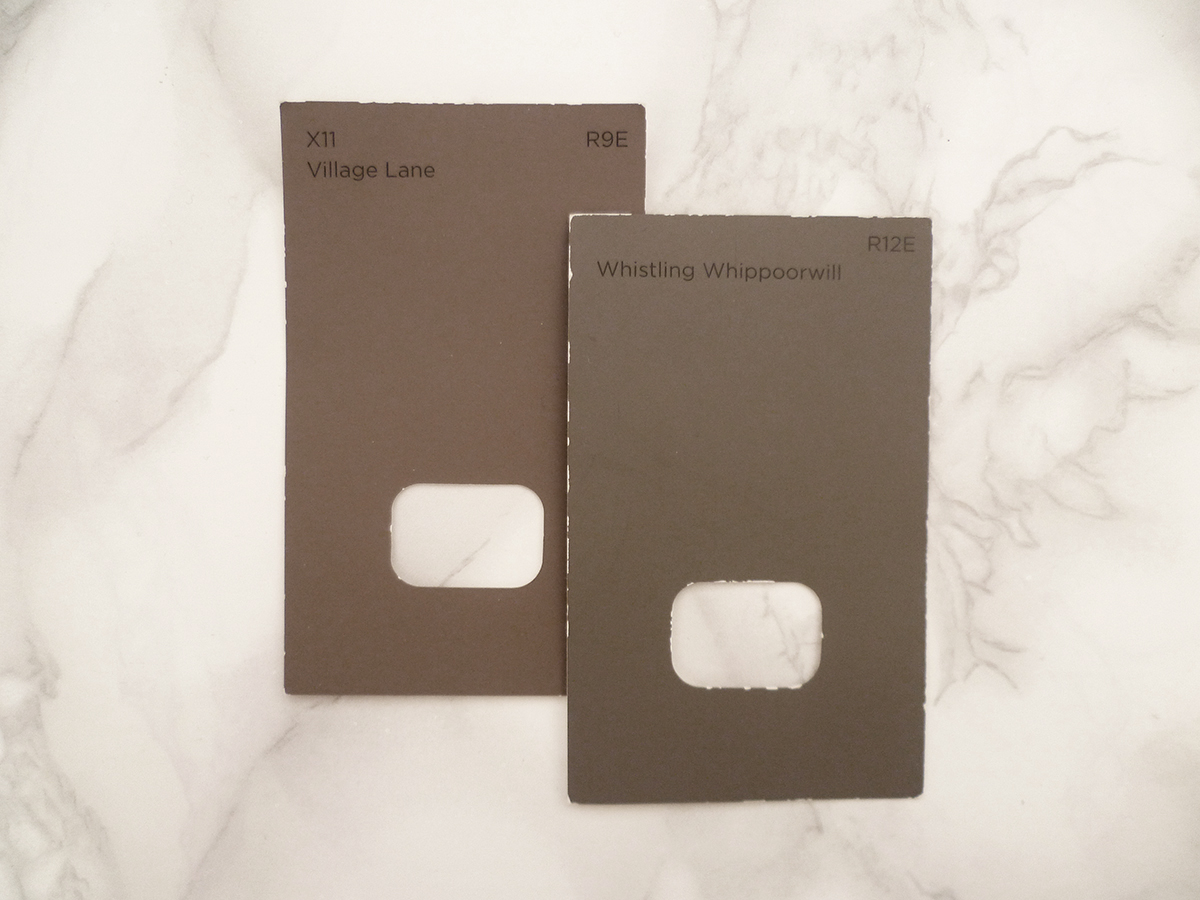 Here is the colour I may use (as I am still not too sure yet) and it's called Whistling Whippoorwill. You can see here side by side the two samples that made me have so much doubts and headaches this week. I don't know if you can see properly the difference of shade on your screen. The Village Lane is more brown and warm while the Whistling Whippoorwill is more like steel and cold. Well, I guess it shouldn't be a surprise that those fifty shades of grey can make you crazy sometimes... But the thing is that now I really have to make a choice ASAP to finally finish with the paint! And the other not so good thing of the week is about the decorative items. I still didn't find all the things I would like for the nursery and I am now afraid of not receiving everything on time... But as I said, I try to do my best not to stress too much!!!
Voici la couleur que je vais peut-être utiliser (comme je ne suis pas encore tout à fait sure) et elle s'appelle Whistling Whippoorwill. Vous pouvez ici voir côte à côte les deux échantillons qui m'ont fait douter et mal à la tête cette semaine. Je ne sais pas si vous pouvez bien voir la différence de nuances sur votre écran. Village Lane est plus marron et chaude alors que Whistling Whippoorwill est plus une couleur acier et froide. Et bien, je suppose que cela ne devrais pas me surprendre que ces cinquante nuances de gris peuvent vous rendre fou parfois... Mais là je dois vraiment faire un choix au plus vite pour enfin en finir avec la peinture ! Et l'autre chose pas très positive de la semaine concerne les objets de déco. Je n'ai toujours pas trouvé tout ce que je voudrais pour la chambre bébé et j'ai bien peur de ne pas recevoir tous les articles à temps... Mais comme je l'ai déjà dit, j'essaie de faire de mon mieux pour ne pas trop stresser !!!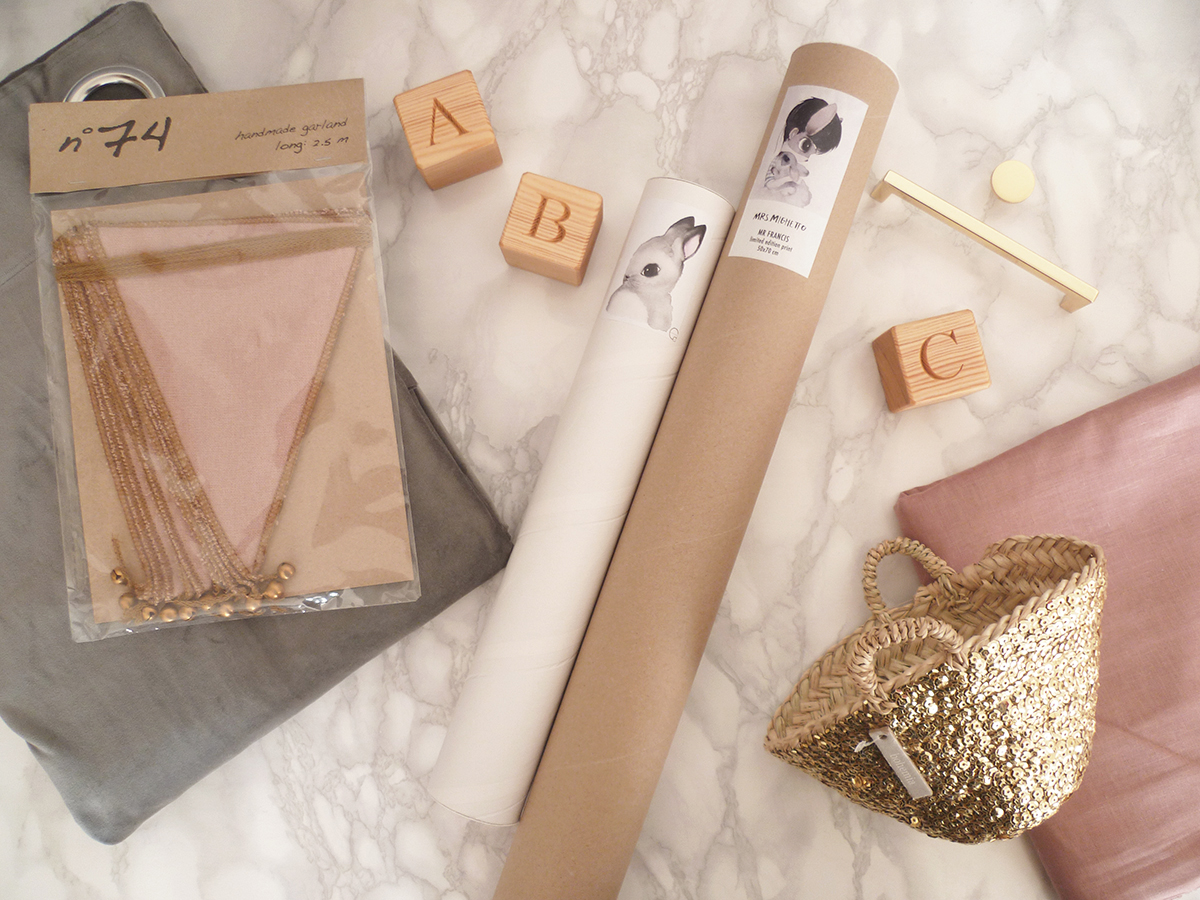 Now, let's talk about the positive or the good things! So the bright side of things, is when each day I receive a little package through the post which just makes my day. A small item that I can delete from my "To buy" list and that helps me to stay positive. Because I can already imagine how it will look like in the room once everything will be complete and it makes me smile... Here are a few things that I received or bought this week and that made me happy. The prints are here and I really do love them! I also have the flag garland, some alphabet wooden blocks, the velvet curtains, the new brass handles for the chest of drawers and this cute little sequin basket. I won't show you more for today but honestly I can't wait to complete this nursery to share with you all my little finds...
So that's it for this week and I guess I won't get a lot of sleep during the next 3 weeks if I want to finish everything on time! For next week I obviously plan to finally finish all the painting (I mean I hope to!) and after that it will be sewing, sewing and sewing. Yes, when you do a makeover on a budget you have to do a lot of things by yourself to save money. So I will have to saw a few little things for this nursery like cushion covers, bedding... Now don't hesitate to have a look at the other projects of the ORC and the ORC Guest Participants right here. To be continued next week for the fourth part of this 6 weeks challenge...
XO
Maintenant, passons à ce qu'il y a de positif ou aux bonnes choses ! Alors le bon côté des choses, c'est quand chaque jour je reçois un petit colis par la poste qui illumine ma journée. Un petit objet que je peux effacer de ma liste "A acheter" et qui m'aide à rester positive. Parce que je peux déjà l'imaginer dans la pièce une fois que tout sera terminé et ça me donne le sourire... Voici quelques unes des choses que j'ai reçu ou acheté cette semaine et qui m'ont rendue heureuse. Les posters sont arrivés et je les aime vraiment ! J'ai aussi la guirlande, des blocs de bois alphabet, les rideaux en velours, les nouvelles poignées de la commode et cet adorable petit panier à sequins. Je ne vous en montre pas plus pour aujourd'hui mais j'ai hâte de terminer cette chambre pour partager toutes mes trouvailles avec vous...
C'est donc tout pour cette semaine et je pense que je ne vais pas beaucoup dormir pendant les 3 prochaines semaines si je veux tout finir à temps ! Pour la semaine prochaine je prévois bien entendu de totalement finir la peinture (je veux dire j'espère !) et après ça ce sera couture, couture et couture. Oui, quand on fait une transformation complète à petit budget il faut faire pas mal de chose soi-même pour économiser de l'argent. Alors je vais devoir coudre des petites choses pour cette chambre bébé comme des housses de coussins, parure de lit... Maintenant n'hésitez pas à jeter un coup d'oeil aux autre projets de l'ORC et de l'ORC Guest Participant juste ici. La suite la semaine prochaine pour la quatrième partie de ce défi de 6 semaines...
Biz