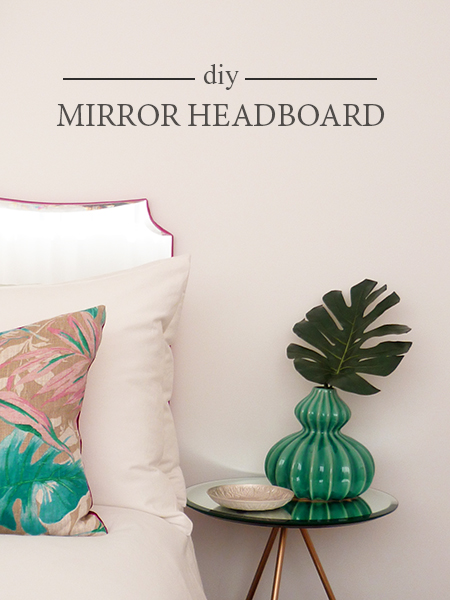 First of all, I would like to say a huge thank you to all of you my friends for all your comments and messages after my last post. Believe me, your lovely words really mean a lot to me, especially now ...
Tout d'abord, je tenais à vous remercier du fond du coeur les amis pour tous vos commentaires et messages après mon post de la semaine passée. Croyez-moi, vos mots représentent beaucoup à mes yeux, surtout en ce moment...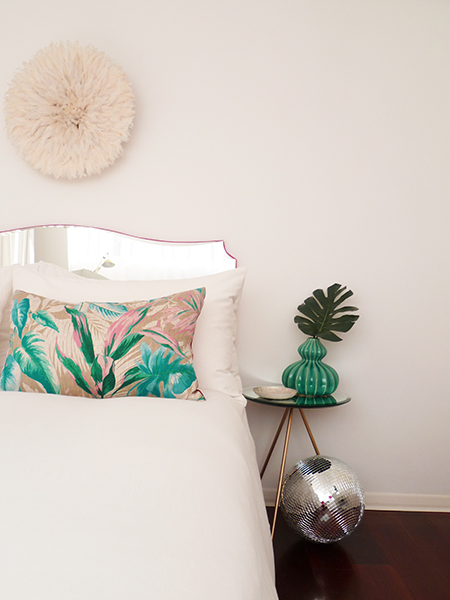 To have such nice feedbacks is both amazing and touching. And it makes me realize once again how important this blog is to me, I truly missed this special place to share things with you. Maybe the "comeback" is a bit slow as I won't be able to post on a daily basis, but I promise to do my best to make this blog even more special ...
Avoir des retours aussi gentils est à la fois extraordinaire et touchant. Et cela me fait prendre conscience, une fois de plus, de l'importance de ce blog pour moi. Cet endroit spécial où je partage des choses avec vous m'a vraiment manqué. Ce "retour" est peut-être un peu lent et je ne vais sans doute pas pouvoir faire des posts de façon quotidienne, mais je vous promets que je vais faire tout mon possible pour rendre ce blog encore plus spécial...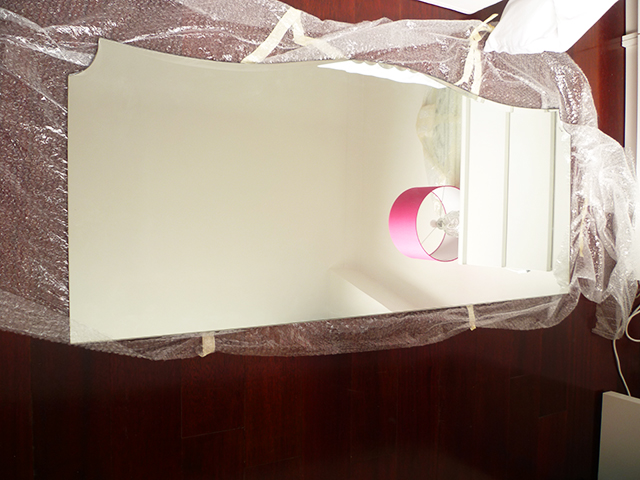 And to begin, today I would like to share a project I made a few months ago. If you remember My Treasure Hunt, I found a lovely mirror that I wanted to use as a headboard, so I did. You can see the mirror on the picture above, it had the perfect shape, measurements and price obviously as it was second hand!
Et pour commencer, je voudrais aujourd'hui partager avec vous un projet que j'ai réalisé il y a quelques mois de cela. Si vous vous souvenez de "Ma Chasse au Trésor", j'avais trouvé un joli miroir que je voulais utilisé en guise de tête de lit, alors je l'ai fait. Vous pouvez voir le miroir en question sur la photo du dessus, il était parfait pour sa forme, ses dimensions et son prix bien évidemment puisqu'il s'agit d'un objet d'occasion.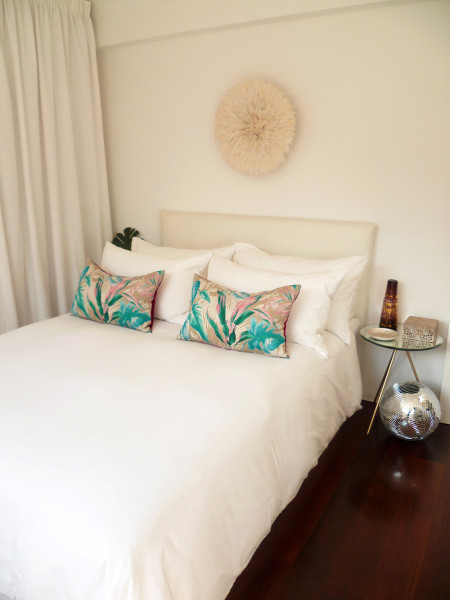 Here above is a picture of the bedroom before with a white tufted headboard that I made something like eight years ago. So yes, it was definitely time to change it! Anyway, this project isn't hard but just a bit long because of the drying times. And here is how I did it:
Voici une photo de la chambre avant avec une tête de lit capitonnée blanche que j'avais fait il y a environ huit ans de cela. Il était donc grand temps de la changer ! Quoiqu'il en soit, ce projet n'est pas difficile mais juste un peu long à cause des temps de séchage. Et voilà comment j'ai procédé :


I couldn't have attached the mirror directly on the wall as it would have been too fragile and probably would have broken as soon as someone rested on it. So I needed a wooden board for the base of the headboard to strengthen the mirror. I recycled the old headboard I had, I always do this when I can because, first of all it's green and secondly you save money. Here I just had to remove all the foam, staples, fabric and voila!
Je ne pouvais pas accroché directement le miroir sur le mur car il aurait été trop fragile et ce serait probablement brisé si quelqu'un s'était appuyé dessus. Il me fallait donc une planche de bois pour la base de la tête de lit afin de renforcer le miroir. J'ai réutilisé l'ancienne tête de lit, je fais toujours cela quand j'en ai la possibilité car non seulement c'est écolo mais en plus vous économisez de l'argent. Ici, j'ai juste dû retirer la mousse, les agrafes, le tissu et voilà !


After, I put primer on the board for better adhesion and I let it dry over night.
Ensuite, j'ai appliqué une sous-couche pour une meilleure adhérence et j'ai laissé sécher toute la nuit.


I used the mirror as a template and drew the shape on the board. Then I cut the board using a jigsaw.
J'ai utilisé le miroir comme gabarit pour le tracé sur la planche. J'ai ensuite découpé ma planche à l'aide d'une scie sauteuse.


To fix the mirror onto the board I used a mirror mate which is a specific glue that doesn't damage the back of the mirror and provides a strong hold. After placing the mirror on the base I put some clips to hold it in place and once again allowed it to dry over night.
Pour fixer le miroir sur la planche j'ai utilisé une colle spéciale miroir qui n'abîme pas l'envers du miroir et permet un collage puissant. Après avoir positionné le miroir sur la base j'ai mis des serre-joints afin qu'il reste bien en place et j'ai de nouveau laissé sécher toute la nuit.


To add even more strength I nailed wooden planks. One directly beneath the mirror to add support. And two smaller wooden planks, one on either sides. Then I drilled six holes on the board so that I could fix the headboard later on the wall (two on each side and two in the middle).
Pour encore plus de sécurité j'ai également cloué des tasseaux de bois. Un juste en dessous du miroir pour renforcer le maintien. Et deux autre tasseaux plus petits, un de chaque côté. J'ai ensuite percé six trous sur la planche afin de pouvoir par la suite fixer la tête de lit au mur (deux de chaque côté et deux au milieu).


To give this headboard a stylish touch, I put some bright pink velvet fabric that remained from my Kate Spade stool. I simply attached it using double side tape. I also put matching color velvet ribbon on the wooden planks and all around the edge of the headboard to hide the mirror and wooden board. Of course you can attach the fabric using glue or staples but what I like about using double side tape is that the fabric is easy to remove and change as soon as you want to swap for a new palette of colours in your room, things that I often do.
Pour ajouter un peu de glamour à cette tête de lit, j'ai mis du velours rose fuschia qui me restait de mon tabouret Kate Spade. Je l'ai simplement posé avec de l'adhésif double-face. J'ai également mis du ruban de velours de la même couleur sur les taseeaux de bois et sur le pourtour de la tête de lit pour cacher le miroir et la planche de bois. Bien entendu, vous pouvez mettre le tissu en utilisant de la colle ou en l'agrafant mais ce que j'aime avec le scotch double-face c'est la facilité avec laquelle on peut retirer et changer le tissu dés que l'on a une envie de changement de couleur dans une pièce, chose qui m'arrive très souvent.


Finally I screwed my new headboard on the wall using screws with brass color screw covers obviously!
Pour finir, j'ai vissé ma nouvelle tête de lit sur le mur en utilisant des vis munies de cache-vis de couleur or bien évidemment !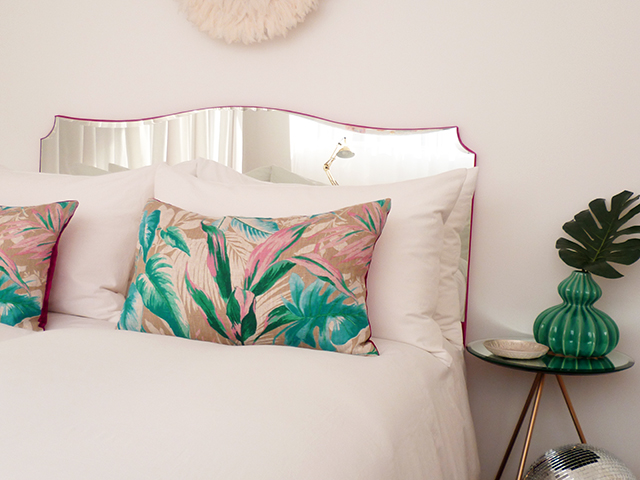 And voila! A beautiful and unique mirror headboard that doesn't cost the world!
Et voilà ! Une belle tête de lit miroir unique qui ne coûte pas cher !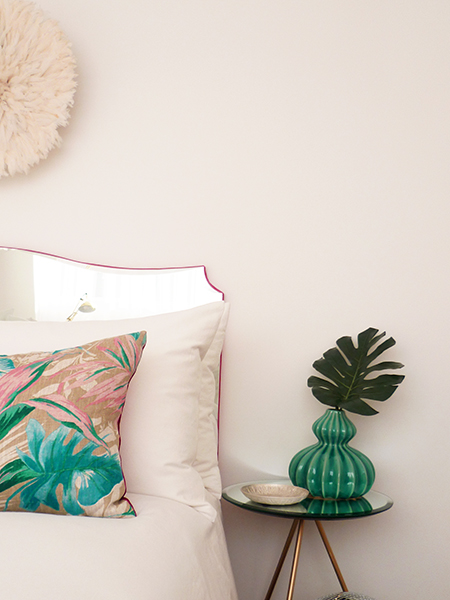 Now you only have to find the right mirror and make your own one. Because always remember that if I can do it you can do it too.
Maintenant il ne vous reste plus qu'à trouvé vous aussi le bon miroir pour faire la vôtre. Car n'oubliez jamais que si je peux le faire, vous pouvez le faire aussi.