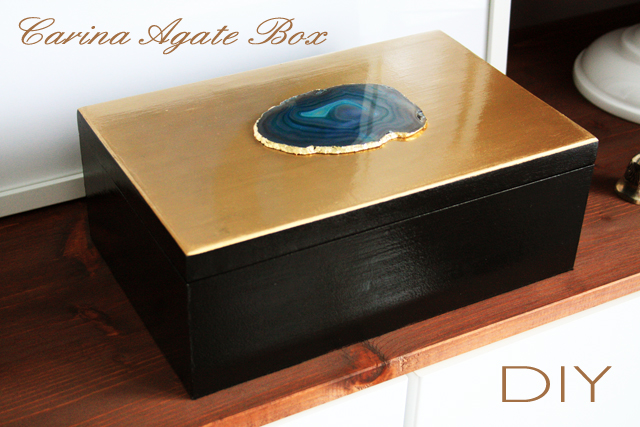 Bonjour to all of you dear readers! After being away for several days, I decided to make you a little surprise for my return ... So here is this DIY which I hope you will enjoy!
Bonjour à vous tous chers lecteurs ! Après avoir été absente plusieurs jours, j'ai pensé à vous préparer une petite surprise pour mon retour... Alors voici ce DIY qui j'espère vous plaira... !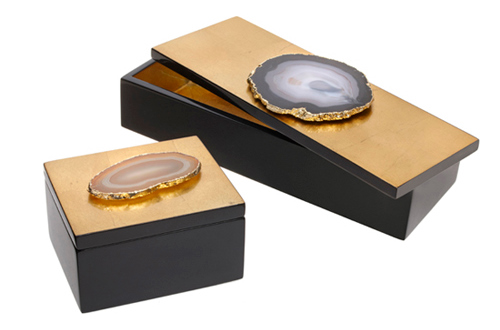 Those who know me a little or who have read my "Guest Post" on Mimosa Lane, know that I am a lover of boxes! So how could I resist these gorgeous boxes I've seen repeatedly on many websites and which are also on many bloggers' wish list ... It comes to these very beautiful black and gold wooden boxes adorned with an agate slice, that you can see on the picture just above. The only problem is that this "Carina Box" exists only in two small sizes and the price is, let's be honest, a bit expensive ...
Ceux qui me connaissent un peu ou qui ont lu mon "Guest Post" sur Mimosa Lane, savent que je suis une amoureuse des boîtes ! Alors, comment aurais-je pu résister à ces magnifiques boîtes que j'ai vu à plusieurs reprises sur de nombreux sites et qui sont d'ailleurs sur la wish list de nombreuses blogueuses... Il s'agit de ces très belles boîtes en bois de couleurs noire et or, ornées d'une tranche d'agate, que l'on peut voir sur la photo juste au-dessus. Le seul petit problème est que cette "Carina Box" n'existe qu'en deux tailles très petites et que le prix est, soyons honnête, un peu cher...


So I thought a DIY to create your own "Carina Box" was needed. To do this, you need of course a wooden box and a slice of agate. The great thing is that you are free to choose the size of this "Pandora's Box" and as you can see in my first picture, the one I made is fairly large as I use it to put my candles. For the slice of agate, you should easily find it online but you can also use agate coasters.
J'ai donc pensé qu'un DIY pour créer sa propre "Carina Box" s'imposait. Pour cela, il vous faut bien entendu tout d'abord une boîte en bois et une tranche d'agate. L'avantage est que vous êtes libre de choisir la taille de cette "Boîte de Pandore" et comme vous pouvez le voir sur ma première photo, celle que j'ai faite est assez grande puisque je l'utilise pour y mettre mes bougies. Pour la tranche d'agate, vous devriez en trouver facilement sur internet mais vous pouvez également utiliser des dessous de verre en agate.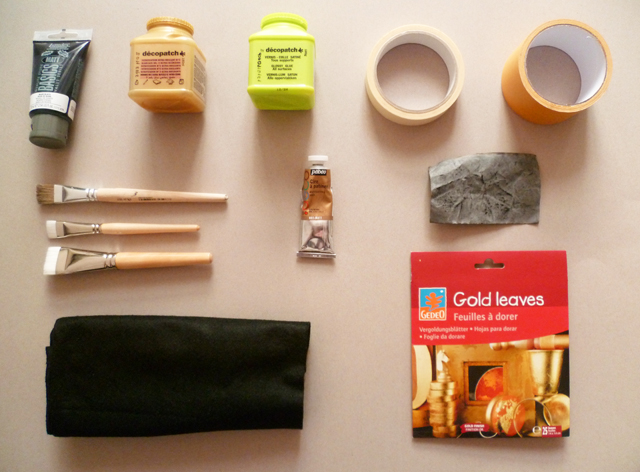 You will need:
Acrylic black paint
High gloss varnish
Mod podge
Masking tape
Double sided tape
Paintbrushes
Gilding wax to gild and patinate
Extra fine sandpaper
Black felt
Gold leaves
Transparent glue
Pour le matériel il vous faut :
Peinture noire acrylique
Vernis ultra brillant vitrificateur
Vernis colle
Ruban de masquage
Adhésif double face
Pinceaux
Cire à patiner dorée
Papier à poncer extra fin
Feutrine noire
Feuilles d'or
Colle transparente


Lightly sand your wooden box to make it perfectly smooth. Clean with a damp cloth and paint it entirely with black paint. Sand again slightly and put a second coat of black paint for a perfect finish.
Poncer très légèrement votre boîte en bois pour qu'elle soit parfaitement lisse. La nettoyer à l'aide d'un chiffon humide et la peindre entièrement avec la peinture noire. Poncer de nouveau très légèrement puis passer une deuxième couche de peinture noire pour avoir une finition parfaite.


Put the masking tape around the edge of the lid and the upper contour of the other part of the box to delineate the area to be covered by gold. Then simply using a brush, or if you prefer a soft cloth, cover the inside of the box and the top of the lid with the golden patinating wax. Once the wax has dried, you can apply the high gloss varnish with a brush. You need two to three coats of varnish to get a very shiny result with nice reflections.
Poser le ruban de masquage sur le contour du couvercle et sur le contour supérieur de l'autre partie de la boîte pour délimiter la surface à recouvrir de doré. Ensuite simplement à l'aide d'un pinceau, ou si vous préférez d'un chiffon, recouvrez l'intérieur de la boîte ainsi que le dessus du couvercle de cire à patiner dorée. Une fois la cire bien sèche, vous pouvez appliquer au pinceau le vernis ultra brillant. Pour avoir un résultat très brillant et de jolis reflets, il faut passer deux à trois couches de vernis.


Next, I put double sided tape on the bottom of the box. I cut a piece of black felt to the size of the box that I pasted. If you do not have double-sided tape to stick the felt, you can use any glue. Note that this step is optional but I think it gives a nice finish to the box, so you can place it and move it smoothly over your furniture.
Ensuite, j'ai mis de l'adhésif double face sur le dessous de la boîte. J'ai découpé un morceau de feutrine noire de la taille de la boîte que j'ai collé. Si vous n'avez pas d'adhésif double face pour coller la feutrine, vous pouvez très bien utiliser de la colle. Sachez que cette étape est facultative mais je trouve que cela donne une belle finition à la boîte, vous pourrez ainsi la poser et la déplacer tout en douceur sur vos meubles.


For the agate slice, I just put some mod podge over the entire contour. I then gently put a gold leaf on it to get the outlined in gold. Finally, you just have to stick your slice of agate on your box with a transparent glue.
Pour la tranche d'agate, j'ai simplement mis un peu de vernis colle sur tout le contour. J'ai ensuite délicatement déposé de la feuille d'or sur le vernis colle pour obtenir ce contour doré. Il ne vous reste plus qu'à coller votre tranche d'agate sur votre boîte à l'aide d'une colle transparente.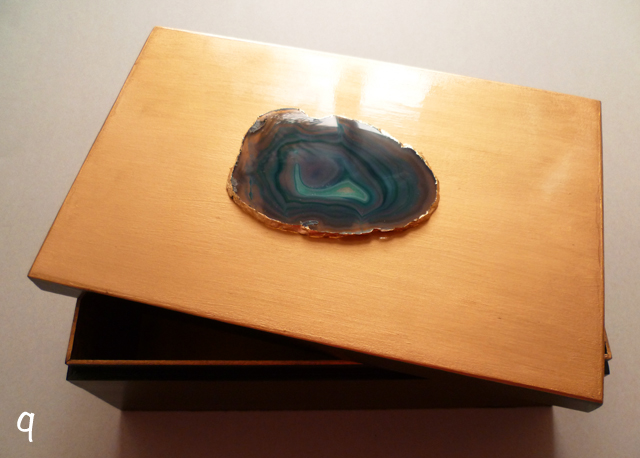 And here is the final result: a lovely Carina agate box to DIY! So, what do you think?
Et voilà le résultat final : une jolie boîte avec sa tranche d'agate à faire soi-même ! Alors, qu'en pensez-vous ?

Image source Carina Box (picture n°2)