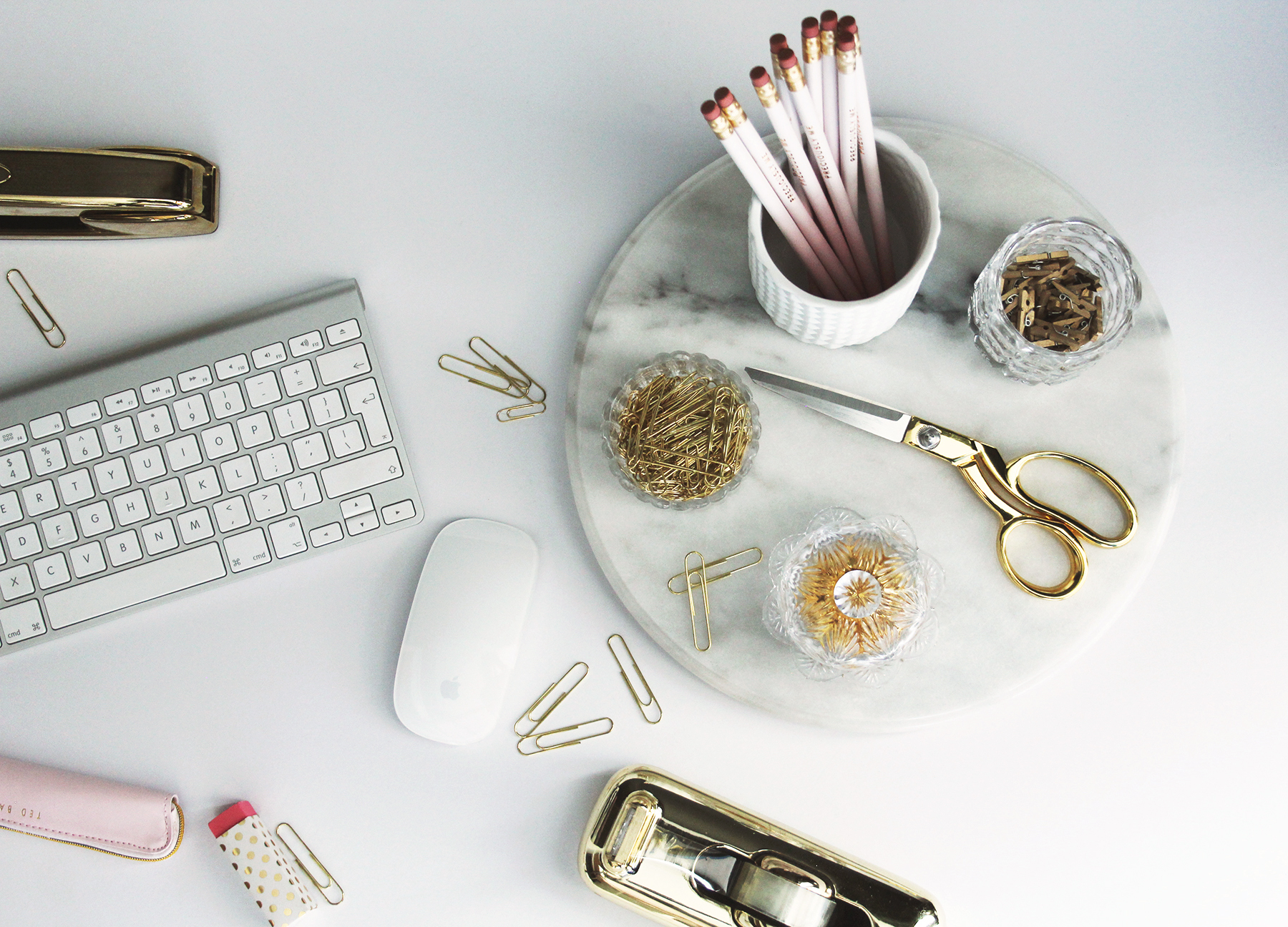 Now that I have an office space at home, I finally can display again all my lovely desk accessories!
Maintenant que j'ai un espace de travail à la maison, je peux enfin exposer de nouveau mes jolis accessoires de bureau !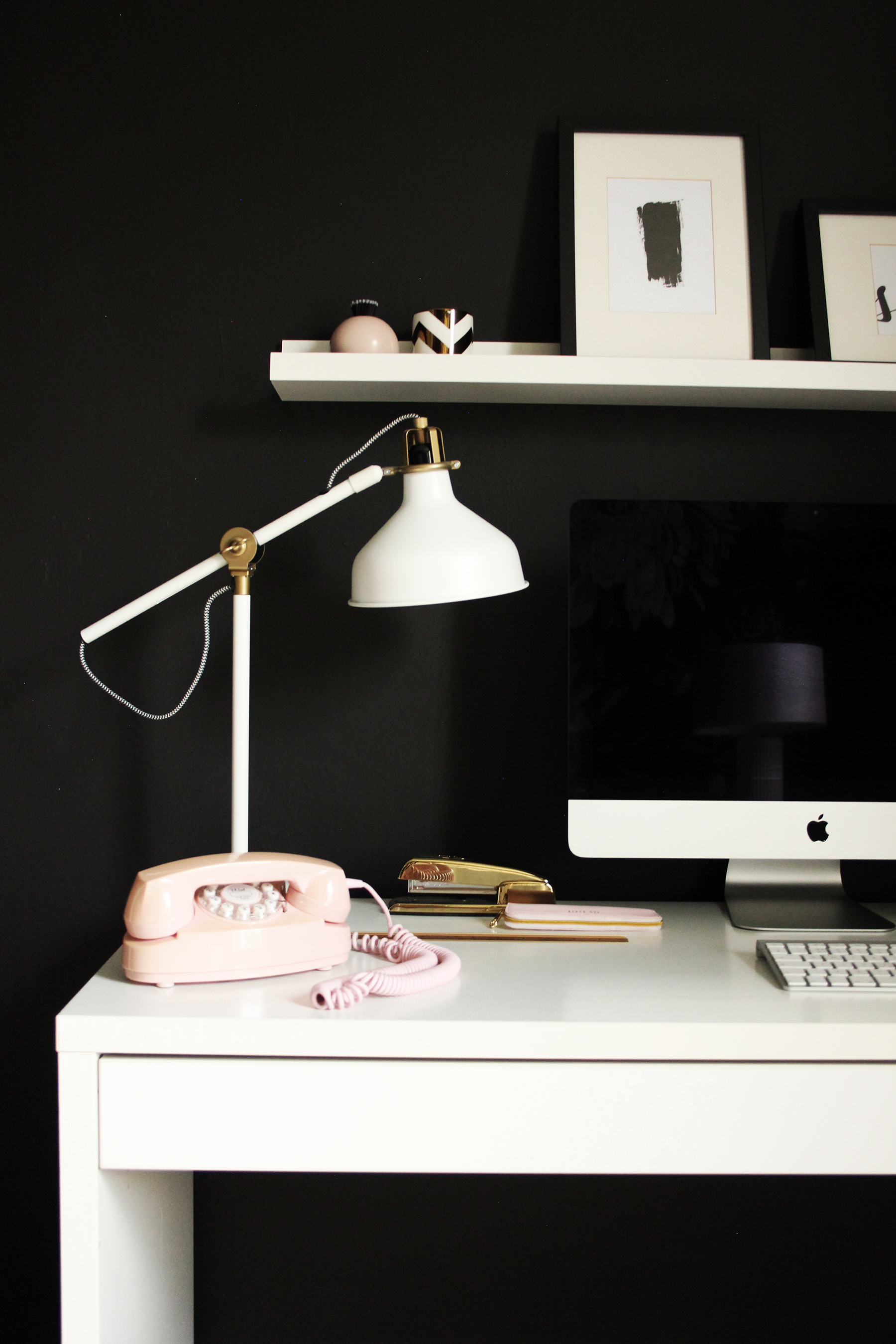 It's weird, but if there is something my friends often ask me when they come home is: where did you get your desk accessories from? And my answer is, not all my desk accessories are really desk accessories. Well, I guess it's not a surprise that I like pretty things. And therefore, I also want my working space to look pretty! So I bought a beautiful brass stapler, a nice vintage tape dispenser and a pretty pink retro style phone.
C'est bizarre, mais s'il y a une chose que mes amis me demandent souvent lorsqu'il viennent chez moi c'est: où as-tu trouvé tes accessoires de bureau ? Et ma réponse est que tous mes accessoires de bureau ne sont pas forcément des accessoires de bureau. Bon, ce n'est pas une surprise que j'aime les jolies chose. Et de ce fait, j'aime aussi avoir un espace de travail qui soit joli ! Alors j'ai acheté une belle agrafeuse dorée, un beau dévidoir de ruban adhésif vintage et un joli téléphone rose au style rétro.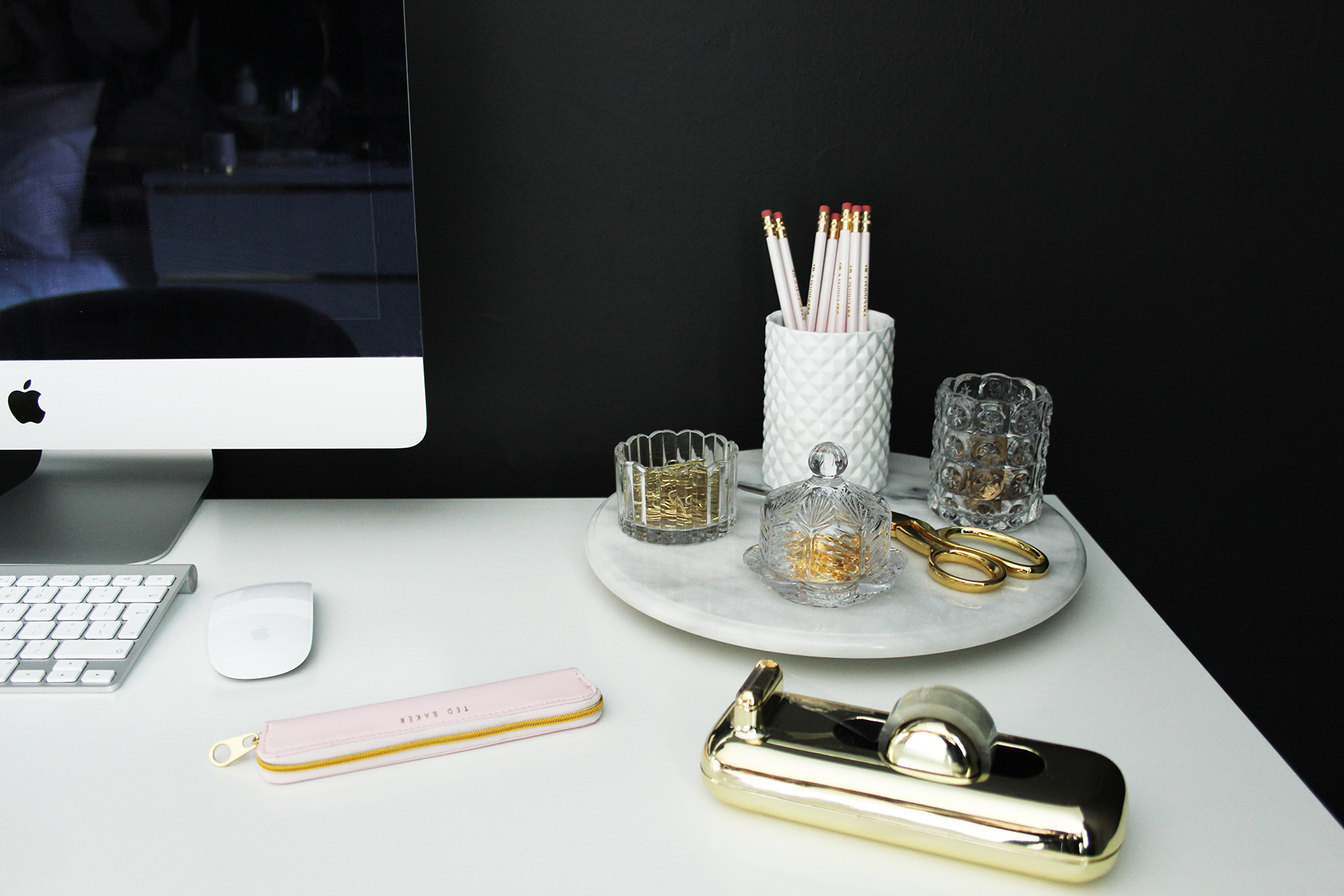 Then, I also have all those other things that I always use when I work like pencils, paper for notes, pins, paper clips...
I like to have everything at my fingertips and so that my desk stays neat and tidy, I put all these small things in different containers. This also helps me to be more organised and save time when I have to spend hours behind the keyboard.
Now I am going to show you a little secret, or better my unexpected desk accessories! Because as I said before, not all the things on my desk are normally meant to be on a desk.
Ensuite, j'ai aussi toutes ces autres choses que j'utilise toujours quand je travaille comme des crayons, des feuilles pour mes notes, des punaises, des trombones...
J'aime avoir tout à portée de main et pour que mon bureau reste propre et net, je mets toutes ces petites choses dans différents contenants. Cela m'aide aussi à être mieux organisée et à gagner du temps lorsque je dois passer des heures derrière mon écran.
Maintenant je vais vous montrer un petit secret, ou plutôt mes accessoires de bureau inattendus ! Car comme je l'ai déjà dit, tout ce qui est sur mon bureau n'est pas forcément censé être sur un bureau.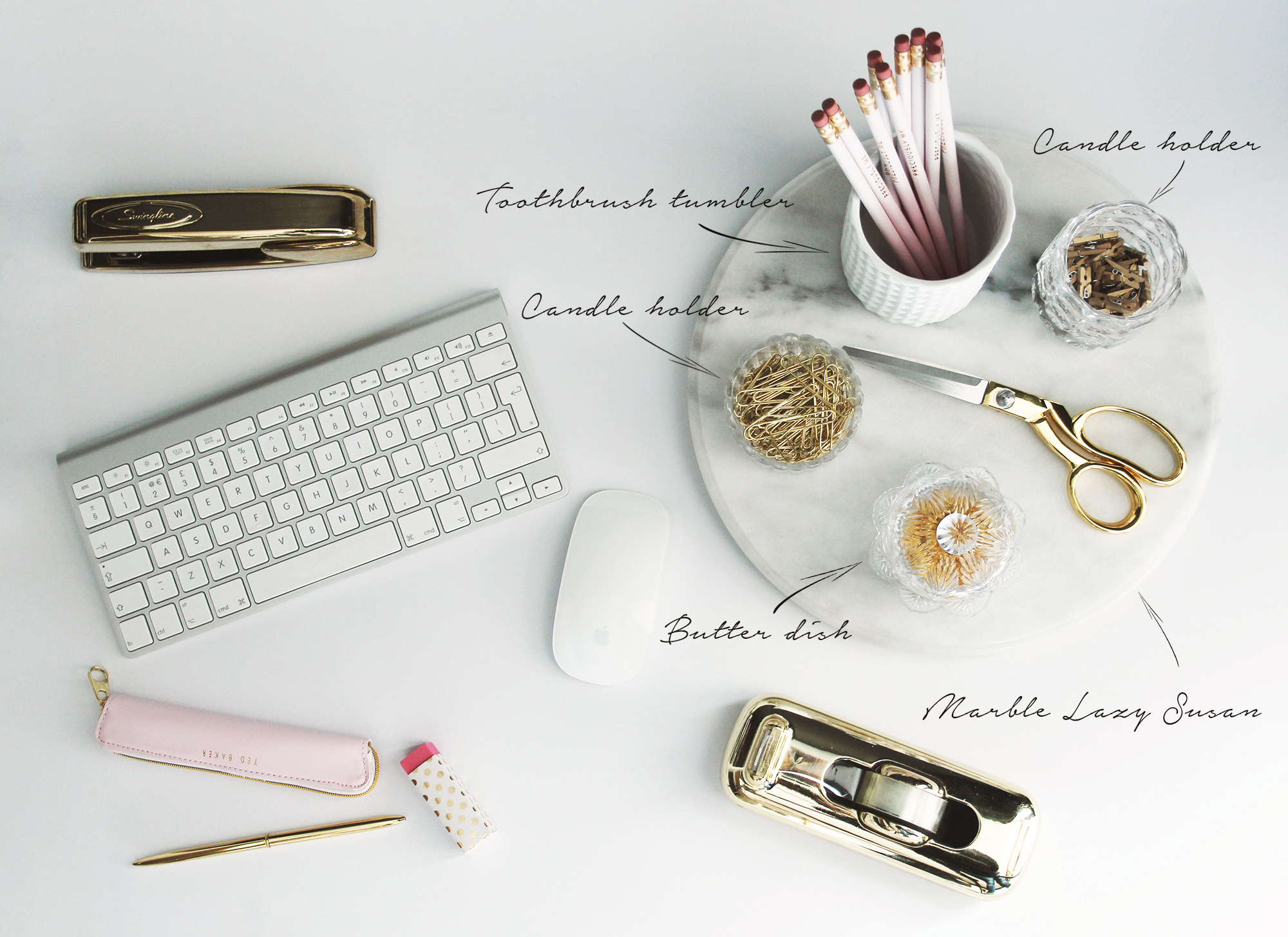 So if we look closely, here are things that you can see on my desk:
- A toothbrush tumbler to put my pencils in
- A small butter dish for the pins
- Tea light holders to put my paper clips and mini pegs
- A marble cheese board or Lazy Susan to reach everything easily
Alors si l'on y regarde d'un peu plus près, voici des choses que l'on peut voir sur mon bureau :
- Un porte brosse à dents pour y mettre mes crayons
- Un petit beurrier pour les punaises
- Des photophores pour ranger mes trombones et petits épingles
- Un plateau à fromage tournant en marbre pour tout attraper plus facilement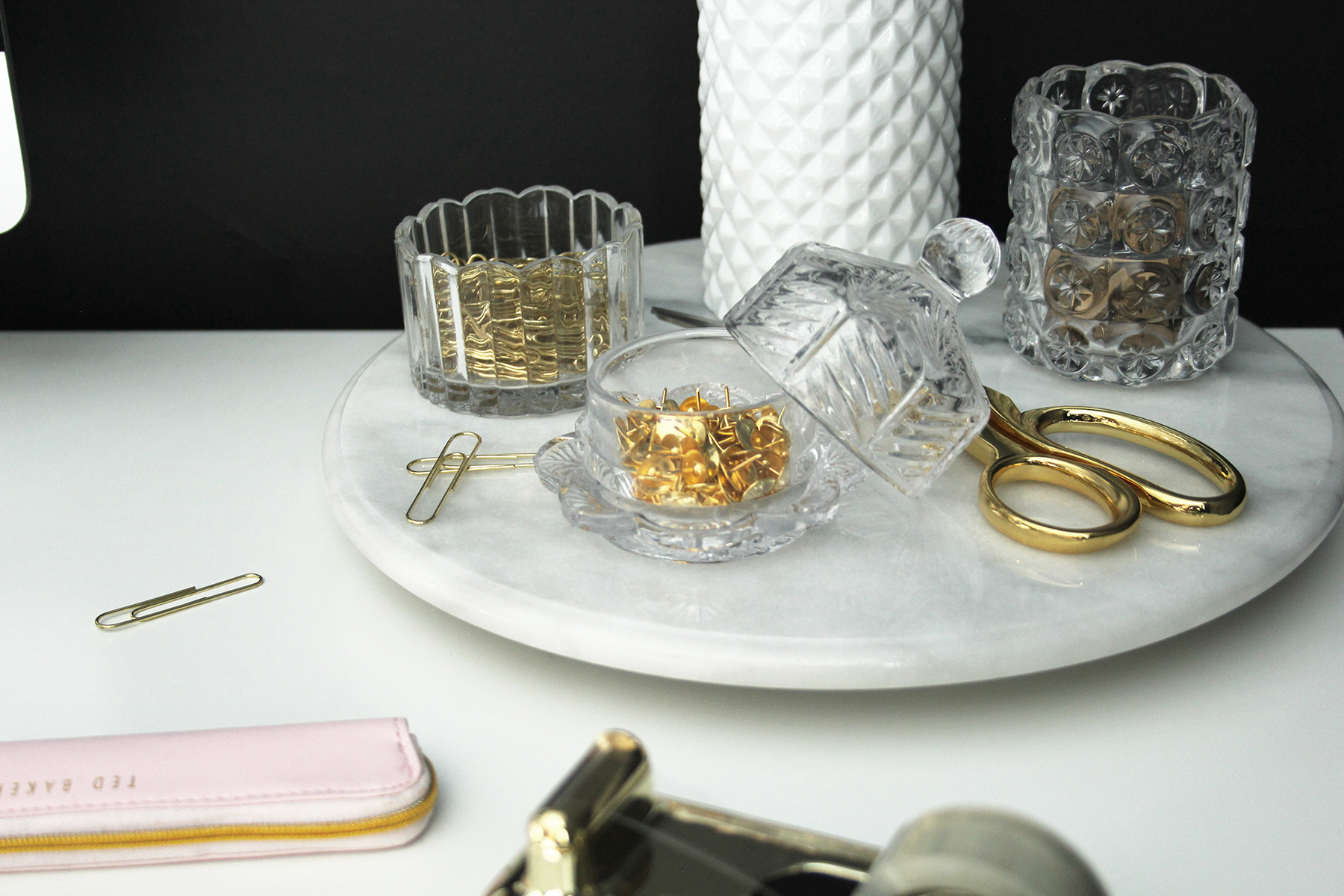 There are many other objects you could overturn and have on your desk, like for example using a toast rack to sort your mail or an ashtray to put the small things. Just try to take any item of everyday life and imagine a different use for it. You will see that there are no limits to those unexpected desk accessories.
Il y a beaucoup d'autres choses que l'on peut détourner et utiliser sur un bureau, comme par exemple un porte toast pour trier son courrier ou un cendrier pour y mettre les petites choses. Il suffit de prendre n'importe quel objet de la vie quotidienne et d'imaginer un autre façon de l'utiliser. Vous verrez qu'il n'y a pas de limite à ces accessoires de bureau inattendus.

And what about you? Do you already use "non conventional" accessories on your desk? If so, tell  me what they are I am curious to know.
Et vous alors, utilisez-vous déjà des accessoires "non conventionnels" sur votre bureau ? Si oui, dites- moi lesquels je suis curieuse de savoir.