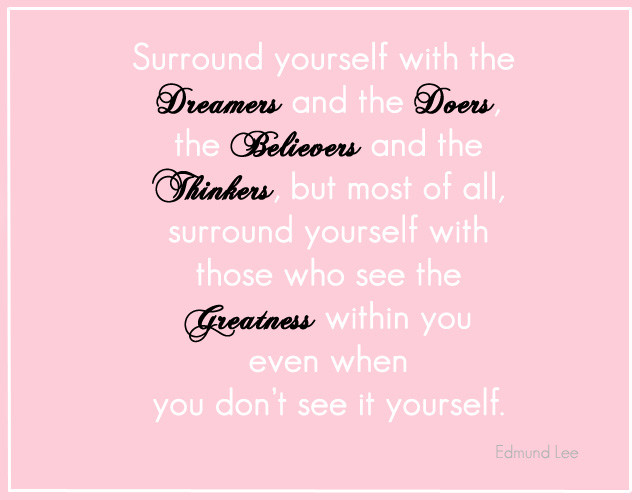 "Surround yourself with the dreamers and the doers, the believers and the thinkers, but most of all, surround yourself with those who see the greatness within you, even when you don't see it yourself"
"Entourez-vous des rêveurs et des faiseurs, des croyants et des penseurs, mais surtout, entourez-vous de ceux qui voient la grandeur en vous, même si vous ne la voyez pas vous-même"
We often forget how important it is to be surrounded by people who are worth it, people who know your true value. Those people who help you go forward, that will always be there for you no matter what happens and that remind you how you are worth it too ... I am lucky to have in my circle of friends such persons. Since I returned from Milan last Sunday, I'm in bed with the flu. And this is in moments like this one when these people are so valuable because they ask after you, bring you food to eat, help you get well ...
Then you also find the dreamers and doers who will help you realize your dreams, believers and thinkers who will always find what to say to cheer you up, surround yourself with those who will see you as you really are.
On oublie souvent à quel point il est important d'être entouré de gens qui en valent la peine, de personnes qui connaissent votre vraie valeur. Ces personnes qui vous aident à aller de l'avant, qui seront toujours là pour vous quoiqu'il arrive et qui vous rappellent à quel point vous aussi vous en valez la peine... J'ai la chance d'avoir dans mon entourage des amis qui sont tout cela à la fois. Depuis mon retour de Milan dimanche dernier, je suis au lit avec la grippe. Et c'est dans des moments tels que celui-ci que ces personnes sont si précieuses, elles demandent de vos nouvelles, vous apportent de quoi manger, vous aident à aller mieux...
Alors vous aussi trouvez ces rêveurs et faiseurs qui vous aideront à réaliser vos rêves, ces croyants et penseurs qui trouveront toujours quoi dire pour vous remonter le moral, entourez vous de ceux vous aideront à vous voir tel que vous êtes vraiment.