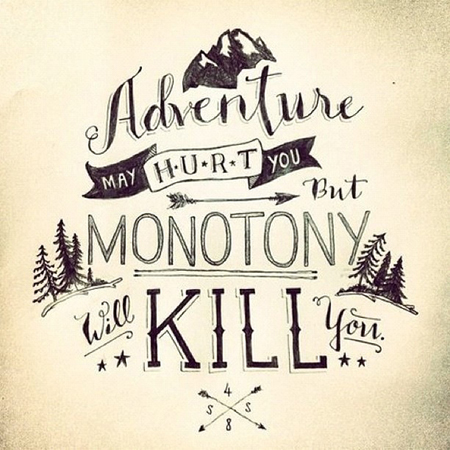 "Adventure may hurt you but monotony will kill you"
"L'aventure te fera peut-être du mal mais la monotonie te tuera"
It is true that change can be scary. Just like to take risks maybe for a better life or simply to do what you love, live your dreams ... But I think all this should not stop you, quite the contrary. Changes or decision making are sometimes essential for moving forward because otherwise you remain in a congealed life that does not sit well with you. You stay in the monotony of your "comfort zone" for fear of the unknown, of the adventure. But what is worse than having regrets because you have not dared to try something ...? We all have our fears but whatever they are go ahead, overcome them and go on an adventure! Live the life you have chosen, because even if sometimes it will seem difficult you won't have any regret. Your life will be hectic, exciting and new!
Il est vrai que le changement peut faire peur. Tout comme prendre des risques pour peut-être avoir une vie meilleure ou tout simplement faire ce que l'on aime, vivre ses rêves... Mais je pense que tout cela ne doit pas nous arrêter bien au contraire. Des changements ou des prises de décision sont parfois essentielles pour pouvoir aller de l'avant car sans cela on reste dans une vie figée qui souvent ne nous correspond pas. On reste dans la monotonie de notre "zone de confort" par peur de l'inconnu, de l'aventure. Mais qu'y a-t-il de pire que d'avoir des regrets car l'on a pas osé tenter une chose... ? Nous avons tous nos peurs mais quelles qu'elles soient allez de l'avant, surmontez-les et partez à l'aventure ! Vivez la vie que vous avez choisi car même si cela vous semblera difficile par moment, vous n'aurez pas de regret. Votre vie sera trépidante, excitante et pleine de nouveautés !


Image source Sunny Side of Gray