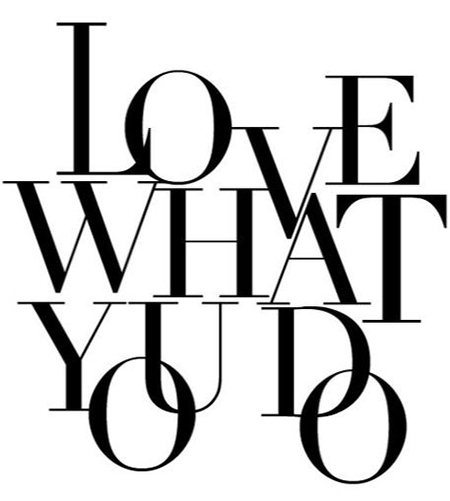 "Love what you do"
"Aimez ce que vous faites"
A simple short sentence that could be a real way of life. Because unfortunately not everyone can love what he does or do what he loves. Today between work-life obligations, you almost forget to appreciate what you do and you are often led to do things you do not really like or even hate ... While loving what you do has no price! It is even essential if you do not want to get lost along the way, if you want to stay true to yourself, if you simply want to keep on smiling and enjoying every day. It is true that it is sometimes hard and scary to make changes in your life and this ideal may even seem out of reach. But I think that taking the risk of doing something you love really worth it! Because live the life we chose and love what we do is deep down everyone's dream. So love what you do!
Une petite phrase simple qui pourrait être un vrai mode vie. Car aimer ce que l'on fait ou faire ce que l'on aime n'est malheureusement pas donné à tout le monde. Aujourd'hui entre le travail et les obligations de la vie, on oublie presque d'apprécier ce que l'on fait et l'on est souvent amené à faire des choses que l'on n'apprécie pas vraiment ou pas du tout... Alors qu'aimer ce que l'on fait n'a pas de prix ! C'est même essentiel si l'on ne veut pas se perdre en chemin, si l'on veut rester fidèle à soi-même, si l'on veut tout simplement continuer à sourire et à apprécier chaque jour. C'est vrai qu'il est parfois difficile et effrayant de faire des changements dans sa vie et cet idéal peut même sembler inaccessible. Mais je pense que prendre le risque de faire quelque chose que l'on aime en vaut vraiment la peine ! Car au fond, vivre la vie que l'on a choisi et aimer ce que l'on fait est le rêve de tout un chacun. Alors aimez ce que vous faites !

Image source Liquify