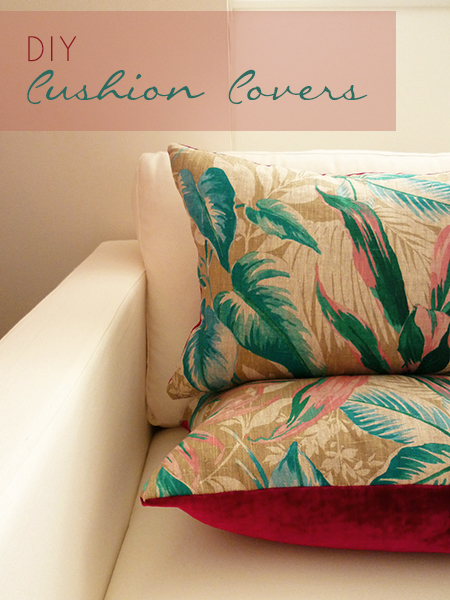 Are you ready for another DIY today ...? As I would like to show you how to make pretty cushion covers.
Etes-vous prêts pour un autre DIY aujourd'hui... ? Car je voudrais vous montrer comment faire de jolies housses de coussins.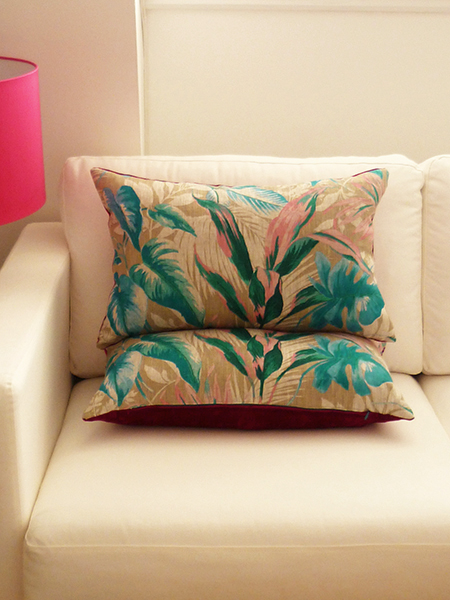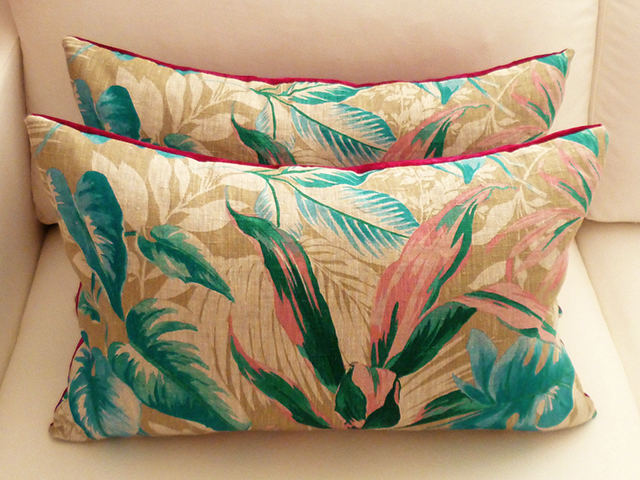 I love fabrics and I usually make my own cushion covers. I like to choose and mix fabrics, colors and textures, but above all I love the idea of having unique cushions. For those who have never tried to make cushion covers, this little DIY should help you and I hope also will make you want to do it. Believe me, no need to be an outstanding seamstress to sew nice cushion covers.
Je suis une amoureuse des tissus et j'ai pour habitude de faire mes propres housses de coussin. J'aime choisir et mélanger les tissus, les couleurs et les matières mais ce que j'aime avant tout c'est l'idée d'avoir des coussins uniques. Pour ceux qui ne se sont jamais lancés dans la confection de housses de coussin, ce petit DIY devrait vous aider et je l'espère vous encourager à le faire. Croyez-moi, pas besoin d'être une couturière hors pair pour coudre de belles housses de coussin.

First, choose the fabric of your future covers. Here I fell in love with this beautiful printed fabric, I like the leaf pattern and the combo of pink and turquoise. For the back of the cover I chose a magenta color silk velvet which gives a nice contrast. The purpose of this short tutorial is to make you want to sew your own cushion covers so read the following carefully if you are not used to sew. My number one recommendation for beginners, do not use silk velvet! It is a dream fabric, I love it for its softness and reflections but believe me it will quickly become your worst nightmare in sewing. It is quite difficult to sew because it's very fluid and it glides. So instead the best thing is to start with fabrics that are easier to sew like cotton for example.
Tout d'abord, choisissez le tissu de vos futurs housses. J'ai ici eu un coup de coeur pour ce beau tissu imprimé car j'aime ce motif de feuilles et l'association de rose et turquoise. Pour le dos de la housse, j'ai choisi un velours de soie de couleur magenta pour avoir un joli contraste. Le but de ce petit tutoriel est de vous donner envie de coudre vos propres housses de coussins alors lisez bien ce qui suit si vous n'êtes pas très à l'aise en couture. Ma recommandation numéro un pour les débutants, n'utilisez surtout pas de velours de soie ! C'est un tissu de rêve que l'on aime pour sa douceur et ses reflets mais croyez-moi il deviendra vite votre pire cauchemar en couture. Il est assez difficile à coudre puisqu'il est très fluide et qu'il glisse. Alors la meilleure chose à faire est de commencer plutôt avec des tissus plus faciles à coudre comme le coton par exemple.


Measure the cushion you want to cover. Personally I only use feather pillows because they always keep a beautiful shape but you can of course use all types of cushions. Cut two pieces of fabric to the dimensions of your cushion, one piece for each side of the cover. Small point about the sizes to be cut: here my pillow measurements are 38 cm by 59 cm and each one of my piece is also exactly 38 cm 59 cm. I did not add any margin to get firm and puffy cushions because the wider your cover will be, the more your cushion will be flat.
Prenez les dimensions du coussin que vous voulez recouvrir. Personnellement je n'utilise que des coussins en plumes car ils restent toujours bien rembourrés mais vous pouvez bien entendu utiliser tous types de coussins. Découpez deux morceaux de tissu aux dimensions de votre coussin, à savoir un morceau pour chaque face du coussin. Petite précision pour les dimensions à découper : ici mon coussin mesure 38 cm sur 59 cm et chacun de mes morceaux fait également exactement 38 cm sur 59 cm. Je n'ai pas ajouté de marge supplémentaire pour avoir des coussins bien fermes et gonflés car plus votre housse sera large, plus votre coussin sera plat.


You must first start by sewing the zipper of the cushion. I chose here an invisible zipper for a more 'professional' finish. Do not be afraid, nothing really tough here. If I can sew a zipper like this one, you can do it too! Here is this great tutorial from Vintage Revivals where everything is perfectly explained step by step about the easy way to sew a zipper. If you follow it you will arrive safely to do it and you will get what you see just above with a view of the face and back of the fabric with the invisible zipper.
Il faut tout d'abord commencer par coudre la fermeture du coussin. J'ai ici opté pour une fermeture à glissière invisible pour un résultat plus "professionnel". N'ayez pas peur car il n'y a vraiment rien de sorcier à mettre une fermeture à glissière comme celle-ci et si je peux le faire, vous pouvez également le faire ! Vous trouverez ici un super tuto de Vintage Revivals où tout est parfaitement expliqué pas à pas sur la façon facile de poser une fermeture éclair. En le suivant vous y arriverez sans problème et vous obtiendrez ce que vous voyez juste au-dessus avec une vue de la fermeture à glissière sur l'endroit et l'envers du tissu.


After sewing your zipper, put back your fabrics on each other as pictured above. Put pins all around your fabrics so they stay in place.
Après avoir posé votre fermeture éclair, remettez bien vos tissus l'un sur l'autre comme sur la photo ci-dessus. Mettez des épingles tout autour pour que vos tissus restent bien en place.


Now you only have to sew all around the fabric and of course remove the pins as you sew. Once you did this, the cover is complete and you can turn it right side out.
Il ne vous reste plus qu'à coudre tout le contour du tissu en veillant bien entendu à retirer les épingles au fur et à mesure. Une fois que vous avez fait cela, votre housse est terminée et vous n'avez plus qu'à la retourner.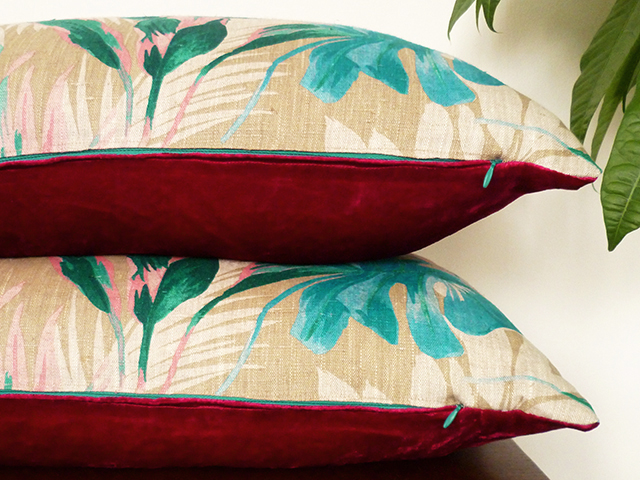 Put your new covers on and you now have lovely cushions!
Enfilez vos nouvelles housse et voilà de jolis coussins !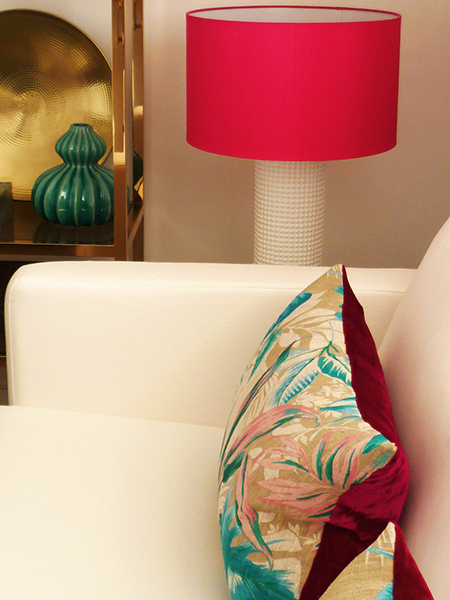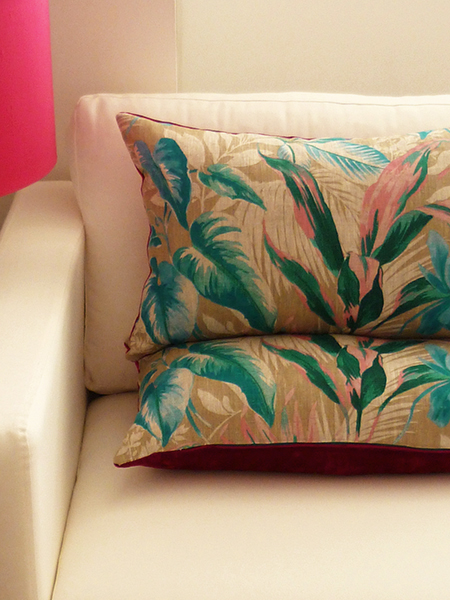 It will take a little time but I think the result is worth it. And as I said if I can do it, you can do it too!
Cela vous prendra un peu de temps mais je pense que le résultat en vaut vraiment la peine. Et comme je l'ai dit, si je peux le faire vous pouvez le faire aussi !