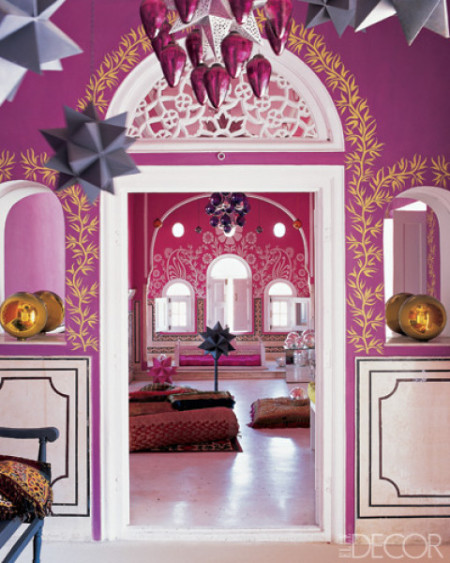 For my first real post of the year I absolutely wanted to brighten your day!
Pour ce premier vrai post de l'année, je tenais absolument à illuminer votre journée !

Some of you may have already seen these pictures as they date back to 2005. But for those who would not have seen here them here is a Indian interior with color, color and more color! Striking contrasts by moving from a room to another. Nothing better to bring cheerfulness during those sad days of winter. And yes, we do not all have the chance to live in the southern hemisphere ... For my part, now in Paris the weather is gray and cold. So I hope this Jaipur home, will help you to wait until sunny days. I love these bold and bright colors, the chandelier with mercury-glass, the decorative objects and wood carved furniture from local handicrafts.
Certains d'entre vous ont peut-être déjà vu ces photos puisqu'elles datent de 2005. Mais pour ceux qui ne les auraient pas vu, voici un intérieur indien avec de la couleur, de la couleur et encore de la couleur ! Des contrastes saisissant en passant d'une pièce à l'autre. Rien de mieux pour égailler ces tristes journées d'hiver. Et oui, nous n'avons pas tous la chance de pouvoir vivre dans l'hémisphère sud... Pour ma part, à Paris en ce moment le temps est gris et froid. Alors j'espère que cette maison située à Jaipur, vous aidera à patienter jusqu'aux beaux jours. J'aime ces couleurs osées et lumineuses, les chandeliers en verre mercurisé, les objets de décoration et meubles en bois sculpté provenant de l'artisanat local.

And if the spring is still too far for you, take a ride on the rooftop terrace, it will really do you good! Color and sun, could ask for more ...
Et si le printemps vous semblent encore trop loin, un petit tour sur la terrasse située sur le toit, vous fera le plus grand bien ! De la couleur et du soleil, que demander de plus...

Images source Elle Decor