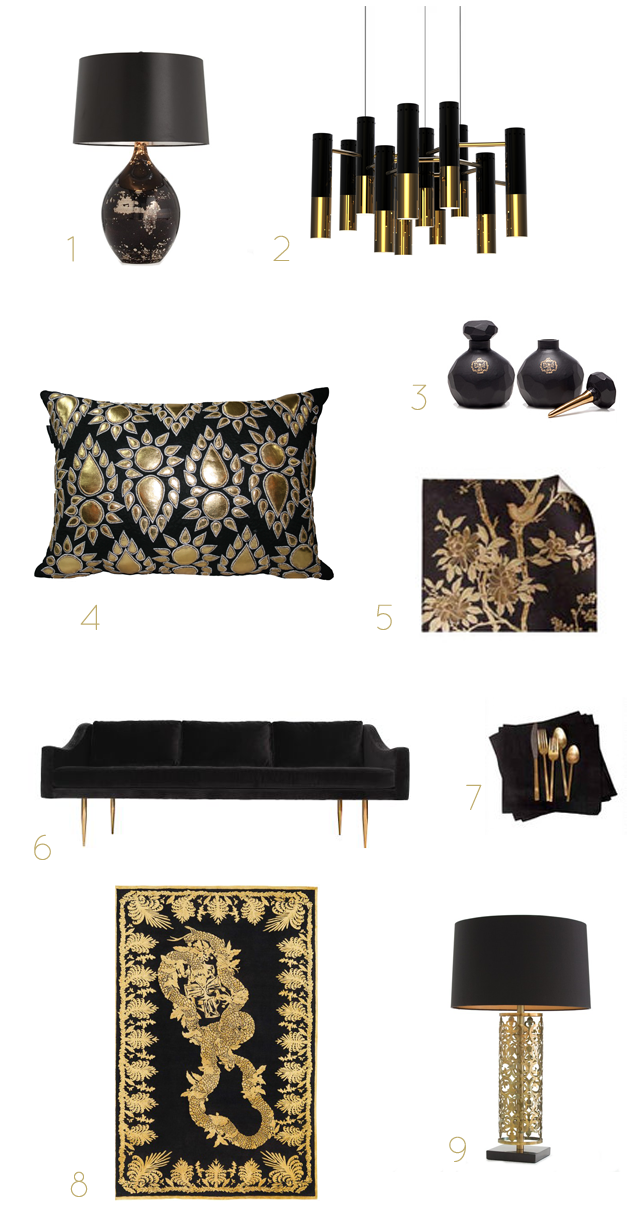 1 Flynn Black Reactive Glass Table Lamp / 2 Ike by Delightfull / 3 FvsS Composition No.6 Parfum by Joya: Beautyhabit / 4 Imperial Jewels Pillow in Black by Black Pepper Dessin: Anandamaya / 5 Marlowe Floral Wall Covering in Gilded Lacquer / 6 Florence B Sofa: Organic Modernism / 7 Gold Flatware Five-Piece Set: West Elm / 8 Military Brocade Rug by Alexander McQueen: The Rug Company / 9 Remsen Lamp
Hi, I hope you all had a great weekend! To start this new week, I wanted to talk about the black & gold trend in interior design, which I already mentioned on my blog just here a few weeks ago. Leafing through the latest Lonny mag issue, I saw that this trend has been in the spotlight with the presentation of many decorative accessories that brilliantly combine these two colors. For those who want to put a little chic and glamorous in their homes, you can see just above some of the precious objects that were presented. My favorite piece in the beautiful black velvet sofa with its elegant golden feet! Really gorgeous! For even more trendy accessories, take a look at the august issue of Lonny Mag right here.
Bonjour, j'espère que vous avez tous passé un bon week-end ! Pour commencer cette nouvelle semaine, je voulais parlé de la tendance noir & or en déco, que j'ai déjà évoqué sur mon blog il y a quelques semaines de cela juste ici. En feuilletant le dernier numéro de  Lonny mag, j'ai vu que cette nouvelle tendance a été mise à l'honneur avec la présentation de nombreux accessoires de décoration qui allient superbement ces deux couleurs. Pour ceux qui voudraient mettre un peu de chic et de glamour dans leurs intérieurs, vous pouvez voir juste au-dessus quelques uns des précieux objets qui ont été présentés. Ma pièce préférée est le magnifique sofa en velours noir avec ses élégants pieds dorés ! Vraiment superbe ! Pour encore plus d'accessoires tendance, jetez un oeil au numéro de Lonny Mag du mois d'août ici.

Images source Lonny Mag