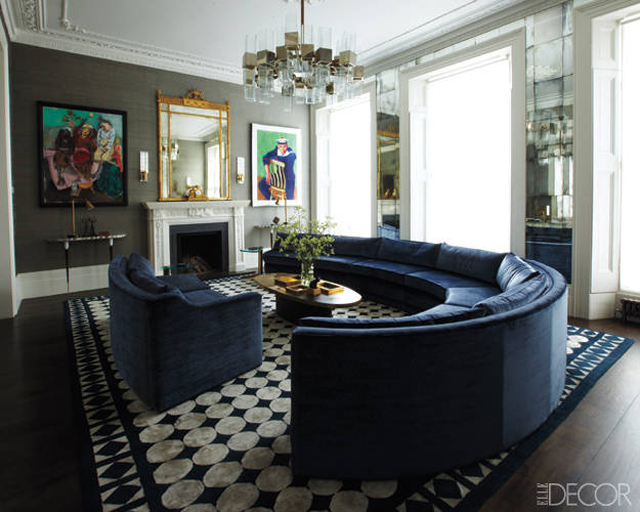 Hi everyone, hope you had a great weekend! For my first post of the week, I wanted to show you a striking interior.
Bonjour à tous, j'espère que vous avez passé un excellent week-end ! Pour mon premier article de la semaine, je tenais à vous présenter un superbe intérieur.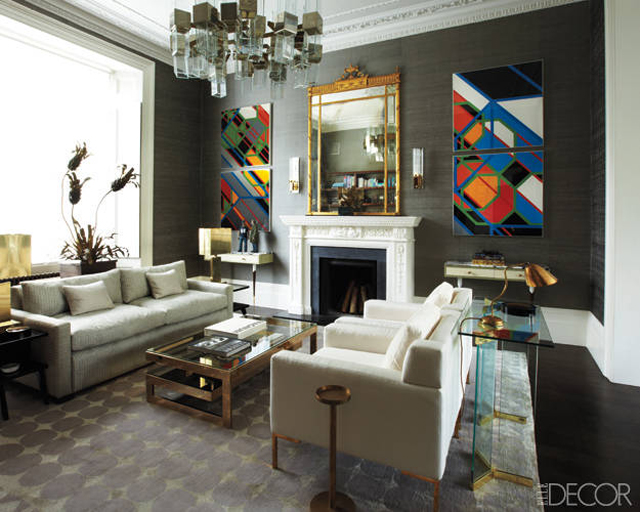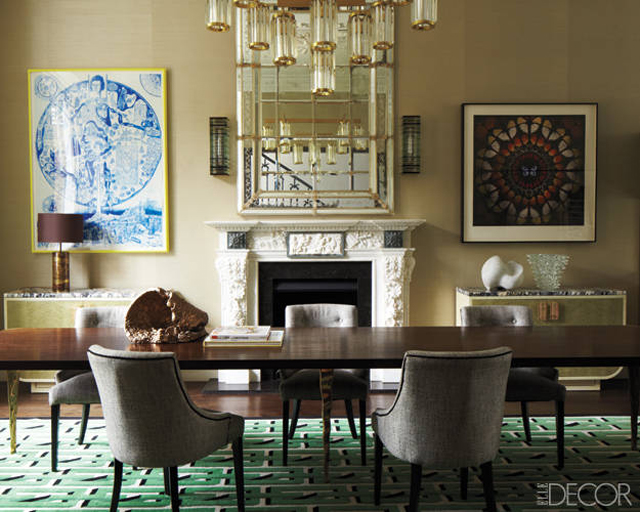 This is done with these photos of designer Peter Mikic London's house. I always find it very interesting to see where a decorator lives since being his own client one can give free rein to his desires, his tastes and inspiration. So here is Peter Mikic "ideal" home, the one he lives in. This interior is a mixture of old and modern elements. Contemporary prints on the wall, rugs with geometrical patterns, ancient mirrors, mid-century furniture as the coffee table just below, vintage pieces and many brass accessories.
C'est chose faite avec ces photos de la maison londonienne du décorateur Peter Mikic. Je trouve toujours cela très intéressant de voir dans quel espace un designer vit puisqu'en étant son propre client on peut laisser libre cours à nos envies, nos goûts et notre imagination. Voici donc la maison "idéale" de Peter Mikic, celle dans laquelle il vit. Cet intérieur est un mélange d'éléments d'époque et modernes. Des tableaux contemporains au mur, des tapis très graphiques, des miroirs anciens, des meubles des années 50 comme la table basse juste en-dessous, des pièces vintages et de nombreux accessoires dorés.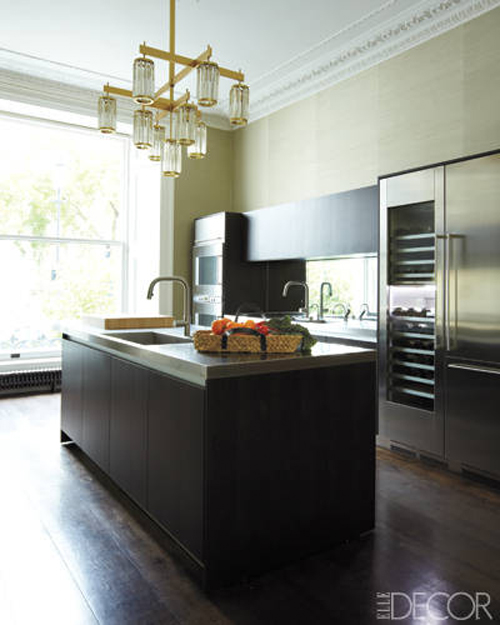 The kitchen's chandelier, identical to that in the dining room was custom made. Same for the table on the photo just below that is made to order but also many other objects of this house. All this gives a truly unique to this interior.
Le lustre de la cuisine, identique à celui de la salle à manger, a été fait sur mesure. Idem pour la table sur la photo juste en-dessous, qui est faite sur commande, mais également de nombreux autre objets de cette maison. Tout ceci donne un caractère vraiment unique à cet intérieur.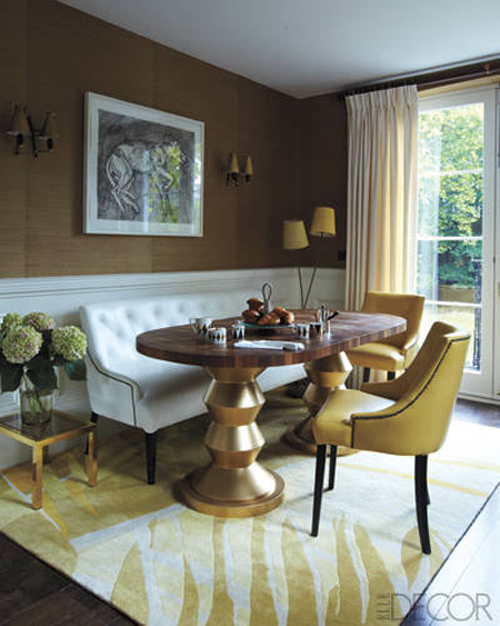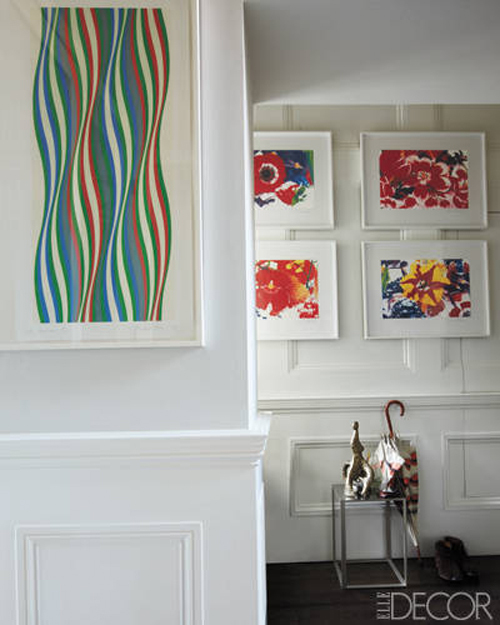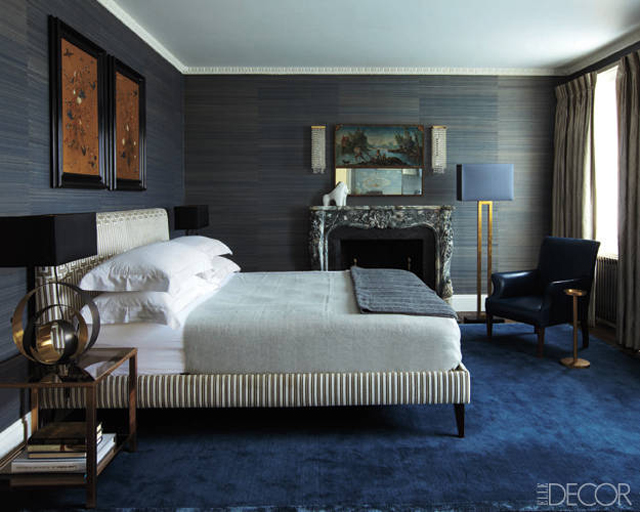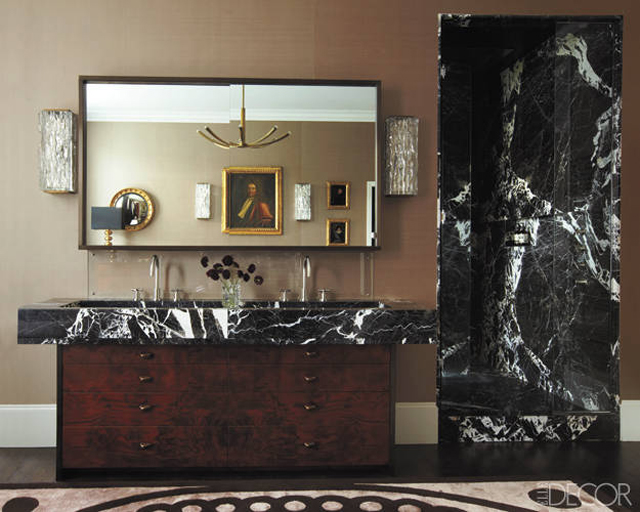 A real favorite for the bathroom. I love this beautiful black marble but what I love even more on the photo below is that this room does not look like a bathroom. A fireplace, a large carpet on the floor, a sofa, paintings, precious wooden furniture ... If there was not this tub under the windows we would never think of a bathroom.
Un vrai coup de coeur pour la salle de bain. J'aime ce magnifique marbre noir mais ce j'aime encore plus sur la photo du dessous c'est que cette pièce ne ressemble en rien à une salle de bain. Une cheminée, un grand tapis au sol, un divan, des peintures, des meubles en bois précieux... S'il n'y avait pas cette baignoire sous les fenêtres comment penser qu'il s'agit d'une pièce d'eau.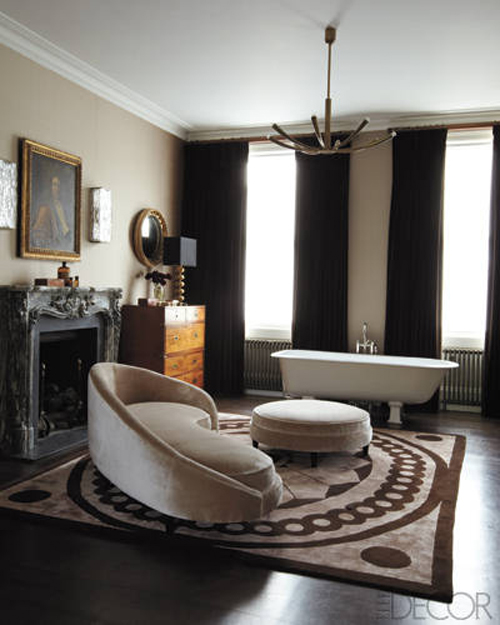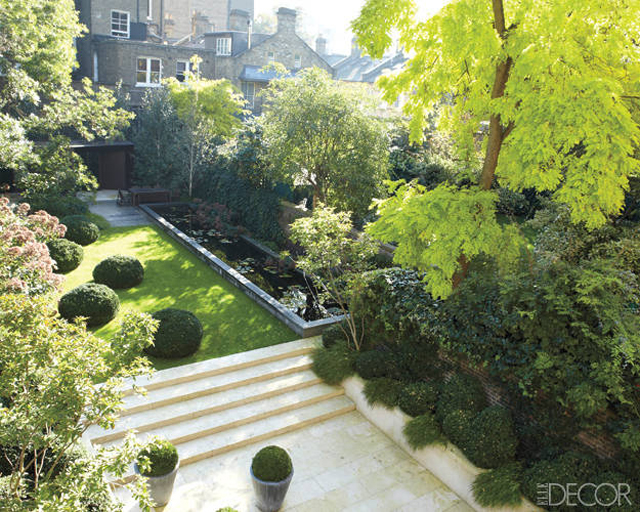 A home as one would like see more often.
Une maison comme on aimerait en voir plus souvent.


Images source Elle Decor