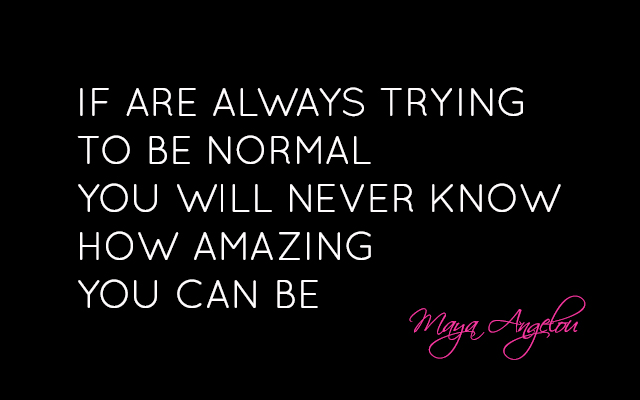 "If you are always trying to be normal you will never know how amazing you can be".
"Si vous essayez toujours d'être normal vous ne saurez jamais à quel point vous pouvez être incroyable".
This quote by Maya Angelou encourages us to be ourselves as we really are and not worrying about appearances and what others may think. Thus and only thus one can give the best of self and discover what one is capable of. Finally find the unique and amazing person that you are inside.
I hope this will inspire you...! Let yourself go and be amazing!
Cette citation de Maya Angelou nous pousse simplement à être nous même, tel que l'on est vraiment et ce sans se soucier des apparences et de ce que les autres peuvent bien penser. C'est ainsi et seulement ainsi que l'on peut donner le maximum de soi et découvrir ce dont on est capable. Trouver la personne unique et étonnante que l'on est à l'intérieur.
J'espère que cela vous inspirera...! Laissez-vous aller et soyez incroyable !