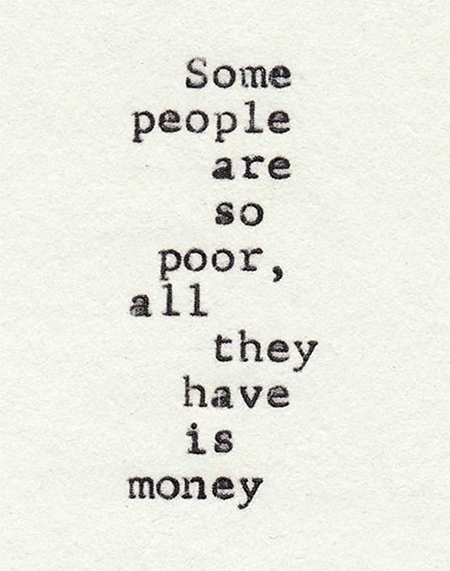 "Some people are so poor, all they have is money"
"Certaines personnes sont si pauvres, tout ce qu'elles ont c'est de l'argent"
A great reminder as the true richness is something you can't buy. You can buy houses, medicine or books but you can't buy a home, health or knowledge. And above all you can't buy happiness, love or faith. Only these things really matter and these things are priceless. You're not rich until you have something that money can't buy ... The real wealth is in you, so you're probably wealthier than you think.
Un beau rappel car la vraie richesse est quelque chose que l'on ne peut acheter. Vous pouvez acheter des maisons, des médicaments ou des livres mais vous ne pouvez pas acheter un foyer, la santé ou le savoir. Et surtout vous ne pouvez pas acheter le bonheur, l'amour ou la foi. Seules ces choses ont de l'importance et ces choses n'ont pas de prix. Vous n'êtes pas riche tant que vous ne possédez pas une chose que l'argent ne peut acheter... La vraie richesse est en vous, alors vous êtes probablement plus riche que vous ne le pensez.

Image source Quotes a day