Today is Valentine's Day! So I thought to prepare you those sweet and pink little hearts ...
Aujourd'hui c'est la Saint Valentin ! J'ai donc pensé à vous préparer ces petits coeurs roses sucrés...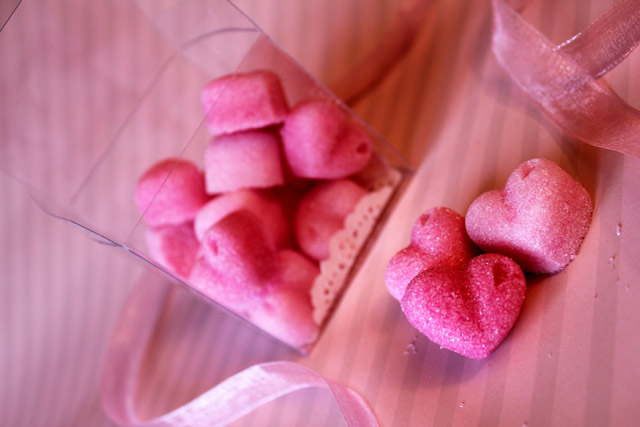 To make these small homemade sugar cubes I was inspired by the easy and fast recipe from La Receta de la Felicidad. So to prepare these little comforts you will need:
1 cup of sugar
1 tablespoon of water
Few drops of food coloring
Any mold suitable for microwaves
Pour faire ces petits sucres maison, je me suis inspirée de La Receta de la Felicidad car cette recette est facile mais surtout rapide. Pour préparer ces petites douceurs il vous faudra donc :
220 g de sucre
1 cuillère à soupe d'eau
Quelques gouttes de colorant alimentaire
Moule en silicone pour micro-ondes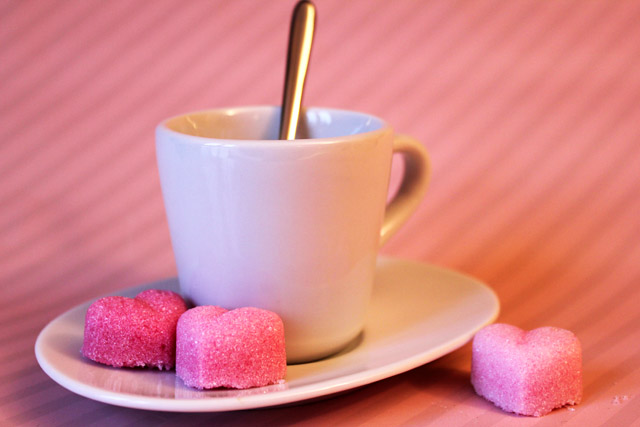 Put sugar, water and a few drops of food coloring into a bowl and stir with the spoon until the sugar is thoroughly and consistently moistened.
Put the sugar mixture into your mold. Press down the sugar in each hole to ensure both that the sugar is firmly packed in and that there are no large air holes.
Put in the microwave for about 30 secondes at maximum power.
Let cool on the mold for a few minutes, and unmold carefully.
And voila! You only have to keep your small little homemade sugar cubes in an airtight container.
Mettre le sucre dans un bol et bien le mélanger avec l'eau et quelques gouttes de colorant alimentaire. La texture doit ressembler à du sable mouillé.
Mettre le sucre humide dans les moules en appuyant bien pour qu'il n'y ait pas de vide.
Mettre au micro-ondes pendant environ 30 secondes à puissance maximum.
Laisser refroidir quelques minutes avant de démouler délicatement.
Et voilà, vous n'avez plus qu'à conserver vos petits sucres maison dans un contenant hermétique.

To offer these pink little sugars, you just have to make a pretty package in which you will also put all your love! For my part, I simply used a clear cupcake box and a sticker found on Etsy and of course a pink ribbon!
I wish you much love and sweetness for this Valentine's Day ♥
Pour offrir ces petits sucres roses, vous n'avez plus qu'à faire un joli paquet dans lequel vous mettrez également tout votre amour ! Pour ma part, j'ai simplement utilisé une boîte à cupcake transparente et un sticker trouvés sur Etsy et un ruban rose bien évidemment !
Je vous souhaite beaucoup d'amour et de douceur pour cette Saint Valentin ♥