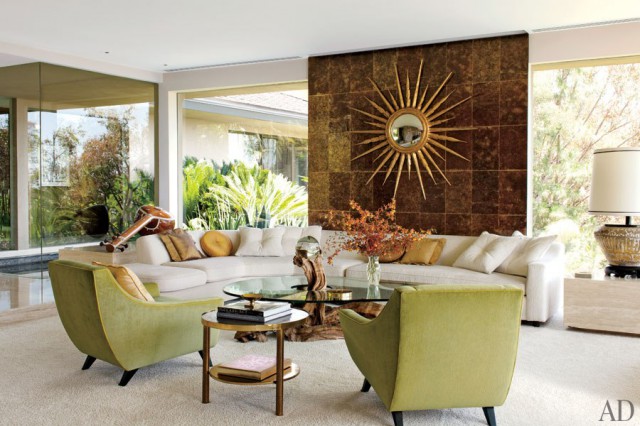 I think you have noticed, through my posts, I'm attracted to the mid-century homes of the United States west coast.
Je pense que vous aurez remarqué, au fil de mes articles, que j'ai une attirance pour les maisons des années 50-60 de la côte ouest des Etats-Unis.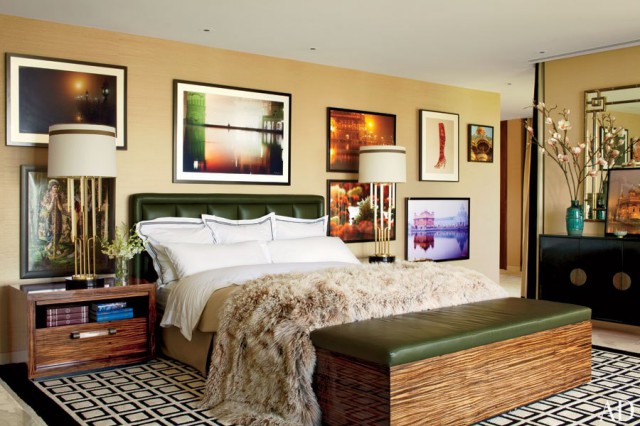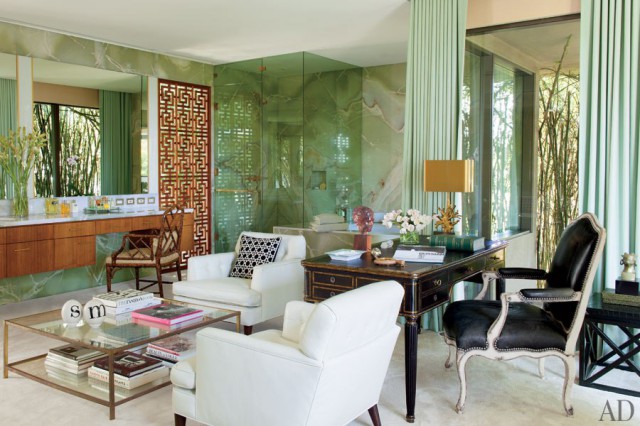 Here is one of those houses that I can not tired of admiring as I like the style, architecture and decoration. This villa built in 1963 and located in Beverly Hills, now belongs to fashion photographer Steven Meisel who recently renovated it while respecting the original style. I must say that I immediately loved the interior with vintage furniture and accessories, especially the living room which takes us in a very Mad Men ambience. I love the green color that we see all around the house, the sunburst mirror, the large windows. The outcome is masculine but not too, I am a woman and I could easily live there! The room on the photo right above, is simply magnificent and is a kind of office-bathroom.
Voici donc une de ces villas que je ne peux me lasser d'admirer tant j'en aime le style, l'architecture et la déco. Cette maison construite en 1963 et située à Beverly Hills, appartient aujourd'hui au photographe de mode Steven Meisel qui l'a récemment rénovée, tout en respectant le style d'origine. Je dois dire que j'ai tout de suite adoré l'intérieur avec le mobilier et les accessoires vintages, notamment dans le salon qui nous plonge dans une ambiance très Mad Men. J'aime le vert que l'on retrouve un peu partout dans la maison, le miroir oeil de sorcière, les baies vitrées. Le résultat est masculin mais pas trop, moi qui suis une femme, je pourrais y vivre sans problème ! La pièce, sur la photo juste au-dessus, est simplement magnifique et fait office de bureau-salle de bain.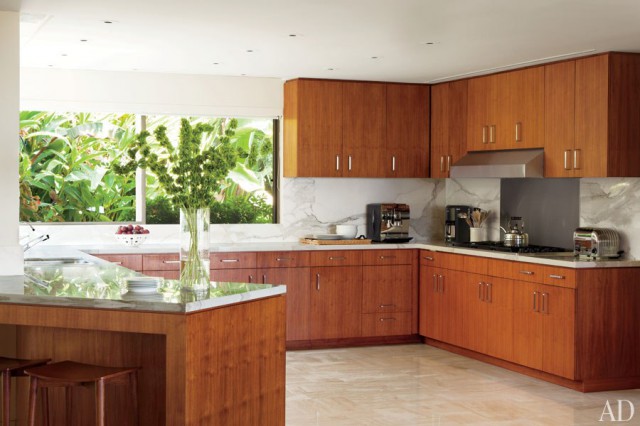 The kitchen has sober lines and combines wood, marble and metal.
La cuisine aux lignes sobre allie bois, marbre et métal.

And this pool with the palm trees ... I confirm, I really could easily live there ! It is good to dream ...
Et cette piscine avec ces palmiers... Je vous le confirme, je pourrais vraiment y vivre sans problème ! Ça ne fait pas de mal de rêver...

Images source Architectural Digest