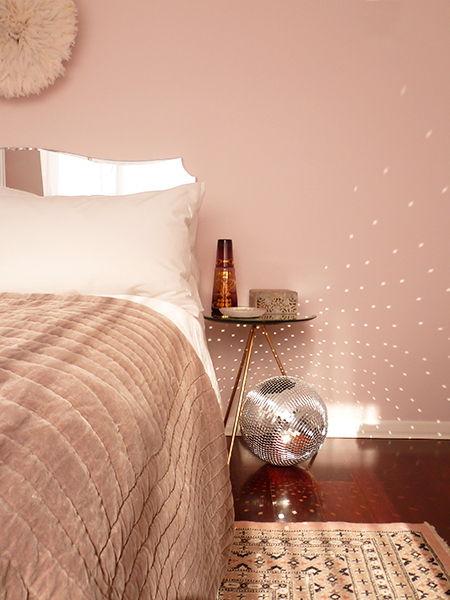 Today I would like to share with you a little "Home tour update" picture ...
Aujourd'hui je voulais partager avec vous cette petite image de mon "Projet maison"...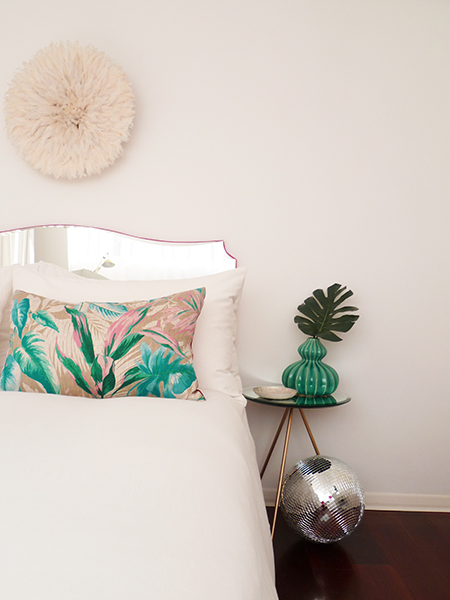 If you remember my DIY mirror headboard, I told you that what I like about using double side tape to attach the velvet ribbon and fabric is how easy it is to remove and change as soon as you want to swap for a new palette of colours in your room. This is something I often do because changing only a few things can change the entire mood of your home. The bedroom colours were fresh and perfect for spring and summer: white walls, bright pink and turquoise. But for fall and winter I felt the need to warm it up, to make this room more cozy for the cold seasons... So I simply painted the walls in a light pink shade, changed the ribbon and fabric on the headboard, put the vintage pakistani rug that was initially in the living room and voila!
Si vous vous souvenez de ma tête de lit miroir DIY, je vous disais que ce que j'aimais dans l'utilisation du double-face pour fixer le ruban et le tissu c'est la facilité avec laquelle on peut l'enlever et changer dés que l'on a envie d'une nouvelle palette de couleurs dans une pièce. C'est une chose que je fais très souvent car changer quelques petits détails peut suffir à changer toute l'ambiance de votre intérieur. Les couleurs de la chambre étaient fraîches et parfaites pour le printemps ou l'été : murs blancs, rose vif et turquoise. Mais pour l'automne-hiver je ressentais le besoin de réchauffer tout cela, de rendre la pièce plus cosy pour les saisons froides... Alors j'ai simplement peint les murs dans un ton rose pâle, changer le ruban et le tissu de la tête de lit, mis le vieux tapis pakistanais qui se trouvait auparavant dans le salon et voilà !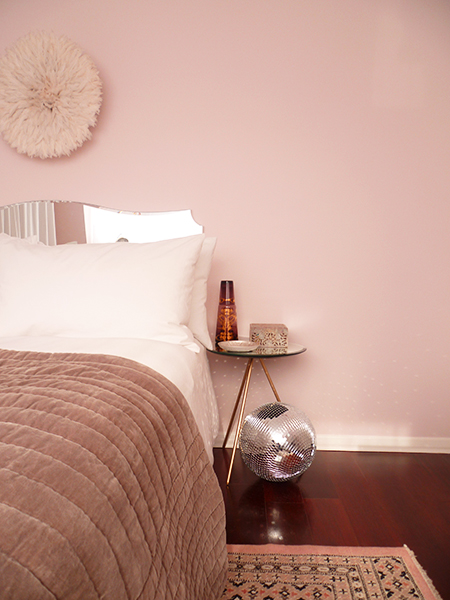 Little changes that change it all. A new colour palette for a new mood. That's it for today but I'll show more pictures of my home tour soon.
Des petits changements qui changent tout. Une nouvelle palette de couleurs pour une nouvelle ambiance. C'est tout pour aujourd'hui mais je vous montrerai bientôt d'autres photos de mon projet maison.