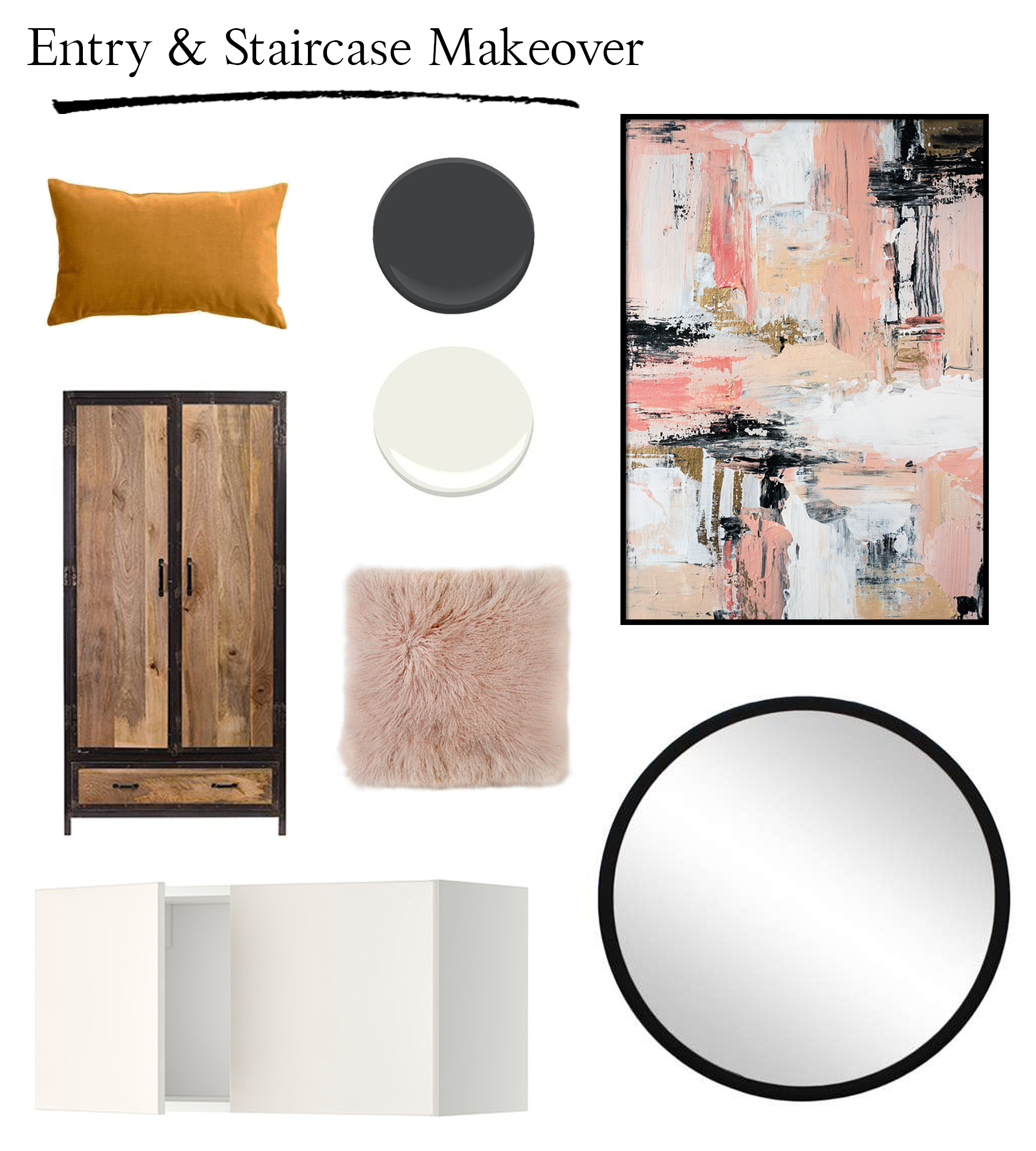 It's time to show you the new project I am currently working on: my entry and staircase makeover.
Il est temps de vous montrer le nouveau projet sur lequel je travaille actuellement : la transformation de mon entrée et des escaliers.
The entry is the first thing you see when you get into a home, it's the first impression so it sets the tone for what you expect to see inside. I think a nice entry has to invite the guests to want to see more, it has to be welcoming, organised and well decorated. It has to be all those things for me, but in the real world you're going to see that my entry is far from being all this! So let's have a look at this "boring and definitely in need of help" space.
L'entrée est la première chose que l'on voit lorsque l'on rentre dans une maison, c'est la première impression alors cela donne le ton pour ce que l'on s'attend à voir l'intérieur. Je pense qu'une entrée doit inviter les gens à vouloir en voir plus, elle doit être accueillante, organisée et bien décorée. Elle doit être toutes ces choses pour moi, mais dans la vraie vie vous allez voir que mon entrée est loin d'être tout cela ! Alors jetons un coup d'oeil à cet espace "ennuyeux et qui a vraiment besoin d'aide".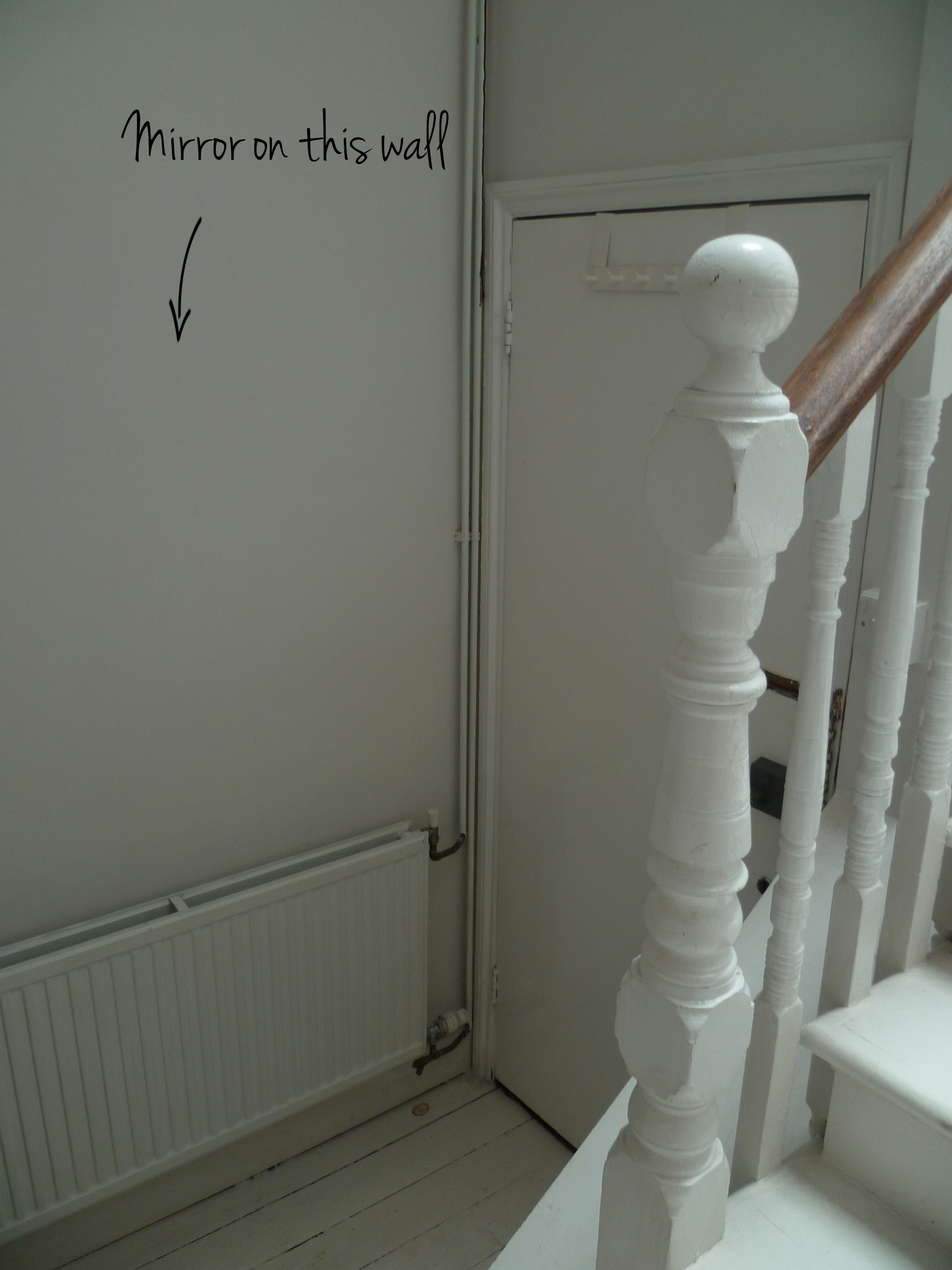 Little reminder, I am in a rental, so I am going to keep this makeover on a budget and no big works! So the first thing this space needs is paint! It's something easy to do and inexpensive. A new coat of white paint will make this entry look fresher and cleaner. I want a mirror on that wall, I think I will put the Ikea Anes mirror I bought for my bedroom and that I didn't use. It should be perfect here once painted black.
Petit rappel, je suis en location et je vais donc faire cette transformation avec un petit budget, pas de gros travaux ! Alors la première chose dont cette espace a besoin est d'un bon coup de peinture ! C'est quelque chose de facile à faire et pas cher. Une nouvelle couche de blanc rendra cette entrée plus lumineuse et propre. Je voudrais un miroir sur ce mur, je pensais utiliser le miroir Ikea Anes que j'avais acheté pour ma chambre et que je n'ai finalement pas utilisé. Il sera parfait ici une fois repeint en noir.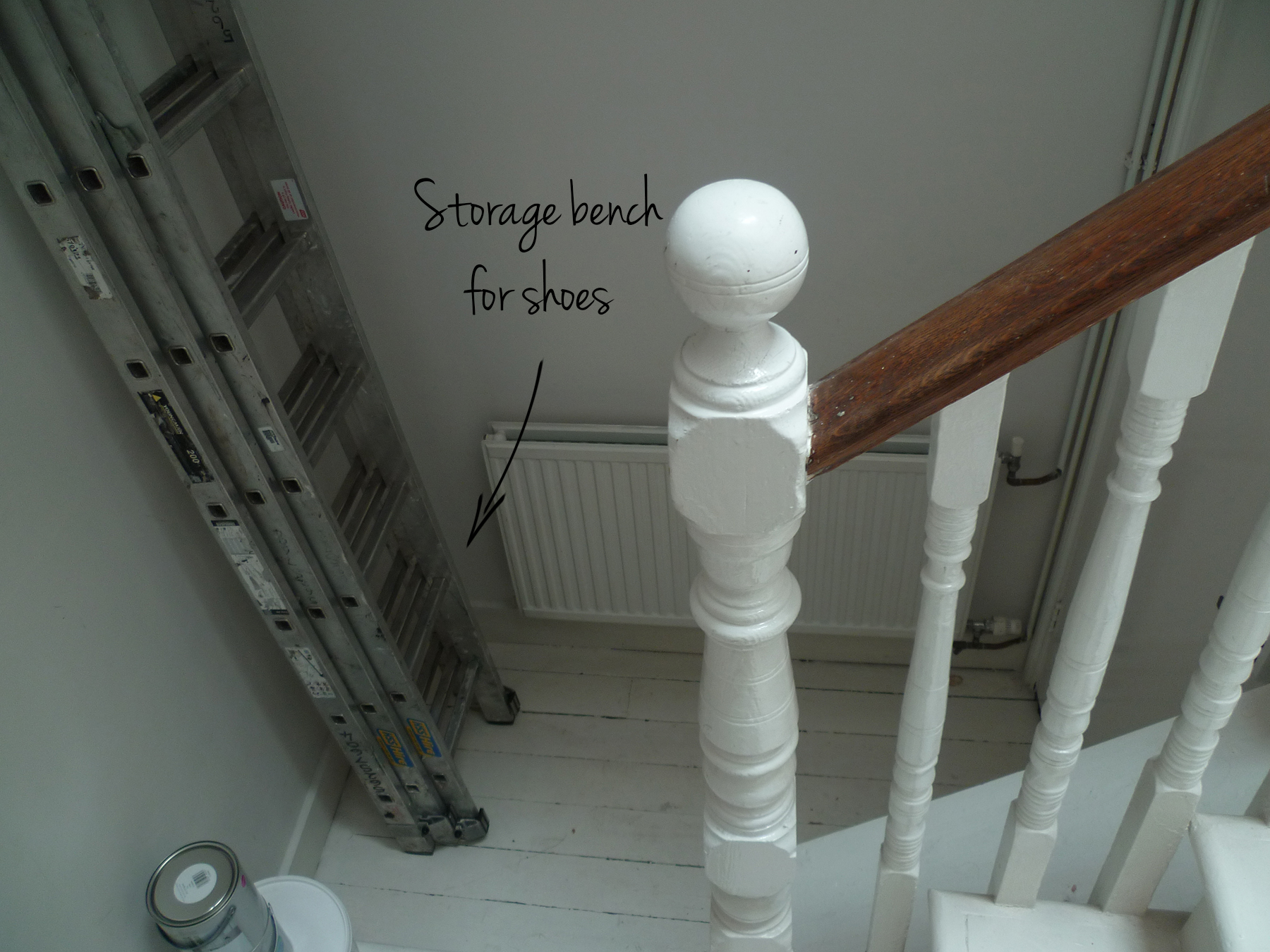 I also obviously need a shoe storage so I am planning to add a small Ikea kitchen cabinet that I will use as a storage bench.
J'ai bien évidemment aussi besoin d'un rangement pour chaussures alors je prévois d'ajouter un petit meuble de cuisine Ikea qui servira aussi de banquette.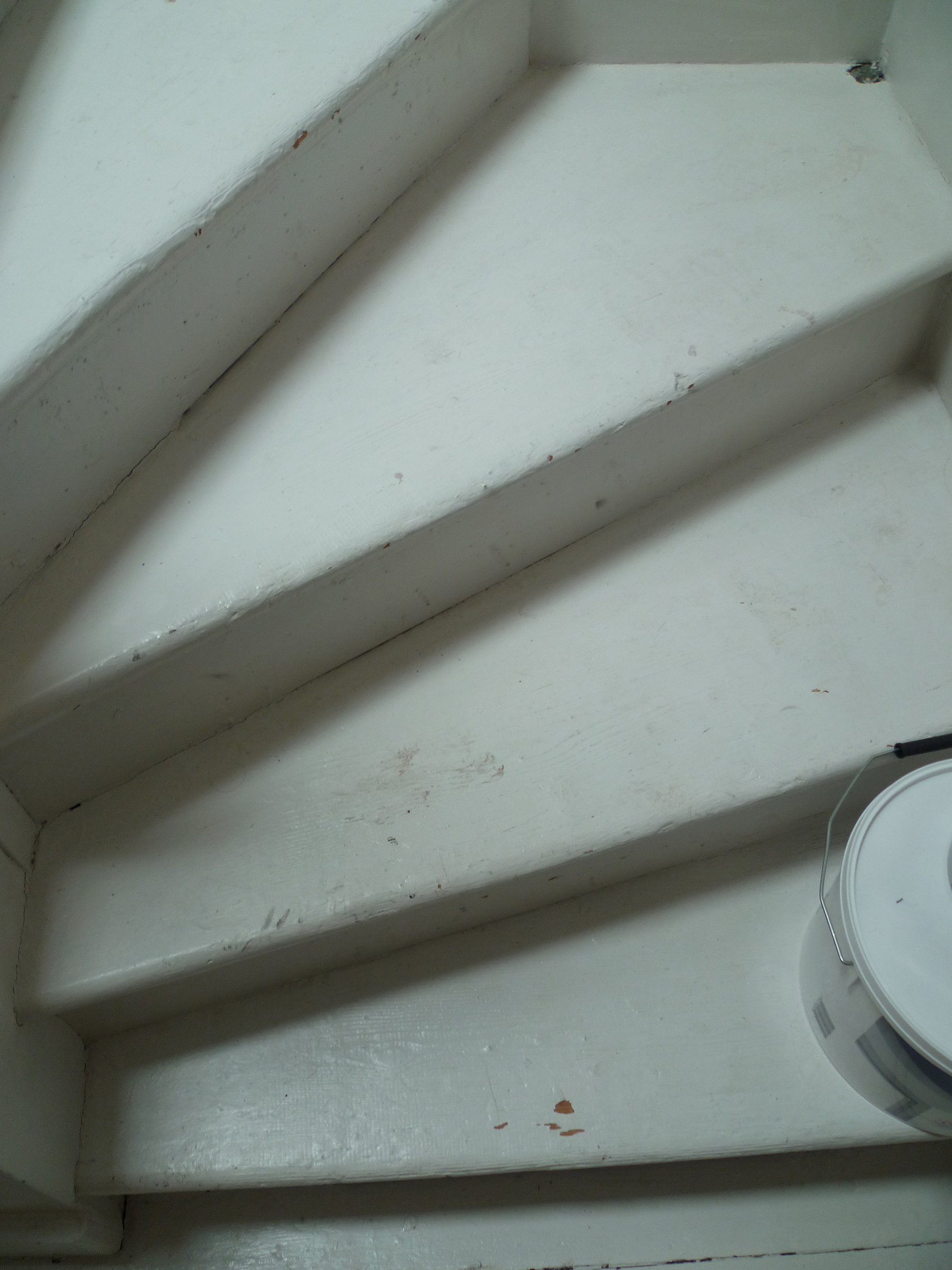 The stairs definitely also need some sanding and painting.
Les escaliers ont aussi vraiment besoin d'être poncés et repeints.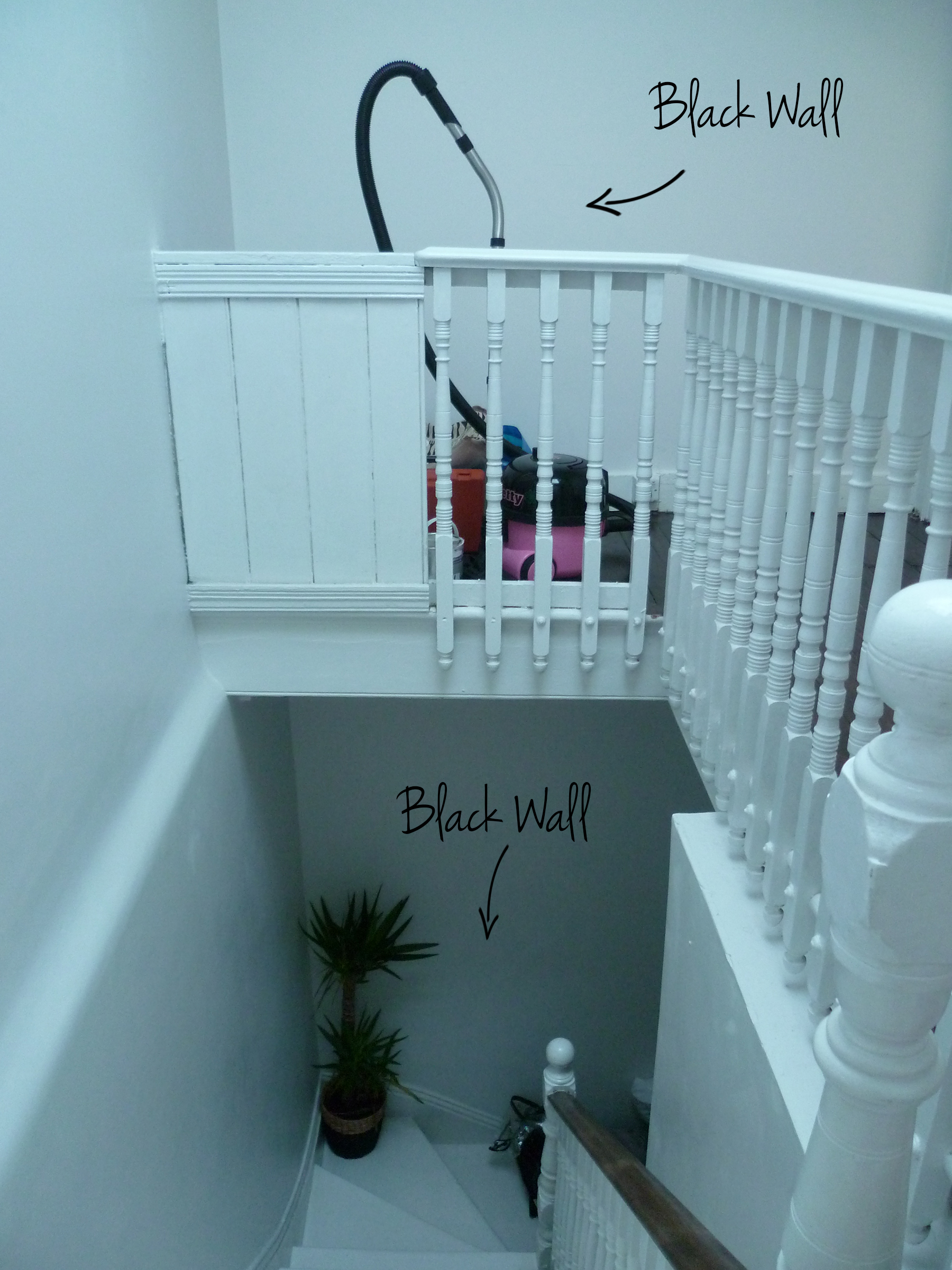 Since I started using dark colours I am now totally addicted! I want to paint the 2 walls in the picture above in the same coal colour as in my bedroom.
Depuis que j'ai commencé à utiliser des couleurs sombres dans ma chambre je suis maintenant accroc ! Je voudrais peindre les 2 murs de la photo ci-dessus, dans la même couleur charbon que les murs de ma chambre.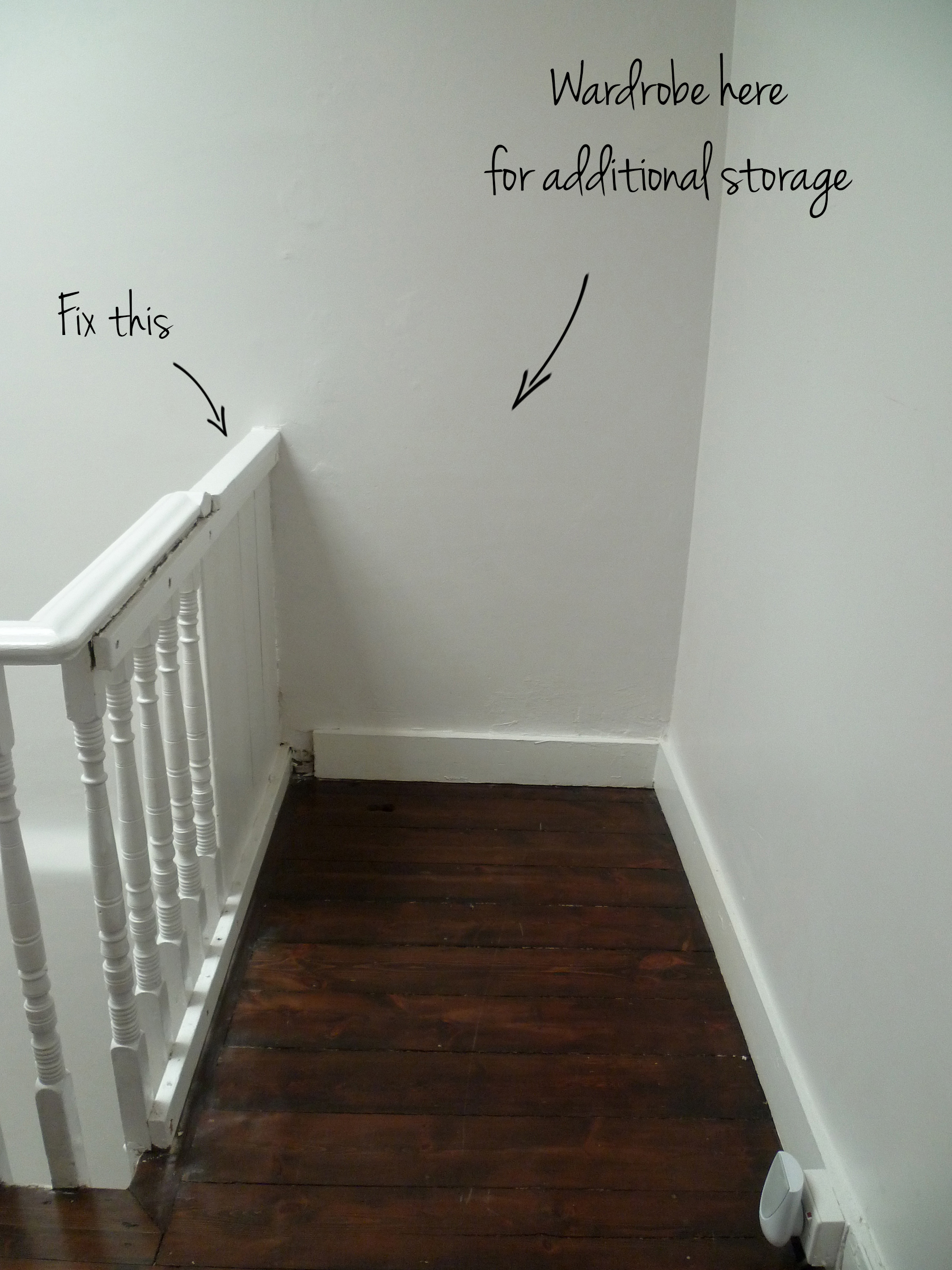 And this little corner will be perfect to add some storage. I found a lovely mango wood wardrobe on ebay that will fit perfectly in this space. I need a place to store all my tools, vacuum cleaner... all those things that take space in an apartment but we never know where to put. So this wardrobe will be my catch-all to declutter the rest of the home. But before that, the handrail needs to be fixed as what they did here to cover the gap is just horrid.
Et ce petit coin sera parfait pour des rangements supplémentaires. J'ai trouvé une jolie armoire en manguier sur ebay qui rentre parfaitement dans cet espace. J'ai besoin d'un endroit pour ranger tous mes outils, l'aspirateur... toutes ces choses qui prennent de la place dans un appartement et que l'on ne sait jamais où mettre. Alors cette armoire sera le fourre-tout pour désencombrer le reste de la maison. Mais avant cela, la rampe d'escalier doit être réparée car ce qui a été bricolé ici pour couvrir l'espace est tout simplement moche.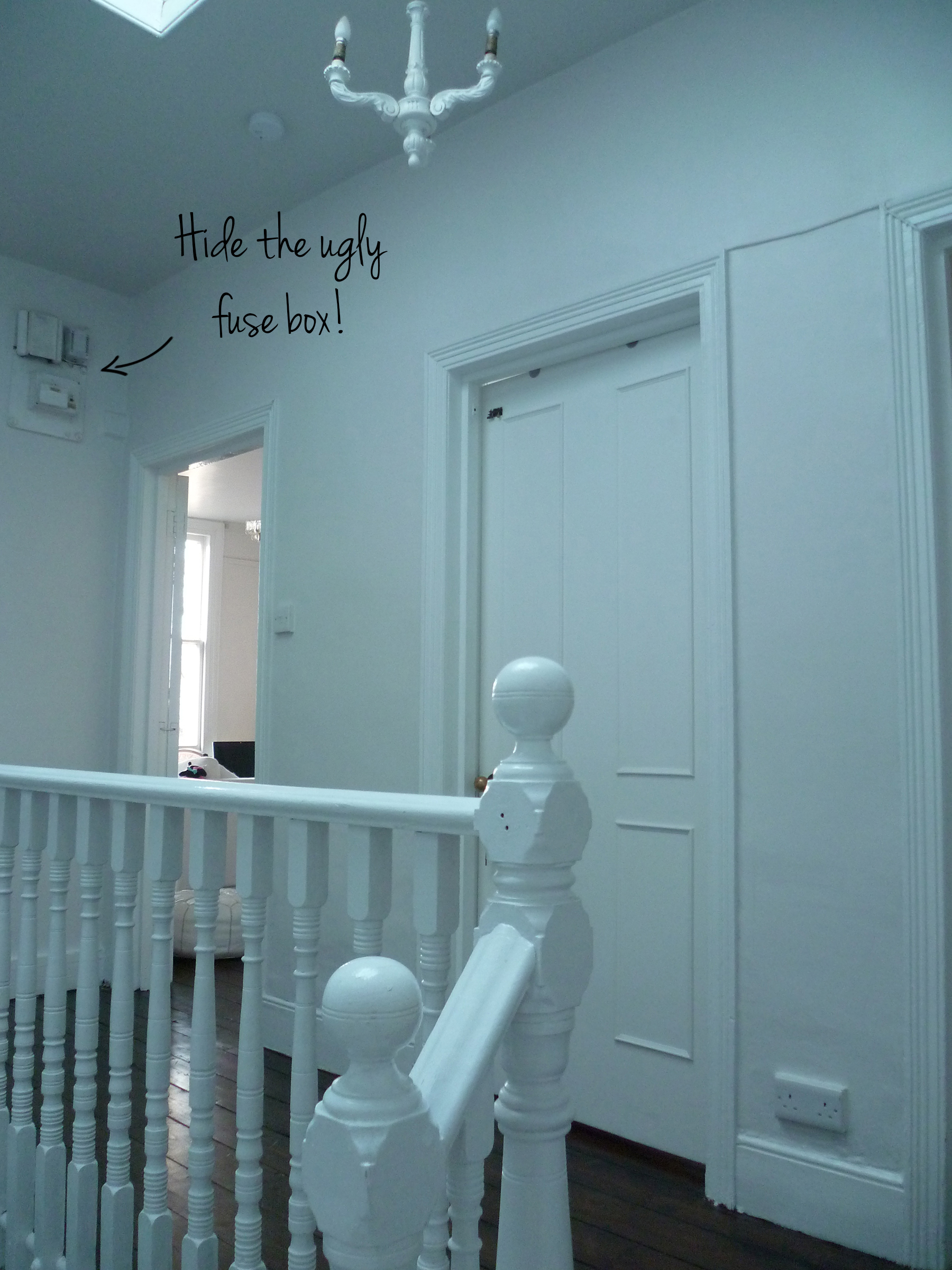 On my list there is also: build something to hide the fuse box.
Sur ma liste il y a aussi : fabriquer quelque chose pour dissimuler le disjoncteur électrique.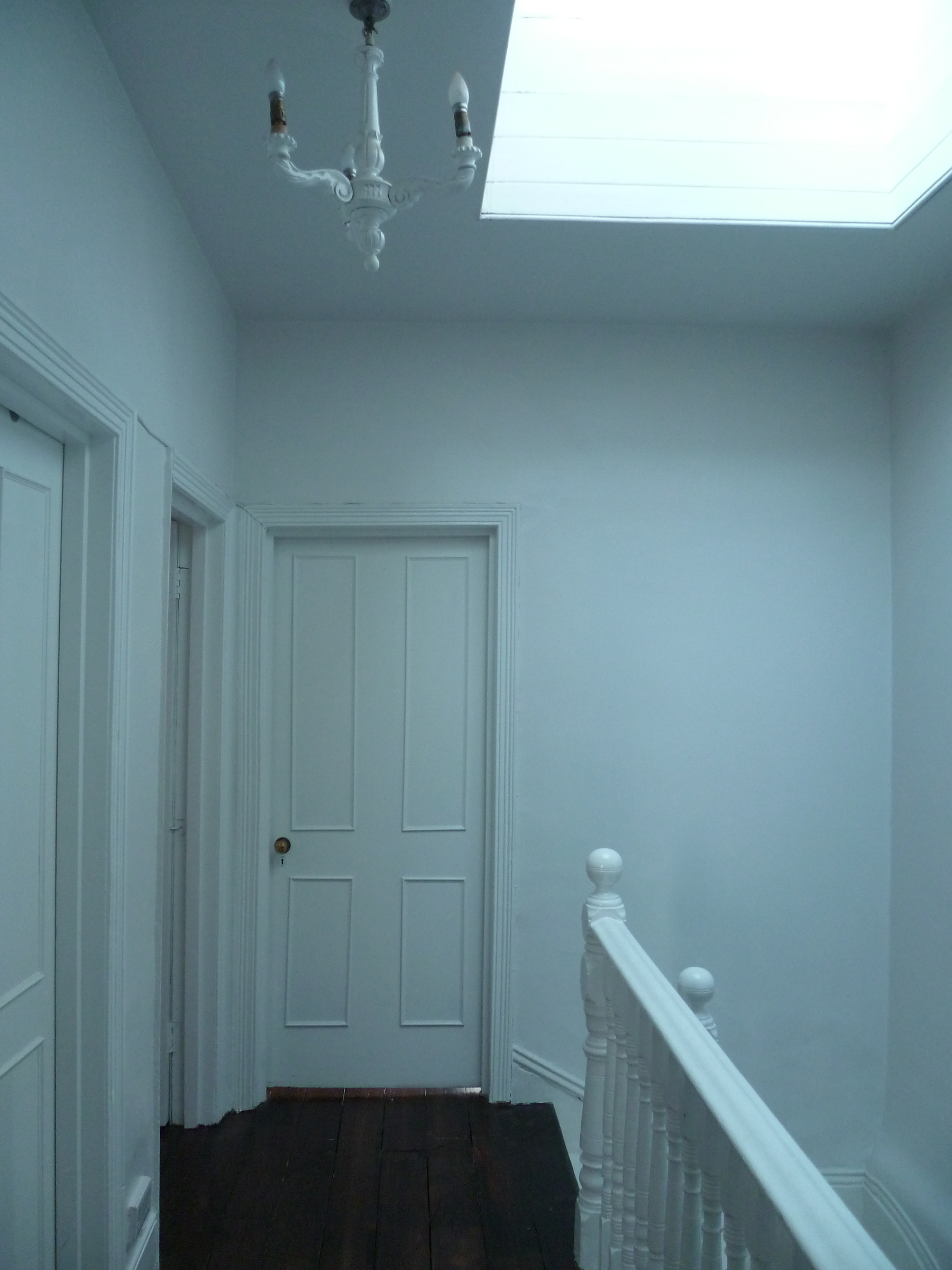 New lighting.
De nouveaux luminaires.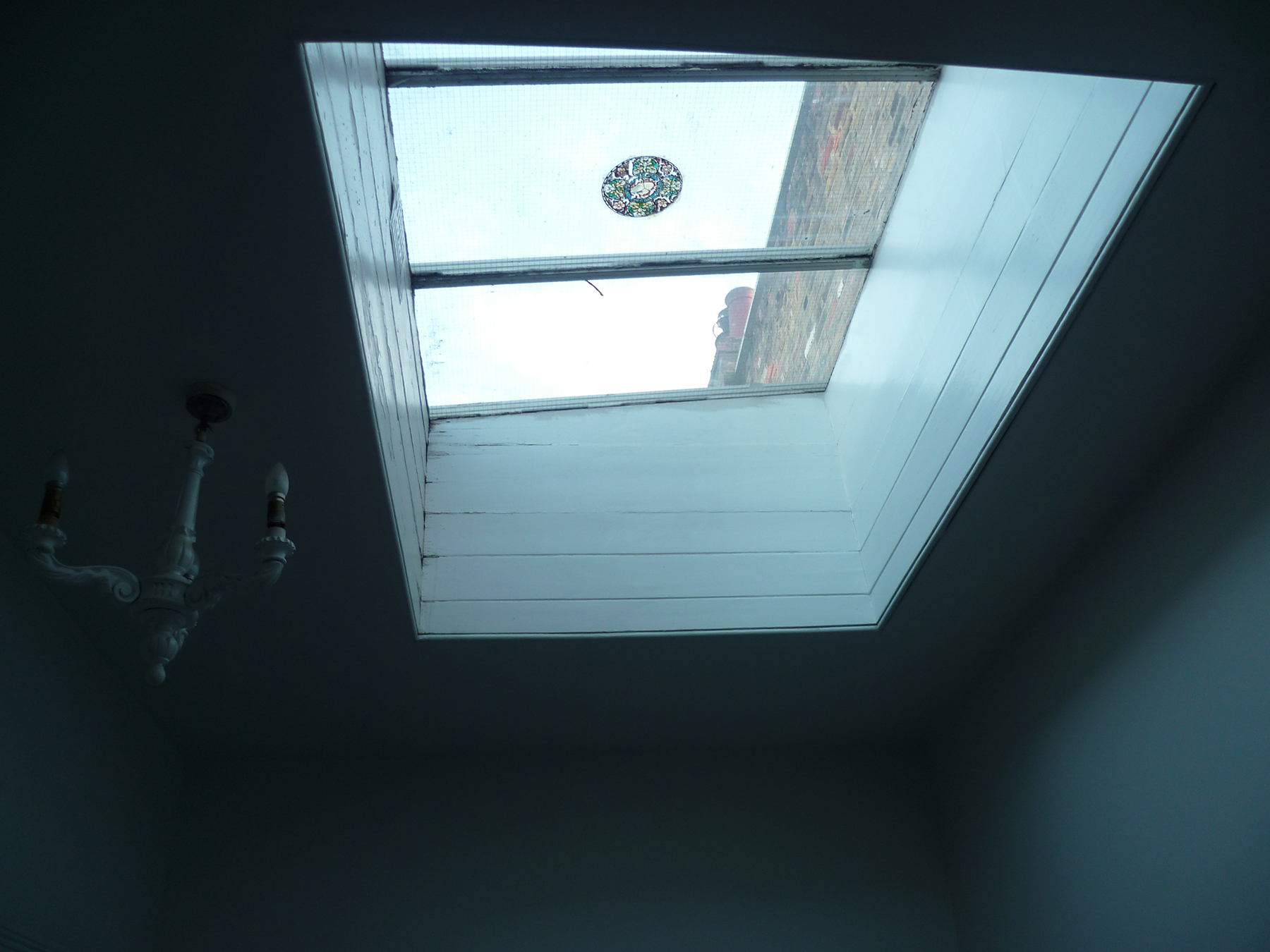 And the skylight that needs a very good clean and paint!
Et le puit de lumière qui a besoin d'un bon nettoyage et d'un coup de peinture !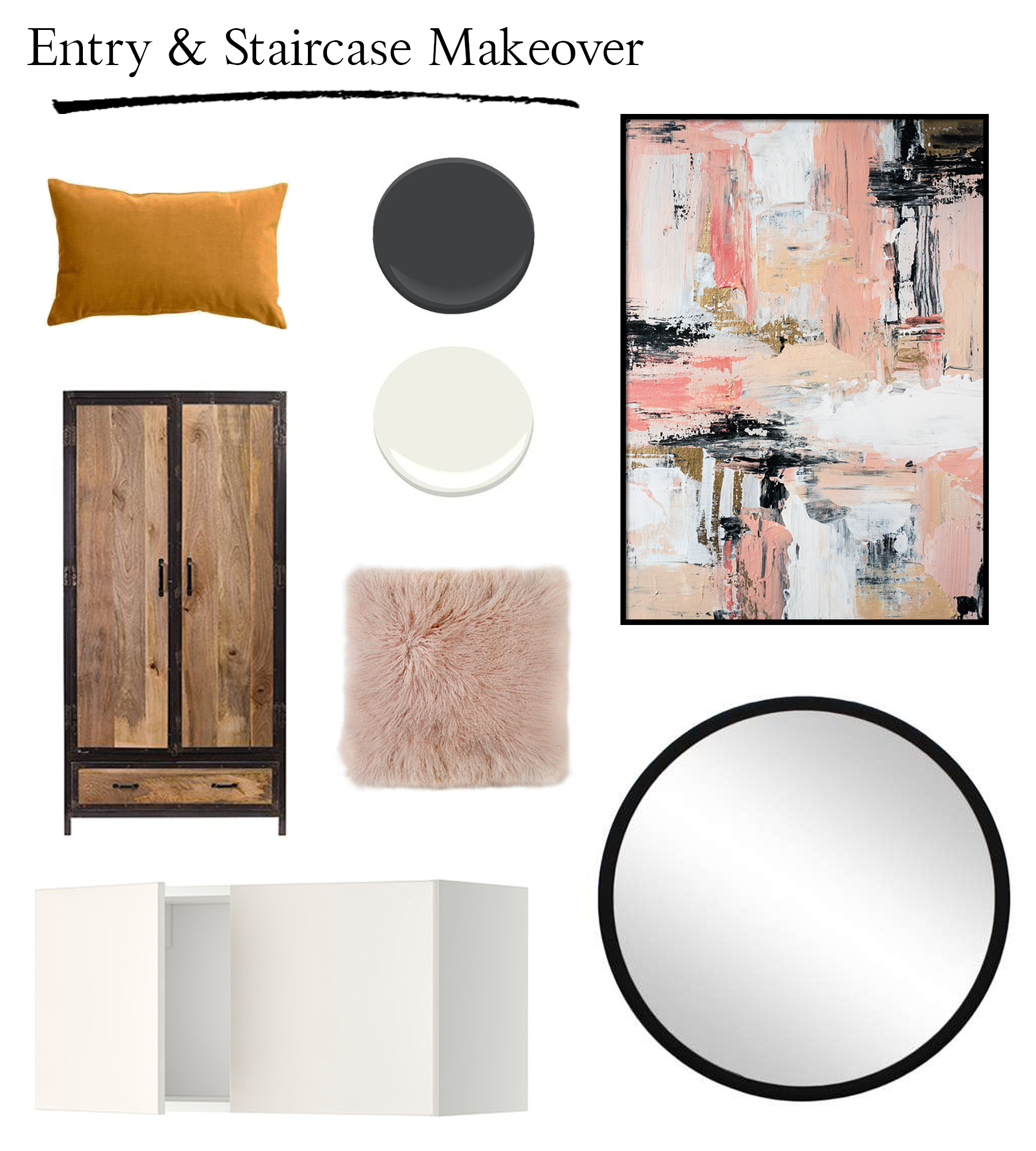 Mustard Velvet Cushion - Abstract Poster - Mango Wood Wardrobe
Pink Mongolian Lamb Cushion - Ikea Kitchen Storage - Black Round Mirror
Here is the inspiration board I created for the space. Black and white for the paint, a combo of pink and mustard with lovely cushions, nice art, wood... I also would like to find a beautiful large Persian runner, I am sure it would be very nice with the wooden floor.
As you can see, there is still a lot to do for this entry and staircase to make a good first impression! But don't worry I will keep you updated very soon to show you the progress ;)
Voici le tableau d'inspiration que j'ai créé pour cet espace. Du noir et du blanc pour la peinture, une combinaison de rose et moutarde avec de jolis coussins, une belle affiche sous verre, du bois... Je voudrais aussi pouvoir trouver un beau et long tapis de couloir persan, je suis sure que ce serait vraiment joli avec le parquet en bois.
Comme vous pouvez le voir, il y a encore beaucoup à faire pour que cette entrée et cet escalier fassent une bonne première impression ! Mais ne vous inquiétez pas, je vous montrerai bien évidemment l'évolution de cette transformation très bientôt ;)