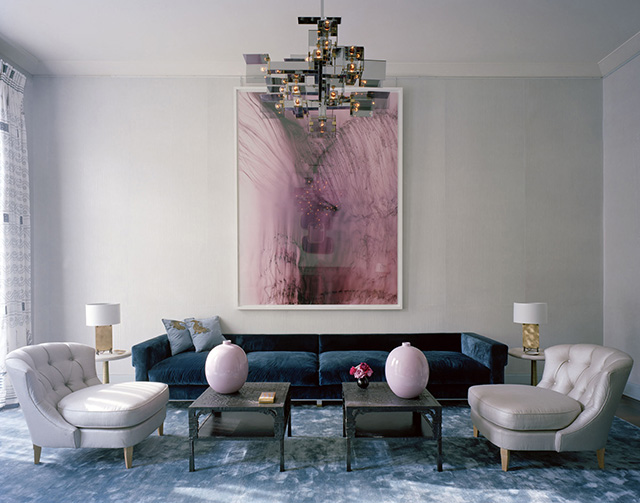 Hello everyone, I hope you enjoyed this hot weekend and you have protected your skin from the sun ...
Bonjour à tous, j'espère que vous avez bien profité de ce week-end chaud et que vous vous êtes protégés du soleil...
To start the week, unfortunately I'm not going to make a happy and colorful post but I will start with a tribute to a great designer, David Collins. Last year, I had already shown you on my blog pictures of this gorgeous room right here. It was the living room of the London apartment of David Collins. A room that I loved at first sight for the colors and different fabrics he used. This great architect and interior designer had an eye for detail. He has worked on numerous projects and for famous people. He sadly passed away last week due to a virulent skin cancer. There are two things that sadden me when I heard about this. First, the loss of this talented man who has created stunning interiors to make us dream. The second thing is the way he died. I'm not used to reveal my personal life on my blog because I want this special place to remain my secret garden where everything is beautiful and precious! But I know how difficult it can be to lose a loved one due to this kind of cancer that often causes death and so fastly. Two and a half years ago I lost someone very dear to my heart because of a melanoma. His name was Angelo, he was 33 and he was the man with whom I shared nine years of my life ... We all know that it's a part of life, there is a beginning and an end but skin cancer can be prevented and above all they can be cured if caught in time! I know it's summer and I'm not here at all to tell not to have sun exposure during your holidays. But just remember to protect your skin from the sun throughout the day and don't forget that regular screening of your moles are also very important. It's not much and it can save your life!
Pour commencer la semaine, je ne vais malheureusement pas faire de post gai et coloré mais rendre hommage à un grand décorateur, David Collins. L'an dernier, je vous avais déjà montré sur mon blog des photos de ce superbe salon juste ici. Il s'agissait du salon de l'appartement londonien de David Collins. Une pièce que j'avais adoré au premier regard pour les couleurs et les différentes textures utilisées. Ce grand designer, architecte puis décorateur d'intérieur, avait le sens du détail. Il a travaillé sur de nombreux projets et pour des personnes célèbres. Il nous a malheureusement quitté la semaine dernière suite à un cancer de la peau foudroyant. Il y a deux choses qui m'attristent ici, tout d'abord la perte de cet homme talentueux qui a su créer des intérieurs magnifiques pour nous faire rêver. Mais il y a également la façon dont il est mort. Je n'ai pas pour habitude d'étaler ma vie personnelle sur mon blog car j'essaie de faire en sorte qu'il reste mon jardin secret où tout est beau et précieux ! Toujours est-il que je sais à quel point cela peut être difficile de perdre une personne chère suite à ce genre de cancer qui est souvent fatale et rapide. Il y a deux ans et demi de cela j'ai perdu quelqu'un de très cher suite à un mélanome. Il s'appelait Angelo, il avait 33 ans et il s'agissait de l'homme avec qui j'avais partagé neuf ans de ma vie... Nous savons tous qu'ainsi va la vie, qu'il y a un début et une fin mais les cancers de la peau peuvent être évités et surtout ils peuvent être soignés s'ils sont pris à temps ! Je sais que c'est l'été et je ne suis pas là pour vous dire d'éviter le soleil pendant toutes vos vacances loin de là. Mais pensez simplement à protéger votre peau tout au long de la journée et à faire des dépistages réguliers de vos grains de beauté. Ce n'est pas grand chose et cela peut vous sauvez la vie !

Image source RCR