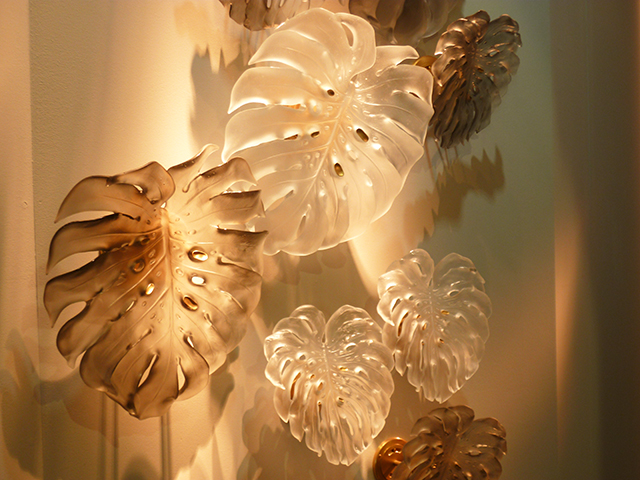 As I told you last week, this year I had the chance to be invited to the exhibition Maison & Objet in Paris.
Comme je vous l'ai dit la semaine dernière, cette année j'ai eu la chance d'avoir été invitée au Salon Maison & Objet à Paris.

This exhibition, exclusively for professionals, is the place to see all the new decorative trends, new designers and famous brands that furnish and decorate our homes. It is in summary a kind of paradise for interior design lovers! So I had the great pleasure to spend hours in the aisles of the exhibition to dream and here are some pictures of my favorites. First, the beautiful glass paste leaves that you can see just above are manufactured by Daum. I really like the idea of a precious vegetal wall.
Ce salon, réservé aux professionnels, est le lieu incontournable pour voir toutes les nouvelles tendances déco, de nouveaux créateurs ainsi que les grandes marques qui meublent et ornent nos intérieurs. C'est en résumé une sorte de paradis pour les passionnés de décoration d'intérieur ! J'ai donc eu l'immense plaisir de passer des heures dans les allées de ce salon à rêver et voici quelques photos de mes coups de coeur. Tout d'abord, les superbes feuilles en pâte de verre que vous pouvez voir juste au-dessus sont fabriquées par la maison Daum. J'aime beaucoup cette idée de mur végétal précieux.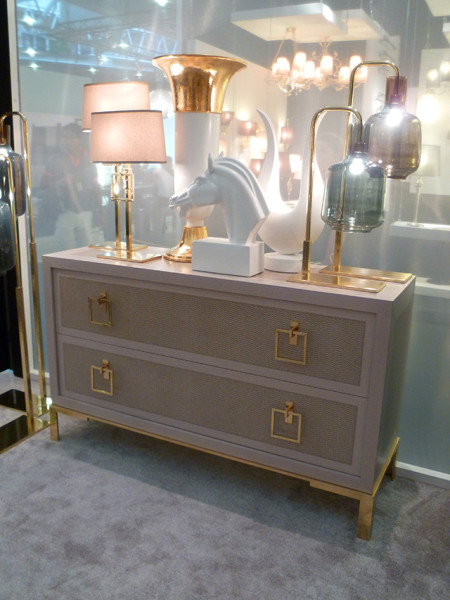 Above, a beautiful chest of drawers created by Les Héritiers
Au-dessus, une magnifique commode créée par Les Héritiers.

Pretty brass and malachite objects by L'Objet.
De jolis objets couleur or et malachite par L'Objet.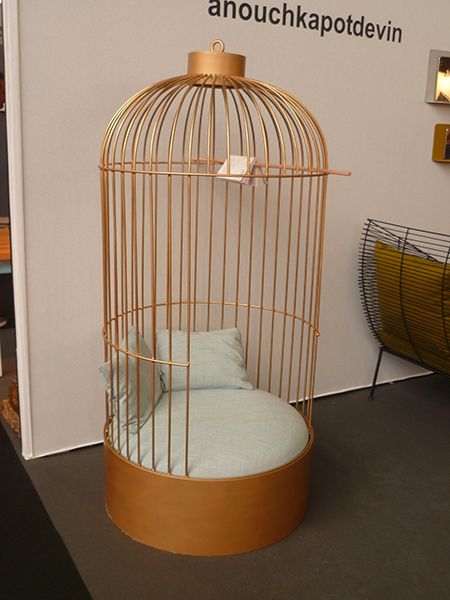 Who would not like to have that lovely golden cage designed by Anouchka Potdevin for chair? ...
Qui n'aimerait pas avoir cette belle cage dorée, signée Anouchka Potdevin, en guise de fauteuil...?

This set by Tom Dixon is a pure wonder! J'adore!
Ce service de chez Tom Dixon est un pure merveille ! J'adore !

I'm a Jonathan Adler fan and the dining table above and the chair below are now definitely on my wishlist!
Je suis une fan de Jonathan Adler et la table de salle à mander au-dessus ainsi que le fauteuil au-dessous sont maintenant sur ma wishlist pour de bon !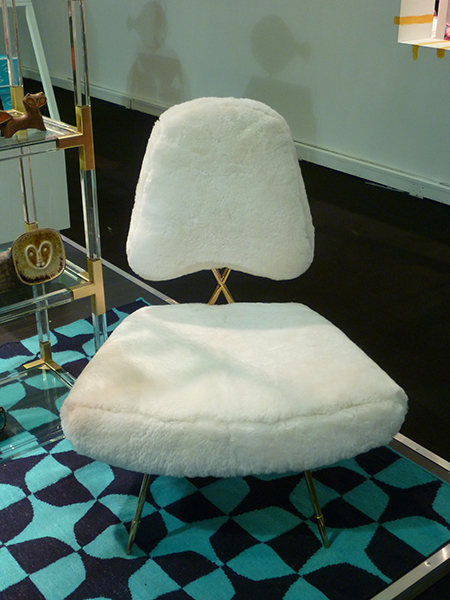 This gorgeous silver fountain by Christofle was designed by Jean-Marie Massaud.
Cette magnifique fontaine à thé en argent de chez Christofle est signée Jean-Marie Massaud.

Finally, I really fell in love with these two coffee tables. The one above is from DK Home and the one below is 100% made ​​in Italy by Arca. My heart sways between them ... But if I had the money I think I would chose the lacquer coffee table by Arca for my living room. It is truly beautiful with the inlaid horn ...
Pour finir, j'ai eu un vrai coup de coeur pour ces deux tables basses. Celle juste au-dessus est de chez DK Home et celle du dessous est 100% made in italy par la maison Arca. Entre les deux mon coeur balance... Mais si j'en avais les moyens je pense que la table en laque de chez Arca finirait dans mon salon. Elle est vraiment splendide avec ses incrustations de corne...

So what do you think my picks? For my part, I really enjoyed to discover all these marvels and now my wishlist or rather my "dream list" is even longer! ...
Alors, que pensez-vous de mes coups de coeur ? Pour ma part, j'ai vraiment pris plaisir à découvrir toutes ces merveilles et ma wishlist ou plutôt ma "dream list" s'est encore allongée...!