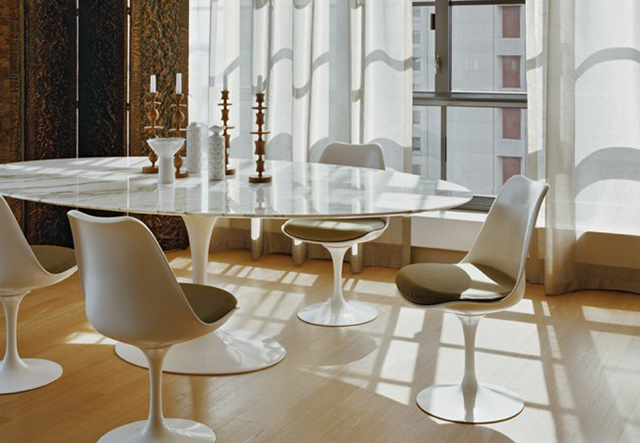 Those who follow my blog for a while, begin to know my taste regarding interior design.
Ceux qui suivent mon blog depuis un moment, commencent à connaître mes goûts en matière de décoration.
I like the homes with a vintage touch because for me there is nothing better than an object or piece of furniture that has a history. To think that you have at home a gorgeous furniture almost unique that once belonged to others ... And you may have noticed that what I love especially is the mixture of old and new. I think this is what I prefer because this is what makes a decoration more personal and really unique. For furniture or decoration, I'm not the kind of person who like the whole contemporary style or design maybe because sometimes it can seems a bit too cold. But I think that to add some beautiful designer pieces in a decor can obviously make a difference! The other day I passed by one of the Silvera furniture design boutique, which for me is the store where you have to go here in Paris when it comes to find contemporary and designers furniture. Through the window I started dreaming of some of the beautiful gems I would like to have in my little home. It's true that designers pieces are often very expensive but I think you should consider the purchase as an investment because a designer furniture is timeless and you can use it with every style of decoration simply because it's a classic.
J'aime les intérieurs un peu vintage car pour moi rien de tel qu'un objet ou un meuble qui a une histoire. Penser que l'on a chez soi un superbe meuble presque unique qui a appartenu à d'autres... Et ce que j'aime par dessus tout, et vous avez dû le remarquer, c'est le mélange d'éléments anciens et nouveaux. Je pense que c'est ce que je préfère car c'est ce qui rend une décoration personnelle et vraiment unique. En matière de meubles ou de décoration, je ne suis pas pour le tout design et contemporain peut-être parce que cela peut parfois sembler froid. Mais je pense qu'intégrer quelques magnifiques pièces de designers dans une décoration peut bien évidemment faire toute la différence ! L'autre jour, je passais devant une des boutiques de meuble design Silvera, qui est pour moi le magasin où il faut se rendre ici à Paris lorsqu'il s'agit de trouver du mobilier design et contemporain. A travers la vitrine, je me suis mise à rêver à quelques uns des superbes petits bijoux que j'aimerais avoir dans mon petit chez moi. Il est vrai que les pièces de designers sont souvent très chers, mais je pense qu'il faut les voir comme un investissement car ces meubles sont intemporels et peuvent s'intégrer à tous types de décoration simplement parce que ce sont des classiques.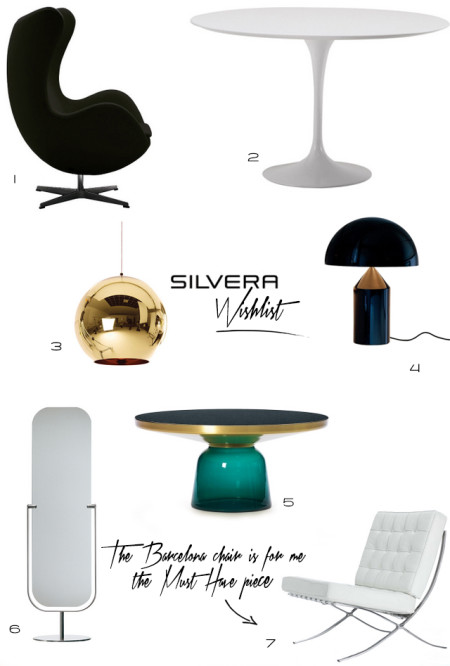 1/ Egg chair Fritz Hansen - 2/ Saarinen table Knoll
3/ Bronze Copper Shade Tom Dixon - 4/ Atollo 233 Magistretti Vico
5/ Bell coffee table Herkner Sebastian
6/ Mirror mirror Jasper Morrison - 7/ Barcelona chair Knoll
So here is my Silvera wishlist with some of the little wonders that I would dream to have ... Who would not like to have a beautiful Saarinen marble table in the dining room? But my favorite piece is by far the Barcelona chair that is a must have for me! If I had to invest today in one of these pieces it would be this one with no hesitation. And what about you, have you ever invested or do you think you could invest in a beautiful designer piece for your home?
Voici donc ma wishlist Silvera avec quelques une des petites merveilles que je rêverais d'avoir... Qui ne voudrait pas avoir un belle table Saarinen en marbre dans sa salle à manger ? Mais ma pièce préférée c'est de loin le fauteuil Barcelona qui est un Must pour moi ! Si je devais investir aujourd'hui dans l'une de ces pièces ce serait sans hésiter celle-ci. Et vous, avez-vous déjà investi ou pensez-vous investir dans une belle pièce de designer pour votre intérieur ?

Images source Silvera