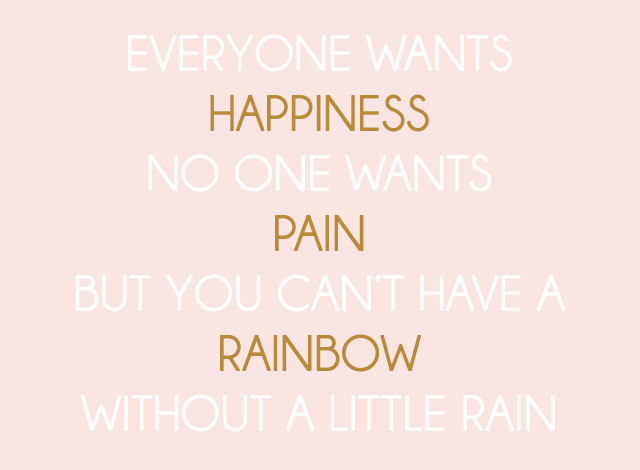 "Everyone wants happiness. No one wants pain. But you can't have a rainbow without a little rain."
"Tout le monde veut le bonheur. Personne ne veut la souffrance. Mais on ne peut pas avoir d'arc-en-ciel sans un peu de pluie."
A reminder as we sometimes forget that unfortunately life is not all about beautiful things, good times and happiness. Life is a series of events more or less happy, sadness, joy, tears, laughter, pain, pleasure ... Life is all of the above. So if you are in a period of "rain", you just need to remember that after the rain you often see a lovely rainbow that makes you forget everything, or at least makes things easier. I must say that I marvel and I smile every time I see a rainbow in the sky because it seems almost magical! All these ephemeral colors that appear from nowhere surprise me each time like a child. Going back to this quote, I think that if we had a perfect life, made ​​only of happiness, good times and rainbows, we would almost forget to appreciate it because all of these wonderful things would become ordinary ... We appreciate even more happiness when we through hard things.
Un petit rappel car on oublie parfois que malheureusement la vie n'est pas faite que de belles choses, de bons moments, de bonheur. La vie est une succession d'événements plus ou moins heureux, de tristesse, de joie, de pleurs, de rires, de souffrance, de plaisir... La vie c'est tout cela à la fois. Alors si vous êtes dans une période de "pluie", il faut simplement se souvenir qu'après la pluie on aperçoit souvent un bel arc-en-ciel qui nous fait tout oublier, ou qui du moins nous rend les choses plus faciles. Je dois avouer que je m'émerveille et je souris à chaque fois que je vois un arc-en-ciel car cela me semble presque magique ! Toutes ces couleurs éphémères qui surgissent de nulle part me surprennent à chaque fois telle une enfant. Pour en revenir à cette citation, je me dis que si l'on avait une vie parfaite, faite uniquement de bonheur, de bons moments et d'arc-en-ciels, on oublierai presque de l'apprécier car toutes ces choses merveilleuses deviendraient banales... On apprécie d'autant plus le bonheur quand on a traverser des choses difficiles.