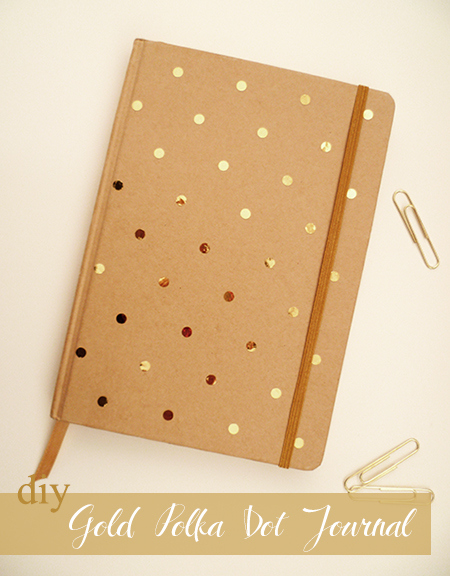 Well, yes this is the third DIY of the week and believe it or not there will be another one tomorrow! I told you I spent last weekend to finalise some projects, so as promised I share them now with you ...
Oui les amis, ceci est le troisième DIY de la semaine et croyez-le ou non il y en aura un autre demain. Je vous avais dit que j'ai passé le week-end dernier à terminer des projets alors, comme promis, je les partage maintenant avec vous...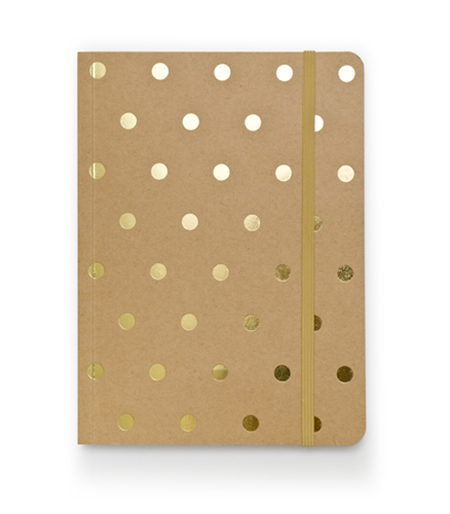 Today, a little DIY to add glitter to your everyday life. I immediately fell in love this gold polka dot journal that you have probably seen on many other blogs. Since I already had a roll of gold adhesive contact paper (the one I used for the mid century legs with brass caps), I tought that I could make my own petit journal with gold dots. So I bought a similar kraft journal with elastic for 2 € and you will see what is so simple that you can do with your children.
Aujourd'hui, un petit DIY pour ajouter quelques paillettes à votre quotidien. J'ai tout de suite aimé ce petit journal à pois dorés que vous avez très certainement vu sur de nombreux autres blogs. Puisque j'avais déjà un rouleau de papier adhésif doré (celui que j'ai utilisé pour les pieds vintages avec embouts dorés), je me suis dit que je pouvais faire mon propre petit journal à pois dorés. J'ai donc acheté un journal en kraft avec élastique similaire pour 2€ et vous allez voir c'est si simple que vous pouvez le faire avec vos enfants.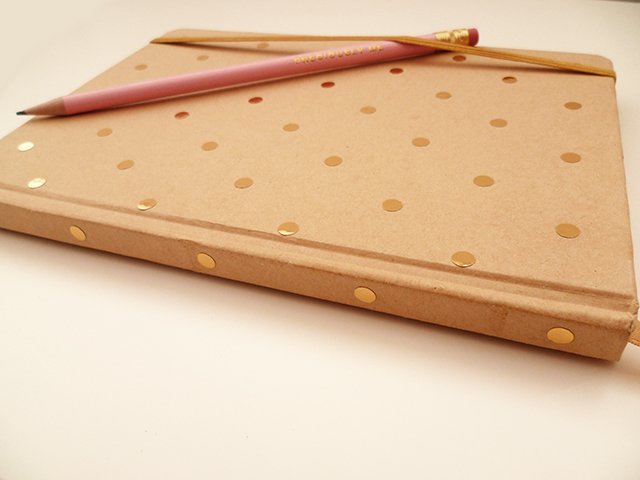 For this DIY you will only need:
- A notebook with elastic
- Gold adhesive contact paper
- A puncher
Pour ce DIY il vous faudra simplement :
- Un cahier avec élastique
- Papier adhésif doré
- Une perforatrice


First take your journal. With a pencil draw a grid on the cover. Then mark the location of your dots with points. Do this on both sides of the notebook.
Tout d'abord prenez votre journal. Tracez au crayon à papier un quadrillage sur la couverture. Tracez ensuite l'emplacement de vos pois avec des points. Faites ceci des deux côtés du cahier.


Erase the grid and now you only have your points on the cover. With a puncher, cut your dots in the gold adhesive contact paper.
Gommez le quadrillage et il ne reste plus maintenant que les points. Avec une perforatrice, découpez vos pois dans le papier adhésif doré.


Now you can stick your golden dots on the front and on the back of the notebook ... Your journal is now all covered with beautiful golden dots! You can stop at this step but if for you too even small things make a difference and you would like for example to change the color of the elastic here's how to do.
Vous pouvez maintenant coller vos pois dorés sur la face avant puis sur le dos du journal... Votre journal est maintenant tout recouvert de jolis petits pois dorés ! Vous pouvez donc très bien vous arrêter à cette étape mais si pour vous aussi les petits détails comptent et que vous voudriez par exemple changer la couleur de l'élastique voici comment faire.


I did not like the elastic and the black ribbon so I decided to change them. For the elastic, you only have to gently detach the sheet that is on the back of the cover. Then remove the elastic.
Je n'aimais pas l'élastique et le ruban noir et j'ai donc décidé de les changer. Pour l'élastique, il suffit de décoller doucement la feuille collée sur le dos de la couverture. Ensuite enlevez l'élastique.


I chose a gilded elastic but you can choose another color. Cut it to the same size as the elastic you just removed. Replace the elastic, stick it and glue also back the sheet on the cover. If you want you can put small clips to hold the whole thing while the glue dries.
J'ai choisi un élastique doré mais vous pouvez choisir une autre couleur. Découpez-le à la même taille que l'élastique que vous avez retiré. Replacez l'élastique, collez-le et recollez également la couverture. Si vous le souhaitez vous pouvez mettre des petites pinces le temps que la colle sèche.


For the ribbon you have to remove it using a thin object like a wooden stick for example. Finally, take a ribbon in a color of your choice and glue it using the same thin object to replace it inside.
Pour le ruban il faut le retirer doucement avec un objet fin comme un pique en bois par exemple. Enfin prenez un ruban de la couleur de votre choix et collez-le toujours en vous aidant du pique pour le glisser à l'intérieur.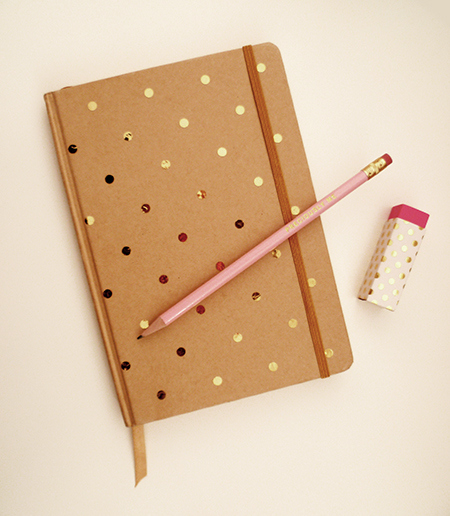 And voila, a new little journal with gold polka dots. To work and take notes yes ... But I think it's better when you add sparkles, isn't it?
Et voilà, un nouveau petit journal à pois dorés. Travailler et prendre des notes oui... Mais je trouve que c'est quand même mieux quand on y ajoute des paillettes, non ?

Image 2 source