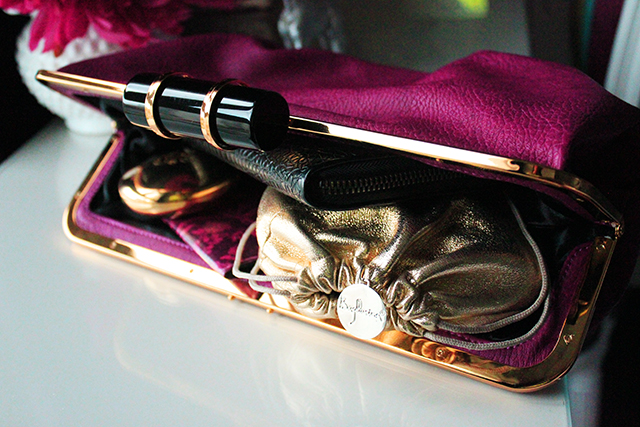 My favorite of the day is exclusively reserved for girls ... !
Mon coup de coeur du jour est réservé exclusivement aux filles... !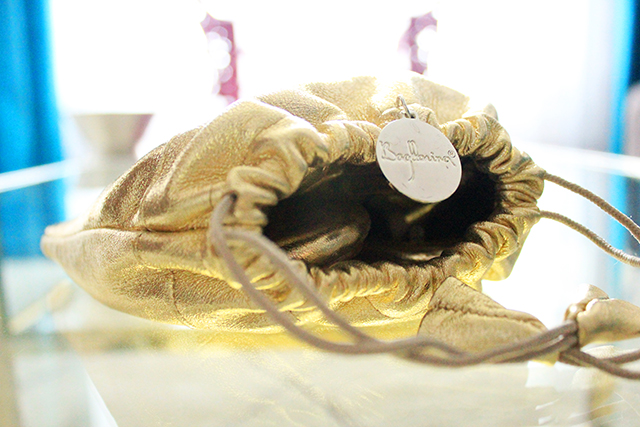 But what is it you may say? And what is this little gilded leather pouch just above? Well these are just my Bagllerina. I discovered these little wonders thanks to a friend and you could say that it was the love at first sight! Let me explain what it is ...
Mais de quoi s'agit-il me direz-vous ? Et qu'est ce que cette petite pochette en cuir doré juste au-dessus ? Et bien tout simplement mes Bagllerina. J'ai découvert ces petites merveilles grâce à une amie et disons que ça a été le coup de foudre au premier regard ! Je vais vous expliquer de quoi il s'agit...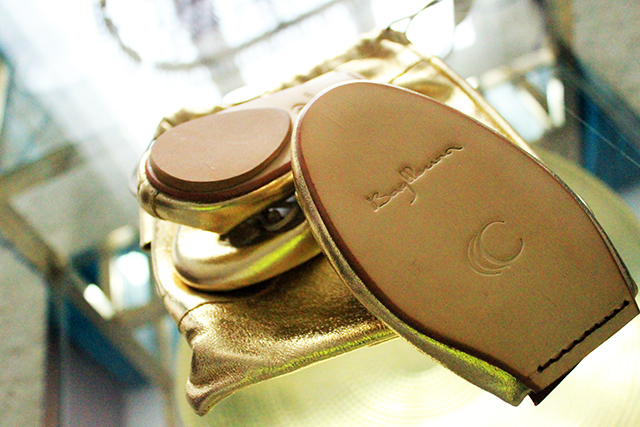 Now that you get to know me a little you know I love shoes, especially if you saw this post in which a small part of my "collection" was displayed. I also confessed a few weeks ago saying that yes I'm a shopaholic and to shop is one of my favorite pastimes. The problem is that unfortunately these two things I love, namely high heels and shopping do not mix well at all! But I'm sure you know what I mean, to go shopping with a very feminine outfit and stunning heels because you just want to be pretty ... But after a few hours your feet are so painful that you no longer enjoy browsing the aisles of the stores, you only want to go back home, take off your shoes and lie down. I personally have experienced this many times because yes I am a girl, I like pretty things and I can not resign myself to shopping with shoes just because they are "comfortable". So every time I make the same mistake endlessly and I get home with sore feet. But today girls, I finally found the magic bullet to all this and it is in this tiny golden pouch!
Maintenant que vous commencez à me connaître un peu vous savez que j'adore les chaussures surtout si vous avez vu ce post où une petite partie de ma "collection" était exposée. Je me suis également confessée il y a quelques semaines de cela en vous avouant que oui je suis une accroc du shopping et faire les magasins et un de mes passe-temps préférés. Le problème est que malheureusement ces deux choses que j'aime tant, à savoir les talons hauts et le shopping ne font pas du tout bon ménage ! Mais je suis sure que vous savez de quoi je parle, faire les magasins avec une tenue très féminine et de superbes chaussures à talons parce qu'on a simplement envie d'être jolie... Mais au bout de quelques heures vos pieds vous font tellement mal que vous ne prenez plus aucun plaisir à parcourir les allées des magasins, vous n'avez plus qu'une envie rentrer chez vous, enlever vos chaussures et vous allonger. Personnellement j'ai vécu cette situation de nombreuses fois parce que oui je suis une fille, que j'aime les jolies choses et que je ne peux me résoudre à faire les magasins avec des chaussures juste parce qu'elles sont "confortables". Alors à chaque fois je commets inlassablement la même erreur et je rentre chez moi les pieds endoloris. Mais aujourd'hui, j'ai enfin trouvé la solution miracle à tout cela les filles et elle tient dans cette toute petite pochette dorée !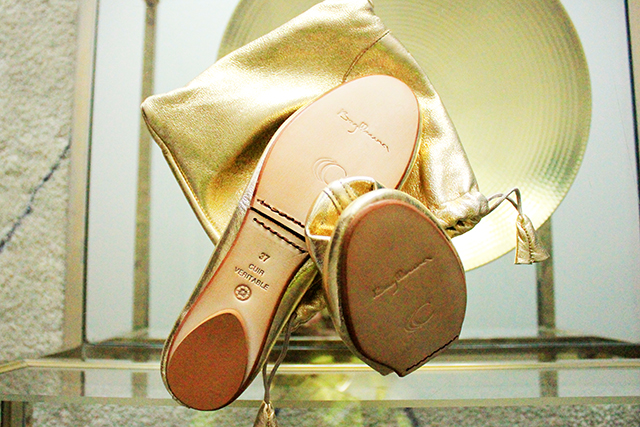 The Bagllerina are in fact foldable ballerinas that fit in a little pouch and that you can take everywhere! They are so comfortable and above all very beautiful! You can see them here folded and unfolded. It's almost magical!!! The plus is that these ballerinas and the pouch are all in patent leather and French, something to be proud of!
Les Bagllerina sont en fait des ballerines pliables qui se rangent dans leur petite pochette et que l'on peut emmener partout ! Elles sont si confortables et surtout très jolies ! Vous pouvez les voir ici pliées et dépliées. C'est presque magique !!! Le petit plus est que ces ballerines et leur pochette sont entièrement en cuir et françaises, de quoi être fier non !

And when I say that you can take them everywhere, I'm not lying to you. Look at the picture above they fit perfectly in my clutch with all my other accessories. If this is not a miracle ... It seems that shopaholics prayers have finally been answered. However I'm delighted with my new little Bagllerina that I can take anywhere. I think they will become my new best friends for the shopping excursions as if I have badly with my feet they will be there to replace my heels.
Et quand je vous dis que l'on peut les emmener partout, je ne vous mens pas. Regardez la photo ci-dessus elles tiennent parfaitement dans ma pochette avec tous mes autres accessoires. Si ce n'est pas un miracle, ça... Il semblerait que les prières des accrocs du shopping aient enfin été entendues. Toujours est-il que je suis ravie de mes nouvelles petites Bagllerina que je vais pouvoir emporter n'importe où. Je crois qu'elles vont devenir mes nouvelles meilleures amies pour les journées shopping puisque si j'ai mal aux pieds elles seront là pour prendre le relais de mes talons.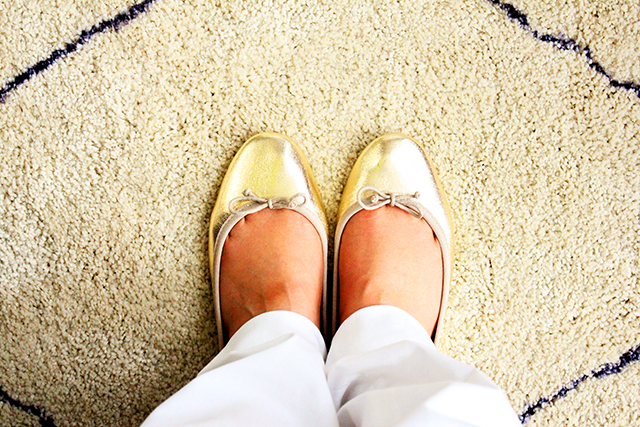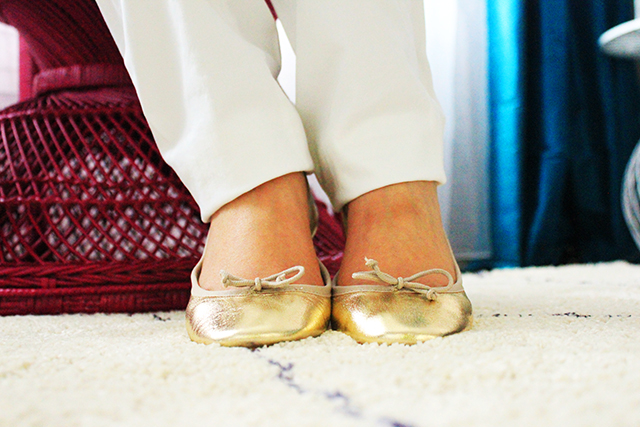 As you can see, I fell for the Gorgeous model in gold color but the Bagllerina exist in different models and in a wide range of colors. Besides, I think the mint and magenta colors below would be perfect in my "collection" ...
Comme vous pouvez le voir, j'ai craqué pour le modèle Gorgeous en couleur or mais les Bagllerina existent dans différents modèles et dans une grande variété de couleurs. Je pense d'ailleurs que les couleurs "Fontaine" et Fushia" ci-dessous seraient parfaites dans ma "collection"...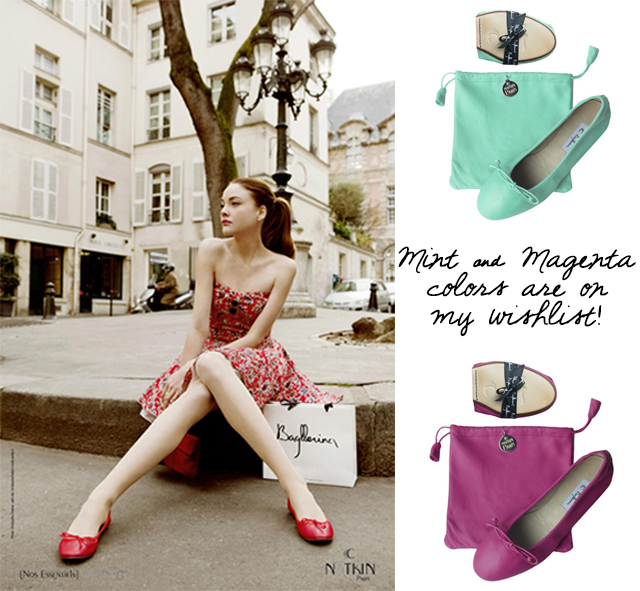 So what do you think of my coup de coeur girls? These lovely Bagllerina are a true miracle, aren't they?
Alors, que pensez-vous de mon coup de coeur les filles ? Ces jolies Bagllerina sont vraiment un miracle non ?


Images source 8 others by me