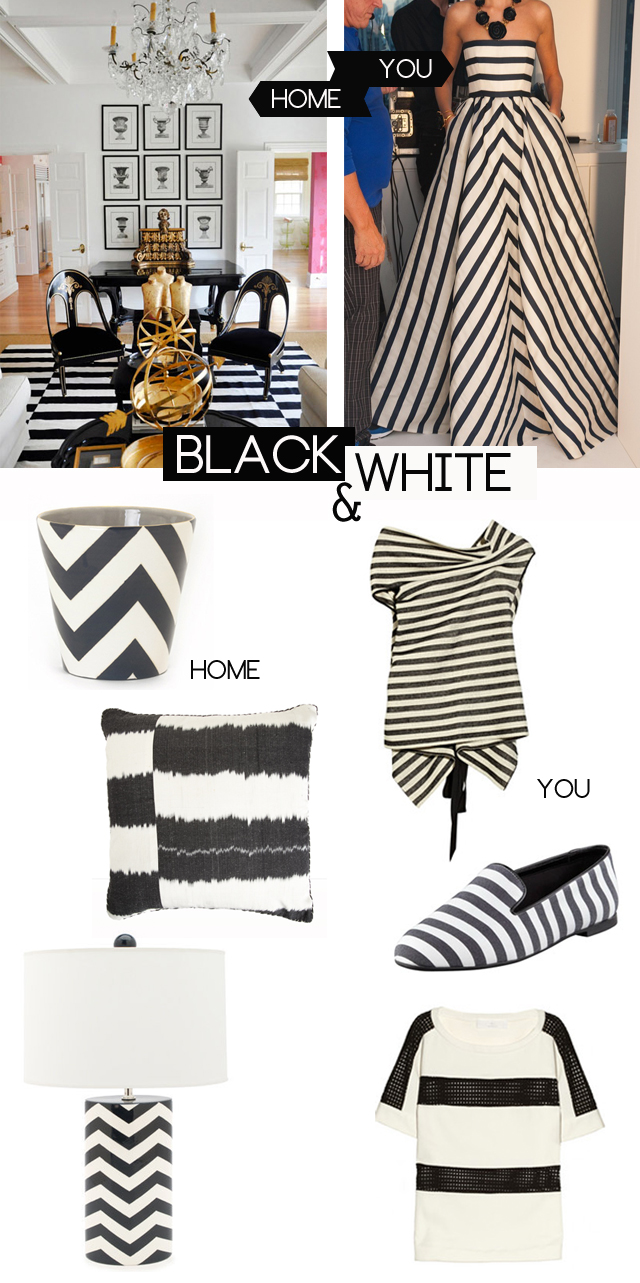 I'm so happy to be here in Nadia's precious blog this morning!
Je suis tellement heureuse d'être ce matin sur le blog précieux de Nadia !
I have loved Nadia's grand style since the first time I came across her beautiful blog. I'm Albertina from Mimosa Lane bringing you some black and white inspiration today ... some for you ... some for your home. Black and white stripes are always so elegant. I was reminded of this with Oscar de la Renta's beautiful dress above. I would sell my entire closet for this dress. Breathtaking isn't it? And so I was inspired to find some everyday pieces to incorporate a bit of this elegance in your everyday. Black and white stripes are such a simple pattern and color palette and yet they offer such a big statement.
Have a wonderful day! And Thanks Nadia for having me! It is such an honor.
J'ai adoré le style de Nadia dés la première fois que je suis tombée sur son magnifique blog. Je suis Albertina de Mimosa Lane et je vais aujourd'hui vous apporter un peu d'inspiration en noir et blanc... un peu pour vous .... et un peu pour votre intérieur. Les rayures noires et blanches sont toujours si élégantes. Je me suis souvenue de cette belle robe Oscar de la Renta juste au-dessus. Je vendrais mon dressing entier pour cette robe. À couper le souffle n'est-ce pas? Et je me suis donc inspirée de celle-ci pour trouver des pièces de tous les jours pour mettre un peu de cette élégance dans votre quotidien. Les rayures noires et blanches sont un modèle et une palette de couleurs simples et pourtant ils peuvent faire une telle impression.
Passez une bonne journée ! Et Merci à Nadia de m'avoir invitée ! C'est un tel honneur.
Dress / Vase / Pillow / Lamp / Striped off the shoulder top / Shoes / Top

Image source Decor Pad